Ever wondered what it's like to experience a lush, poolside vacation in Bali? You won't have to go far with Verandah Pool Bar & Grill, a new picturesque retreat in Alexandra that will surely put you in a holiday mood any time of the year. 
Picturesque View Of Alexandra 
The bar is on the 7th floor of the new Momentus Hotel Alexandra, right next to IKEA. When you first exit the doors, you are immediately greeted by the gorgeous circular bar space, decorated with rattan, plants and drop lights.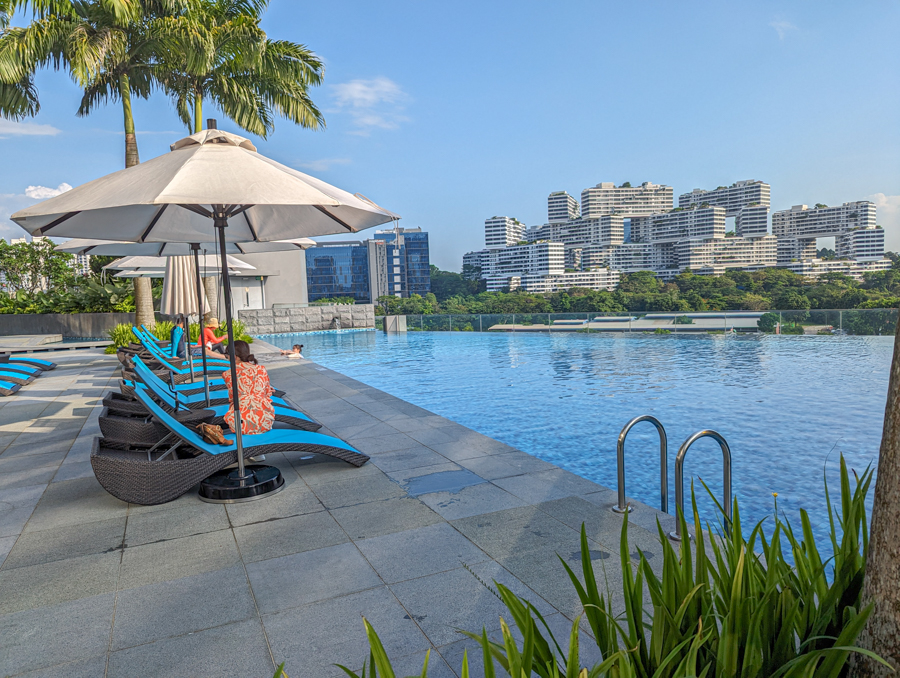 It's also strategically located to showcase some of the best views in the city, with a full view of The Interlace and the Southern Ridges! You can already imagine how stunning it looks during the sunset. Aside from the infinity pool, there's also a swim-up bar you can visit to rest or enjoy your drinks. 
Verandah Pool Bar & Grill Menu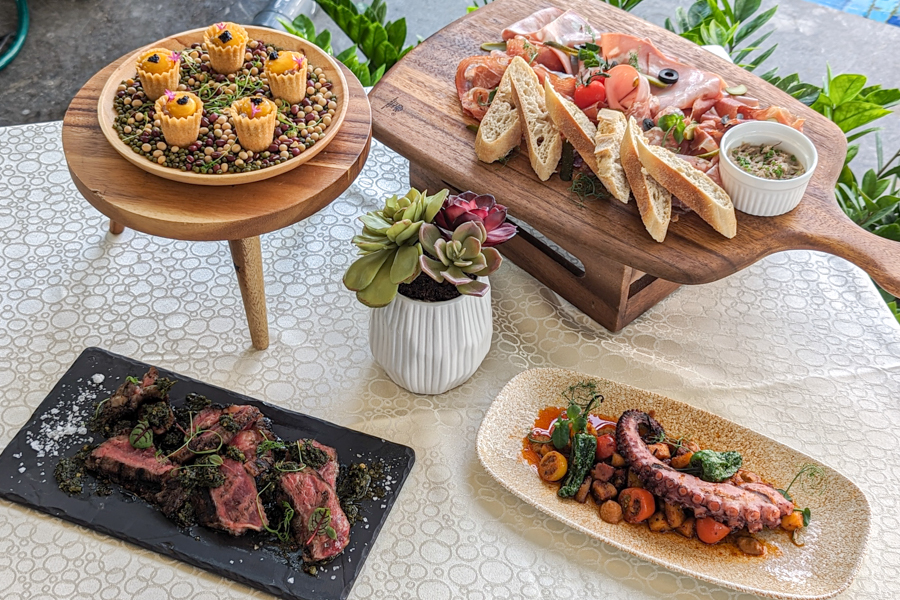 Their menu includes grill options and speciality cocktails for a complete poolside experience, with items like Argentinian Dirty Steak ($20++) with chimichurri or the Wagyu Beef Tartare ($16++/ 5pcs) served in a kueh pie tee shell and quail egg yolk. 
There is also a selection of speciality cocktails, each priced at $25++. Options include the Sundown on Queenstown with jalapeno-infused tequila and housemade chilli syrup or the Fables of Faber using a base of rosemary-infused gin and pineapple. 
The Verandah Sundown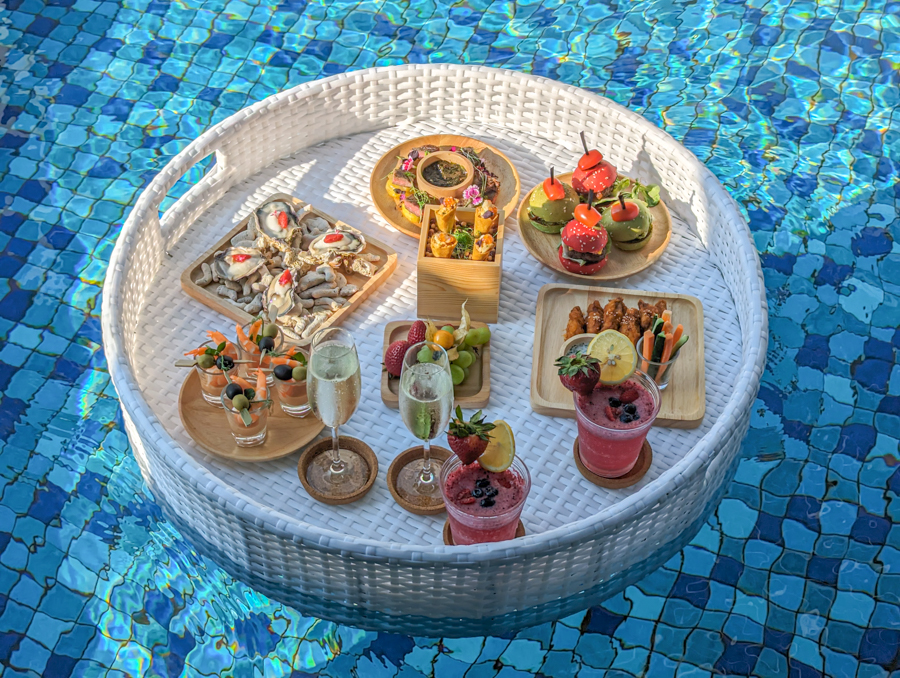 The highlight menu item is The Verandah Sundown ($98++ for 2 adults), served in a floating tray. It screams Bali vibes and from the right angles, it's easy to fool your friends (or yourself) into thinking you're on a beach holiday. 
Each set comes with six bar bites and four – yes, four – full-sized alcoholic drinks! The choice includes with either two glasses of Prosecco, house wine or draught beer; and two house cocktails of your choosing.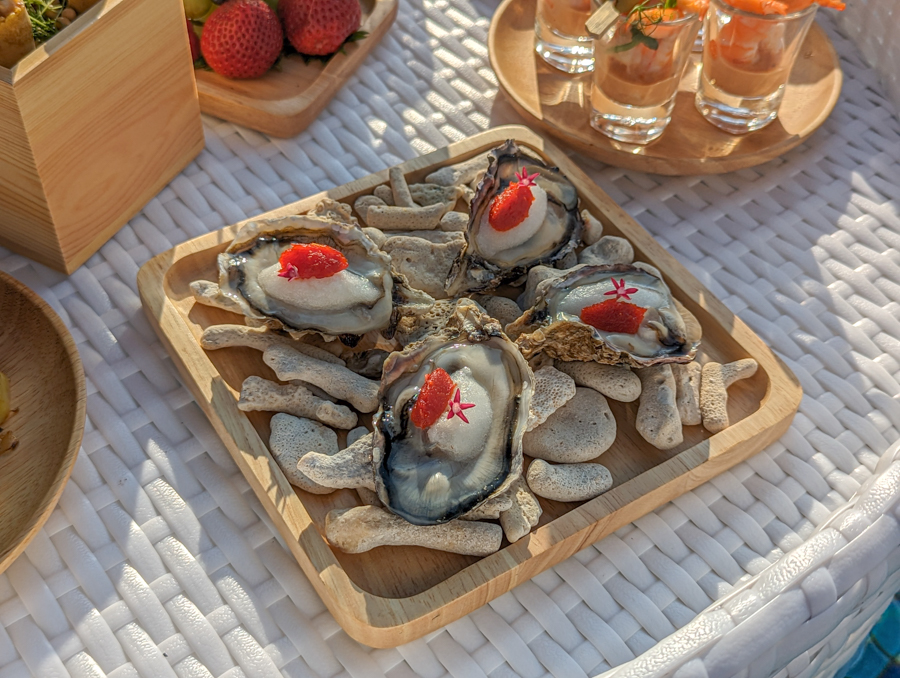 The bar bites include fresh oysters, mini Angus Beef sliders and buffalo wings with ranch. Our favourites were the fatty Argentinian Dirty Steak with a punch from the chimichurri sauce! Despite the small serving sizes, we think the variety and selection are enough to feed two people. 
The Verandah Sundown is available every day from 4 pm to 10 pm, including 2-hour usage of the pool – perfect for a relaxing soak with a drink in hand! 
Grilled Menu Items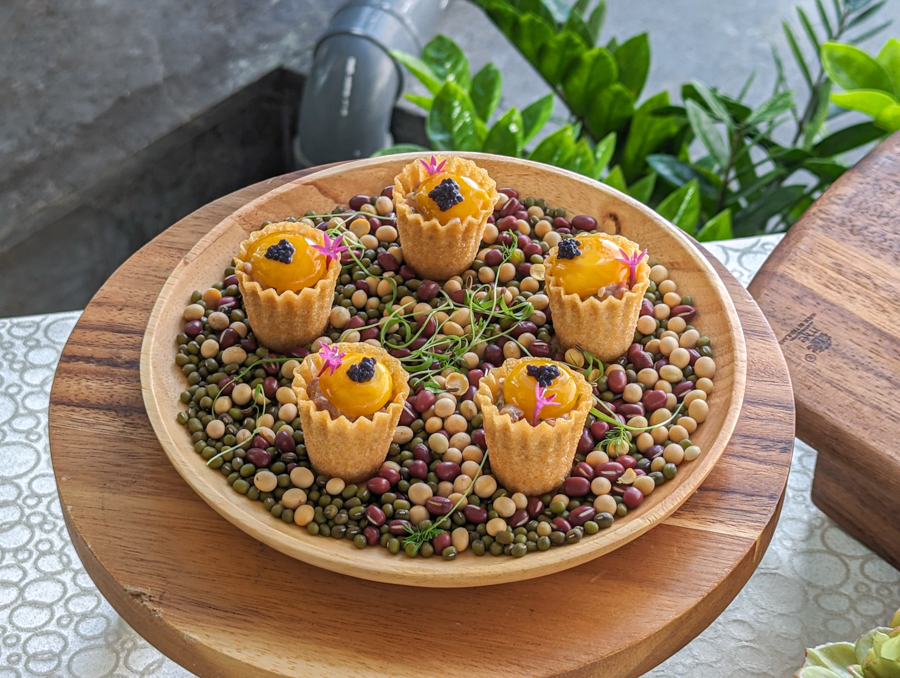 If you're not keen on the floating tray, their grilled menu items are also worth a try! Aside from the steak, the Wagyu Beef Tartare ($16++/ 5pcs) was also a highlight, with a fattiness from the beef and a pleasant texture that wasn't mushy. 
Another dish worth trying is the Fremantle Octopus, served with tomatoes and spicy sausage. The octopus was tender and well-marinated using a fragrant spice mix that makes it quite addictive. 
Those who prefer a lighter bite can get the Charcuterie Board ($24++/36++) with prosciutto, salami and mortadella; perfect to pair with a glass of their selection of wines. 
Speciality Cocktails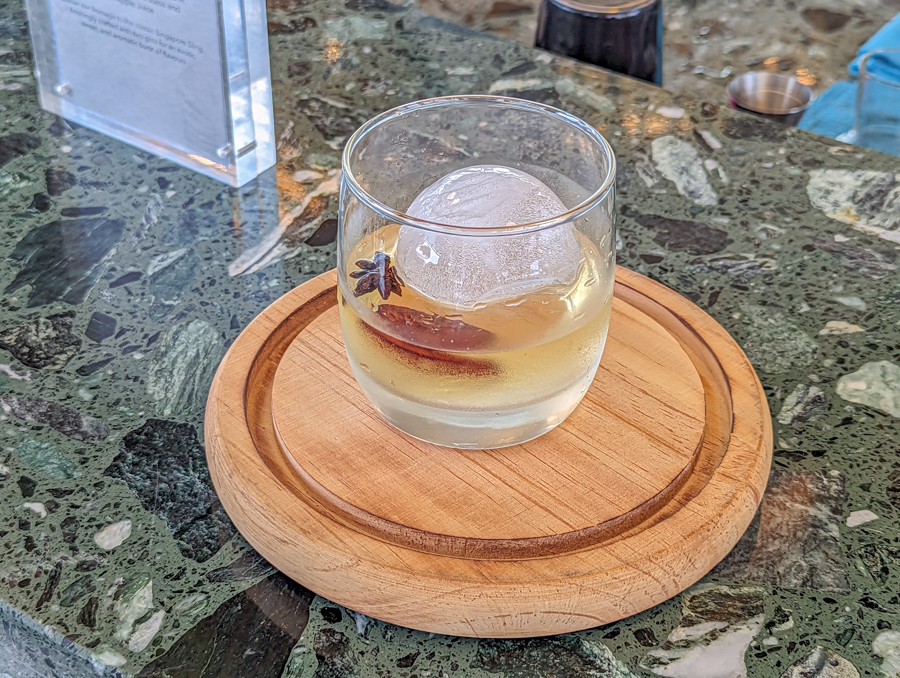 Their cocktails include many unique housemade syrups and infusions, like Alexandra's Allure ($25++). It features a housemade honey butter-infused bourbon and a unique cinnamon smoke before serving, making it a multi-sensory experience
The notes of honey and cinnamon are prominent, leaving a smokey aftertaste after each sip. Do note that this cocktail is very strong, and is best enjoyed slowly.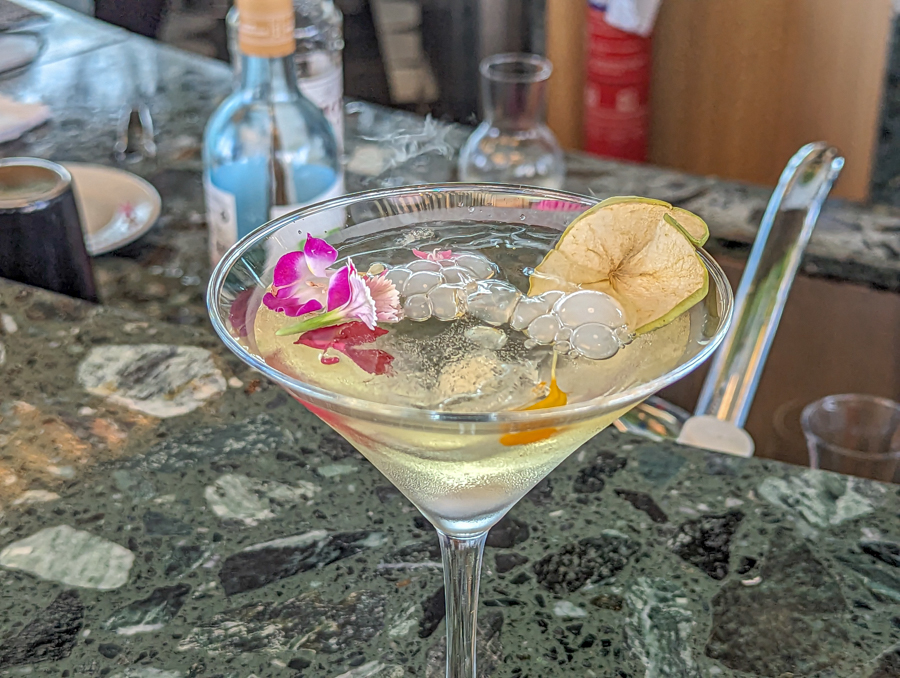 If you prefer a sweeter, floral option, try Gillman's Garden ($25++) with apple-infused vodka and elderflower. It's served with a show of edible dry ice! This was sweet and pleasant with a notable apple flavour, and easy to drink. 
Bali-Inspired Floating Tray In Singapore
Verandah Pool & Grill is a place to go for a chic and stylish getaway. Whether it's for a romantic dinner or a special birthday celebration, you can leave with a full stomach (and camera gallery). 
For more information and reservations, visit their official website. 
@middleclass.sga poolside bar that's good enough to fool your friends (& yourself) that you're in bali 🌅🩳👙🍹🏝️🥥 (p.s. this spot is in alexandra btw?? literally beside ikea 🫣)♬ Weekend
Verandah Pool Bar & Grill
Level 7,  Momentus Hotel Alexandra, 323 Alexandra Road, 159972 Singapore
Open daily, 11am-12am
*Follow MiddleClass.sg on Facebook, Instagram, and Telegram for more food, travel, and trending stories