Situated in the heart of bustling Myeongdong is Hadongkwan, a Korean restaurant that has been the recipient of the Bib Gourmand in several Seoul Michelin Guides.
The restaurant has been serving up bowls of Gomtang (Beef Bone Soup) since 1939, with a principle to use Korean beef for their dishes. There's also no artificial flavour in their food, so what you get is pure Korean beef goodness.
Comforting Korean Soup in Seoul
The menu here at Hadongkwan is pretty straightforward, serving up bowls of Gomtang (15,000won) and a special version priced at 18,000won. The difference is that the latter comes with slices of tripe. There are also plates of Suyuk ranging from 40,000won to 60,000won available.
A bowl of Gomtang at Hadongkwan comes with the rice already soaked in the clear soup, which is made using various parts of beef and radish.
The resulting broth is light and fragrant, with a tinge of sweetness.
However, those who lean towards more seasoned and heavy foods might find this a bit too bland. No worries as you can add salt for seasoning according to your liking.
We loved ours with loads of green onions, paired with the famous radish kimchi that added a nice crunch to the overall meal.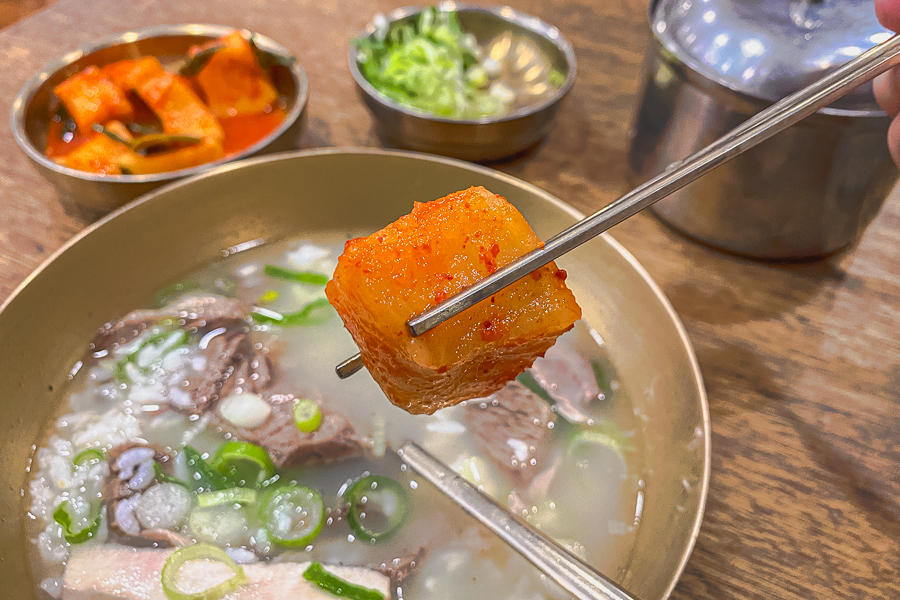 Don't slurp everything all at once! One recommended way to enjoy Gomtang at Hadongkwan is to save half the soup and add some of the radish kimchi brine for a completely different experience!
Restaurant in Seoul Open From 7AM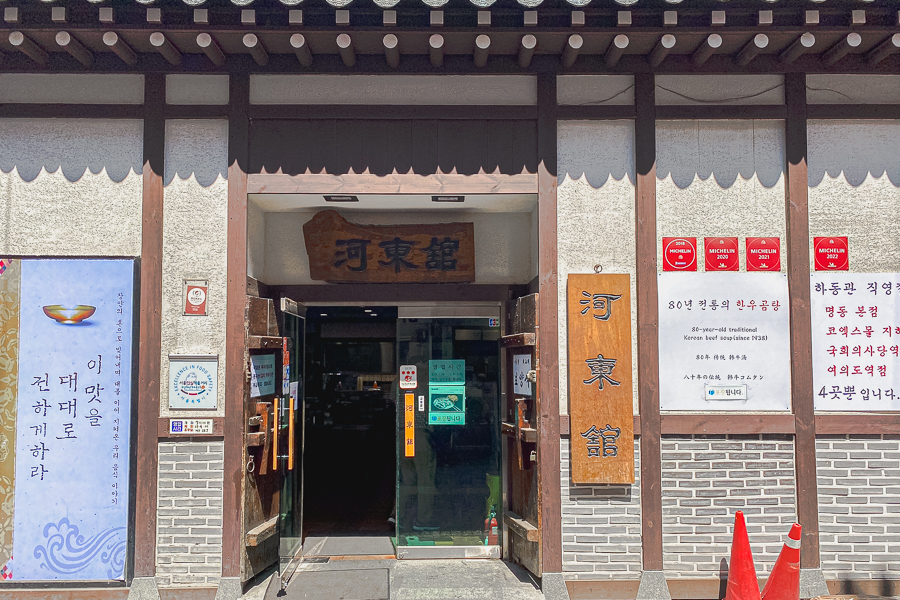 With the restaurant starting operations at 7am, Hadongkwan makes for a great spot for a hearty breakfast before you start exploring Seoul. If not, it's also perfect for curing that hangover you have after drinking till 5am.
Hadongkwan (하동관)
12 Myeongdong 9-gil, Jung-gu, Seoul
서울 중구 명동9길 12
Mon-Sat, 7am-4pm, Closed on Sundays
Nearest Subway: Euljiro 1-ga Station (Line 2), Exit 5 or Myeongdong Station (Line 4), Exit 7/8
*This was an independent review by MiddleClass
*Follow MiddleClass.sg on Facebook, Instagram, and Telegram for more food, travel, and trending stories