Korea has a reputation for serving some seriously spicy food! After all, it is home to the world's spiciest ramen and Korean fire noodles, commonly known as Buldak.
However, Korea's gastronomical delights are so diverse that there are still many other dishes that can suit those who are not fans of spice! Here are some of our flavourful top picks that are light on the spice that everyone can enjoy regardless of their spice tolerance.
Bulgogi (불고기)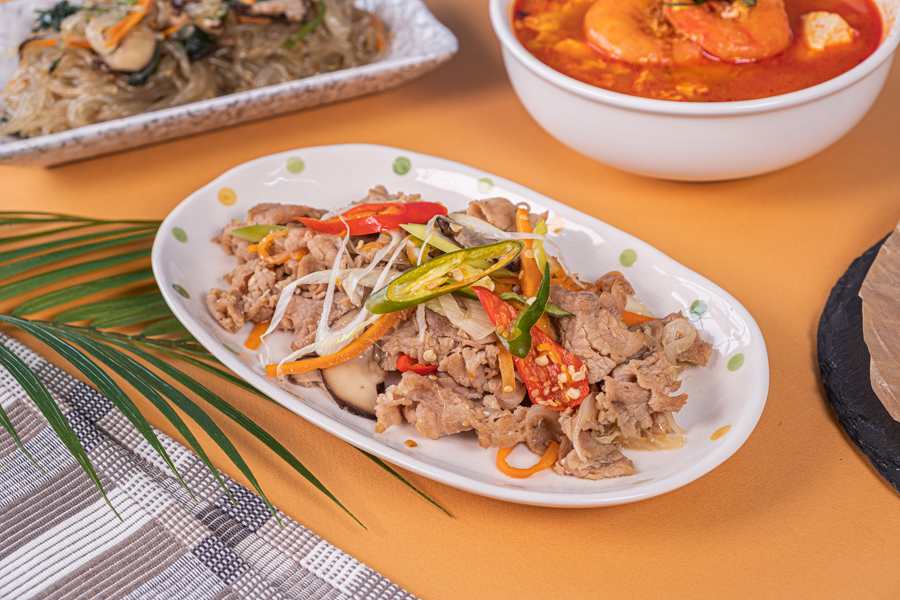 Bulgogi is a dish synonymous with Korea, consisting of thinly sliced meat marinated in an addictive sweet and savoury sauce. The literal translation of bulgogi is "fire meat", and this alludes to the traditional method of preparing bulgogi, which is to grill the marinated meat on a barbecue or griddle. This method allows the meat to have a slight char, giving it that distinctive sweet, smoky flavour that it is so widely known for. The most common cut of meat used in bulgogi is thinly sliced beef, but many other types of meat from chicken to beef and lamb can also be used.
Donkkaseu (돈까스)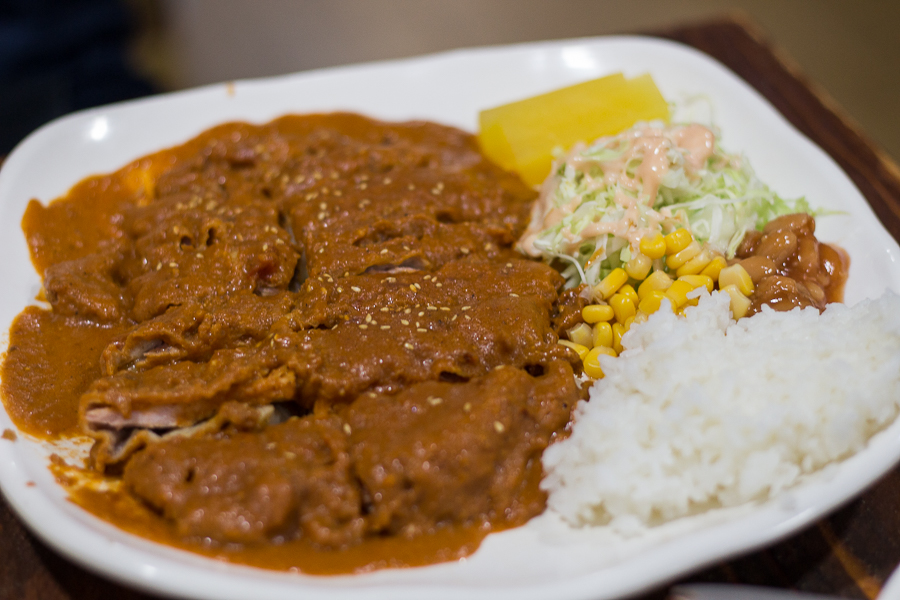 Donkkaseu is a widely popular dish adored by many. It consists of a breaded pork cutlet that is deep-fried to crispy, golden-brown perfection. Korean-style Donkkaseu has cutlets that are pounded to make them thinner and larger than typical Tonkatsu, with some even stuffed with fillings like cheese and sweet potato! The cutlets are usually doused in a brown sauce, consisting of a blend of ingredients – primarily ketchup and Worcestershire sauce that give a burst of umami. It is usually served with a small side of rice and salad to complete the meal.
Kimbap (김밥)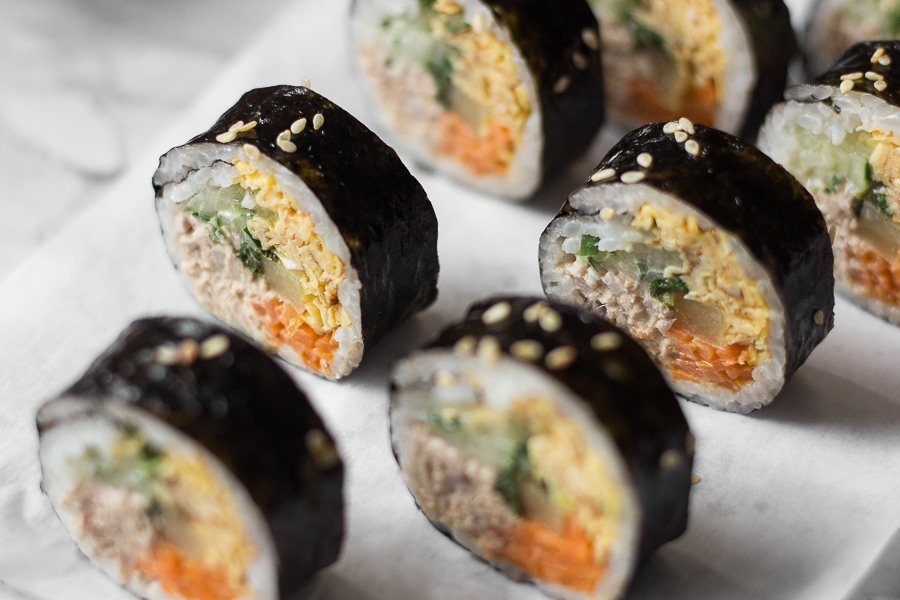 Kimbap is another well-loved dish entrenched in Korean cuisine. It is a rice roll made with seasoned white rice and wrapped in seaweed, stuffed with a variety of fillings. 
When it comes to fillings, the sky's the limit! Popular options include bulgogi, tuna, ham and cheese, and katsu. The simplest iteration is Chungmu Kimbap with rice as its only filling. It is usually served as an accompaniment to other spicy dishes. Another popular variation is Mayak Kimbap, a street food that features strips of carrot, danmuji (Korean pickled radish) and spinach. Mayak translates to drug, aptly named because this type of kimbap is highly addictive!
Many Korean restaurants offer unique kimbap fillings, and some can be spicy, so be sure you know what's inside your kimbap before you take a bite!
Japchae (잡채)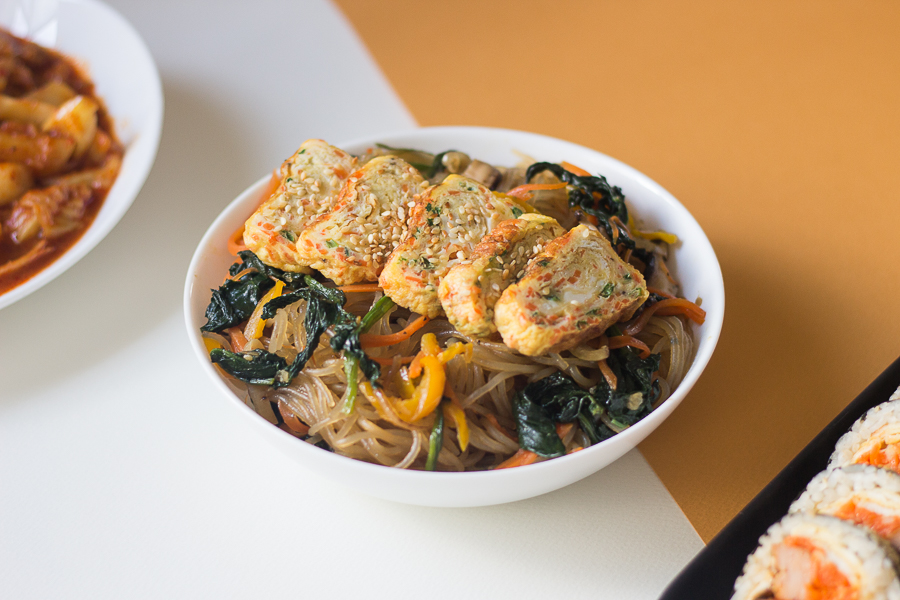 The literal translation of Japchae is "mixed vegetables" – but the star of this dish is actually the glass noodles, or dangmyeon (당면), made from sweet potato starch. Dangmyeon, carrots, mushrooms, bell peppers and onion are tossed together in a sweet-savoury soy based concoction, often with the addition of some meat like thin slices of beef or pork. As it is a simple dish to make, many variations of Japchae exist, each bringing a different combination of ingredients and flavours.
Pajeon (파전)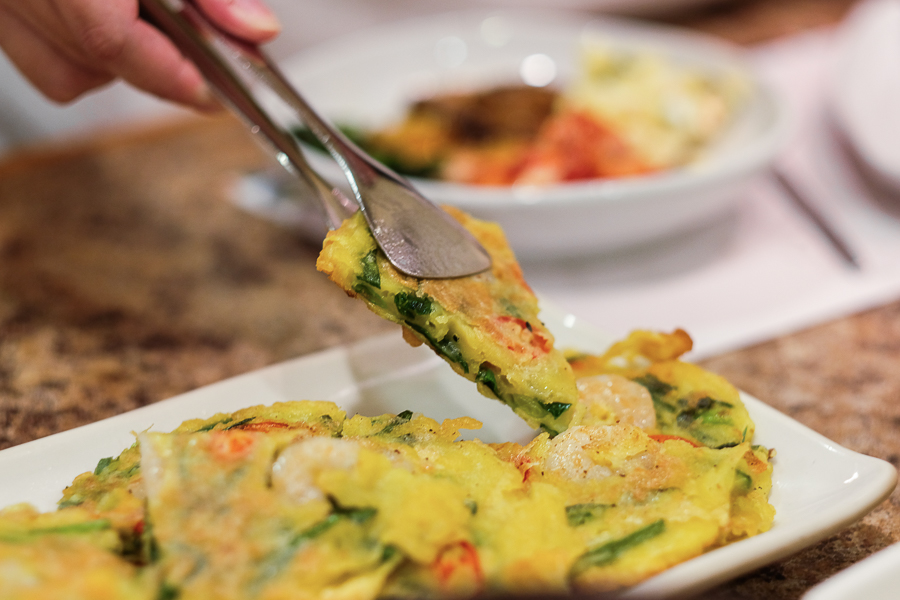 Pajeon is a Korean savoury pancake made with scallions as the primary ingredient. The batter consists of eggs, rice flour and wheat flour, and pan-fried till crispy and golden brown on the outside. The best pajeon is crispy on the outside, while still retaining a slightly chewy, fluffy texture on the inside. One of the most popular varieties of Pajeon is haemul-pajeon (해물파전), which is made with haemul (seafood) such as shrimp, squid, and oysters as the filling. The slightly sweet, fresh taste of spring onion complements seafood wonderfully, making haemul-pajeon one of Korea's favourite snacks. It also pairs well with Makgeolli, a Korean fermented rice wine! There's a saying in Korea that when it rains, one must eat pajeon and makgeolli together – something about the combination completes the cosy atmosphere.
Seolleongtang (설렁탕)
Seolleongtang is a Korean soup that is made from ox bones. The traditional recipe calls for ox leg bones to be used, which are left to boil for hours until the broth achieves a creamy, white colour. The key to achieving the milky, thick consistency of seolleongtang is to use reused bones, which are often kept at restaurants for specific use in preparing this dish. Seolleongtang works great as a standalone dish – just add some rice noodles and sliced beef and garnish with a generous serving of scallions. It's also great paired with other dishes, making this the ultimate comfort food, especially during the winter season. 
Jjajangmyun (짜장면)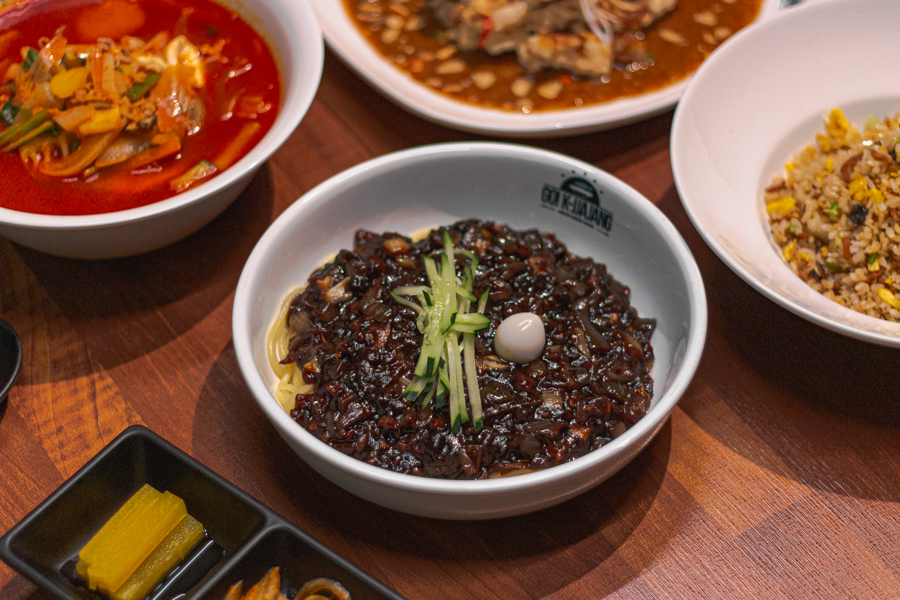 Jjajangmyun is one of many dishes that can be found in Korean-Chinese cuisine, which forms a key part of Korean food culture. The origins of this dish are believed to date back to the 1900s, when Chinese merchants first brought this dish into Korea.  The noodle dish features thick wheat flour noodles and a thick, savoury sauce made with Chunjang, a black bean paste. Chunjang is made from fermented soybean and has a slightly sweet and savoury flavour, which goes perfectly with the chewy texture of the noodles. In fact, Singapore has quite a few restaurants offering a variety of Korean-Chinese dishes you can enjoy!
Korean Fried Chicken (치킨)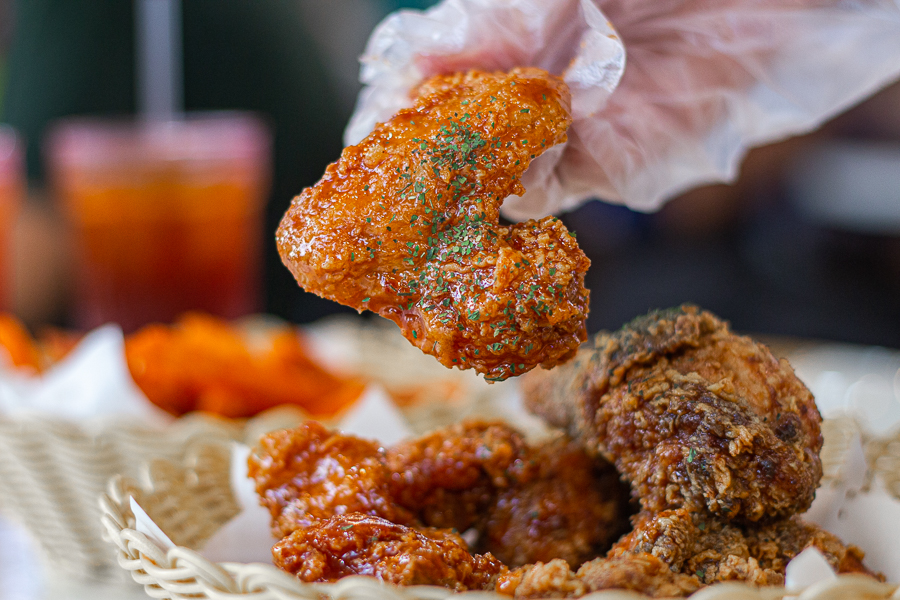 KFC in Korea has another meaning: Korean Fried Chicken! The Korean way of preparing fried chicken is acclaimed for having extra crispy skin with tender, juicy meat. Another highlight of Korean fried chicken is the variety of flavours that it comes in, with the most common flavours being yangnyeom and soy sauce. Be sure to check on the spice level of the chicken that you are ordering as the sauces served in most Korean restaurants pack quite the punch.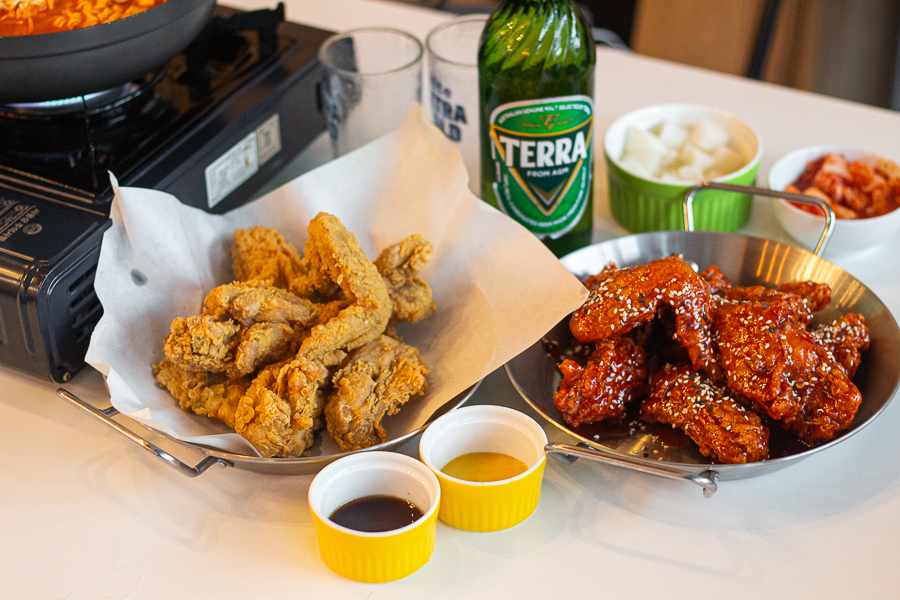 Fried chicken is often enjoyed with a beer in Korea, eventually leading to the term Chimaek (치맥), being coined to describe this pairing. Chimaek is regarded as a cultural phenomenon in Korea – many Koreans look forward to enjoying a plate of crispy hot chicken paired with an ice-cold beer while they socialize with their friends and family. Luckily, you can enjoy the same experience in Singapore at a number of eateries or at home!
Hotteok (호떡)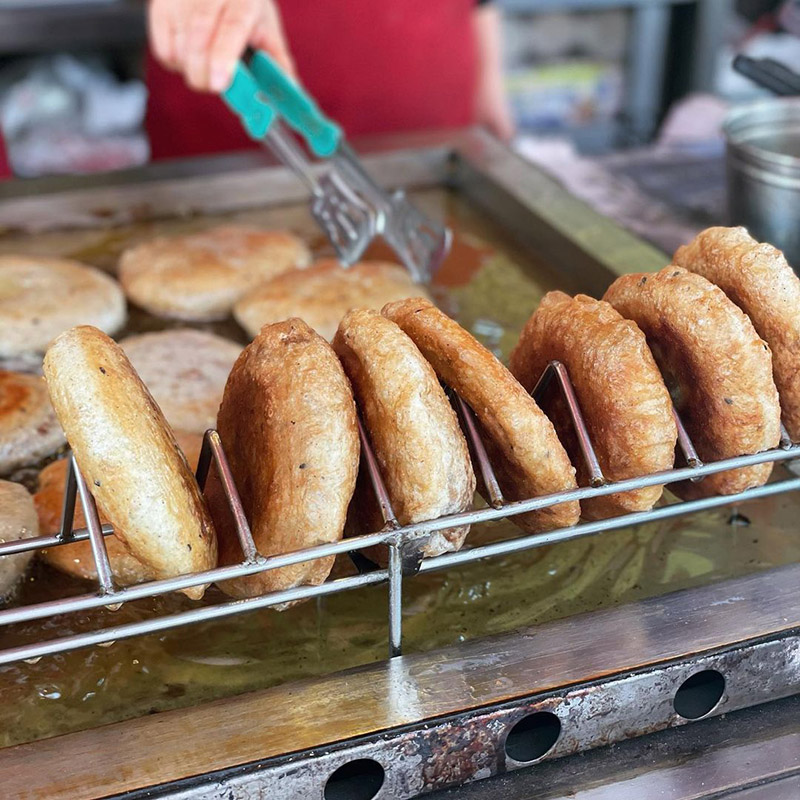 Hotteok is a Korean street food commonly referred to as Korean sweet pancakes, with a filling that typically consists of brown sugar, cinnamon powder and nuts. Breaking into the crispy outer crust reveals a warm and gooey sauce from the caramelised brown sugar and an earthiness from the cinnamon. It is not surprising that Hotteok is one of the locals' favourite comfort foods. Nothing beats a piping hot Hotteok on a cold winter day! 
Hotteok comes in a number of variations – one popular version that you can find in Busan is known as ssiat hotteok. It comes stuffed with a nut mix including pine nuts, sunflower seeds, and pumpkin seeds The chewy texture of the nuts goes really well with the deep-fried dough, especially when served fresh.
Eomuk-guk (어묵국)
Eomuk-guk is a Korean fishcake soup, consisting of Korean fish cakes, known as Odeng (오뎅) or Eomuk. These are popular street food in Korea, and many vendors sell them by the skewer with a savoury seafood-based broth. Eomuk is primarily made from ground fish paste, and combined with different seasoning sauces and ingredients before being fried. Eomuk-guk is classic Korean comfort food, and many K-dramas feature this dish, especially during scenes when people are drinking soju or makgeolli. The combination of alcohol and a steaming bowl of Eomuk-guk is a great remedy for even the worst of heartbreaks.
Gyeranjjim (계란찜)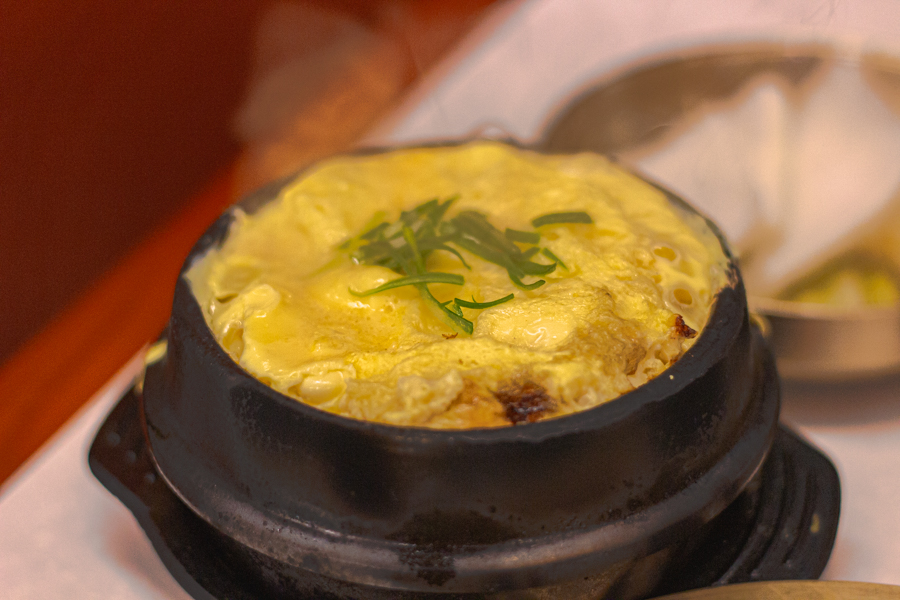 Gyeranjjim is a Korean steamed egg dish that is a popular side dish (banchan). It is loved by many for its soft and fluffy texture that goes well with many dishes. In order to achieve this texture, the eggs are steamed in a small pot with water or dashi broth and finished with sesame oil, sesame seeds and green onion. Gyeranjjim can also be referred to as Korean volcano steamed eggs, because of its cone-shaped appearance and the cooking process which releases steam from the eggs. If you are eating spicy food, Gyeranjjim helps neutralize the heat with its creamy and silky texture!
Naengmyeon (냉면)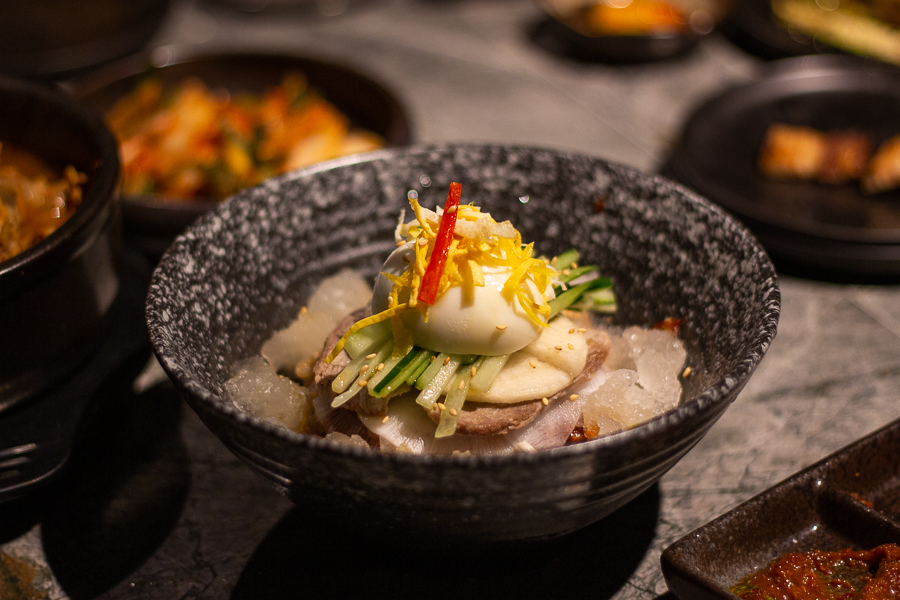 Naengmyeon is a popular cold noodle dish in Korea, which consists of buckwheat or potato starch noodles served chilled. There are two types of naengmyeon: mul naengmyeon and bibim naengmyeon. The former comes with a dongchimi (radish water kimchi) broth and the latter is a dry iteration with a spicy, red, gochujang-based sauce. 
The flavour of Naengmyeon can be quite mild, and as such most restaurants offer some vinegar and mustard oil on the side so you can season it to your liking. Naengmyeon noodles have a bouncy texture with a nice bite to them and go great with the ice-cold savoury broth – providing the best kind of refreshment, especially on a hot summer day.
Samgyeopsal (삼겹살)  
Samgyeopsal is grilled pork belly and is probably one of the most popular Korean dishes known to many. When grilled, the fat renders and gives the meat a scrumptious charred flavour. Samgyeopsal is commonly served with a green onion salad, garlic and ssamjang, which is a mild spice paste used to add flavour to grilled meat. The best way to eat Samgyeopsal is with a ssam – a lettuce wrap, usually consisting of a piece of meat and whatever toppings you desire. It's an unspoken rule that a ssam must be eaten in one mouth full, so pack it however much you want! There are quite a few authentic Korean barbeque restaurants in Singapore you can visit to recreate the experience!
Galbi (갈비)
Another popular Korean BBQ option is galbi (갈비), or beef short ribs. One of the most important aspects of Galbi is the marinade, which not only adds flavour but also helps to tenderize the meat. The authentic Galbi marinade recipe consists of ingredients such as Korean pear, soy sauce, mirin, sesame oil, ginger and garlic. When the marinated ribs are cooked on the grill, the result is a sweet and smoky burst of flavours, with meat that is fall off the bone tender.
Doenjang-jjigae (된장찌개)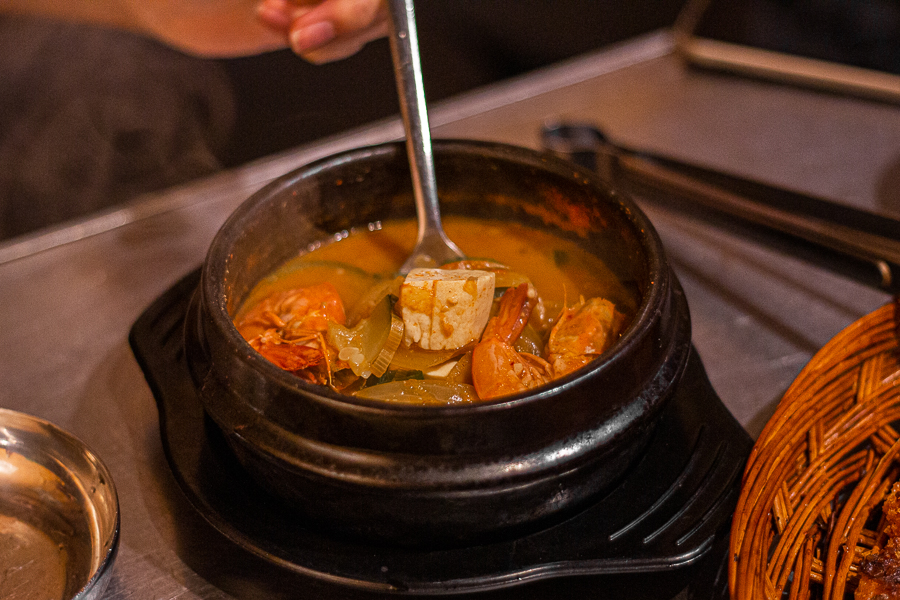 Doenjang-jjigae, or soybean paste stew, is another classic Korean comfort dish beloved by all. The hearty stew features a thick and umami-filled broth with ingredients like potatoes, bean sprouts and meat. The key flavour comes from Doenjang (된장),  an umami-filled fermented soybean paste. It's one of the three primary sauces or pastes (jang) commonly used in Korean cuisine, the other two being Guk-ganjang (국간장) and Gochujang (고추장).  Many Koreans eat doenjang-jjigae on a regular basis as it is easy to make and tastes great! Everyone has their favourite version of Doenjang-jjigae – you can use seafood, beef, pork or even just vegetables.
Tangsuyuk (탕수육)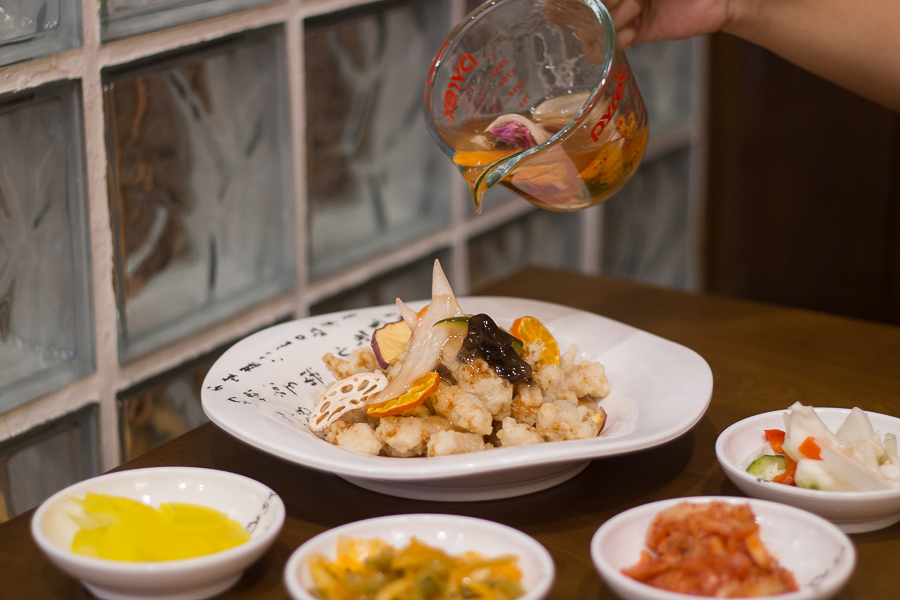 Yet another dish from the wide assortment of Korean-Chinese cuisine is Tangsuyuk, or sweet and sour pork/beef. The combination of sweet and sour is the most important and is achieved by using the right proportions of white vinegar, sugar, soy sauce and cornstarch. The sauce can either be served separately or tossed with the crispy deep-fried pork. Vegetables like bell peppers, carrots and onions are also added for some crunch. In Korea, it is really popular for locals to eat jjajangmyeon and tangsuyuk together, and many restaurants serve the two dishes together as a set. 
Kalguksu (칼국수)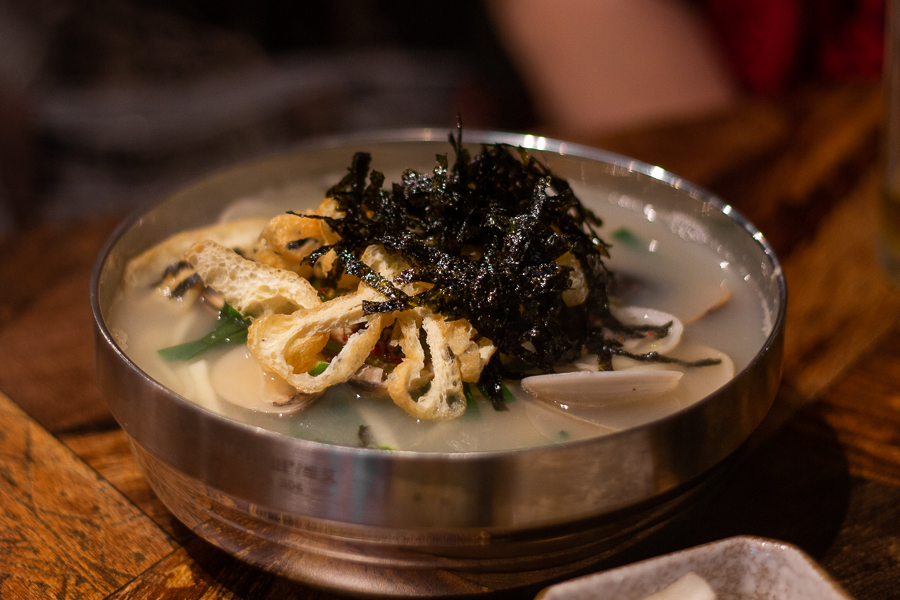 Kalguksu, literally translated to knife noodles, is a Korean noodle soup dish. The noodles are cut into thin strips and have a chewy texture with a nice bite. There are many different types of Kalguksu, the most common ones being Dak Kalguksu (chicken), Bajirak Kalguksu (clams) and Haemul Kalguksu (seafood). A bowl of kalguksu is usually packed with ingredients like potatoes, shiitake and green onions for a hearty meal. The beauty of Kalguksu is that it takes on the flavour of the ingredients that are added to it, making it more delicious the longer it simmers!
Bibimbap (비빔밥)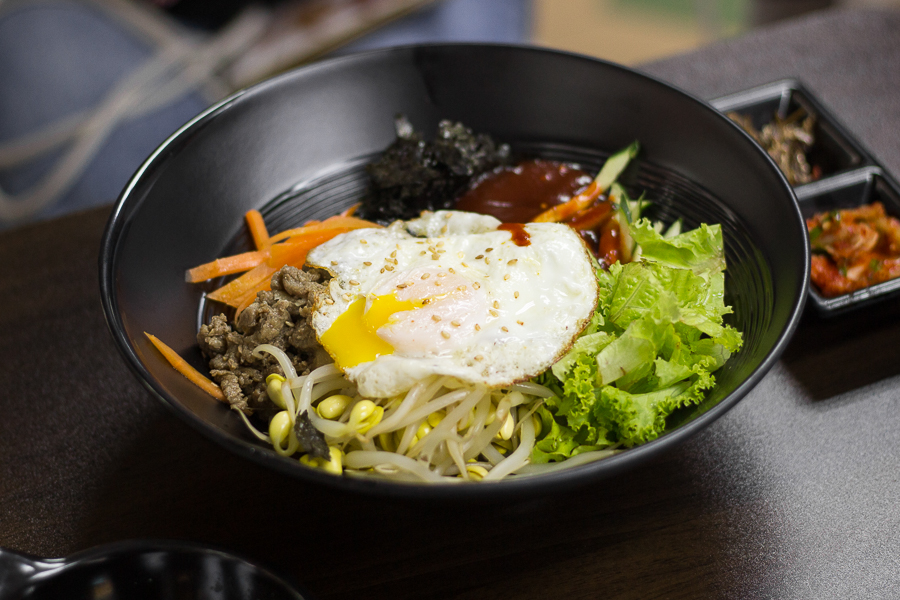 Bibimbap is one of the most famous dishes to originate from Korea! Bibimbap consists of rice, vegetables, meat and sauce, which are mixed well together. The wide variety of ingredients come together to give a delicious blend of colours, flavours and textures that are a feast for the eyes and palate. There is no set rule on what ingredients can be used in bibimbap. It can range from raw vegetables, sauteed vegetables, meat, seafood and much more. In Korea, it is also popular for many households to use their leftovers and transform them into quick and easy meals.
Traditionally, bibimbap is made with gochujang sauce, which is a spicy fermented chilli paste. However, the gochujang sauce can be substituted for options that are less spicy, such as soy sesame sauce and doenjang bibimbap sauce. You can even mix gochujang with a sweet honey soy sauce or doenjang sauce to take away some of the heat!
Korean Pizza (피자)
If you are in Korea, you have to try out their take on pizza as it truly is something special! Many pizza chains in Korea challenge the norms by offering pizza with interesting toppings such as bulgogi, kimchi and potatoes with sour cream. Korean pizza also offers a different take on stuffed crust – instead of the typical cheese, you can find sweet potato stuffed pizza crusts! You might expect pizza to be served with side dishes like cheese sticks, buffalo wings and garlic bread, as is the norm in Western countries. However, in Korea, pizza is commonly served with a side of pickles to cut through the richness and makes the dish much more palatable! The popularity of Korean pizza has spread internationally, with Korean chains opening up outlets internationally, including Singapore.
Kongguksu (콩국수)
Kongguksu is a savoury cold noodle dish, consisting of thin, wheat flour noodles served in a soy milk broth. It has a light and nutty flavour and is often eaten on hot summer days as it cools the body down. In order to make the soy broth, soybeans, sesame seeds and pine nuts are blended together till creamy and smooth.  Kongguksu is usually served with some julienned cucumber, sliced cherry tomatoes and a few slices of hard-boiled egg on the side. The soft yet chewy texture of the noodles complements the smooth broth.
Mandu (만두)
Mandu are dumplings with a savoury filling wrapped in thin skins. The common ingredients for the filling include minced pork, garlic, chives, vegetables and dangmyeon. However, not unlike the other dishes on our list, everyone has their own unique recipe for making Mandu. Mandu can be deep-fried, steamed, or boiled depending on the cooking style that you prefer. It can even be made into Mandu-tteokguk, a rice cake soup that is usually eaten to commemorate the new year. Mandu is best served with a dipping sauce that is usually made from 2 parts soy sauce and 1 part vinegar. A few teaspoons of Gochugaru (Korean chilli powder) are typically added, which can be a little spicy depending on your spice tolerance, so be sure to use it sparingly!
Soondae (순대)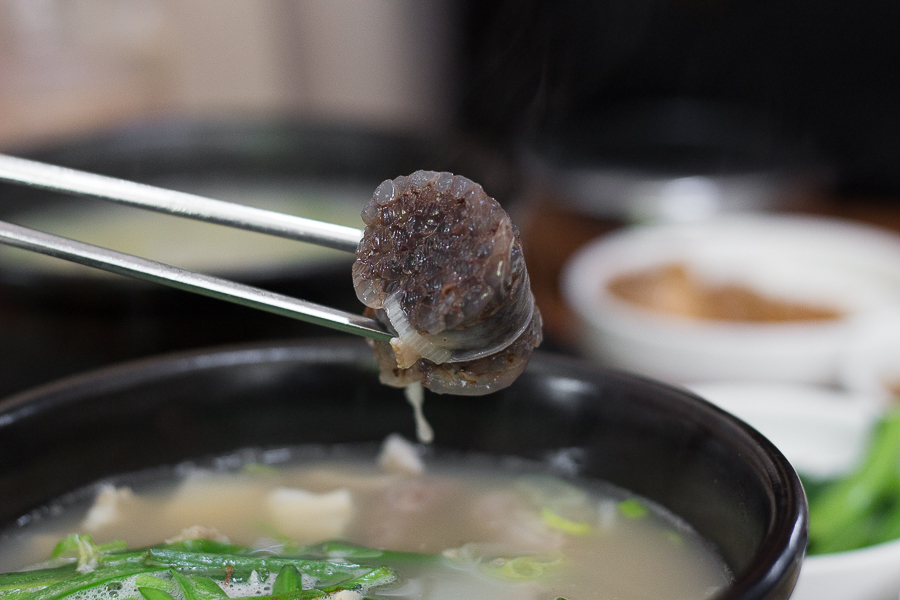 Soondae is a type of Korean blood sausage that is a street food delicacy in Korea. It can be eaten on its own, as a snack or as an ingredient in other dishes such as soups or stews. The main ingredients in Soondae are pork blood, dangmyeon and glutinous rice, which are blended together and encased. It does not have a strong flavour, but the seasoning brings out the subtle unique iron-rich taste. One popular dish that can be made with soondae is Soondae Guk, which features soondae cooked in a flavourful broth and goes well with a simple bowl of rice. 
Korean Corn Dogs (핫도그)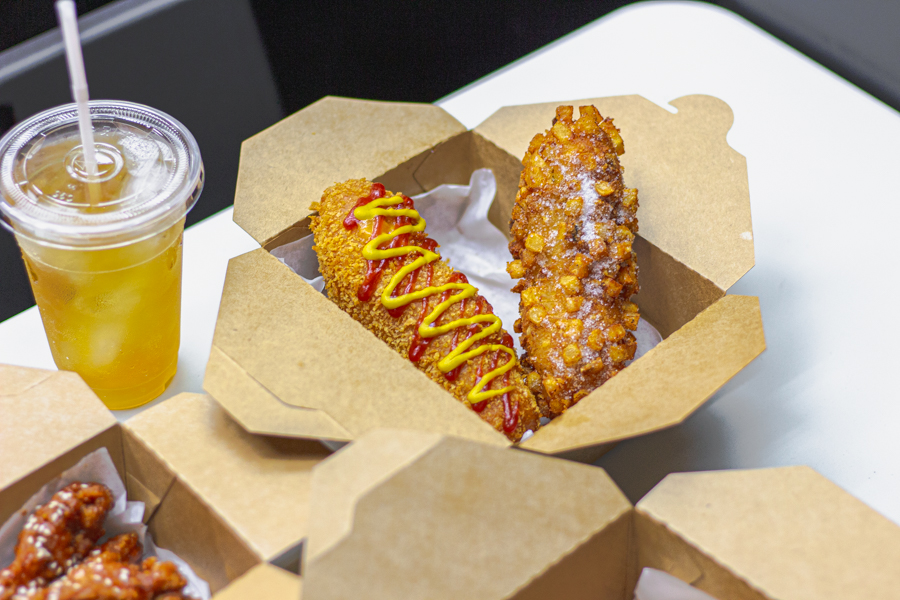 This popular Korean street food is all over Instagram, due to its aesthetic crispy golden brown exterior and unique-looking texture. Korean corn dogs feature a sausage and/or cheese coated in an airy, almost doughnut-like batter before being deep-fried. There are a number of variations of Korean corn dogs, one of the most popular ones being the Gamja (potato) hot dog, which is coated with potato cubes. The deep-fried hot dog is then dusted with sugar before being drizzled with your condiments of choice, usually ketchup and yellow mustard.
You can even get corn dogs that only have mozzarella for an ultimate cheese pull!  Corn dogs can also be coated with virtually anything that can adhere to the batter – but popular options that are served by Korean street vendor carts include crushed ramen, hot Cheetos, cornflakes and rice puffs.
Juk (죽)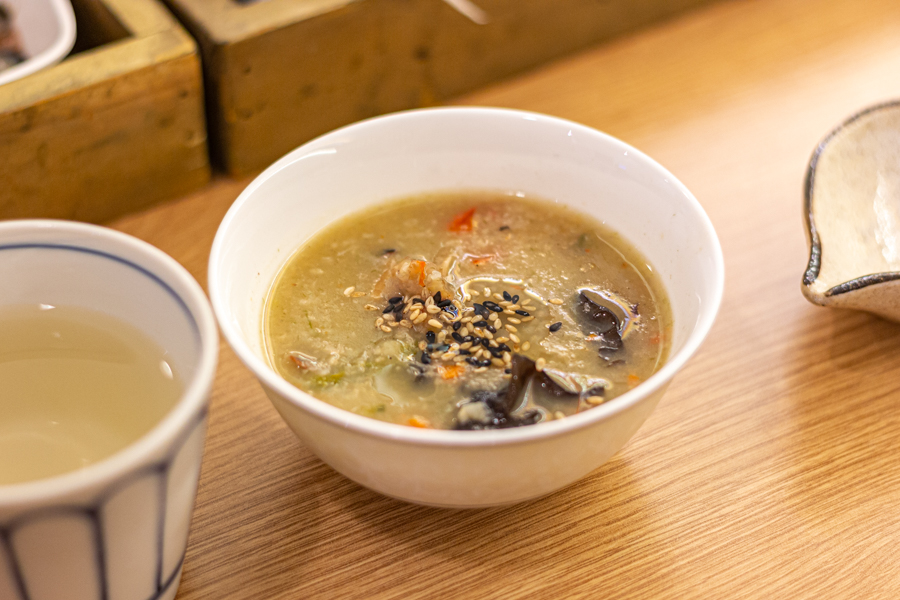 Juk is a category of rice porridge, usually made with savoury ingredients. There are many variations of juk, with the most popular being Dakjuk (chicken) and Jeonbokjuk (abalone). Juk is non-spicy, healthy and light, and makes one of the best comfort food dishes. As such, juk is a dish that is enjoyed by people of all ages, especially young children since it is easy to digest and has a soft texture. In fact, many Koreans have joyful memories of eating Dakjuk when they were growing up, and often crave for a hot bowl of Dakjuk when they are away from home.
Galbitang (갈비탕)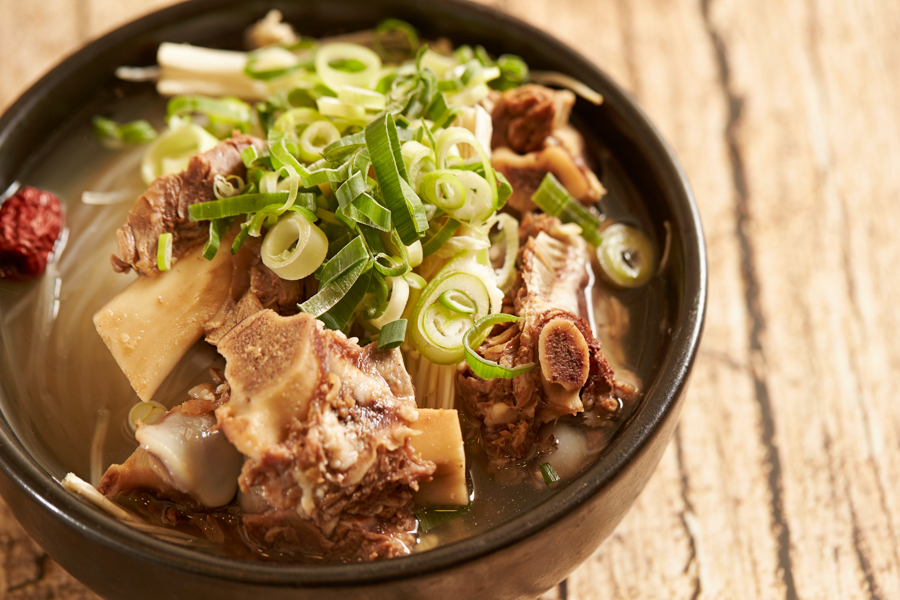 Galbitang is a hearty soup made with beef short ribs. In order to prepare the rich and flavourful broth, the beef ribs are simmered together for long periods of time with a variety of aromatics and vegetables, such as onions, radish, green onions and garlic. Galbitang is typically only served with beef ribs and radish pieces used to make the soup. Optionally, dangmyeon can be added especially if you are consuming the galbitang as a standalone dish. As the flavours of Galbitang can be quite decadent and intense, serving it with kimchi is a must to cleanse your palate between bites.
Gyeranppang (계란빵)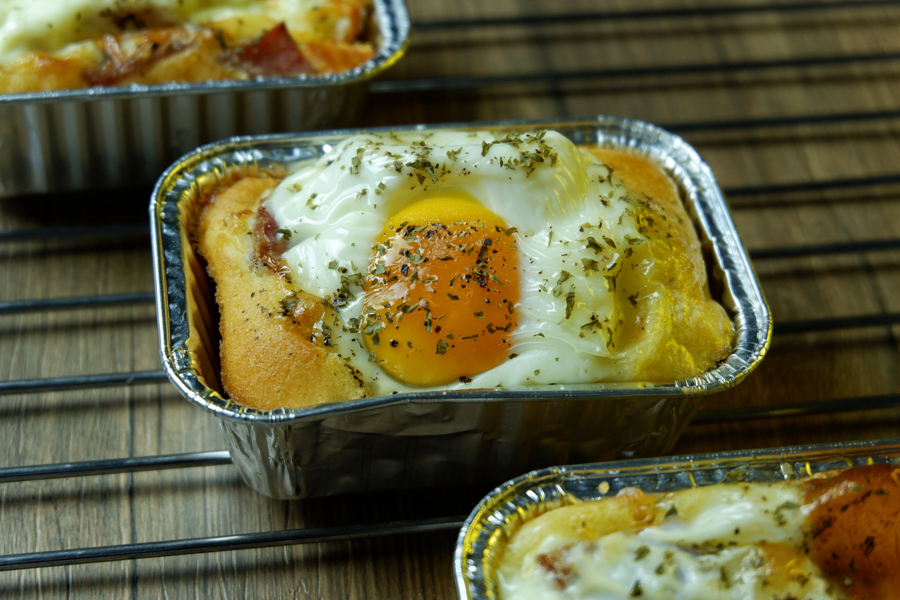 Gyeranppang is another popular Korean street snack, known as egg bread. The texture of Gyeranppang can be described as somewhat similar to that of cornbread, savoury and slightly sweet at the same time. Like many other types of street food, many different variants of Gyeranppang exist – including more savoury options that add ingredients like bacon and cheese. The next time you head to Korea, do keep a lookout for street vendors selling Gyeranppang – the smell of freshly baked sweet bread is a telltale sign!
Gopchang (곱창)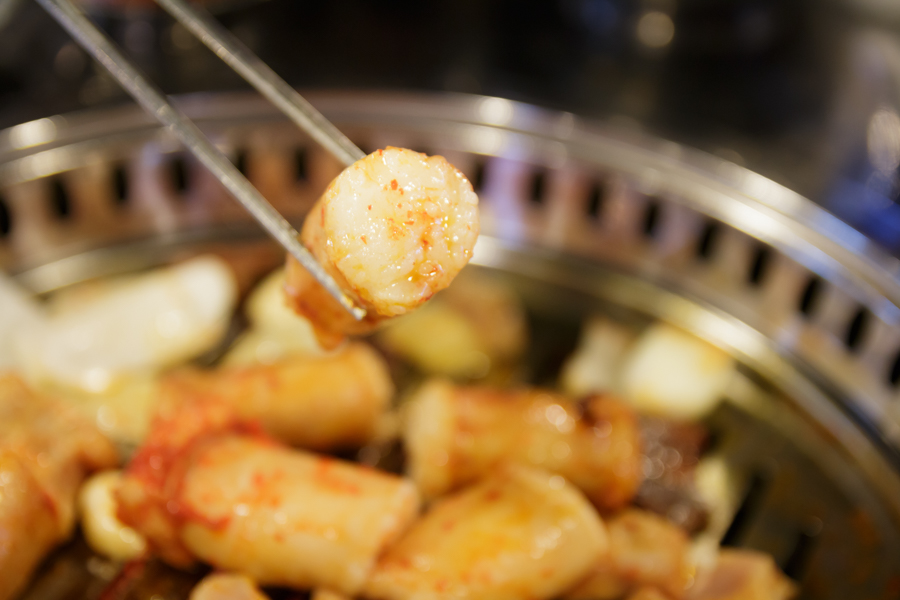 Gopchang or Gopchang-gui, is grilled beef or pork intestines. It is typically grilled in KBBQ style and served alongside vegetables like potato, onion and garlic. Some people are put off by the thought of eating the innards of an animal, but when done right, it can be quite delicious! Gopchang contains a large proportion of fat, making it very flavourful when grilled. Moreover, it has a  chewy texture that bears resemblance to that of calamari, which many people enjoy. The tripe has to be cleaned thoroughly in order to get rid of the distinctive unpleasant smell but this is a laborious and time-consuming process. Some restaurants do not clean their gopchang properly, which can leave a  very foul taste in your mouth. Therefore, it helps to do some quick research on the spot that you plan to visit beforehand to avoid a bad experience! 
Regardless of whether you are a spice lover, these dishes from Korea certainly deliver on taste and flavour. Be sure to check them out the next time you are in Korea!
Check out our article on must-try Korean food combinations here!
*Follow MiddleClass.sg on Facebook, Instagram, TikTok, and Telegram for more food, travel, and trending stories