Opened back in1904, Imun Seolnongtang has been operating for more than a decade and can be considered one of, if not, the oldest restaurant in Seoul. Located in Jongro-gu near Insadong, the Seollongtang restaurant is hidden in an alley near a carpark.
Unpretentious Local Vibes
With a huge signboard hanging above the entrance, Imun Seolnongtang might look small from far, but the restaurant is surprisingly spacious and has plenty of seats. The restaurant does not have much in terms of interior, just lots of wooden tables and chairs with an semi-open kitchen where you can see the kitchen staff cooking up a storm.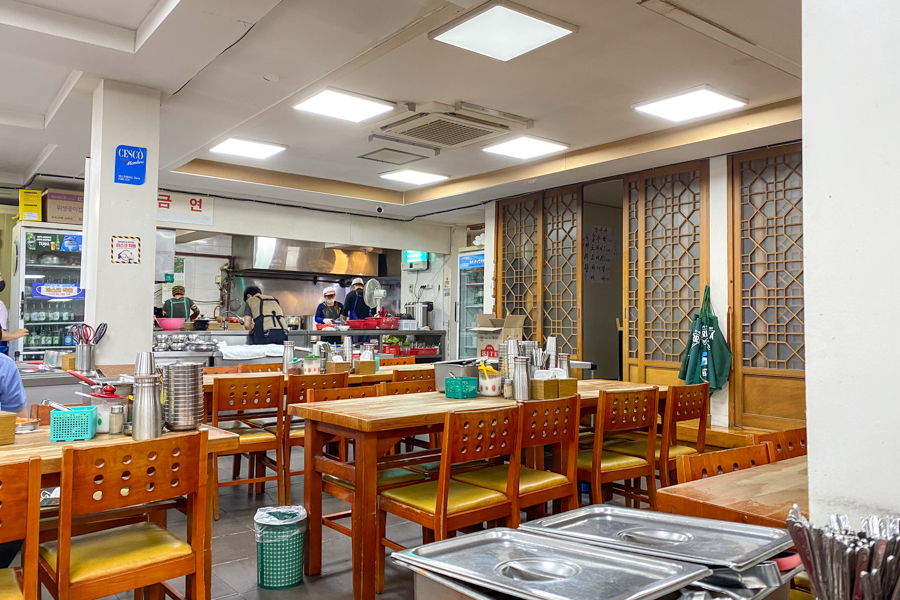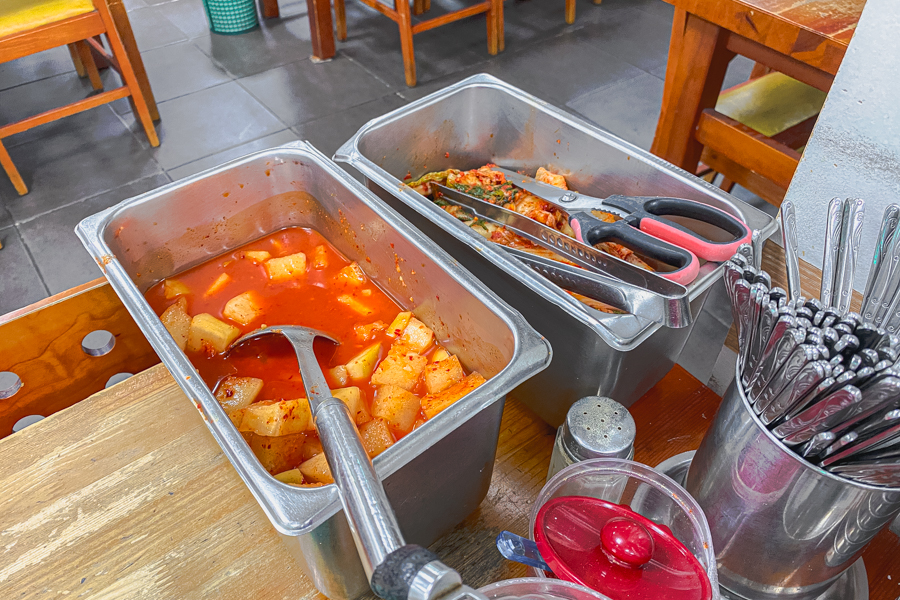 Over at each table, you'll find small plates, cups, and utensils at your convenience, alongside plenty of green onions and kimchi. In particular, there was a ton of cabbage kimchi and kkakdugi, which are huge chunks of radish kimchi.
Imun Seolnongtang Menu
The menu here at Imun Seolnongtang is simple. They serve Seollongtang (12,000won) and a special version (15,000won) with more variations of meat, which include cuts like stomach. There's also Doganitang (15,000won) which is something like a beef cartilage soup alongside a Beef Head Soup (13,000won).
With this menu, Imun Seolnongtang tends to be more popular as a lunch destination, but they do serve platters of boiled meat which are great for sharing and as a side dish to pair with soju.
We ordered the Seollongtang (12,000won) which came served in an earthenware bowl with a milky white broth. Beneath it was pieces of sliced beef and soft wheat noodles, which might feel underwhelming to some people.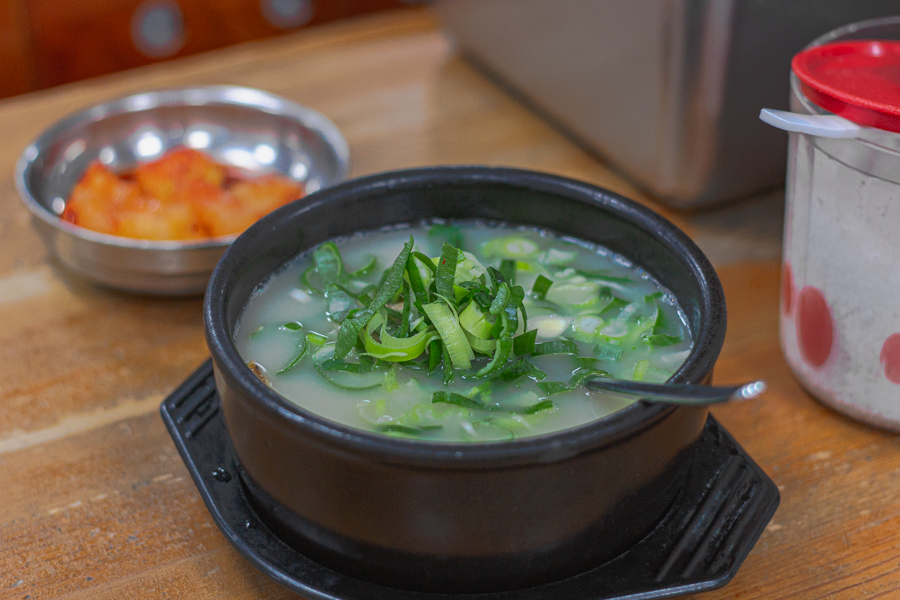 However, the story behind the broth is that it was cooked for long hours (17 to be exact), with ingredients like ox bones, brisket, and other cuts of the cow to produce a light, creamy white broth. The smell of beef is quite strong for this bowl of Seollongtang, and we highly recommend trying a spoonful of soup before adding any extra condiments or ingredients.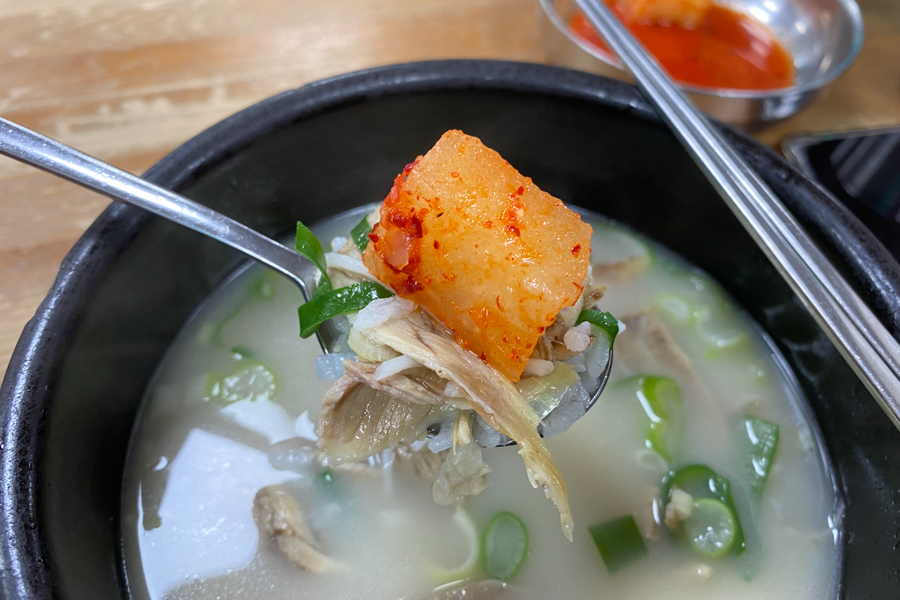 Topping the soup with green onions is almost a standard practice here, which adds a nice flavour to the soup. Depending on your palette, you may add salt to taste. Some people also prefer adding some kkakdugi juice into the soup, but we recommend adding it towards the end of the meal, just for a different experience.
The kkakdugi (radish kimchi) here was also a highlight for us, with refreshing sour, spicy and sweet flavours that shone with each crunchy bite.
Seoul Michelin Bib Gourmand Restaurant
Apart from being Seoul's oldest restaurant, Imun Seolnongtang is also featured in Seoul's Michelin Guide, with a Bib Gourmand alongside other restaurants like Hadongkwan and Manjuk Ohyang Jokbal.
The unpretentious vibes of the restaurant is something we loved, with the bowl of soup being a comforting treat, especially for cold days.
Imun Seolnongtang (이문설농탕)
Woojeongguk-ro 38-13, Jongro-gu, Seoul
서울 종로구 우정국로 38-13
Mon-Sat, 8am-9pm, Sun, 8am-8pm. Break time: 3pm-5pm
Nearest Subway: Jonggak Station (Line 1), Exit 3-1
*This is an independent review by MiddleClass.sg
*Follow MiddleClass.sg on Facebook, Instagram, and Telegram for more food, travel, and trending stories