Spice is synonymous with South Korean cuisine. Koreans are known to be able to handle their spice, evident from their diverse variety of spicy food that can dazzle even the most seasoned spice lovers. Here are some Must-Try Spicy Korean Foods that will set your taste buds on fire!
Dakbal (닭발)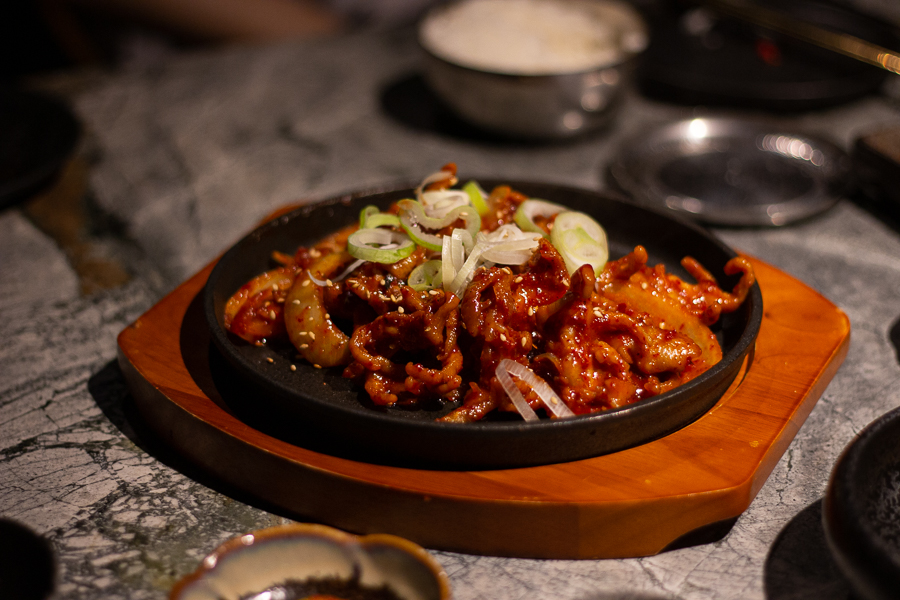 Dakbal, or chicken feet, is a popular dish in Korea. It's essentially chicken feet served in a fiery red sauce. Chicken feet are quite the norm in Asian cuisine, and their chewy, gelatinous texture makes for an irresistibly addictive snack. Dakbal is also rich in collagen which is beneficial for the skin and joints. In fact, many Koreans credit Dakbal for keeping their skin glowing and healthy! 
Dakbal is either broiled or flame-grilled first, before being coated in the slightly sweet, spicy sauce made primarily from gochujang and gochugaru (Korean chilli flakes). This dish packs some serious heat and is definitely only suitable for those who are used to spicy food. Spicy food and alcohol go great together – and it's no surprise that Dakbal is on many Koreans' lists of favourite Anju, or dishes that are enjoyed with alcohol.
Dakgalbi (닭갈비)
Dakgalbi is a stir-fried chicken dish that originated in Chuncheon in the 1960s. Even though its name literally translates to chicken ribs, this dish is in fact made with boneless chicken thigh that is cooked in a spicy sauce made with gochujang (red chilli paste) and gochugaru. Dakgalbi is great for sharing, as it usually comes served in a large pan in which the marinated chicken thigh is cooked along with other ingredients such as cabbage, sweet potatoes and tteokbokki. 
Just like KBBQ, Dakgalbi can also be enjoyed by wrapping it in lettuce or perilla leaves. It is common to enjoy this dish with friends and family, especially with a few drinks. Once everyone has eaten their share, some rice is usually added to the pan to sop up the spicy, red sauce and the natural flavour from the ingredients.
Maeun-tang (매운탕)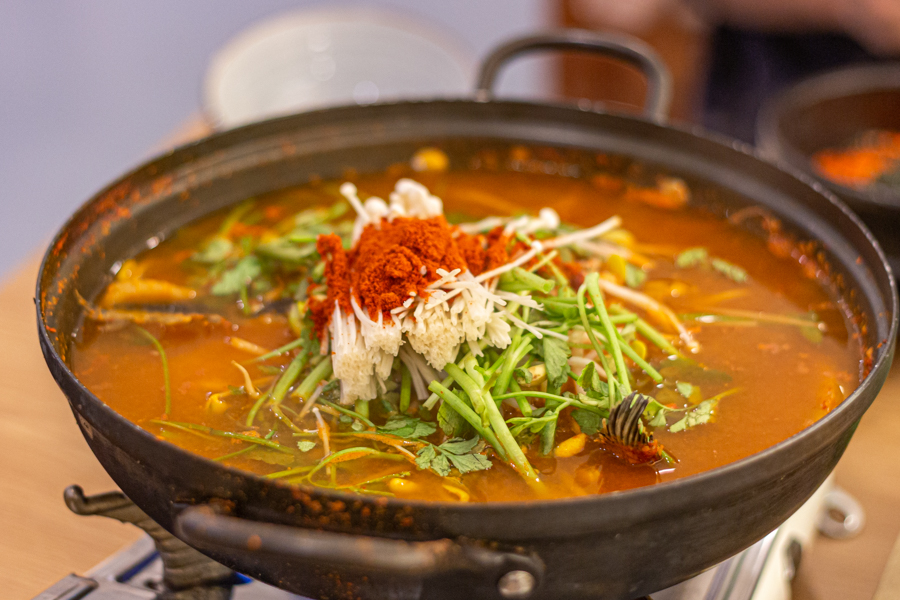 A classic Korean seafood stew dish, Maeun-tang is loved by locals for its simple yet comforting taste. The primary ingredient used in Maeun-tang is fish, maximising the flavour from the bones and head. It's also important to use the freshest fish possible, as the sweetness from the meat is the pillar of this dish. This is why you'll always find Maeuntang typically after a Korean sashimi meal!
The Maeun-tang broth is made using anchovy broth, fish bones, and radish for the base, giving a deep umami flavour. The seasoning paste which contains a mixture of doenjang (fermented soybean paste), gochujang and gochugaru is then added to the boiling broth. All the ingredients come together to create a spicy bowl of goodness that is packed with flavour – the perfect comfort food on a rainy day.
Budae-jjigae (부대찌개)
Budae-jjigae is a spicy stew dish commonly referred to as "Korean Army Stew", and is one of the most popular hot pot dishes in Korea. This dish actually has quite a bit of history behind it, dating back to the post-Korean war period in the 1950s. A shortage of food led to Koreans, particularly those residing in the city of Uijeongbu, using leftover canned products from US military bases to supplement their diet. Their creativity is what gave birth to Budae-jjigae as we know it today! 
Budae-jjigae is in fact a really simple dish to make, and most people just put whatever they want in it. Today's versions are vastly different from those in the past and often use fresh ingredients like enoki mushrooms, tofu and pork belly. The stock used in budae-jjigae is made from anchovy and dried kelp, for a deep and complex umami flavour. Gochujang and gochugaru give the bright red colour and satisfying kick of spice needed to make this dish loved by foodies across the world!
If you're attempting to try eating spicy Korean foods, this dish is a great starting point.
Jjampong (짬뽕)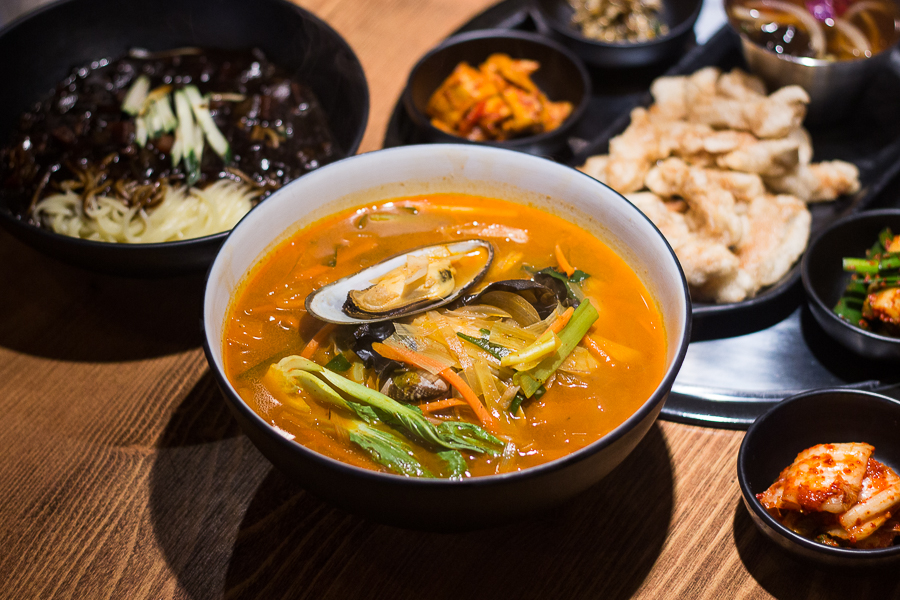 Jjampong is a Korean-Chinese spicy noodle soup – it is one of many dishes that was concocted by Chinese immigrants living in Korea, giving rise to a new kind of cuisine that has become a huge part of Korean culture. At one glance, Jjampong resembles tom yam soup, but the flavours could not be more different. The most popular ingredient in jjampong is seafood or haemul (해물). 
The broth combines the spiciness from gochugaru and the natural sweetness from the seafood with the umami from the dashi-based broth for a truly hearty soup. Jjampong also shares an ingredient with its less spicy counterpart, Jjajangmyeon – the wheat noodles. It's a perfect dish if you're a noodle lover!
Bibim Naengmyeon (비빔냉면)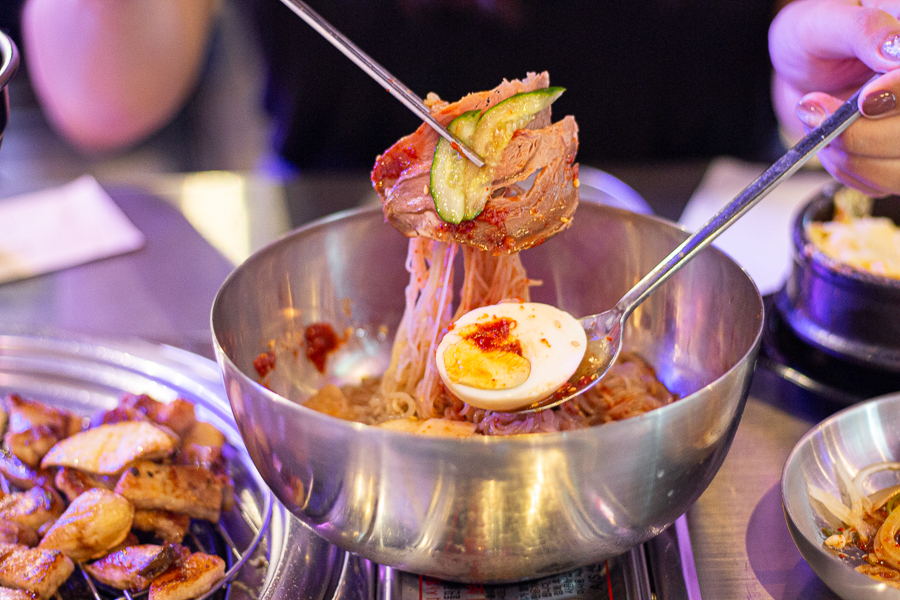 Bibim Naengmyeon is an all-time favourite in Korea, especially during the summer. Naengmyeon is made with thin, long noodles made with buckwheat or potato starch. It comes in two distinct variants: bibim naengmyeon, which has a spicy sauce and mul naengmyeon, which is a non-spicy option made with radish water and beef broth. Slices of julienned cucumber and Korean pear are used to garnish the dish, as well as some slices of egg. Naengmyeon is best served ice-cold, as the chewy noodles and spicy sauce tastes the most refreshing when eaten straight out of the refrigerator. A dash of vinegar and mustard are also typically added to add some acidity to the dish and accentuate the flavours from the slightly sweet gochujang-based sauce. 
Jjolmyeon (쫄면)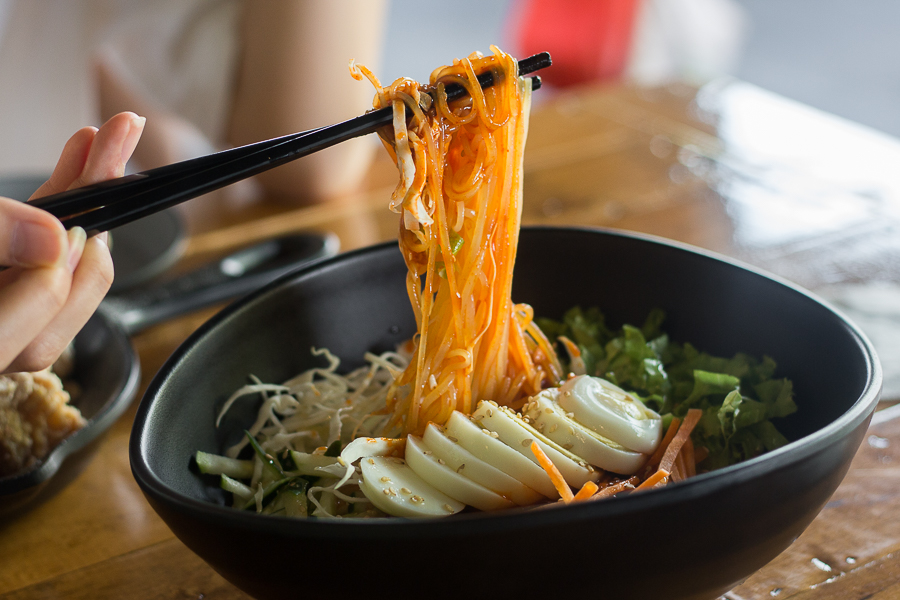 Jjolmyeon is a similar dish to Bibim Naengmyeon, which is essentially made with the same ingredients and method. The key difference is that the noodles are thicker and chewier when compared to the thin Naengmyeon noodles. Jjolmyeon has interesting origins – it is believed that a Naengmyeon noodle factory accidentally manufactured noodles that were thicker in size. When experimenting with the thicker noodles, it was found that they actually mixed well with the gochujang sauce, giving birth to Jjolmyeon!
Tteokbokki (떡볶이)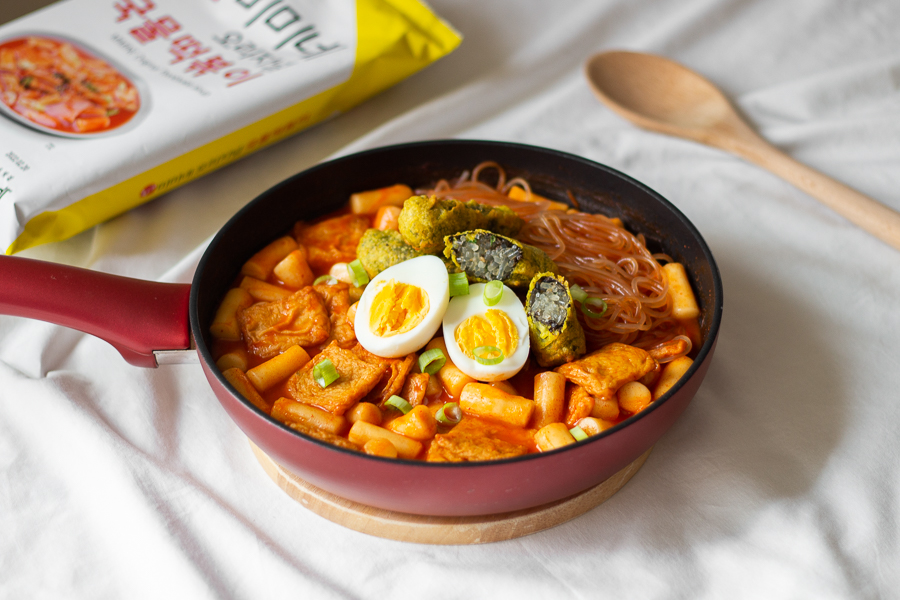 One of the most famous street foods from Korea, Tteokbokki is an addictively spicy rice cake dish. It consists of tteok (떡), or rice cake noodles that are shaped into tiny cylinders and cooked in a spicy red sauce. Fishcakes or odeng (오뎅) are usually added to tteokbokki to add some extra flavour and texture, but a wide range of ingredients can be added as well including boiled eggs, hotdogs and even cheese! The soft and chewy rice cakes are an irresistible combination when eaten with the thick spicy tteokbokki sauce. Tteokbokki is commonly eaten with twigim (튀김), which are assorted deep-fried treats. Many street vendors sell twigim and tteokbokki side by side – the crispy treats are great for sopping up the sweet, spicy and savoury tteokbokki sauce.
Kimchi (김치)
Kimchi, South Korea's national dish, is more than just a food item. It holds much historical and cultural significance and is symbolic with Koreans' national identity. Kimchi essentially refers to vegetables that are pickled and fermented, but the ingredients used can vary based on the variety of type of kimchi. There are a ton of different types of Kimchi out there, with the most popular type being made with napa cabbage (배추). The basic ingredients for making Kimchi are salt, gochugaru, garlic, ginger and jeotgal (젓갈) or salted seafood. The beauty of Kimchi is that every family has their own way of making it and their own unique recipe which is passed down the generations. Korean moms also continue to make Kimchi for their children when they grow up and move out, and one can be expected to continue this practice when they have children of their own.
Nakji Bokkeum (낙지볶음)
If you are a fan of spice and seafood, this is the dish for you! Nakji Bokkeum is an octopus stir-fried in a spicy sauce. It is a dish that can be eaten on its own or as a side dish with soups and stews. Nakji Bokkeum is prepared by stir-frying bite-sized pieces of octopus with vegetables like onion and chillies before dousing it in an intensely spicy sauce. The sauce is made by combining gochujang, gochugaru, soy sauce and honey – it makes for a slightly sweet, flavourful sauce that nicely complements the chewy texture of the octopus. It is important that the nakji (낙지) is not over-cooked as it tends to become rubbery. Nakji Bokkeum is another popular Anju, often enjoyed with drinks like soju and makgeolli.
If spice isn't your cup of tea, check out our list of non-spicy Korean foods that everyone can try! What are some of your favourite spicy dishes from Korea? Share them with us in the comments below!
For more Korean content, check out our catalogue of articles on South Korea or some ways to experience these Korean foods in Singapore.
*Follow MiddleClass.sg on Facebook, Instagram, TikTok, and Telegram for more food, travel, and trending stories