Chinese New Year means a time of feasting on delicious treats, and what better way to usher in the Year of the Tiger than with these delectable treats from Mr Bean?! The CNY treats from Mr Bean are uniquely made with soy flour and baked fresh in Singapore.
Mr Bean Chinese New Year Snacks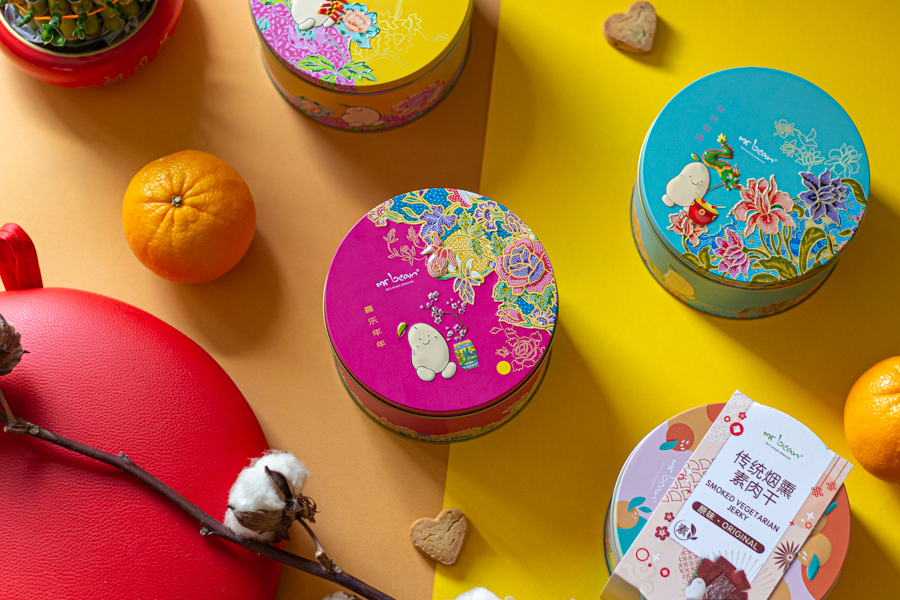 We mention this almost every year, but we're huge fans of Mr Bean's pineapple tarts and macadamia nut cookies!
This year, those 2 iconic CNY snacks from Mr Bean are back, along with items like Almond Suji Cookies, Lychee Cookies, Cranberry Pumpkin Seed Cookies and their iconic Smoked Vegetarian Jerky.
Smoked Vegetarian Bak Kwa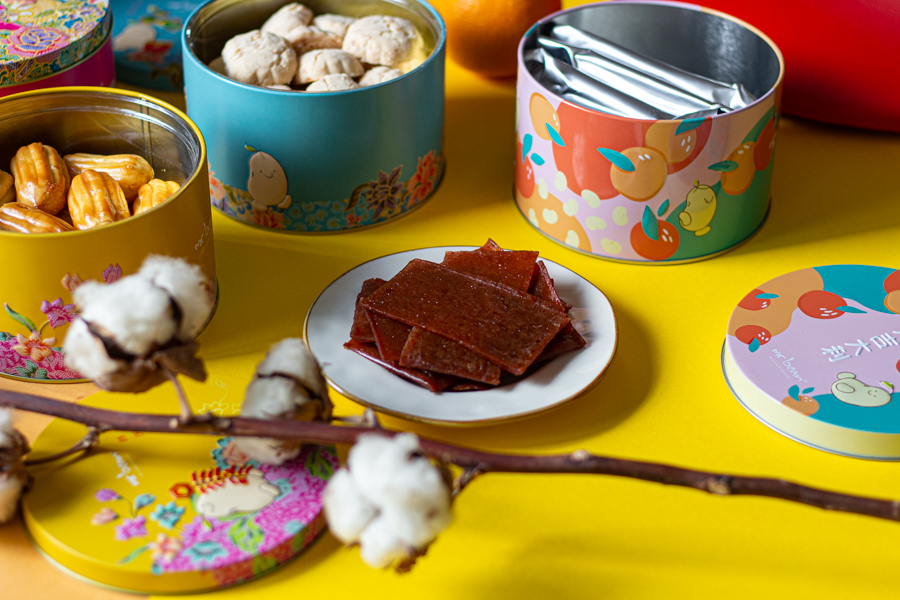 We tried the Smoked Vegetarian Bak Kwa for the first time this year. The snack comes in two flavours: original and spicy. The tin contained 4 individual packets of Bak Kwa, with each pack having around 10 slices.
The flavour is smoky, and it reminded slightly us of the vegetarian beehoon stall protein choices. Texture-wise, it might not be similar to actual bak kwa, but it's not bad.
Mr Bean Pineapple Tarts
Like always, the Pineapple Tarts from Mr Bean were buttery, flaky and filled with a homemade pineapple jam that's not overly sweet.
Macadamia Nut Cookies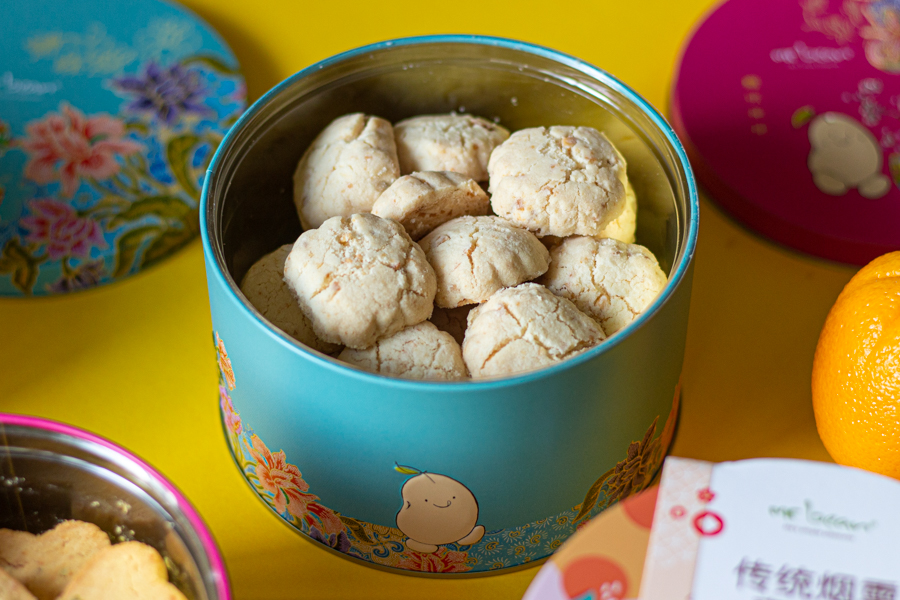 One of our favourites from Mr Bean, the Macadamia Nut Cookies are crumbly and burst with nutty flavours the moment you bite into them.
Cranberry Pumpkin Seed Cookies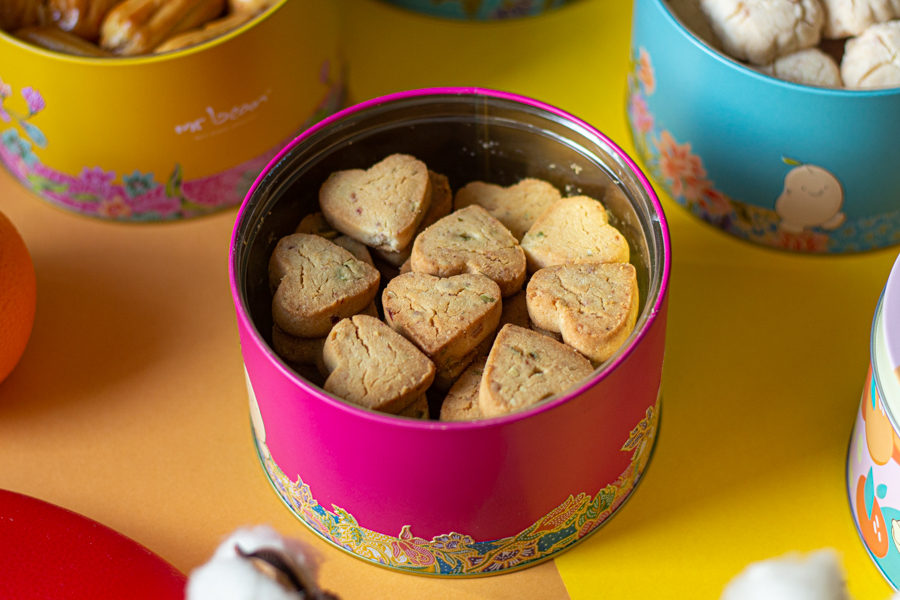 These Cranberry Pumpkin Seed Cookies come in an adorable heart shape, with each cookie having pumpkin seeds and cranberry in them. They have a nice crunch to them and are quite subtle in flavour. However, they can be quite addictive so make sure to pace yourself.
Mr Bean CNY 2022 Promotion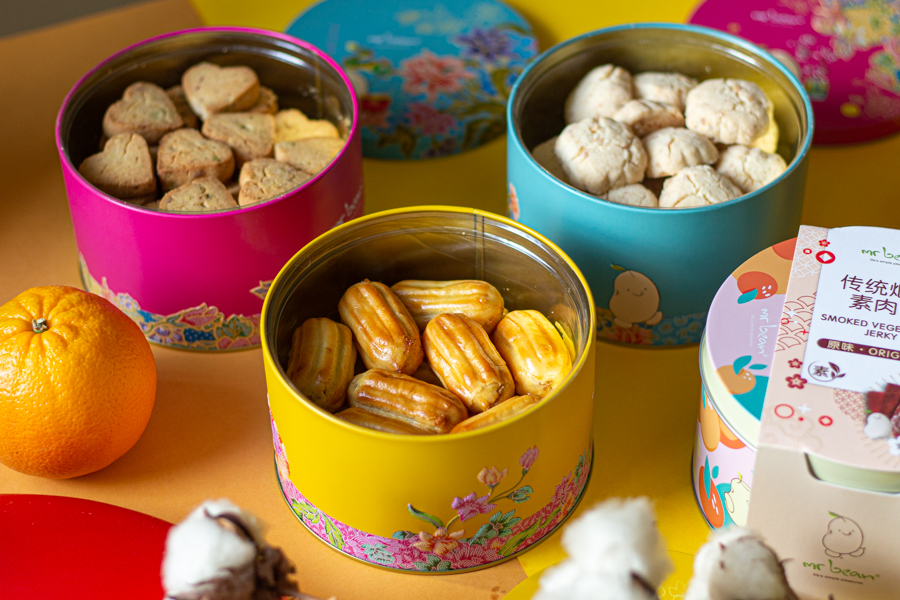 For a limited period only, Mr Bean is offering early bird promotions on these festive goodies! From now till 16th January 2022, look out for great deals such as:
Pineapple Tarts / Almond Suji Cookies / Cranberry Pumpkin Seed Cookies / Lychee Cookies / Macadamia Nut Cookies / Lychee Cookies / Smoked Vegetarian Jerky (Original/Spicy)
1 Tin – $19.80 (13% savings)
Any 3 Tins (includes 1 Bag and 1 Ang Pow set) – $58.80 (14% savings)
Any 5 Tins (includes 2 Bags and 2 Ang Pow sets) – $88.80 (22% savings)
Look out for crowd favourites with Purchase-with-Purchase deals (with any purchase of CNY cookies)
Black Soy Tea 12s – $8.90 (U.P. $12.90)
Crispy Soy Love Letters – $13.80 (U.P. $18.90)
Crispy Soy Egg Roll – $10.80 (U.P. $13.80)
You can purchase Mr Bean CNY goodies at any physical store or do it online at www.beanmyday.com
*Follow MiddleClass.sg on Facebook and Instagram for more food, travel, and trending stories!