If you're looking for a place to celebrate special occasions in Singapore, make your way up the clouds and indulge in a bird's eye view of our city. Take your pick from well-known places like 1-Altitude, LeVeL33, or SKAI, a restaurant 70 floors above the ground.
SKAI at Swissotel The Stamford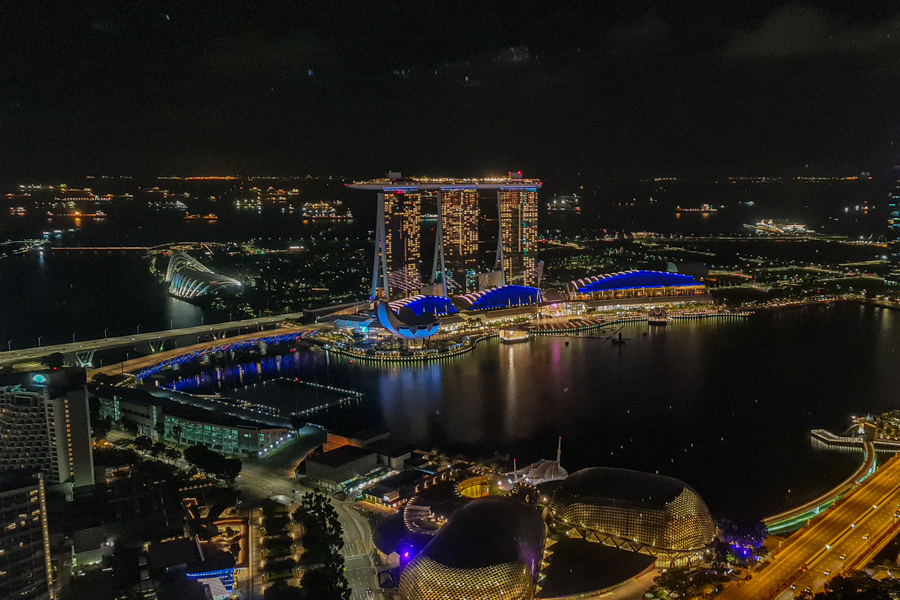 Swissotel The Stamford is not only home to SKAI, but to SKAI Bar and JAAN By Kirk Westaway, a 2-star Michelin Restaurant. All of these places boast great views of Singapore since they are perched 70 floors above the ground.
While some might know SKAI for its high-tea sets, we decided to pay a visit during dinner service to soak in the night view (and maybe some wine).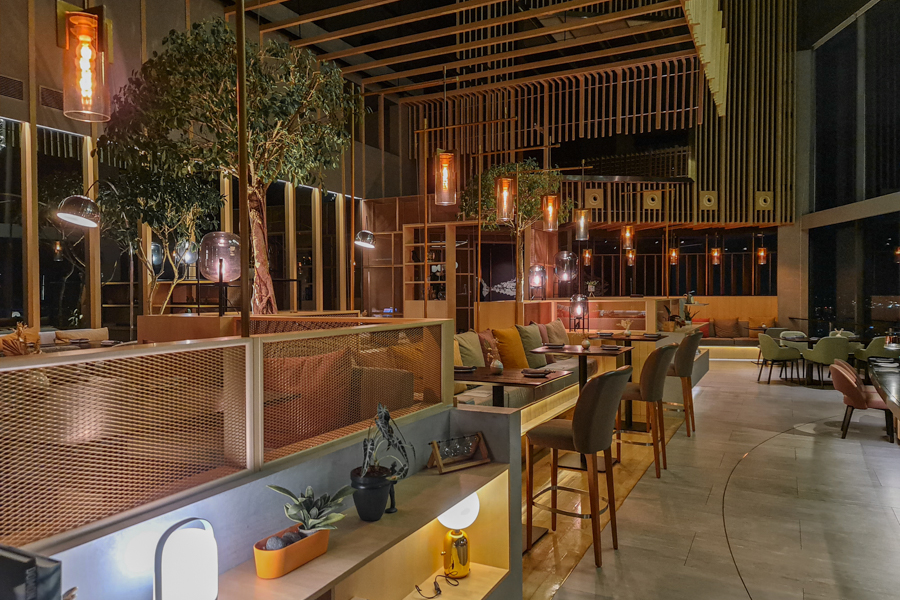 The space was huge, with glass windows stretching from end to end, providing you with a gorgeous view of Singapore. Some of the iconic landmarks you can spot include the Esplanade, MBS, and more!
During dinner service, the restaurant is dimly lit, which adds to the atmosphere. This also prevents reflections on the glass windows, so you get a better view while dining.
Menu at SKAI
For dinner, you can choose from their 4-course set, premium signature set, or simply order ala carte.
If you prefer a day view, you can head to SKAI for their lunch sets or even indulge in Saturday Brunch or High Tea. For couples who have yet to decide on where to celebrate V-day, the restaurant will be having special Valentine's Day High Tea and Dinner sets.
The wine list at SKAI is extensive, with a variety of wines from France, Italy, Greece, Syria, and more. You can choose from having wine by the glass or getting a bottle to share.
Before anything, we were served a bread roll with a mushroom butter spread. The butter was fragrant, earthy, and felt like a luxurious concentrated slab of creamy mushroom soup. We had to resist going for seconds to make space for our mains.
Crab Cake
The Crab Cake ($36) is one SKAI's signature small plates, with elements of passion fruit and chilli in it. Placed on top of the crab cake were a crispy dough skin and a daikon salad. The crab cake had a seafood sweetness to it, and we loved the contrast of textures from the crispy skin on top.
Cured Scallop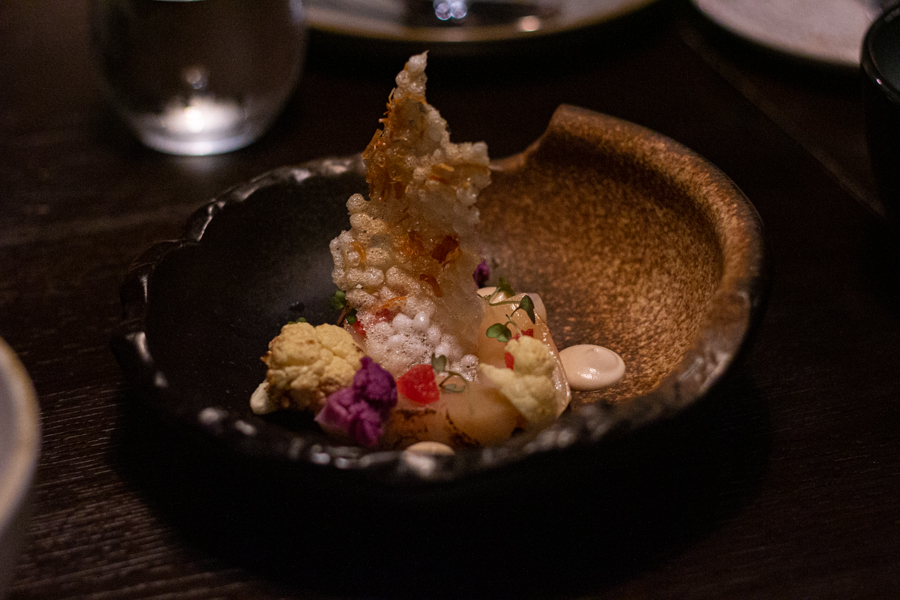 We had the Cured Scallop ($28) which had caramelized cauliflower, pink grapefruit, and tapioca on the plate. While the scallop itself was really tender, it didn't really wow us.
Charred Aji Mackerel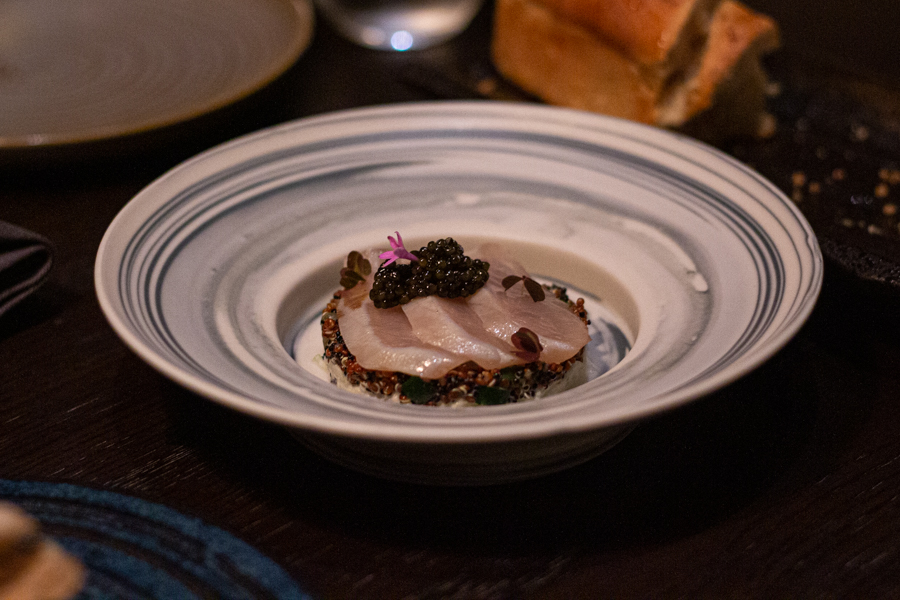 Served on top of a bed of quinoa and apple tzatziki were slices of the Charred Aji Mackerel ($24). There was also a dollop of oscietre caviar on top, which added a pinch of umami to the overall dish.
We loved the texture of the fish and the quinoa with apple tzatziki made this a nice starter.
Chawanmushi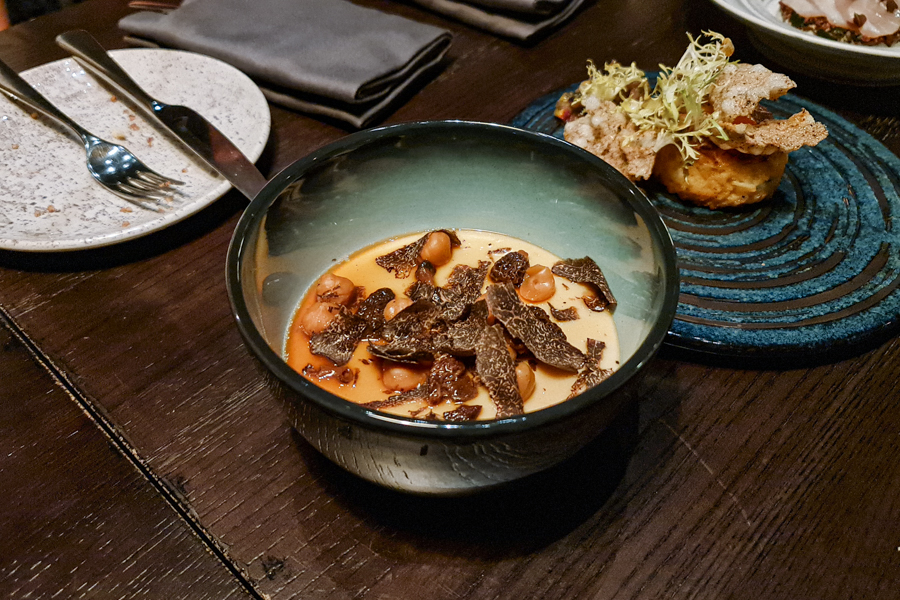 When we ordered the Chawanmushi ($20), we honestly expected a small serving for one, much like the ones you usually get at Japanese restaurants. However, this was served in a huge bowl, with a generous topping of shaved black truffle.
Inside the Chawanmushi, you'll also find some wild mushrooms. Much like any chawanmushi, this was silky smooth in terms of texture.
Tenderloin Oscar Westholme, Wagyu, Australia, MB5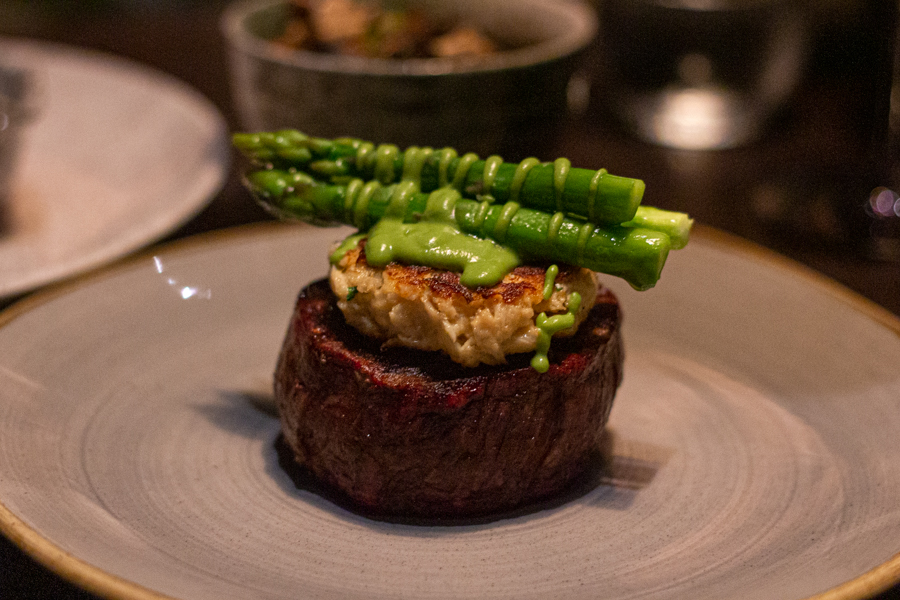 The Tenderloin Oscar Westholme, Wagyu, Australia, MB5 ($115) was a 225g Tenderloin which came with lump crab meat, asparagus, and tarragon. It also comes with a side and we opted for roasted mushrooms. You can choose from other sides like House Salad, Hokkaido Corn, Hand-Cut Chips, and Asparagus.
Saga, Wagyu, Japan, A5
The Saga, Wagyu, Japan A5 ($155) was a 160g Tenderloin from the Saga prefecture that's known for its calm climate, clean air, and water. For this main, we were able to choose a sauce to go along with the steak and we opted for a Black Truffle Sauce.
The texture for this steak was off-the-charts tender. While we're familiar with A5 wagyu and its marbling, we loved how it wasn't too fatty and there was a perfect balance with the meat. Pairing it with the truffle sauce sent us to heaven.
Baked Vanilla Cheesecake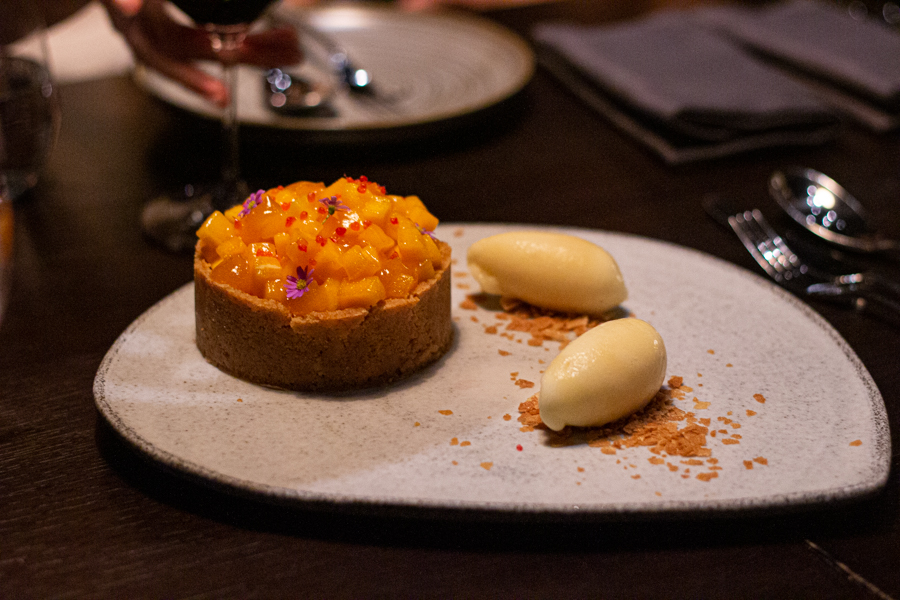 The Baked Vanilla Cheesecake ($34) is a dessert that serves two, with a creamy cheesecake topped with cubes of mango and sudachi. On the side, you'll find a refreshing pineapple sorbet that helps with the creaminess.
Chocolate Sphere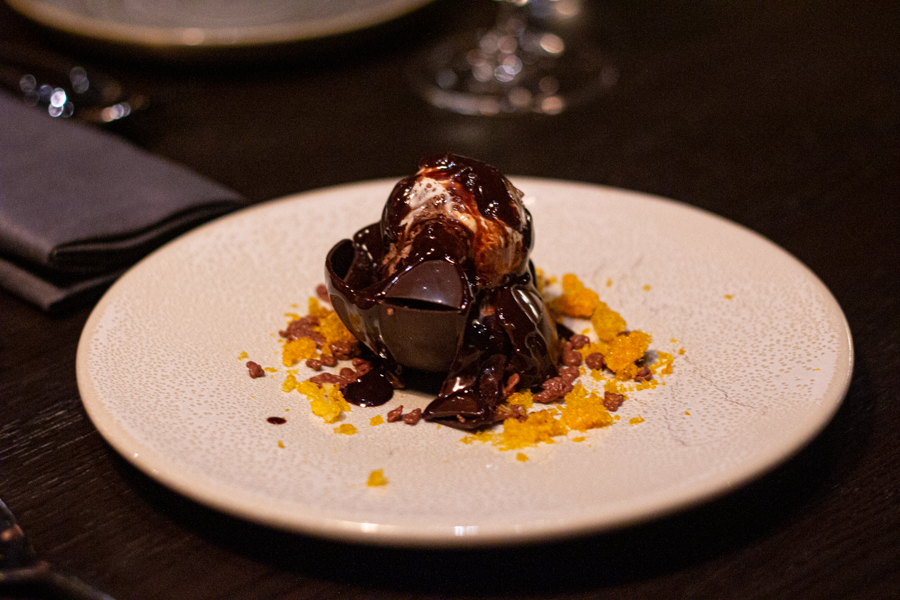 Drizzled with decadent chocolate when it's served to your table, the quick performance revealed what's hidden underneath the Chocolate Sphere ($24). You'll find Orange Confit and Chocolate Ice Cream with a secret – Peta Zeta! Peta Zeta is something like pop rocks, which caused a fizzling and popping sensation with each bite of the dessert.
Restaurant With A View of Singapore
If you're looking for a place to celebrate your anniversary or birthday, SKAI's view of Singapore is a good reason to splurge once in a while.
Heading to SKAI at Swissotel The Stamford
Since Swissotel The Stamford has been designated as a quarantine hotel (accurate as of Jan 2022), entrance to the hotel lobby isn't accessible to the public. To make your way up to SKAI, you'll have to enter via The Stamford Brasserie, which is just beside the hotel. There, you'll be able to take the lift directly to level 70.
SKAI
2 Stamford Rd, Singapore 178882
Mon-Sun, 11:30am-2:30pm, 3-5pm, 6-10:30pm
*This is an independent review by MiddleClass.sg.
*Follow MiddleClass.sg on Facebook and Instagram for more food, travel, and trending stories!