Retaining its 2 Michelin stars for the Michelin Guide Seoul 2022, Jungsik is one of the 7 restaurants in Seoul to have 2 stars, alongside restaurants like Mingles, Kwonsooksoo, and Mosu.
Jungsik is known as the pioneer of modern Korean fine dining, with Chef Jungsik Yim using traditional and familiar ingredients to reinvent Korean cuisine.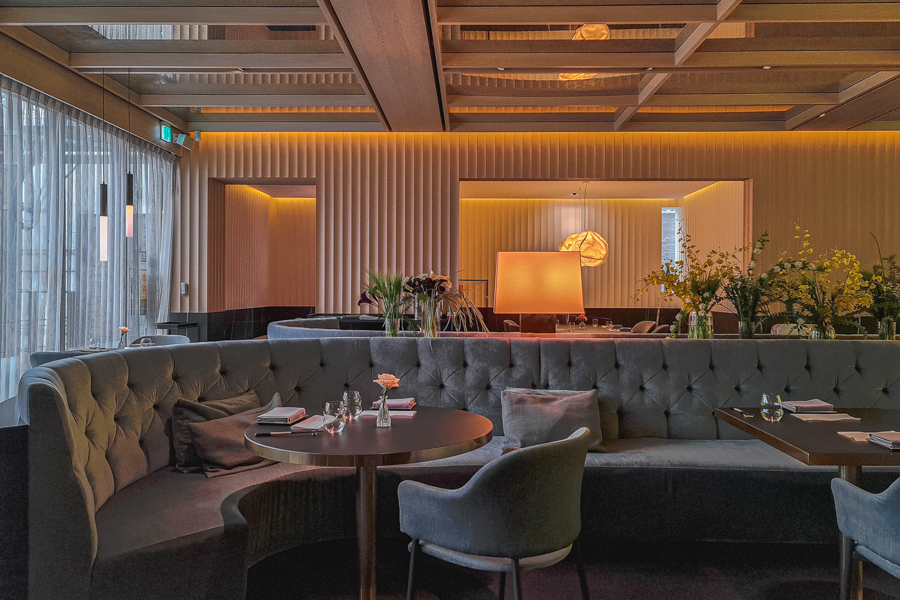 Located in Cheongdamdong, Jungsik has its own 3-floored building, with the first-floor housing Jungsik Cafe, a casual all-day cafe, and bistro. The second and third floors are home to Jungsik, the 2-star Michelin restaurant.
Compared to Mingles, Jungsik felt more luxurious with dimmed lighting, flowy curtains, and velvet interior elements. There was light classical music playing in the background, which made the place feel even fancier. From the moment we stepped into the restaurant, the staff was attentive and friendly.
Jungsik Seoul Lunch Menu
The modern Korean cuisine restaurant has a seasonal menu for lunch. While the dishes for the courses might change from time to time, the lunch consists of 5 courses and during our time of visit, it was priced at 98,000 won. However, a quick check on their website reveals the price has been changed to 119,000 won.
They also have a signature menu for lunch which consists of 8 courses. Wine pairing is available for both menus.
The menu consists of different elements: Appetizer, Rice, Sea, Land, and Sweet.
Amuse Bouche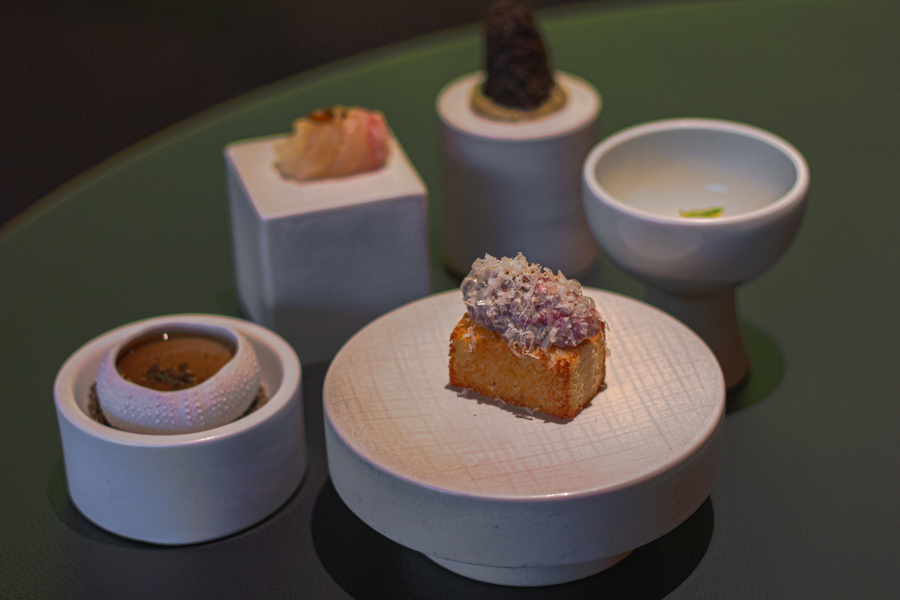 Before the meal began, we were served one of the most extensive Amuse Bouche we've witnessed in a restaurant. Plated beautifully, it consisted of beef tartar with truffle sauce and parmesan cheese right in the center. On the left was a steamed egg with mushroom stock that was light and had an earthy fragrance.
Following that was raw snapper sashimi that was fermented with seaweed. One of the highlights for us was the fried oyster with squid ink, which was paired with truffle and anchovy sauce.
Ending the Amuse Bouche was a light and refreshing apple sorbet.
Octopus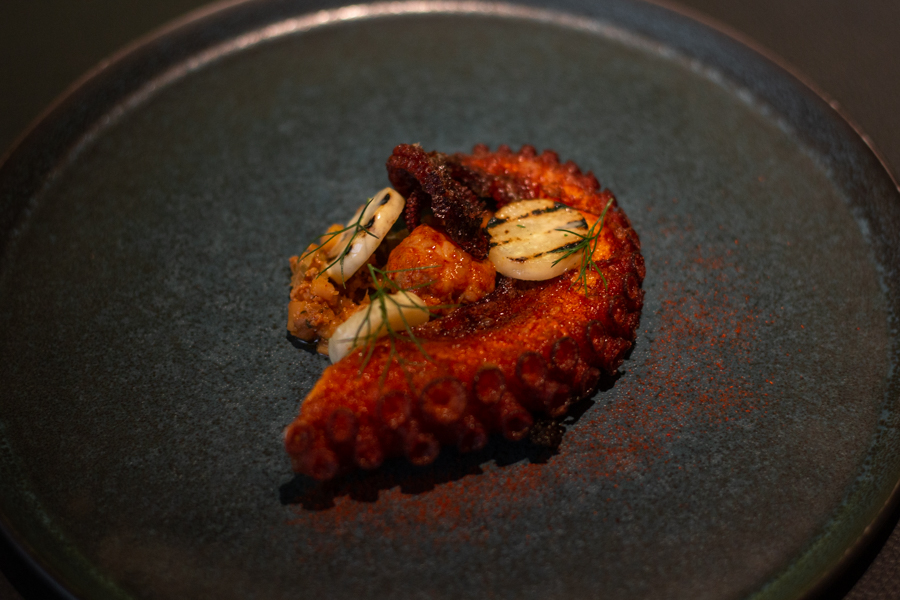 For the appetizer dish, we went for the Octopus which set the expectations for the meal high. The octopus has been fried to give it a slightly crispy crunch on the outside, yet on the inside, this was the most tender octopus we've ever had. Compared to the rubbery textures we've experienced from octopus, this dish made us appreciate octopus.
It was also served together with chorizo, which was meaty and joined by the tangy cuttlefish vinaigrette.
Gimbap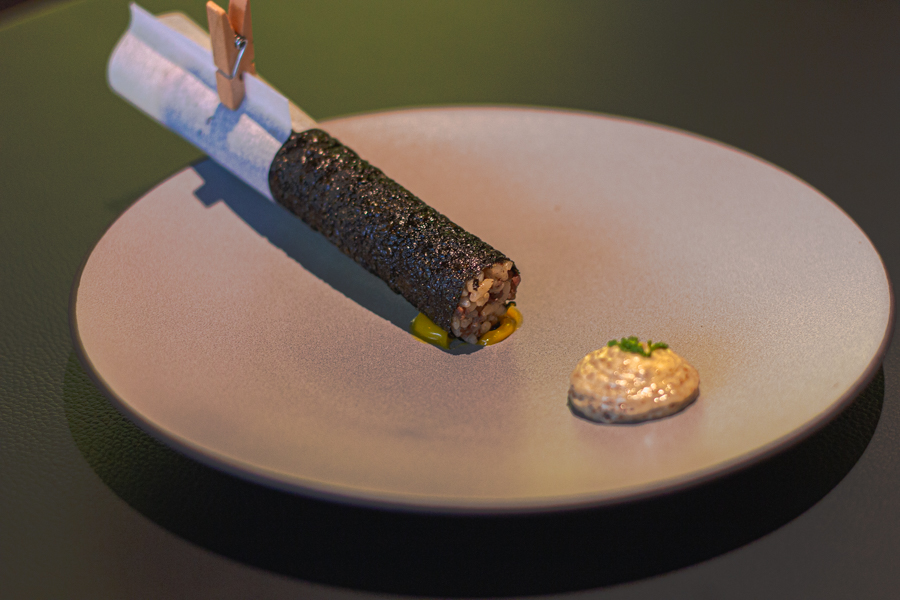 This item was not on the lunch menu but is available as an add-on. We opted for the Gimbap as it has been a popular hit among those who've dined at Jungsik.
Unlike your usual Gimbap, you can't really tell what's in it from the cross-section. It's a mix of rice, seaweed, and bulgogi and you can dip the entire kimbap into the truffle aioli sauce.
This was a blend of crispy textures, bursting with creamy and savoury flavours.
Dwaeji Gukbap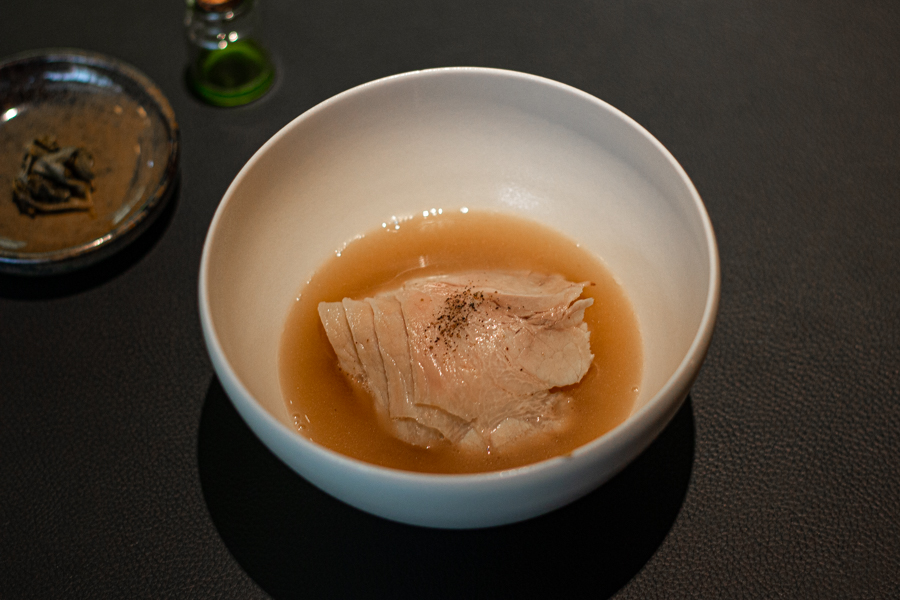 One of our favourite dishes from Busan is the Dwaeji Gukbap and Jungsik's take on it was exceptional. The pork bone broth was rich, the kind that leaves a film around your lips. Served on the side together was a small vial of oil, made using spring onions, garlic, and pepper.
Adding it into the soup added a slight spicy kick which helped cut through the greasiness, making you go for more.
Branzino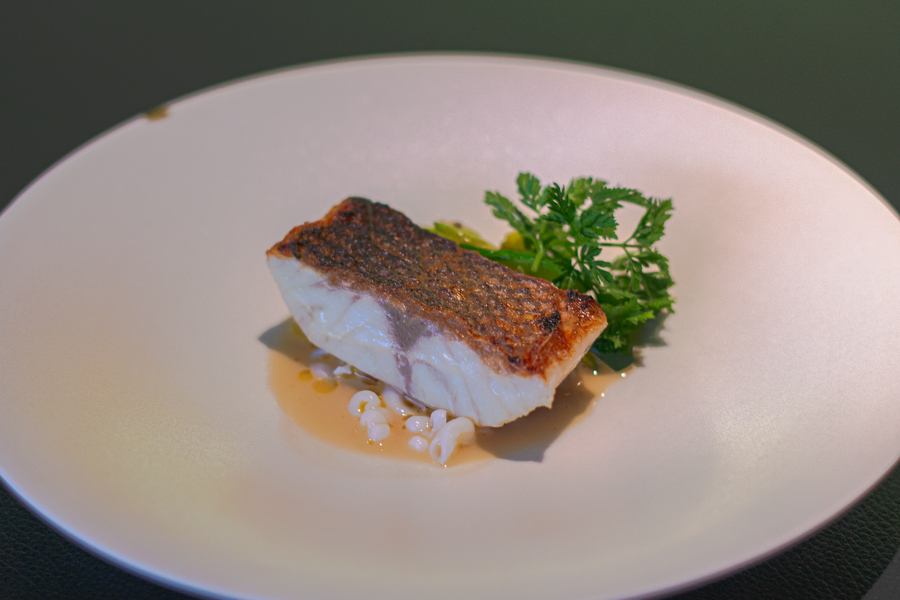 Hidden beneath the Branzino dish are treasures waiting to be explored (according to the staff) such as poached cuttlefish, salted squid, and salted zucchini.
Interestingly, for the fish, there was a punch of smokiness followed by a smooth creaminess coupled with the sweetness of the clam & fish bone sauce. If you pair it with the treasures below the fish, it tastes like a whole different dish.
The poached cuttlefish was also executed well, with a nice chewy texture that's in contrast with the fish.
Hanwoo++
For our main, we opted for the Hanwoo++ dish by topping up 25,000 won. Since our visit to Born & Bred, we couldn't get enough of Hanwoo. (oops).
The beef has been aged and is charcoal grilled to a nice medium-rare (recommended doneness). It's served with eggplant and vegetables, along with a red wine and mushroom sauce.
Dolhareubang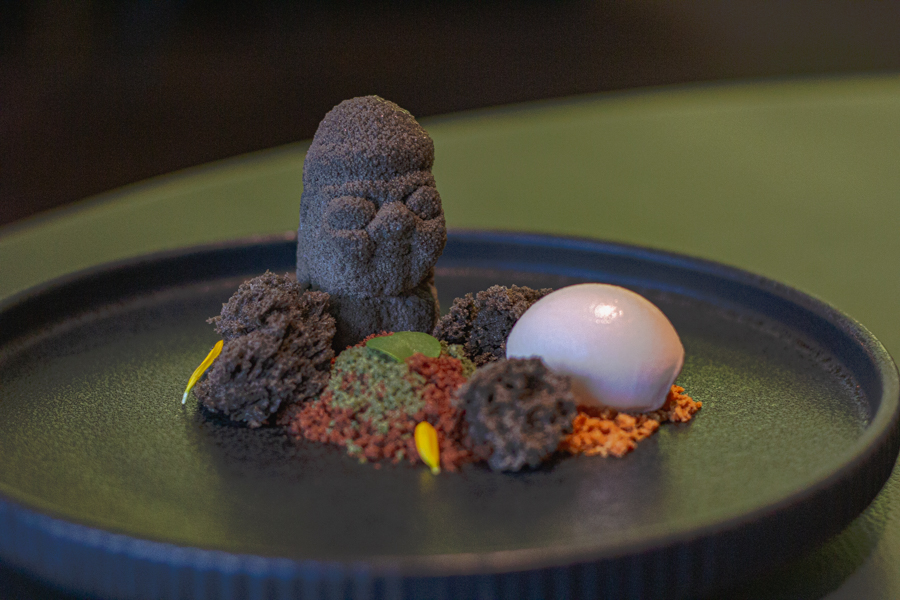 Ending the meal with the Dolhareubang, a super photo-worthy dessert plated in the form of an iconic Jeju rock statue. Everything on the plate was edible, with elements of green tea, red bean, black sesame, and injeolmi coming together in harmony.
Tea & Dessert
After the course meal, you'll get to choose between coffee & tea, and we decided on the Buckwheat tea to go with the sweet potato macaron and espresso chocolate.
Michelin Star Restaurant in Seoul
Jungsik offers one of the best dining experiences in Seoul, with good service and delectable dishes. If you ever find yourself on the Korea VTL and want to try out the Michelin restaurants in Korea, Jungsik is a safe choice.
Jungsik (정식당)
11 Seolleung-ro 158-gil, Cheongdam-dong, Gangnam-gu, Seoul
서울 강남구 선릉로158길 11
Mon-Sun, 12pm-10:30pm, 3-5:30pm Break time
Nearest Subway: Apgujeong Rodeo Station, Exit 4
*This is an independent review by MiddleClass.sg.
*Follow MiddleClass.sg on Facebook and Instagram for more food, travel, and trending stories!