A quick search of 'Best Hanwoo in Seoul' on the internet will lead you to Born and Bred, a four-storey restaurant near Majang Meat Market that serves immaculate cuts of Hanwoo. The restaurant is listed as one of Asia's Best 50 Restaurants in 2021 and was listed as a Michelin Plate restaurant in 2020 and 2021.
To get the best experience here at Born & Bred, head over to Basement 1, where you'll be treated to a hanwoo omakase experience, otherwise known as their speakeasy menu – which was exactly what we did.
Getting a reservation at the Speakeasy isn't easy, as the place can hold a maximum of only 20 people (split into 2 rooms) at one time. Thankfully, upon the announcement of the Korea VTL, we DM-ed them via Instagram and got ourselves a slot at the highly coveted table.
Born and Bred Interior & Vibes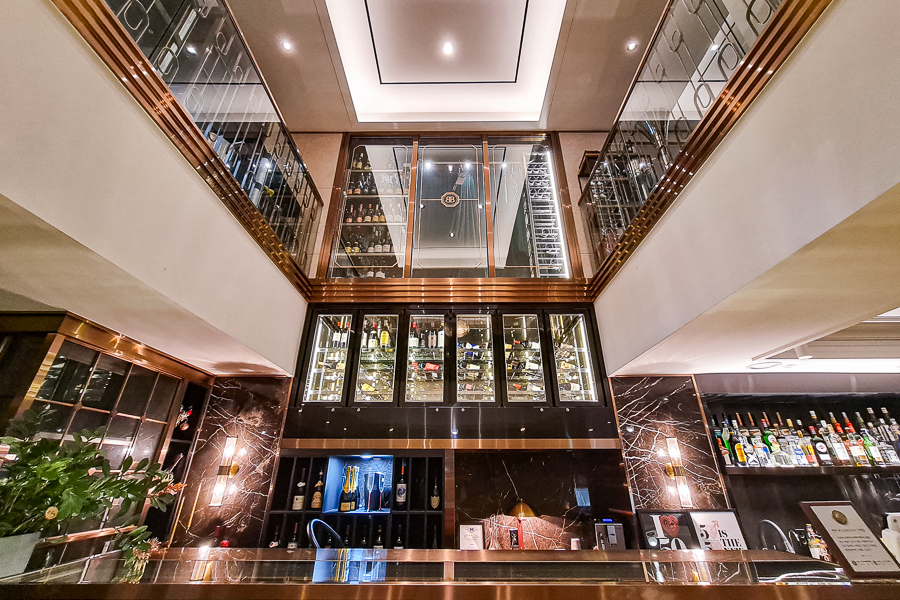 Everything from the exterior of the restaurant to the exquisite lounge area on the first floor screams luxurious. From hints of marble to bronze, this is something you would probably see in movies like Kingsmen.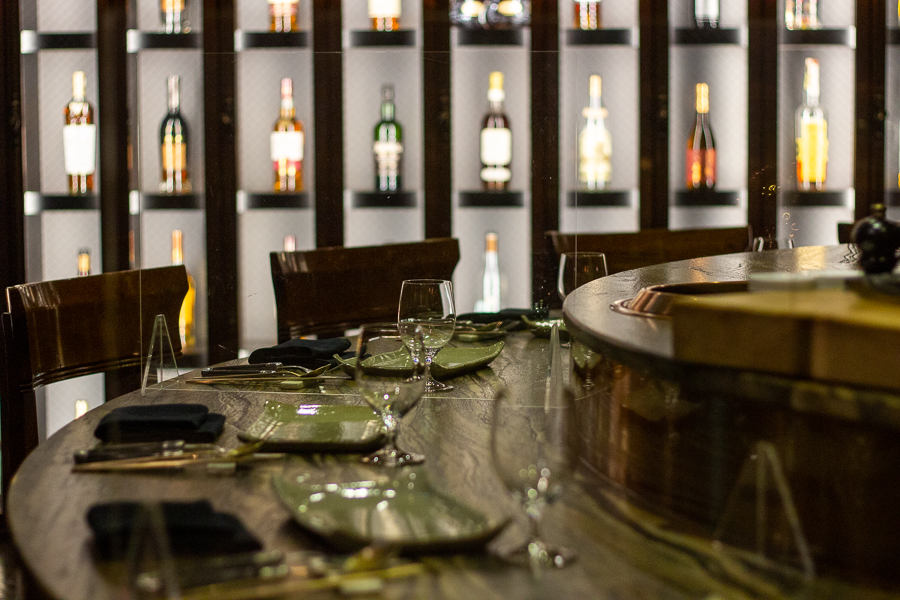 On the first floor, you can take a peek into the butchery as well. Entering the speakeasy area, you'll spot a wall filled with different alcohols and wines, with an omakase setting table.
Hanwoo Omakase in Seoul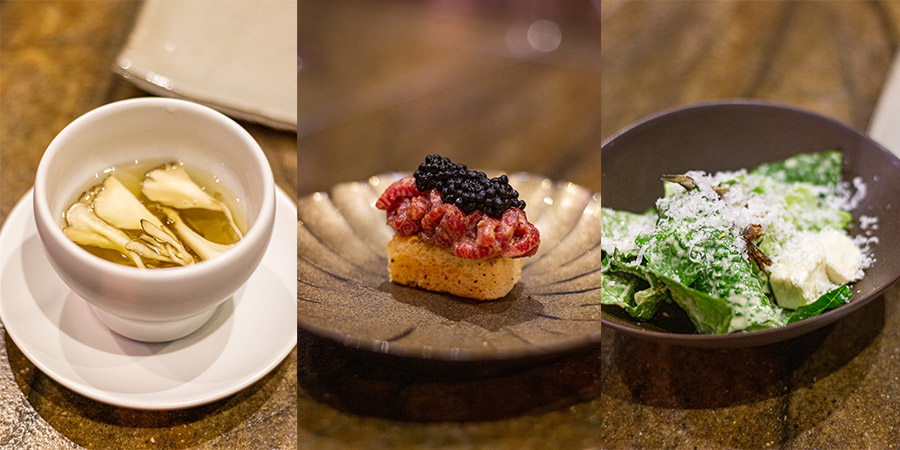 Before the actual meal begins, Born and Bred serves each person 3 different appetisers. The interesting part is if you're late for your appointment, you don't get the dishes. Punctuality is important because they don't want to keep the other guests at the same table waiting.
Do note that the menu changes every season, so some menu items might not be available the next time you visit.
For appetisers, we were served:
Ipsae mushroom with Seafood Stock
Brioche bread with Uni butter and Caviar
Classic Caesar Salad w/ Cream Cheese and Fried Anchovies
While enjoying your appetisers, the chef will start grilling the different cuts of Hanwoo, and will go around the table to show you the cut, and explain the cut to you. For Born & Bred, they use female cows with a marbling score of 9.
Tenderloin and Striploin (안심, 채끝살)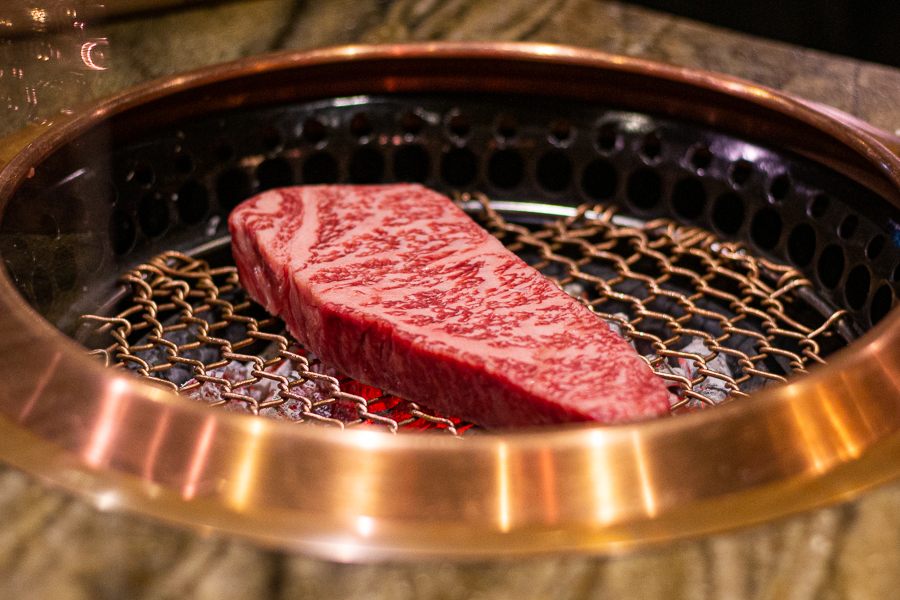 The tenderloin (안심) was served with a slice of truffle and you're recommended to eat a small portion of it without salt first. The cut was juicy The cut was juicy and had the umami flavours that we were looking for.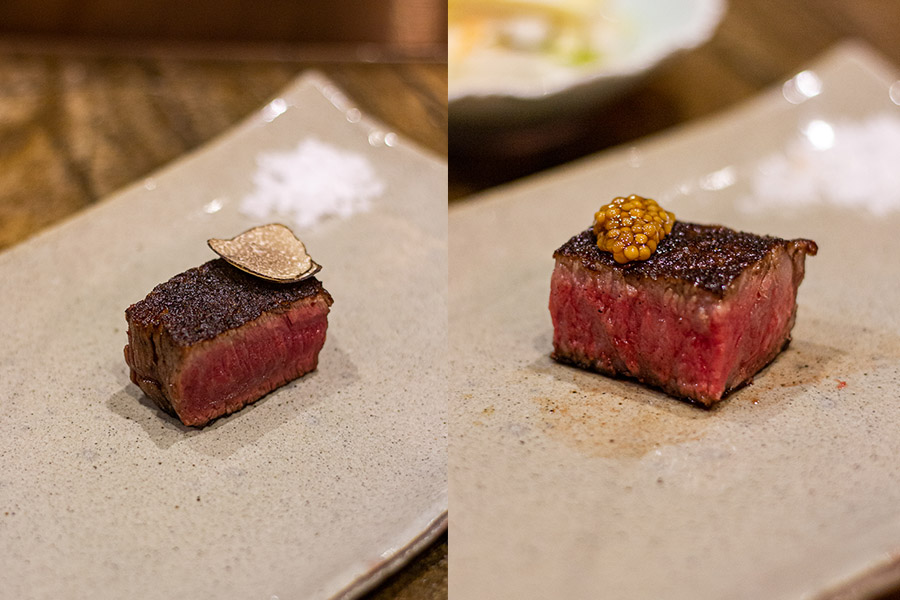 On the other hand, the chef explained that the Striploin (채끝살) has a higher fat content so it needed a longer time to melt and will be served closer to medium rather than medium-rare. With its high-fat content, it's almost like frying it in oil, which resulted in crispy, crunchy textures. It was served with a blob of yuja mustard.
Only two dishes in and we were served a palate cleanser. Since it was the end of November, we were served yellowtail sashimi, otherwise known as Bang-eo in Korean.
After the palate cleanser, we had a cut of Skirt Steak and Tenderloin Cheek which we won't go much into detail since there's too much to cover. Also, it's nice to keep some details so you guys and go and experience it for yourself!
Hanwoo Tataki
The Hanwoo Tataki was served with their in-house truffle soy sauce and microwaved yuzu peel. The result was a fragrant blend of truffle and citrusy yuzu that paired amazingly together. Meat itself was on the chewy side, which makes the flavours come out more as you chew.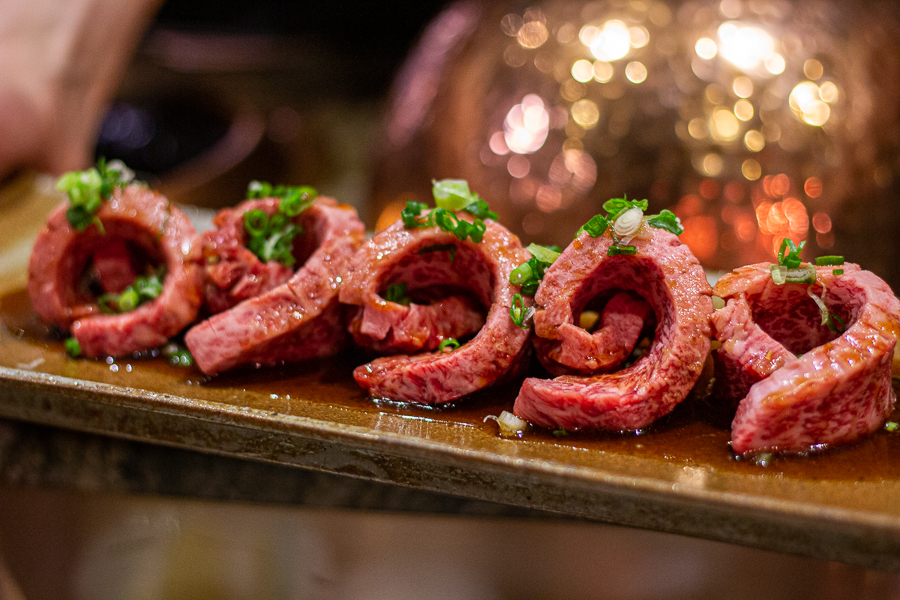 After this, we were served 3 different cuts of meat:
부채살 (Oyster Blade)
안창살 (Outside Skirt)
제비추리(Neck Chain)
Each part tasted uniquely different, with some having an addictive smoky flavour and deep beefy fragrance. The Outside Skirt cut in particular was an expensive cut since each cow only has around 2kg of it.
This was followed by a palate cleanser, which was a plate of grilled tiger prawns (such a high-level palate cleanser). We were told since seafood has a different taste profile and texture compared to Hanwoo, which is why they served as palate cleansers.
Beef Katso
Next was a Beef Katso made using tenderloin, which was the very first cut of meat we tried at the beginning of this meal. It's deep-fried, which helped retain the meat textures and was probably one of the best Beef Katsos we've had this year.
Sirloin Shabu Shabu
The shabu shabu soup was made using chicken and dried tuna which had a really clean flavour. Make sure to dip your hanwoo in the yuzu plum sauce which was refreshing, with the sour flavours really hitting your face before the sweetness creeps in.
Marinated Shortrib
Also known as Galbi, this cut of meat was so tender and well grilled. Go try it.
Traditional Korean Bapsang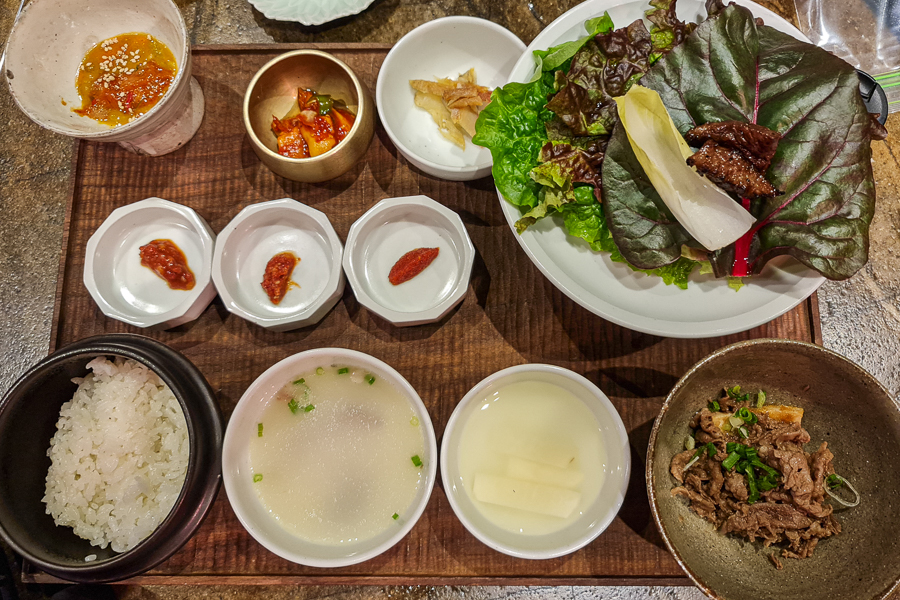 One of the last few dishes served was the traditional Korean bapsang. This is rice with side dishes such as crabmeat and crab intestines, yellow corvina and sea squirt. There were also slices of vegetables for you to make wraps with the grilled meat.
Beef Pie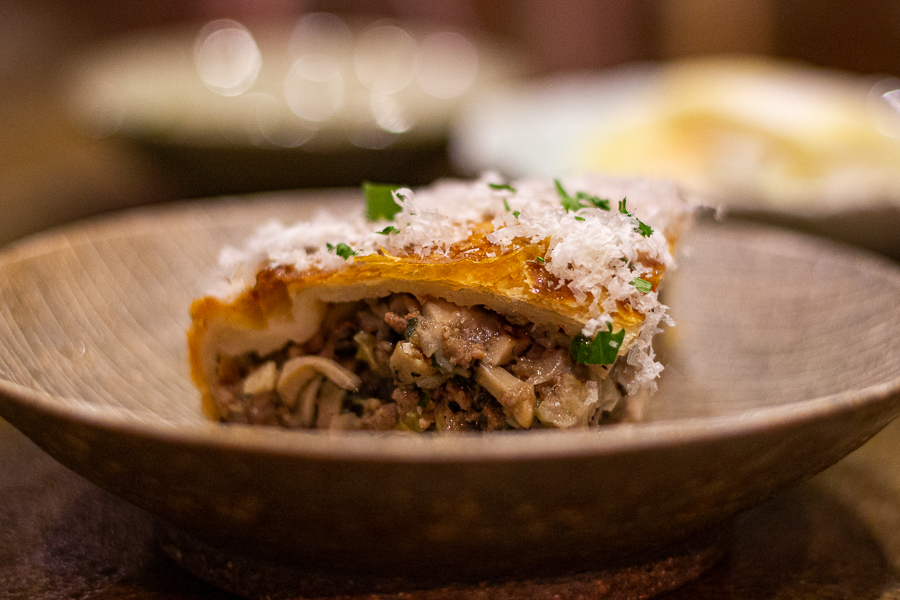 This beef pie dish was made for David Beckham when he visited Born & Bred previously. The first time it was served, the dish was thought of on the spot, and has been further refined. This was a medley of buttery flavours and was a hearty slice of pie.
Beef Noodle Soup
Much like a traditional Vietnamese pho, there were rice noodles and slices of beef in this. However, we were really full, so we only had the soup which was really refreshing!
Encore Grilled Meat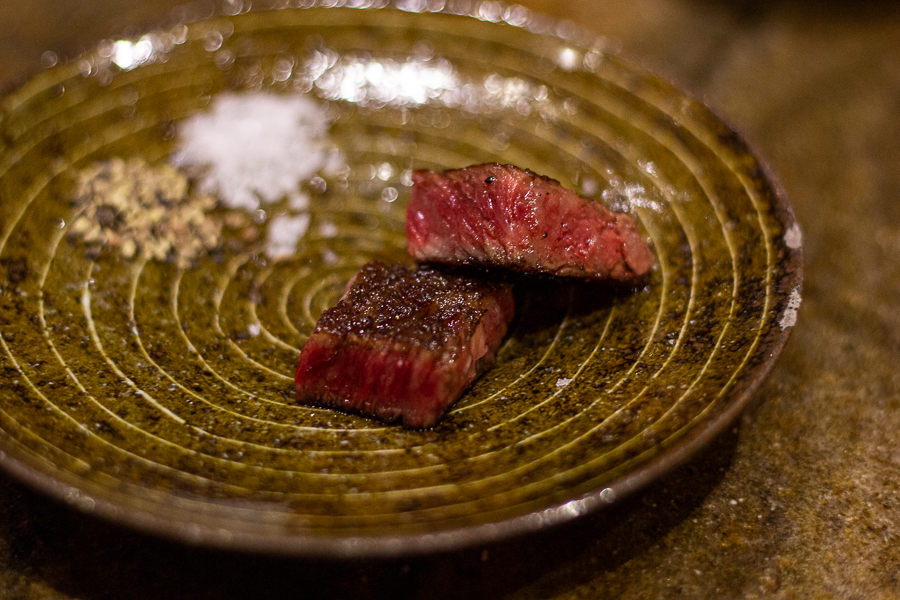 Born & Bred kept emphasizing that if guests aren't full, they can ask for more meat! We managed to have an encore dish, which was Ribeye Roll (알등심) and Saewoo-sal (새우살) which is a cut of Ribeye that resembles the shape of a shrimp.
We ended off the meal with some dessert: blood orange sorbet, muskmelon, and cherries.
Best Hanwoo in Seoul
While the price point for the Born and Bred Speakeasy menu might not be most wallet-friendly, it definitely was one of the best meals we've had in Korea. If you're someone who loves beef and want to explore more about hanwoo, Born and Bred is a great place to learn more.
Service was on point, and the chef's constant explanation makes you feel like you're learning something. Unfortunately, since the room was split into half, we were unable to view the live butchering which could have been an eye-opener.
Overall, the food and service were worth the price point and the place is worth a stop during your Korea VTL trip.
Born and Bred
1 Majangno 42(sasibi)-gil, Seongdong-gu, Seoul, South Korea
Tues-Wed, 6pm-10:30pm, Thurs-Sun, 12pm-10:30pm (Break time 3pm-6pm). Closed on Mondays.
Nearest Subway: Majang Station, Line 5, Exit 3
*This is an independent review by MiddleClass.sg.
*Follow MiddleClass.sg on Facebook and Instagram for more food, travel, and trending stories!