If you're visiting Korea for the first time, you'll probably find yourself near Bukchon Hanok Village and places like Gyeongbukgung or Changdeokgung. The area near these attractions is around Anguk subway station, and is home to lots of quaint shops and aesthetic cafes. One of which is Almost Home Cafe, hidden away from plain sight.
Hidden Hanok Cafe near Anguk Station
Located right beside Art Sonje Center, this Almost Home Cafe branch is housed in a traditional hanok, surrounded by bamboos, trees, and pretty autumn foliage.
Besides the Art Sonje Center branch, you can also find Almost Home Cafe in places like Insadong, Yongsan, and Itaewon. They all have different aesthetics, so do explore to see which one fits you more.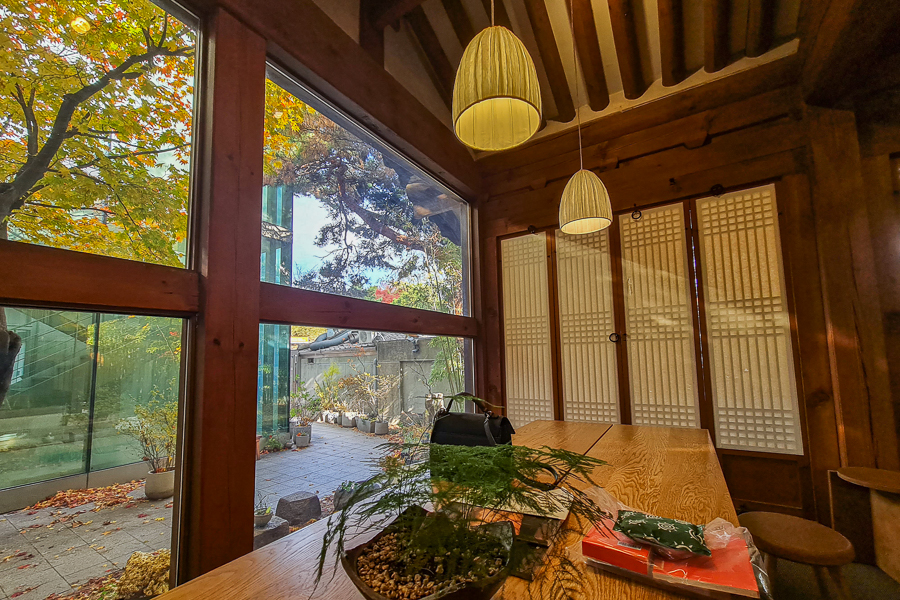 Entering the premises of Almost Home Cafe was like entering a whole new dimension. Since the cafe cannot be easily spotted from the main road, we were surprised by how such a beautiful spot was hidden away amongst the bustling neighborhood.
We definitely recommend coming during autumn, when the leaves have turned into beautiful shades of red and yellow. However, coming on a snowy day in winter sounds equally amazing.
There aren't many indoor seats and can 15~18 people max at one point.
Menu at Almost Home Cafe Art Sonje Center
The coffee menu for Almost Home is straightforward, with drinks like Americano (4,000won), Latte (4,500won), Cappuccino (4,500won), and Vanilla/Caramel Latte (5,000won).
They also have teas, and a Mugwort Latte (5,500won).
Green Tea Latte
We tried the Green Tea Latte (5,000won) which was pretty packed with green tea flavours but was slightly on the milky side.
Apricot Orange Ade
With the menu indicating this as a 'Best' item, we knew we had to try the Apricot Orange Ade (5,500won). While the drink was a nice refreshing pick-me-up, we felt that the orange flavours stood out amongst the fizzy textures, but the apricot flavour was barely present.
Traditional Snacks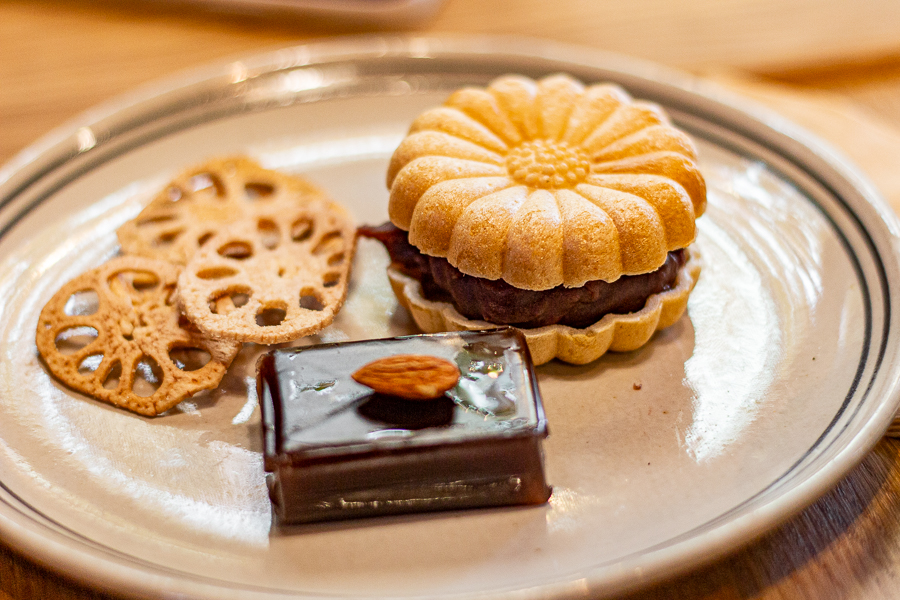 Almost Home Cafe also serves traditional snacks and bites here such as a Pumpkin Pound Cake served with strawberry jam (which was unfortunately out of stock when we visited).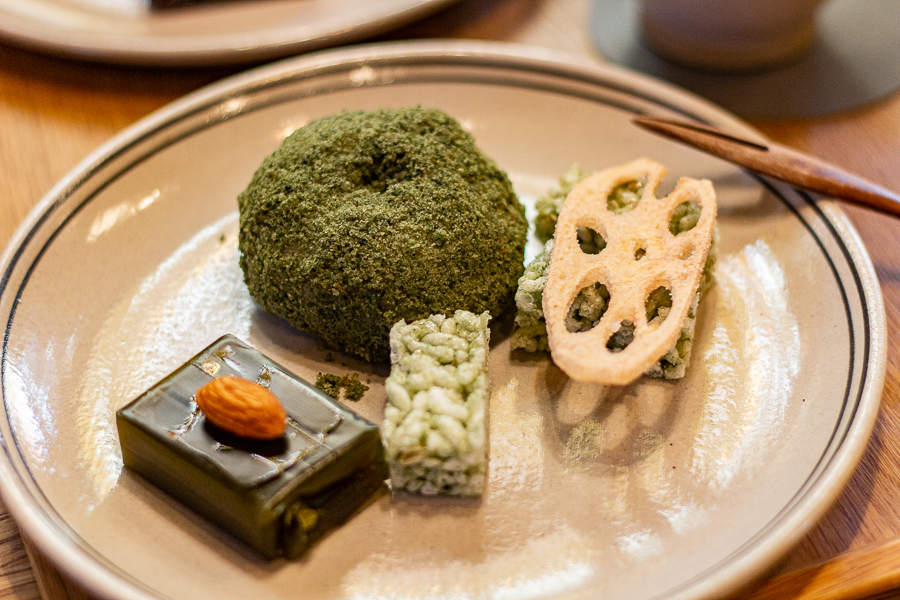 Instead, we opted for 2 different plates:
Gyeongdan + Green Tea Yanggaeng + Mugwort Gangjeong
Cream Cheese Monika + Red Bean Yanggaeng + Lotus Chips
If you're unfamiliar with some of these terms, we've covered them in our Traditional Korean Snacks listicle!
Our favourite item was the lotus chips, which were packed with flavours. If you're a fan of red bean, you would enjoy the cream cheese monika. The two different Yanggaengs were a little on the sweet side.
If you've never had traditional Korean snacks, this would be a great place to try them.
Cafe Near Bukchon Hanok Village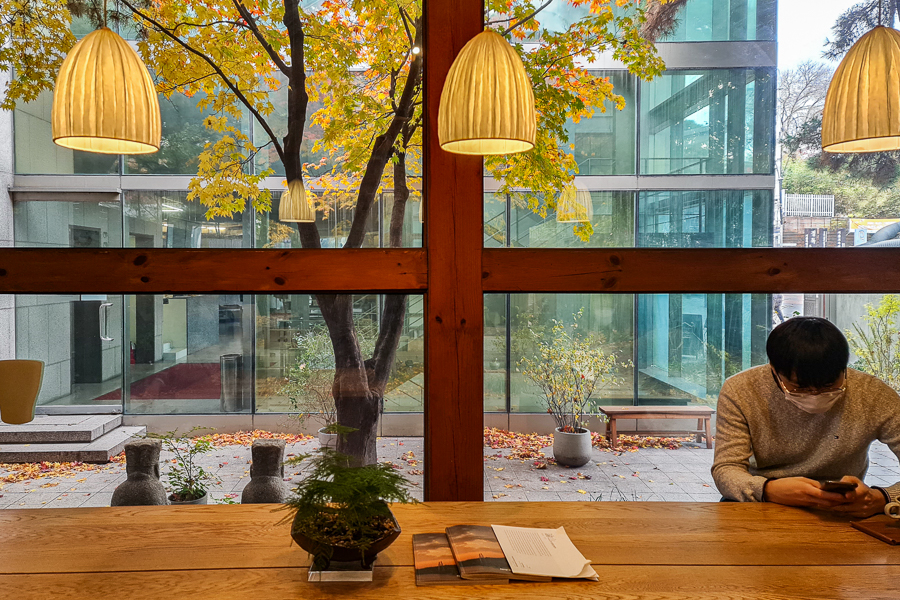 Almost Home Cafe is perfect for those who want to experience a tranquil afternoon in Seoul. If you're done exploring Bukchon Hanok Village, this is a great place to visit after to rest your legs and taste some Korean traditional snacks to finish off the afternoon. One thing to note is that the cafe does not accept cash payments due to Covid-19.
Almost Home Cafe (Art Sonje Center)
Art Sonje Center, 87 Yulgok-ro 3-gil, Jongro-gu, Seoul
Mon-Sun, 11am-7pm
Nearest Subway: Anguk (Line 3), Exit 1
*This is an independent review by MiddleClass.sg.
*Follow MiddleClass.sg on Facebook and Instagram for more food, travel, and trending stories!