You probably won't expect a popular place selling grilled intestines near Jagalchi Station, a name associated with one of the most popular seafood markets in Korea. However, often overlooked due to the number of attractions surrounding Nampo-dong, there's actually a small unsuspecting street filled with grilled intestines restaurants in Busan.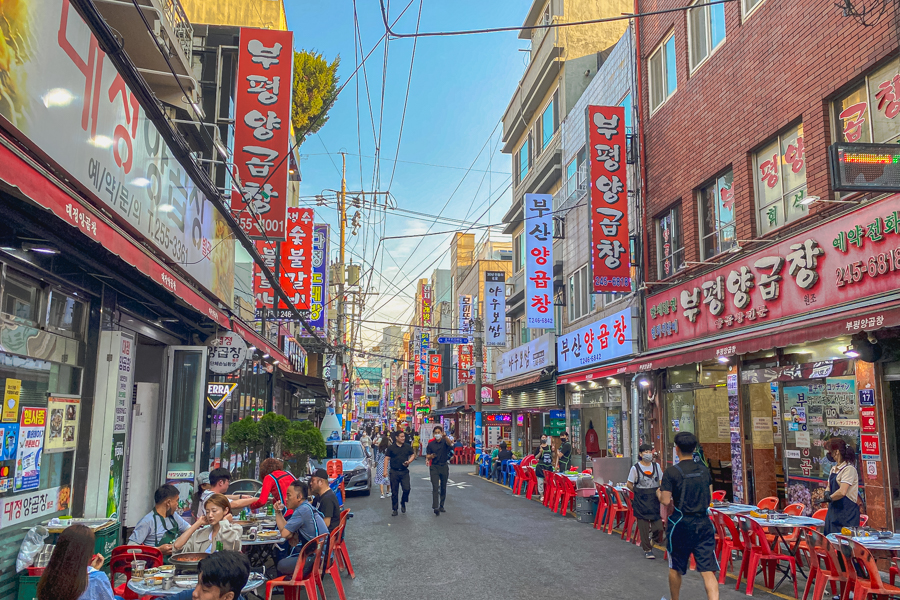 While there are surrounding restaurants selling almost the exact same menu, Daejeong Yang Gopchang, the restaurant we visited was the only one packed with customers at 6.30pm-ish. We heard that they all taste similar, but apparently this was the original one.
There are both indoor and outdoor seats available at the restaurant but do grab a seat outside for the best atmosphere and experience.
Menu at Daejeong Yang Gopchang
The menu here at Daejeong Yang Gopchang is simple. They serve Yang Gopchang, which is a specific cut of Gopchang that uses the rumen, which is sort of like stomach more than intestines.
There are 3 different ways you can order your Yang Gopchang here: Sogeum-gui, Yangnyeom, or Jeongol. For Sogeum-gui, they'll serve the gopchang with slices of potato and mushrooms, for you to grill directly over fire. For Yangnyeom, the tripe is seasoned with their special sauce, and grilled in a pot. Lastly, for the Jeongol, it's served in the form of a stew/soup.
All of them come in small, medium, and large sizes, priced 35,000won, 40,000won and 45,000won respectively.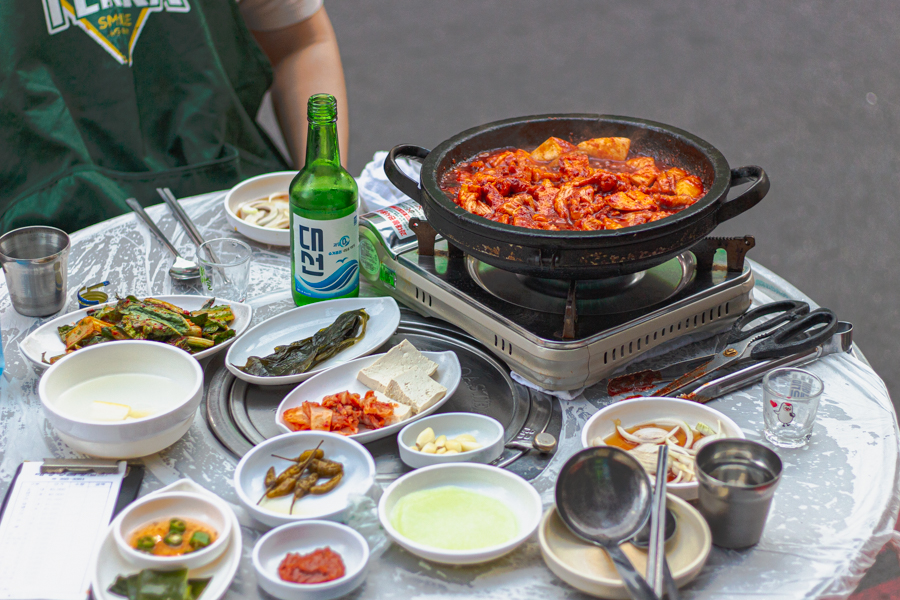 We ordered the Yangnyeom Yang Gopchang and when served to us, we were slightly taken aback by the bright red sauce. However, despite the daunting shade of red, the sauce was not too spicy. In fact, it had a nice mix of savoury and sweet flavours, that immediately made us crave for a bowl of rice. However, since you are able to make fried rice with the remaining sauce, we resisted getting it. Instead, we opted for some udon.
Inside it were also pieces of potatoes and mushrooms. If you're afraid of the gamey smell that comes with tripe, you'll find none of that here, so it's a great place to try something new in Korea.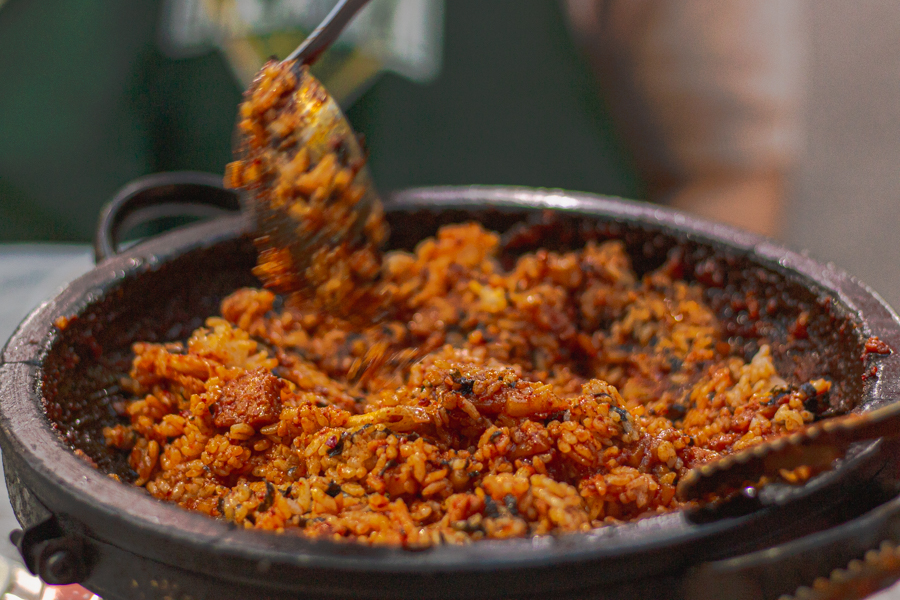 With the remaining sauce, we ordered some fried rice, where the staff will add rice and seaweed and "fry" it on the spot for you. Make sure to get this, as it was a glorious way to end the meal!
Food To Try In Busan
If you're ever in Busan, and want to try something different other than seafood, Daejeong Yang Gopchang is a great spot to experience a local atmosphere and have a shot of Daesun Soju along with your meal.
Daejeong Yang Gopchang (대정양곱창)
31 Junggu-ro 23 beon-gil, Jung-gu, Busan
부산 중구 중구로23번길 31
Sun-Thurs, 1pm-12am, Fri-Sat, 1pm-1am
Nearest Subway: Jagalchi Station (Line 1), Exit 3
*This is an independent review by MiddleClass.sg
*Follow MiddleClass.sg on Facebook, Instagram, and Telegram for more food, travel, and trending storie