Venchi is an Italian gourmet chocolate manufacturer with multiple stores in Singapore. However, in terms of dining in, previously, there was only one store located in ION Orchard, but the brand has opened a second location in Raffles City Shopping Centre.
Italian Gelato in Singapore
The bright storefront is split into 2 sections, one corner with various types of chocolate and the other side displaying different flavours of gelato, along with the ordering counter and dry kitchen right behind.
The dine-in section is quite limited but is great for those who want to indulge in some of their menu items on the spot.
Menu at Venchi Raffles City
The menu consists of a few beverages, such as the usual caffeinated ones like Latte ($6), Americano ($6) and Cappuccino ($6). They also have a Gelatoshake Gourmet ($10) where they can make a shake out of your choice of Gelato!
There's also a short menu selection of crepes:
Gourmet Crepes ($12), served with whipped cream, spread and grains of your choice
Crepes Nougatine, served with their Hazelnut milk Supreme XV spread, nougatine grains and whipped cream
Crepes Supreme XV, served with a hazelnut spread (milk or dark)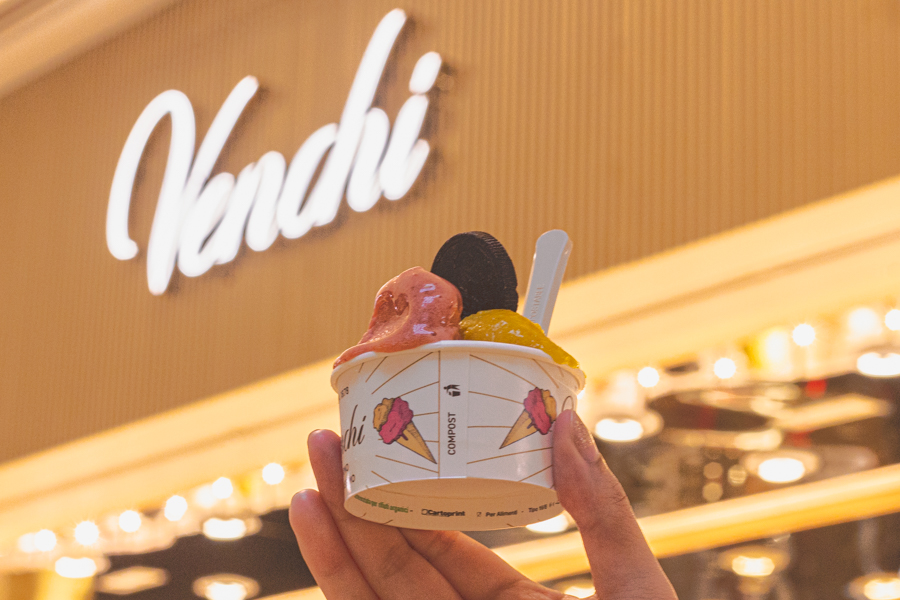 Last but not least, Venchi also serves up gelato in 3 different sizes. The mini ($11) comes with 2 flavours, the regular ($12) comes with 3 flavours and the large ($13) comes with a maximum of 4 flavours.
Some flavours include the classic Nougatine, Dark Chocolate, Green Pistachio, Nocciolato and non-diary options like Strawberry and Mango. Their pistachio was one of the best we've tried in Singapore.
There's also a whole section dedicated to the chocolate products of Venchi, where you can find some of their most iconic treats such as the Chocoviar, which are chocolates with granules of cocoa. The Chocoviar comes in various flavours such as the 75% Cuor di Cacao, Crème Brulee, Crème Cacao and Crème Pistachio with each one having a center with different consistency.
Italian Cafe in Singapore
With their latest outlet in Raffles City Shopping Centre, you can now easily experience a taste of Italy with Venchi's decadent scoops of gelato!
Venchi (Raffles City)
252 North Bridge Rd, #01-37A Raffles City Shopping Centre, Singapore 179103
Mon-Sun, 10am-10pm
*Follow MiddleClass.sg on Facebook, Instagram, TikTok, and Telegram for more food, travel, and trending stories