Bringing the best of both Korea and Japan together, Cold Storage will be having the Seoul Oishii Fair from 14 to 27 Oct, featuring a wide range of products and promotions happening across all Cold Storage and CS Fresh Outlets.
Promotion for Korean Items
If you're always binge-watching K-dramas and find yourself hungry from all those mouth-watering scenes – look no further! Cold Storage's Seoul Oishii Fair will feature items from Pulmuone, CJ, and an array of fresh produce from Korea.
You can look forward to items like Pulmuone's Tofu Noodles, a great substitute for carbs for anyone dieting, and a variety of dumplings for a quick and satisfying lunch working from home.
Here are some promotions to look forward to:
CHUGA Bottled Soju Assorted (360ml) – Any 2 for $17.90 (U.P. Any 2 for $29, save $11.10)
CJ Kimchi Mandu (780g) – $10.80 (U.P. $12.80, save $2)
PULMUONE Soft Dukbokki Kit (560g) – $5.95 (U.P. $8.95, save $3)
LOTTE Ice Cream Assorted (70ml-195ml) – $1.50 (U.P. $1.90, save $0.40)
Korean Shingo Pears – $9.95 (U.P. $11.50, save $2.05)
Korean Chestnuts (500g) – $4.95 (U.P. $5.95, save $1)
Promotion for Japan Items
Japan is a popular destination among Singaporeans and one of the reasons is food!
During the fair, you can look out for brand new additions to the wide range of Japanese food products and create delicious recipes with new products such as MARUKOME RYOUTEI's Organic Miso or even whip up a quick meal with SUGAKIYA's Fried Spaghetti or YAMAMOTO's Curry Udon!
Some promotions to look forward to:
TABLEMARK Takoyaki Octopus Ball (197g) – $6.75 (U.P. $7.90, save $1.15)
NIKKA Black Special (720ml) – $48.50 (U.P. $69.50, save $21)
Japanese Toki Apples – 2 for $6.95 (U.P. 2 for $9, save $2.05)
Grilled Snowcrab Sections (400g) – $25.90 (U.P. $31.90, save $6)
Here's a detailed poster of the promotions happening from 14 to 20 Oct: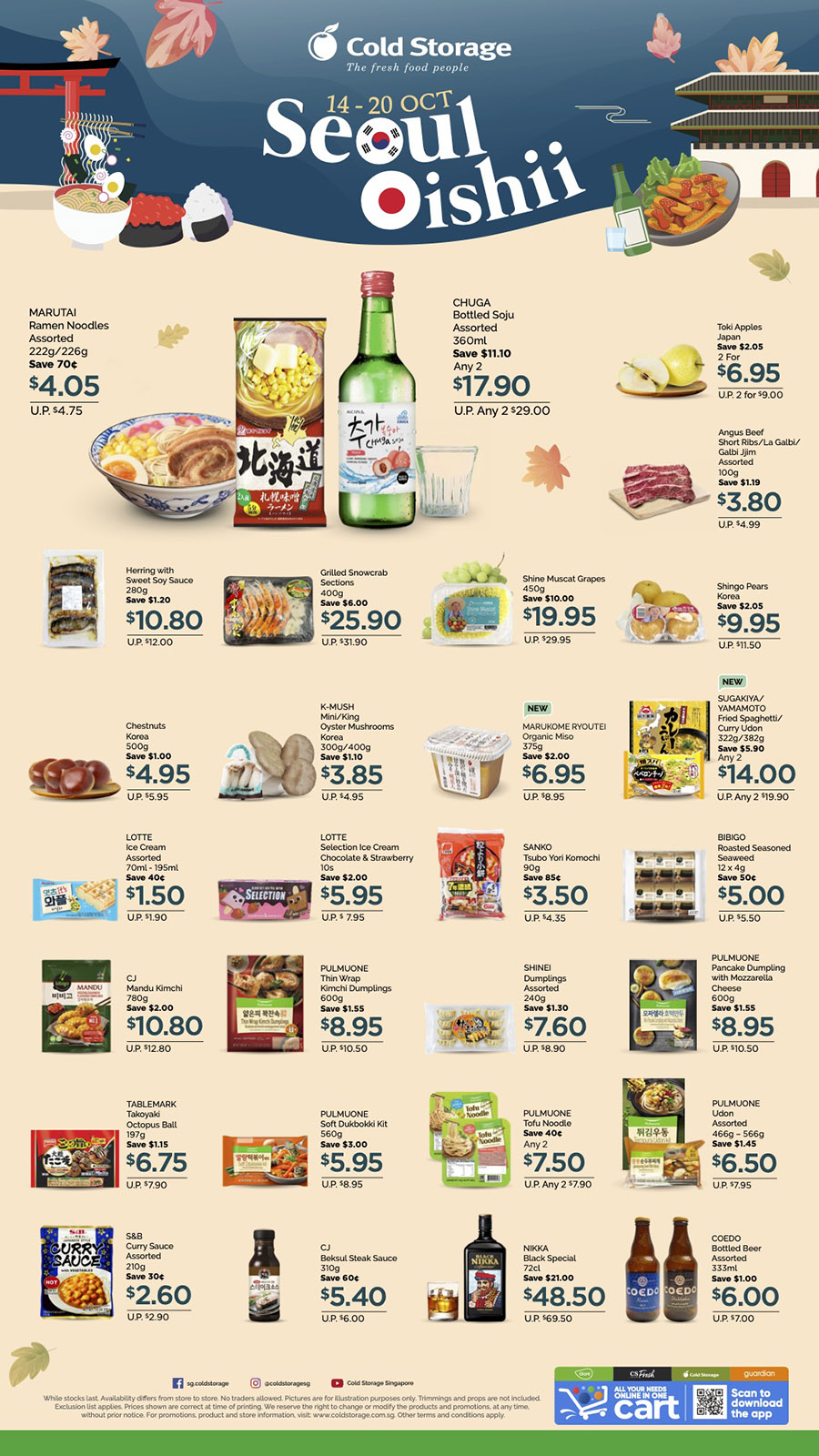 *Follow MiddleClass.sg on Facebook, Instagram, and Telegram for more food, travel, and trending stories!