Located within the Aloft Hotel, Yuè (乐) is one of the more unique Chinese restaurant concepts we've heard of in a while. Inspired by the vibrancy of the local music scene, every dish on the menu features a playful name inspired by famous song titles.
Modern, Chinese Fusion Interior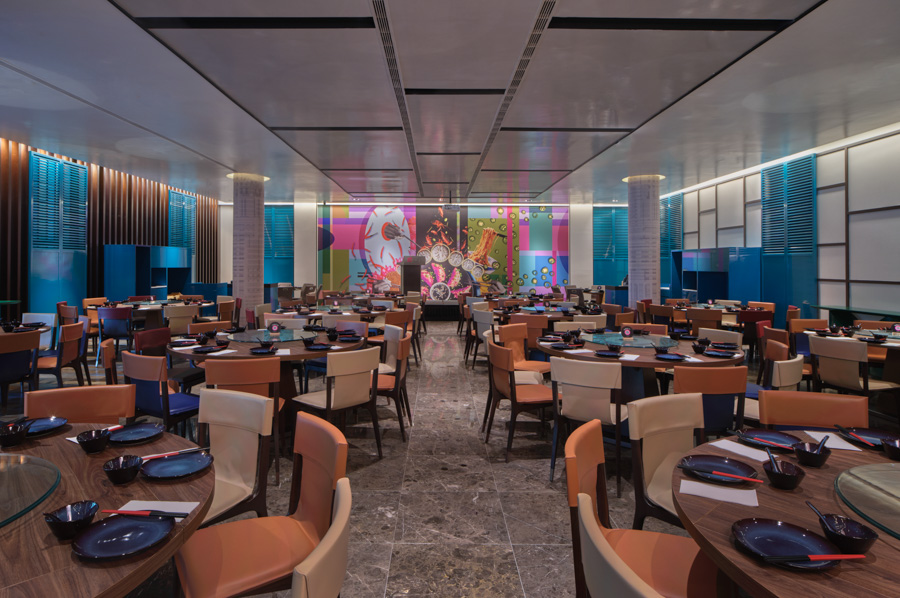 The interior of the restaurant avoids the typical colours and patterns of Chinese decor. It maintains a subtle, minimalist style that still captures the essence of Chinese dining. 
Their dedication to the music theme doesn't miss a beat. The table numbers and menus are creatively designed to resemble CDs! 
Yuè (乐) Menu
Yuè (乐) has rolled out an expansive new menu with more than 130 selections ranging from appetisers to live seafood dishes! 
Specialities include their 龙-ster风 Lobster with Creamy Milk and Salted Egg Lime Sauce (Seasonal Price) and 我跨过忘川和彼岸 Poached Sliced Beef with Sze Chuan Peppercorn ($32 for Small). 
P.S. Can you catch the song title references?
Their seafood selection includes items like 不寂寞的螃蟹 Crab (Seasonal Price) that diners can have prepared in their preferred style, such as the local favourite Singapore-style Chilli with Nachos or a rich Stir-fried Cheese Butter option.
And for vegetarians, the menu doesn't disappoint, featuring robust flavours in dishes such as 伤心的人就吃腰果 Kung Pao White Beancurd with Cashew Nuts ($12) and 一生回味生 Vegetarian Crispy Noodle ($14).
Appetisers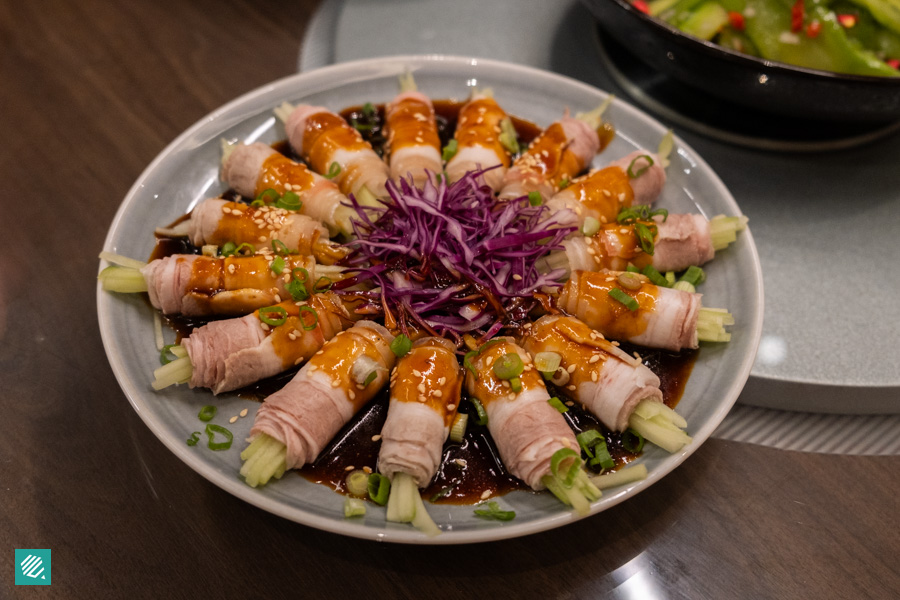 We started with the 蒜泥狠 Kurobuta Pork Belly in Garlic Sauce ($14). The pork was tender, though a stronger garlic punch might have enhanced the flavors further.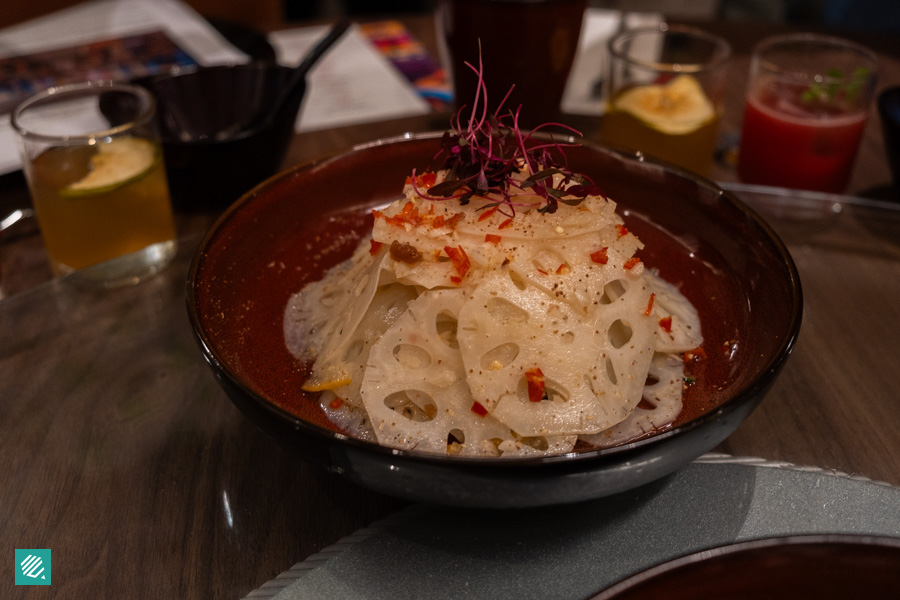 We enjoyed the 麻辣 Lotus Lotus Root with Szechuan Mala ($6)! The lotus root was refreshing and had a crunchy texture that goes well with the mala spices, which were just spicy enough to not overwhelm the taste buds!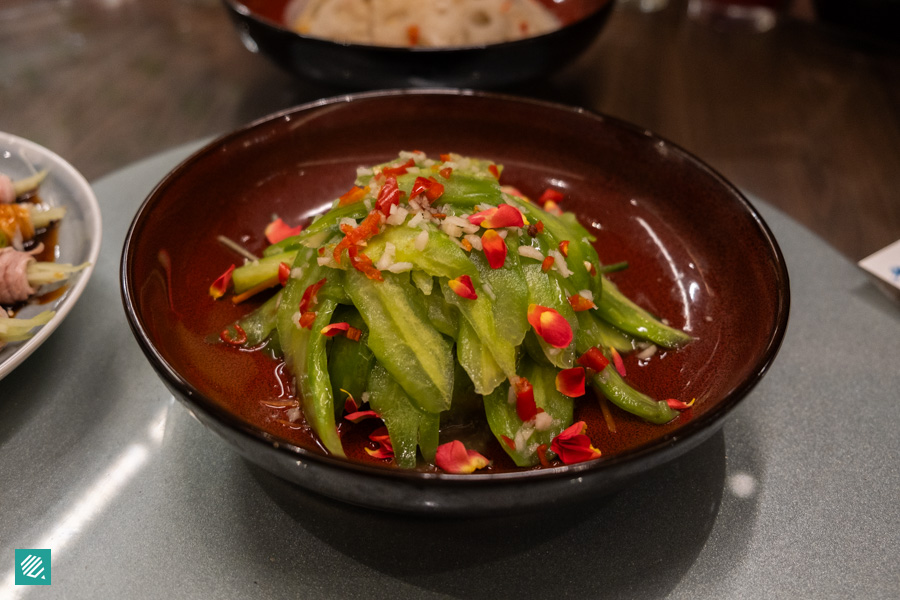 The 酸心良苦 Chilled Bitter Gourd ($6) was served in thin slices that offered a slight crunch without being too bitter. Balanced with the tang of preserved plums, it was perfect for cleansing the palate!
Soup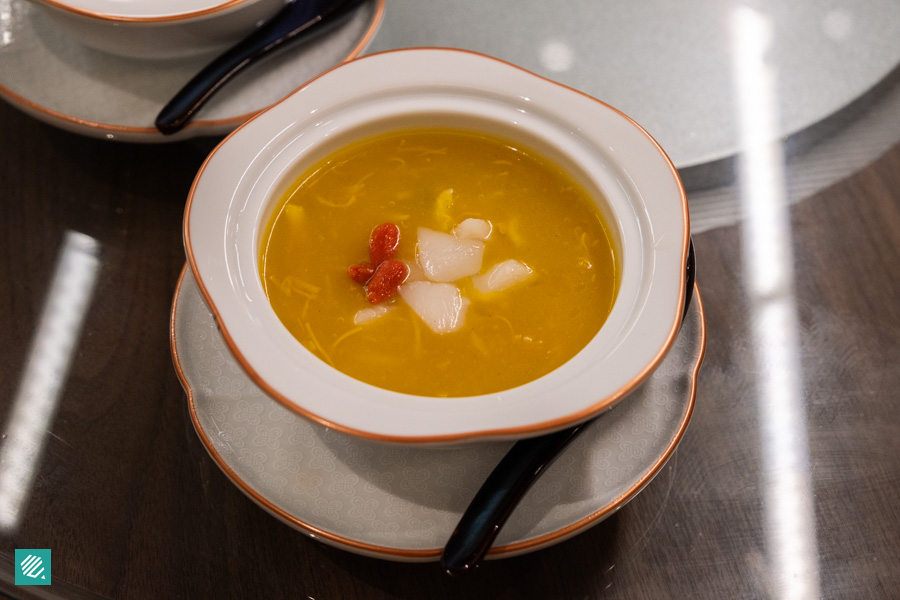 The 南瓜车 Pumpkin Broth ($12 Per Person), is a thick soup with a great amount of crabmeat and scallop. Velvety and smooth in texture, it had a slight sweetness with hints of spice.
Live Seafood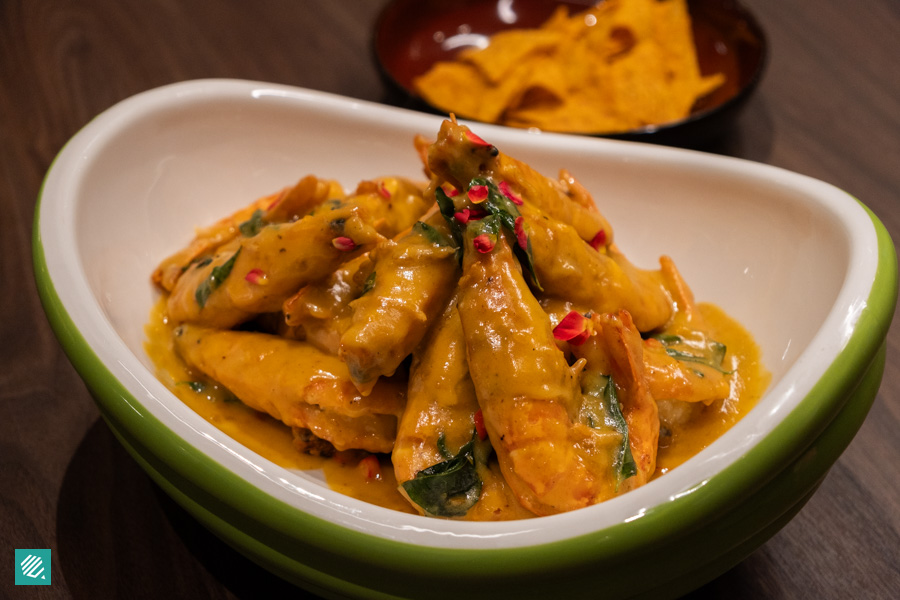 We tried the Creamy Milk and Salted Egg Lime Sauce for the 金多虾啊 Deep-Fried Tiger Prawns ($9 Per 100gm). The dish came with nacho chips, ideal for scooping up the sauce!
The sauce was creamy with a zesty hint of lime. The prawns themselves were impressively large and succulent, cooked to a good springy texture.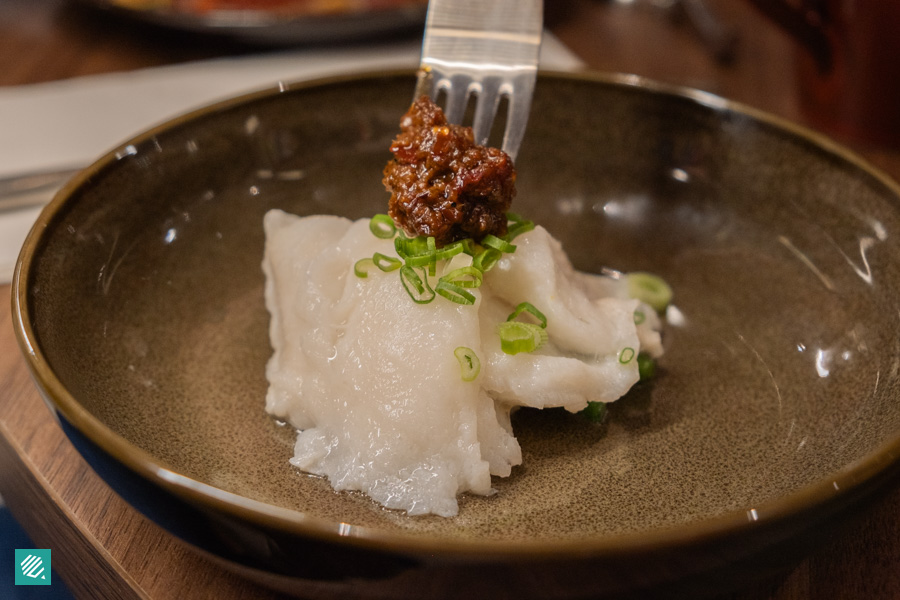 The 鱼儿香 Steamed Cod Fish with Spicy Garlic Peppercorn Sauce ($23) had a firm texture that turned flakey once forked in. The accompanying sauce had a mala essence that paired well with the fish!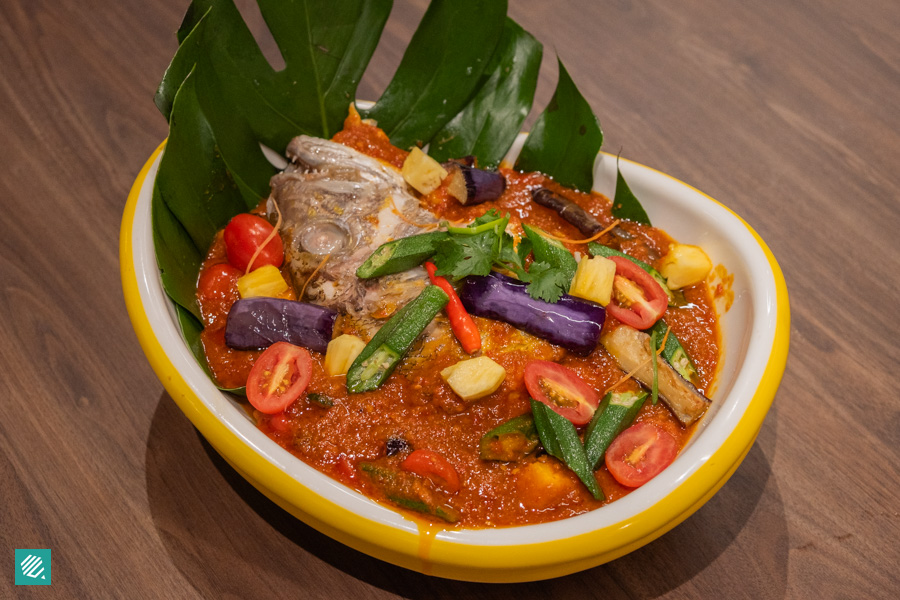 The 没有咖喱的亚参 Assam Fish Head ($38) curry was balanced with its refreshing tang and sweetness. While light, it doesn't shy away from bold flavours, and there are thick meaty pieces of the fish.
Meat
An element of fun is added to the 易燃易爆炸的咕噜肉 Sweet and Sour Pork ($18 for Small) dish – you sprinkle the popping candy over it! The pork chunks are big and the sauce is on the sweeter side. We liked the fun addition of the crunchy popping candy.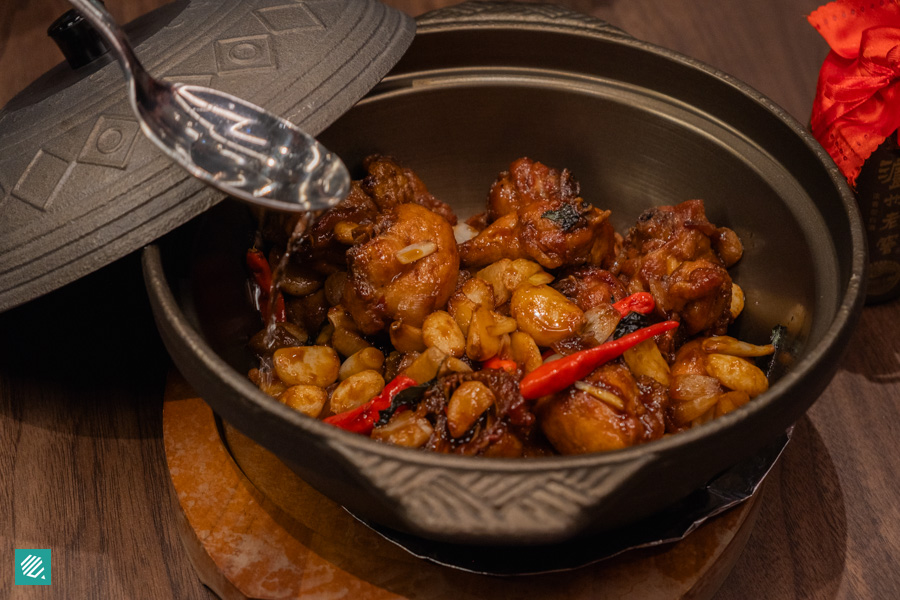 Infused with Luzhou Laojiao Zisha Tequila with a notable alcohol content of 52%, the 人生不过三杯泸州老窖紫砂 Spring Chicken ($48) is a signature dish at Yuè (乐) that delivers smoky, earthy notes elevated by the tequila!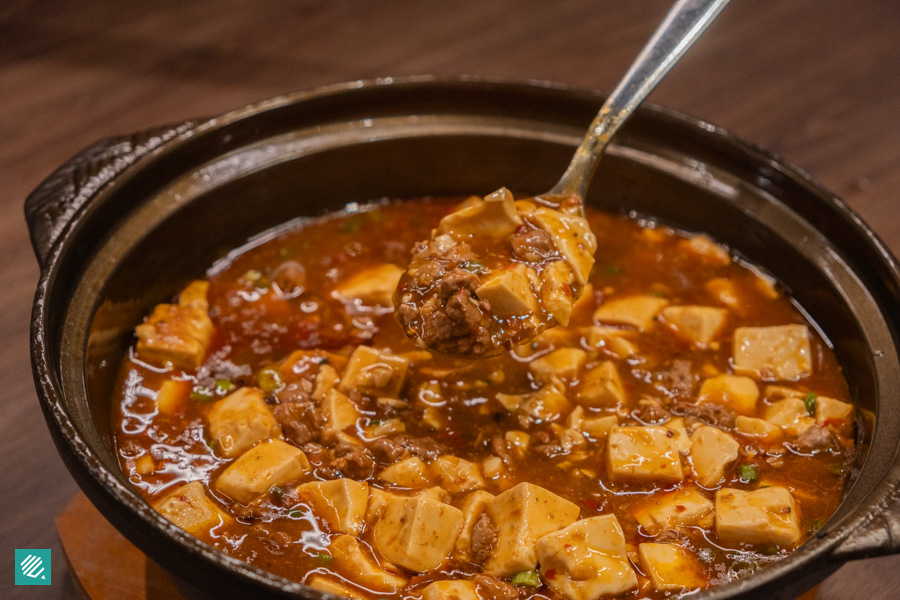 The 桥豆麻袋 Mapo Tofu with Minced Beef and Spicy Bean Paste ($18 for Small) paired perfectly with rice yet is equally delightful by itself, thanks to its well-balanced seasoning that's not too salty. It had generous portions of soft minced beef chunks, making it quite satisfying.
Noodles
The 针线情 Mee Tai Bak ($18 for Small) had a mild wok-hei and was well-seasoned. Each noodle strand is evenly coated in XO sauce, enhancing the umami though we felt that it could do with more "chai poh".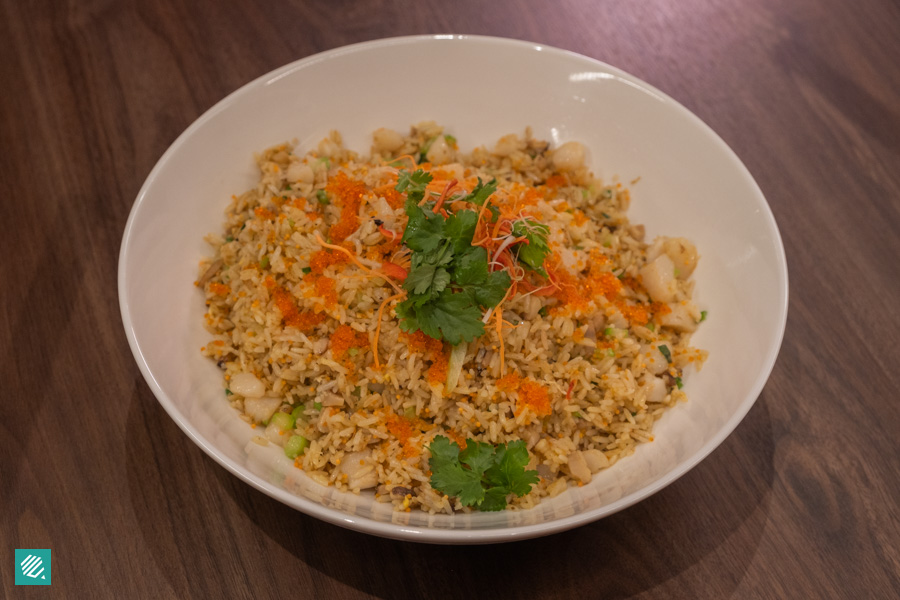 With its fragrant aroma and the generous inclusion of thick, sizeable scallops, the 带子非鱼子 Egg Fried Rice ($20 for Small) is topped with tobiko. We liked the briny taste and pop of the tobiko eggs!
Dessert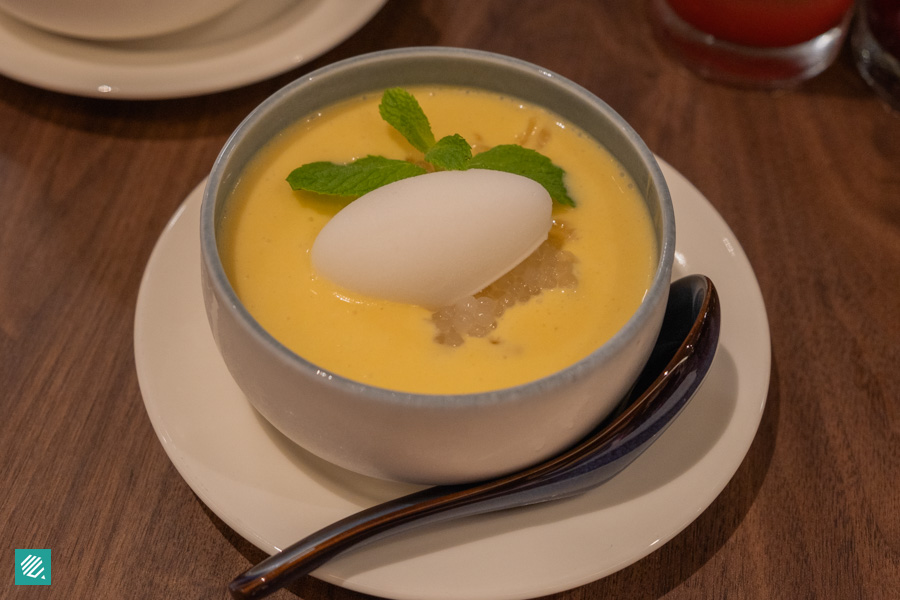 Yuè's (乐) signature dessert, the 枝孤枝 Chilled Mango Sago with Lime Sorbet ($8) was sweet and creamy. The added lime sorbet brought a refreshing zest, creating a harmonious fusion of tastes! 
Music-Theme Chinese Restaurant in Singapore
Seeing a menu inspired by song titles was a first for us! Enjoy a special treat when you use the code "MIDDLECLASS30" to receive a 30% discount at Yuè (乐).
Yuè (乐) @ Aloft
16 Ah Hood Road, Singapore 329982
Mon – Sun, 12-3pm (Lunch)
Mon – Thurs, 6-10pm (Dinner)
Fri – Sun, 6-10:30pm (Dinner)
*This article is based on a media-tasting event, but all opinions expressed about the food are entirely our own.
*Follow MiddleClass.sg on Facebook, Instagram, TikTok, and Telegram for more food, travel, and trending stories