An aesthetic space in Hannam-dong, YUN Teehaus is located within the YUN Hannam store, a brand that specializes in eyewear such as glasses and sunglasses.
Vegan Desserts in Seoul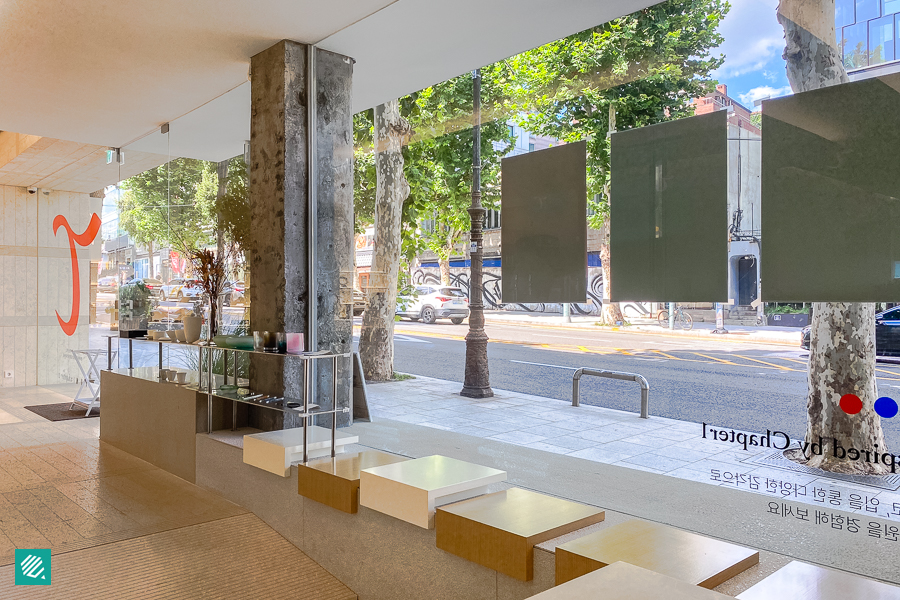 While there are 3 YUN outlets in South Korea, this particular one at Hannam-dong is home to YUN Teehaus, a teahouse serving up an all-vegan menu. Devised by a Berlin Mixologist, the teas here are made with healthy local ingredients.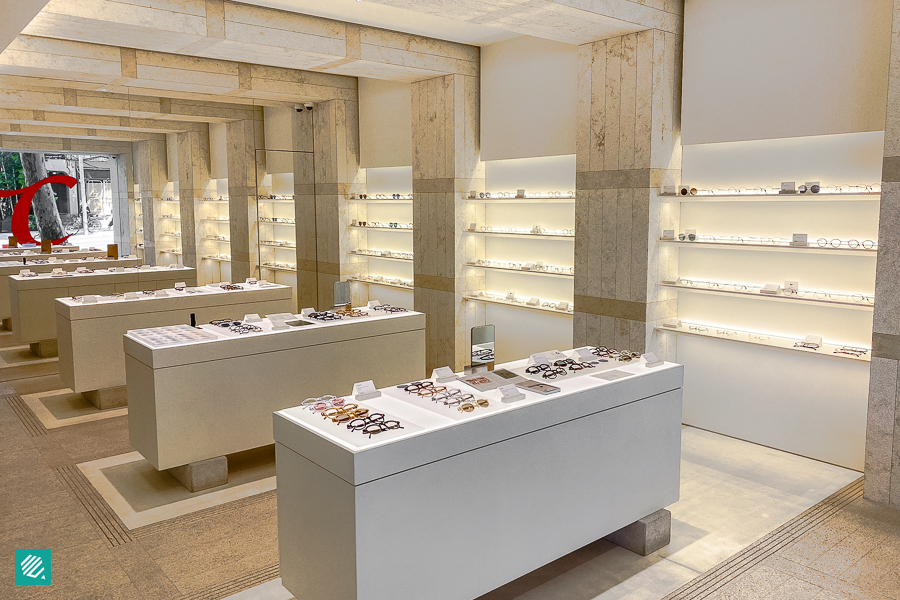 Fans of the minimal interior would appreciate what YUN Teehaus has done with their space. You can expect clean muted neutral tones with just a touch of concrete here and there. While the space isn't the largest, it can comfortably fit around 20 pax and the large windows let in a substantial amount of natural light during the day.
The teahouse also displays objects from hidden artists living in Berlin and Seoul, which helps to portray the harmony and balance that YUN values.
YUN Teehaus Menu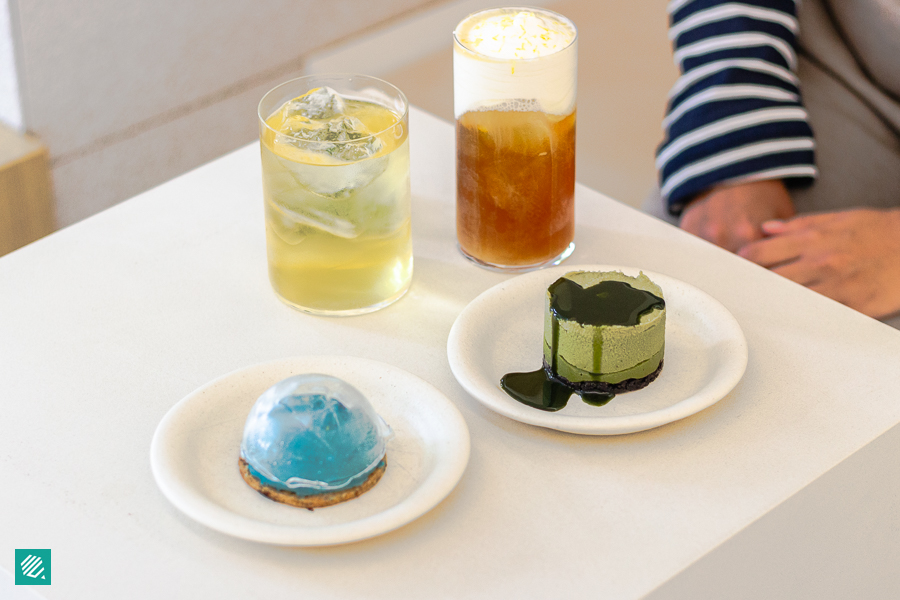 Offering a variety of single teas, such as Bosung Hojicha (6,500won), Hadong Green Tea (6,500won), and Wild Date Plum Tea (8,000won) to their own homemade tea blends such as a fruity, refreshing, and citrusy Edge of Spring (7,500won) and a seasonal blend known as Winter Stroll, which is relaxing, grassy and has notes of ginger.
There's also a small menu of Tea Lattes, such as the Lavender Hojicha Latte (8,500won), Matcha Coconut Latte (8,500won) and Boricha Latte (8,500won).
For coffee lovers, no worries! You can find Cold Brew Coffee (6,000won), Black Cold Latte (7,000won), and a unique Barley Coffee here (5,500won).
For desserts, they have a small selection of cakes such as the Spread Cube Cake, which is made with angelica root cream, sesame mousse, and whole wheat crackers alongside classics like Banana Cream Bread (7,000won).
We tried the Oasis (7,500won) which came in a beautiful shade of blue. It had a refreshing yuja white chocolate shell and a bergamot mousse center. The most interesting part was the sugar shell, which we had to crack to taste our dessert.
There was also the Forest Cheesecake (7,000won) which is a vegan matcha cream cheesecake, served alongside a serving of matcha syrup. We thought the matcha flavour could've been more pronounced, as the cream cheese flavour was quite overpowering.
For drinks, we really enjoyed the Hoji Einspanner (9,000won) which had chrysanthemum cream and lemon zest that elevated the entire drink.
Vegan Cafe in Seoul
If you're ever looking for a vegan cafe in Korea, YUN Teehaus is an aesthetic space for some tea and vegan treats. Maybe you might even want to explore some of their eyeglass frames while you're there!
YUN Teehaus (윤 티하우스)
서울 용산구 이태원로 234 1층
1F, 234 Itaewon-ro, Yongsan-gu, Seoul
Mon-Sun, 11am-9pm, 3pm-4pm Break Time
Nearest Subway: Itaewon Station (Line 6), Exit 3
Naver Maps | Kakao Maps
*This was an independent review by MiddleClass
*Follow MiddleClass.sg on Facebook, Instagram, TikTok, and Telegram for more food, travel, and trending stories