The title says it all, and we're just as excited as you are! Kumoya Singapore, the cafe behind popular themed pop-up cafes like Cinamoroll and My Little Pony, has partnered with popular Korean mascots LINE Friends and BT21 to launch the pop-up MY LITTLE BUDDY CAFE! 
The collaboration will start this Friday, 21st October 2022, featuring two sections – BT21 and LINE FRIENDS World both in the decor and in the menu items.
MY LITTLE BUDDY CAFE x Kumoya Interior
The cafe interior was decked out in a dazzling array of pastel colours and adorable cut-outs of all the LINE mascots! If you look closely, you can catch some recognisable faces like Brown, Cony and Sally. 
The furniture and windows are also wrapped in themed-covers, including the forever favourite BT21 characters of Koya, RJ, Shooky, Mang, Chimmy, Tata, Cooky, and Van – each representing a member of K-pop boy band BTS – that are waiting for you to spot.  There's even a super cute photo spot at the entrance!
MY LITTLE BUDDY CAFE Menu
The pop-up cafe menu boasts a generous lineup of over 20 items inclusive of snacks, mains, desserts and drinks so you're definitely spoilt for choice. Do note that the menu is not Halal-certified, but all dishes are no pork, no lard, no alcohol and sourced from major Halal distributors. 
We tried a few menu items from both the LINE FRIENDS World menu and BT21 menu. Kumoya has partnered again with Shirley Wong (@littlemissbento) to produce the food item designs and spoiler alert: everything was super cute!
Mini Tater Tots & Sweet Potato Mochi Balls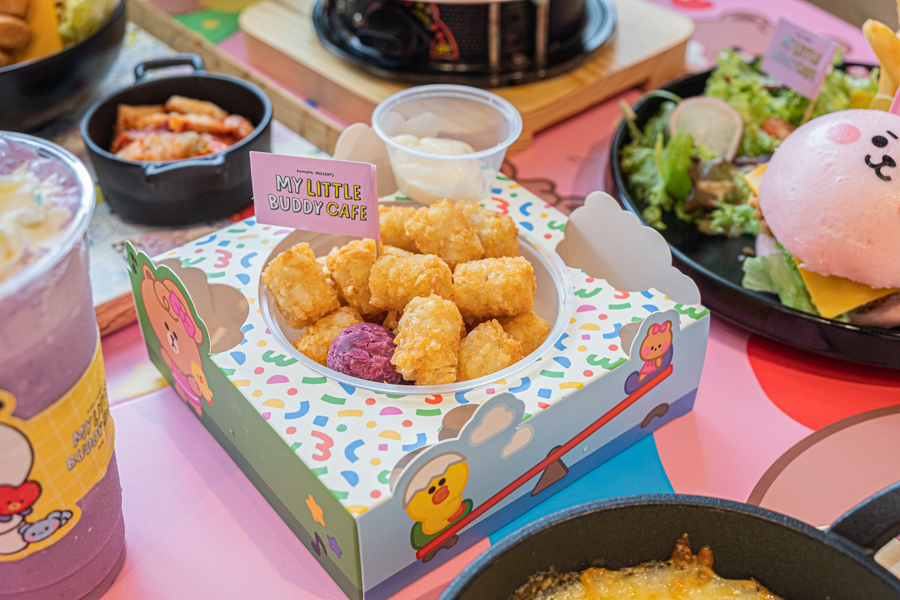 For snacks, we started with the Mini Tater Tots & Sweet Potato Mochi Balls ($13.90) in an uber adorable LINE FRIENDS box. You can add on $9.90 for the Cheese Cheolpan which is a hot plate of melted cheese for dipping. Everything was served hot and crispy, which made for a pretty satisfying appetizer, especially the chewy Sweet Potato Mochi Balls. 
 COOKY and SHOOKY Fried Chicken Burger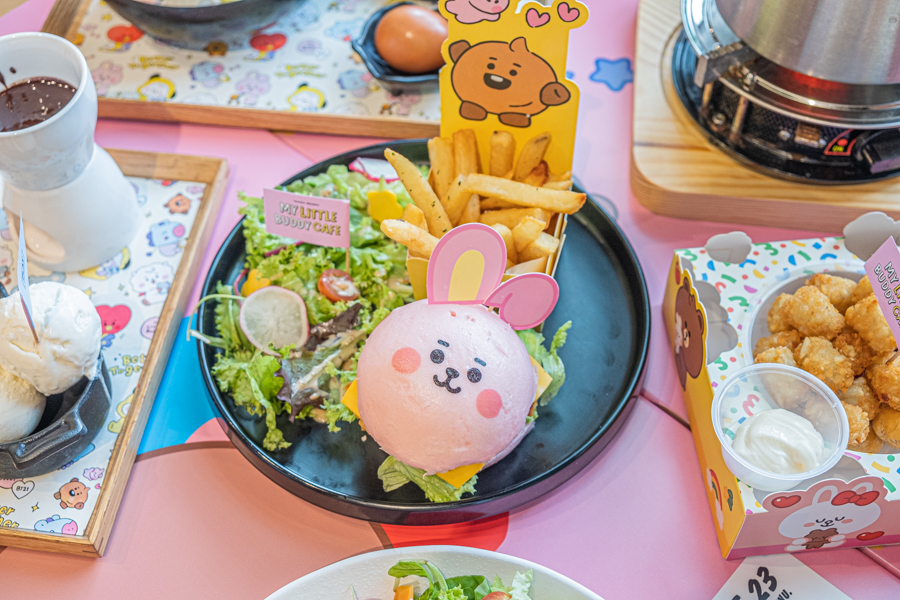 The stars of the show were definitely the mains. The COOKY and SHOOKY Fried Chicken Burger ($25.90) came with pink Cooky mantou buns, a fried chicken thigh patty in a sweet-spicy sauce and a side of fries in a Shooky box. Aside from being super picturesque, the mantou buns were soft and a great pair with the juicy chicken! 
BT21 My Little Buddy Budae Jjigae
The BT21 My Little Buddy Budae Jjigae ($25.90) set is a full meal! It comes with your own personal My Little Buddy Cafe heating pot with a kimchi soup broth and an assortment of chicken sausages, crab sticks and vegetables. You can also add -on other proteins like beef ($5.90) or salmon ($6.90) for something more filling. We think the soup could've been more robust and flavourful, but the cooking experience was quite fun. 
SALLY and CHOCO Korean Chicken Stew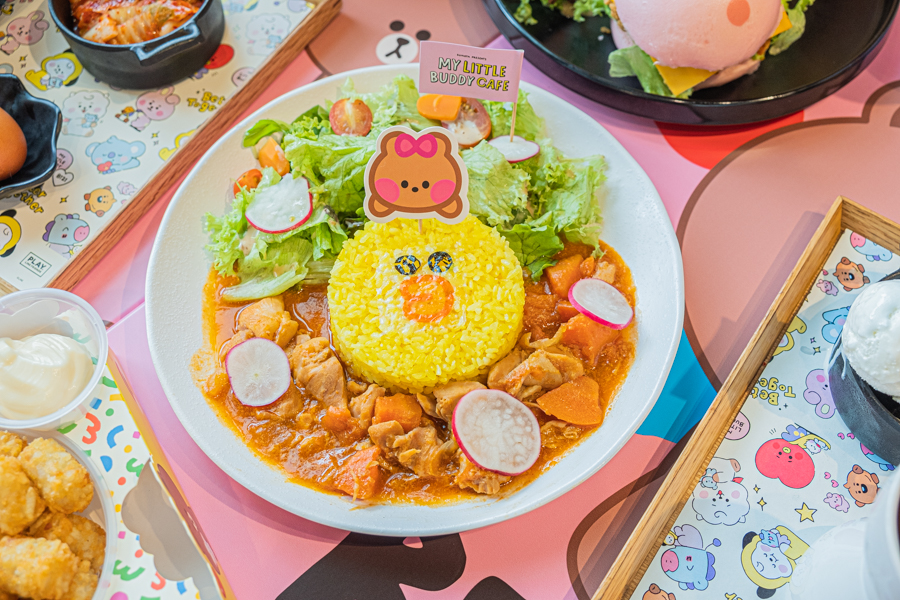 The LINE FRIENDS World mains include the SALLY and CHOCO Korean Chicken Stew ($24.90) features a turmeric Japanese rice in the shape of Sally, and a slightly spicy Korean chicken stew that paired well with the rice! 
Dessert And Drinks Menu
For desserts, we tried the My Little Buddy BT21 Chocolate Fondue Churros ($25.90) that came with crispy churros with chocolate sauce, vanilla ice cream and a cute Line Friends butter cookie. The pairing of the hot churros and cold ice cream was a great sweet ending to the meal! 
The drinks we tried were the CHOCO Apple Citron Soda ($13.90) and the TATA and VAN Sweet Potato Frappe ($13.90). Each came with a matching cup sleeve and garnishes, plus a special edition coaster you can take home! The Apple Citron Soda was refreshing and slightly tangy, while the Sweet Potato Frappe was rich and creamy with a notable sweet potato flavour. 
Perfect Place For BTS And LINE FRIENDS Fans
All in all, the ambience in the My Little Buddy Cafe was great, and we can imagine being surrounded by your favourite mascots while sharing a meal with your friends. The entire experience is extremely photo-worthy so don't be afraid to take pictures! You can do walk-ins or make reservations online for the pop-up cafe so you can skip the queues. 
Kumoya @ Orchard Central
#04-08 Orchard Central, 181 Orchard Road, Singapore 238896
Open daily, 11am-9.30pm (Last order 8.30pm)
*Follow MiddleClass.sg on Facebook, Instagram, and Telegram for more food, travel, and trending stories