It's never too early for Christmas, and local French patisserie Alice Boulangerie has started the ball rolling with their new lineup of artisanal pastries and Christmas-themed menu perfect for the holiday season!
Alice Boulangerie New Pastry Menu
Their new collection boasts five entremets (small serving cakes): Acorn, Mushroom, Cocoa Ananas, Summer Cheese and Mixed berries and Coconut. Each one is small but ornate, demonstrating the craftsmanship – they look too cute to eat! 
Acorn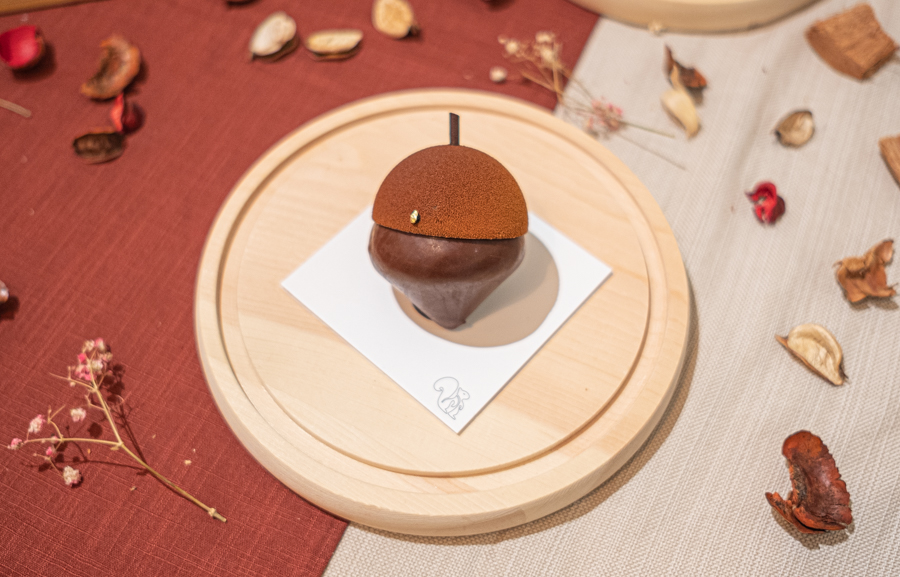 Acorn ($13) featured a 70% dark chocolate acorn shell that houses layers of chocolate mousse, yuzu crémeux and almond walnut praline. The rich chocolate was balanced by the tartness of the yuzu, complemented by the fragrance of the almond walnut praline. 
Mushroom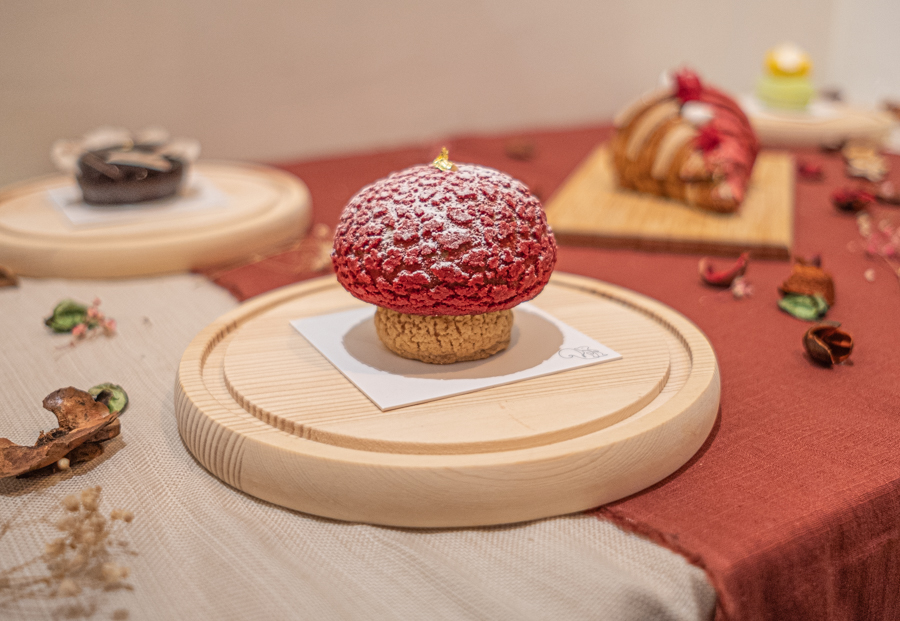 The next adorable-looking pastry was Mushroom ($9), with a red choux puff piped with gula melaka chantilly cream and coconut pastry cream, plus a gula melaka caramel. This tasted as good as it looked, with a notable fragrance of coconut and a lightly-sweet cream that wasn't too cloying. 
Cocoa Ananas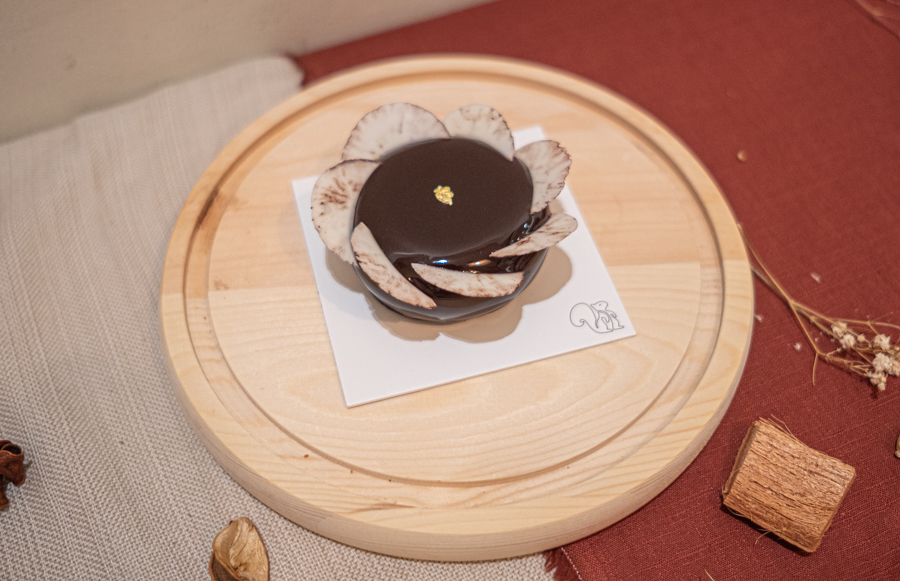 Next was the bittersweet Cocoa Ananas ($10) that combines Manjari (64% chocolate) chocolate mousse with a pineapple compote. The white chocolate shards were designed to resemble pineapple rings, adding an artistic flair. If you enjoy dark chocolate, this dessert will be up your alley, with a deep chocolate flavour cut by the tanginess of the pineapple. 
Summer Cheese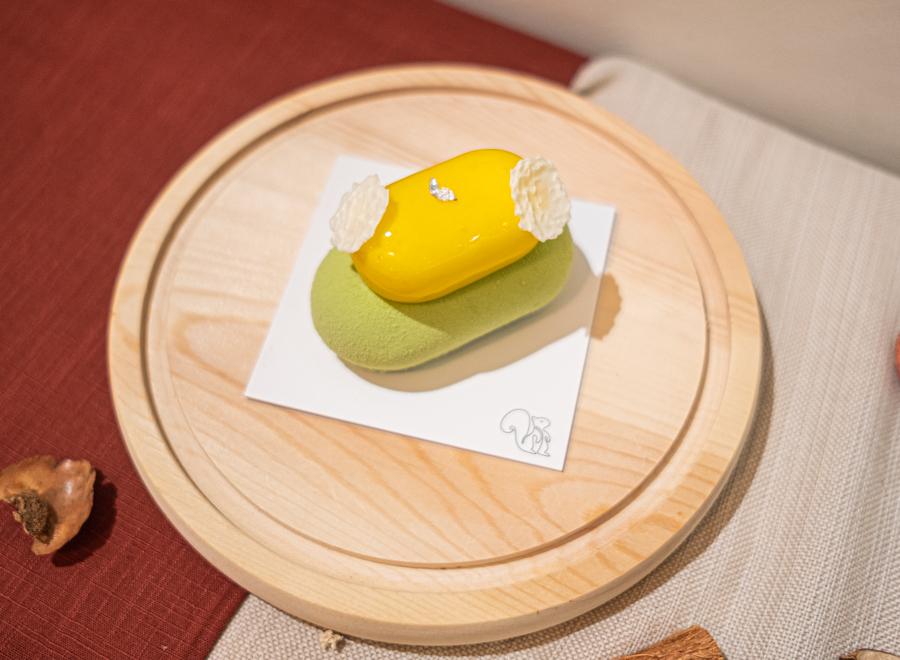 Summer Cheese ($10) has won Alice Boulangerie awards and blends a calamansi crémeux with pistachio dacquoise. This dessert was comparably lighter than the others, but still had a recognisable fragrance of pistachios paired with the creaminess from the mascarpone mousse. 
Mixed berries and Coconut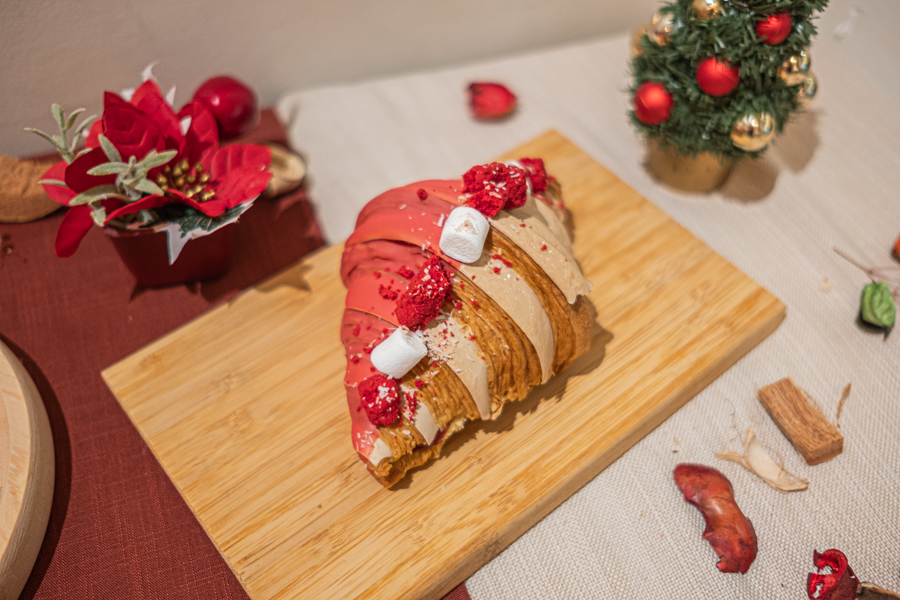 The croissant is aptly called Mixed berries and Coconut ($7) as it features both ingredients in a coconut pastry cream and mixed berry compote. The croissant was flaky and buttery, a perfect vessel for the sweet-tangy combination of coconut cream and fresh berries. 
Alice Boulangerie Exclusive Christmas Menu
On top of their new pastry additions, Alice Boulangerie will also be launching a Christmas menu with both savoury and sweet!
Alice's Christmas Log Cake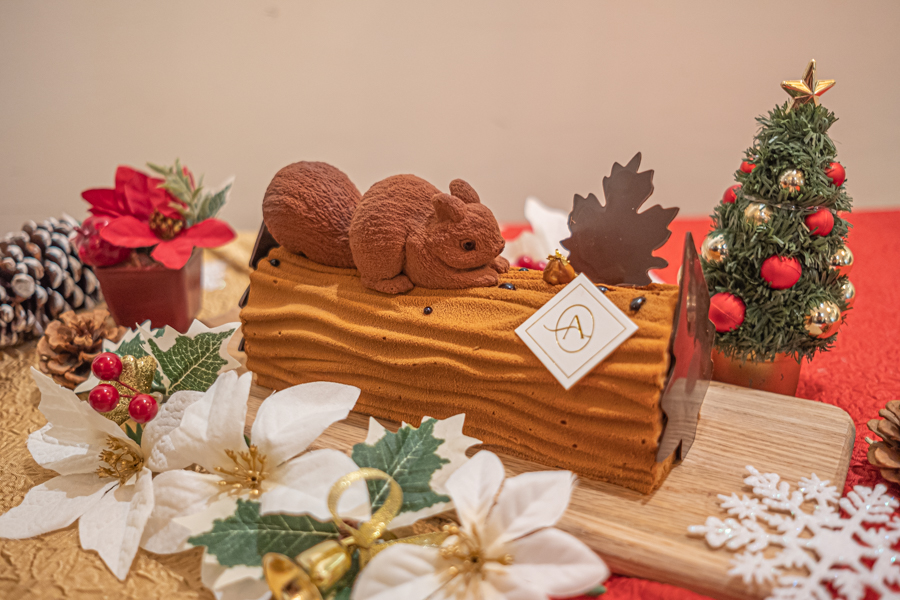 TheAlice's Christmas Log Cake ($85) will be available from November 2022. A flourless chocolate sponge is layered with chocolate mud biscuit, an exotic fruit crémeux, caramelised banana, and hazelnut praline crunch, then topped with an adorable 3D squirrel made from orange dark chocolate mousse! You can advance order online at https://aliceboulangerie.cococart.co/. 
Savory Menu
For a full Christmas feast, you can get their savoury menu items! The US Angus Roast Beef ($180 for 1kg) is slow-roasted till tender and served with a red wine mushroom sauce, and your choice of doneness (medium rare, medium, medium well), while the Kurobuta (Bone-in) Roast Pork ($180 for 1.5kg) features a crackling skin with a creamy wholegrain mustard sauce. You can also get a side of  Roasted Season Vegetables & Potato Gratin ($39 for 1.2kg) for some balance to the meal. 
Enjoy A Sweet Christmas With Alice Boulangerie
Celebrate your holidays with a little something special from Alice Boulangerie! Their artisanal pastries will make for a great centrepiece that also features unique flavours, and a memorable way to commemorate the season. You can enjoy the dessert selection at their physical store in Icon Village or order online at https://aliceboulangerie.cococart.co/.
Alice Boulangerie
#01-05/11 Icon Village, 12 Gopeng St, Singapore 078877
Monday-Sunday, 8am-6pm 
*Follow MiddleClass.sg on Facebook, Instagram, and Telegram for more food, travel, and trending stories