Amani Spa is a new spa and wellness centre located along Killiney Road, specialising in treatments designed to rejuvenate and relax your body. It mixes Japanese and Thai elements in its services so you can choose the best way to unwind in their tranquil space! 
Private & Comfortable Space

The entire spa oozes comfort and tranquillity from the moment you enter, with plants, wooden decor and essential oil diffusers perfuming the area. I felt quite relaxed the moment I entered the place, which is conveniently located in Orchard.
Each treatment room was clean and came equipped with amenities including robes and even disposable underwear, so you just need to bring yourself! 
It was also clean and well-maintained, alongside the kind and helpful staff. 
Amani Spa Services & Treatments
Their services are mainly split into full body treatments and holistic wellness treatments, alongside facial and hair removal services. 
The full body treatments include the Amani – Signature Treatment (from $130 for 60 mins), which includes a full body massage with Amani oil; alongside a Traditional Thai Massage (from $90 for 60 mins) or Rich Bone Therapy (from $230 for 90 mins). 
For something more all-encompassing, there's the Jacuzzi ($80 for 30 mins), Ganban-Yoku ($90 for 30 mins) or their speciality Oxygen Capsule ($130 for 30 mins). There's also focused treatments like Premier Enzyme Facial ($150 for 30 mins), Hair Removal and Foor Relax Massage ($60 for 45 mins).
If you're looking to go with someone, they have VIP Rooms with Couple Spa (from $450 for 150 mins) options! Each room has it's own private facilities and comes with a package of treatments including the Aroma Oil Treatment, Jacuzzi and more. 
I got to try three treatments: Amani – Signature Treatment, the Ganban-Yoku and Oxygen Capsule. 
Ganban-Yoku
The first treatment was the Ganban-Yoku, a Japanese hot stone room said to help improve metabolism and promote better blood circulation. There were provided towels, robes and even slippers to change into. 
The Ganban-Yoku room is lined with rocks that are heated between 45 and 49 degrees. To set up, you put down the towel and simply lie down. It's kind of like a private sauna! 
The experience was 30 minutes; the staff recommend 20 minutes face-down and 10 minutes face-up. 
Despite the heat, I actually found the experience quite therapeutic! It was just hot enough to increase blow flow and make me sweat, but not too stifling. After that duration, I felt refreshed and had a quick detox. 
It's said that repeated Ganban-Yoku treatments have anti-ageing effects, so it's something you can consider!
Amani – Siganture Treatment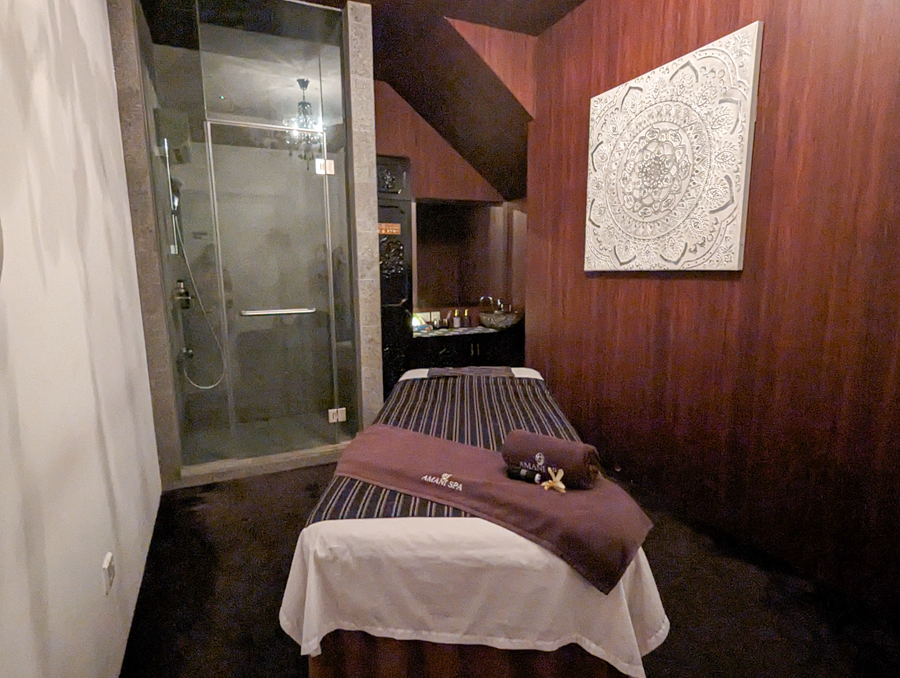 The Amani – Signature Treatment consists of a target full body massage to drain the lymphatic system and help with bloating. It also uses Amani oil – the namesake of the spa – which is derived from flax seed.
I got to experience the 60-minute treatment, which included a thorough back and head massage.
This massage is done fully naked (disposable underwear is provided), but the masseuse was very respectful and professional during the session.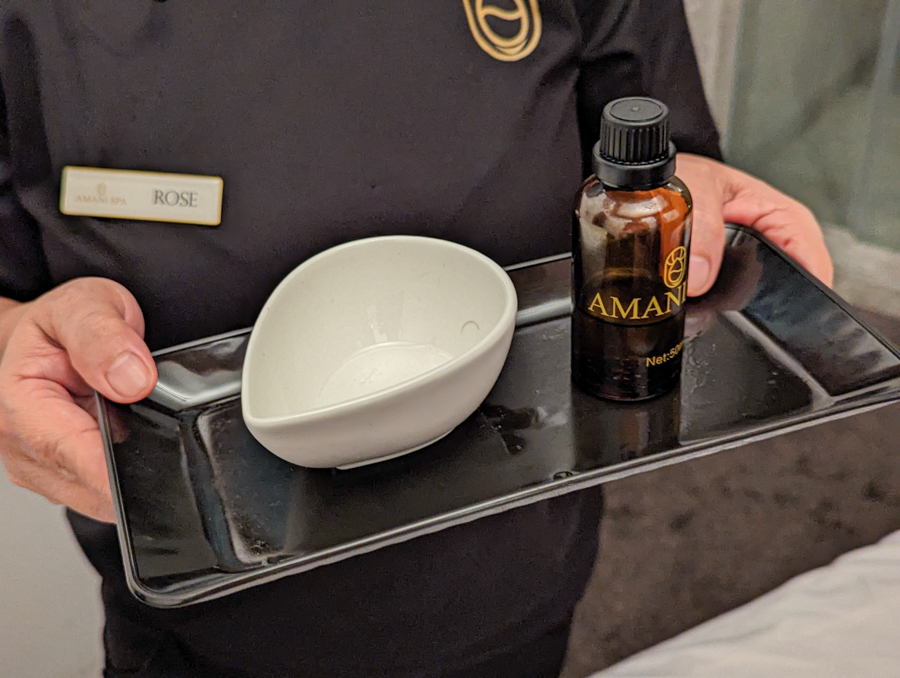 If you're a fan of deep-tissue massages, this is up your alley! The pressure points were the shoulders and lower back which really helped to loosen the muscle stiffness I had. You can request the masseuse use more or less force depending on how you prefer it. 
The space was also very comfortable and included towels and a small vanity area to refresh yourself after the massage. I felt rejuvenated after the massage and could definitely feel a difference in my body! 
Oxygen Capsule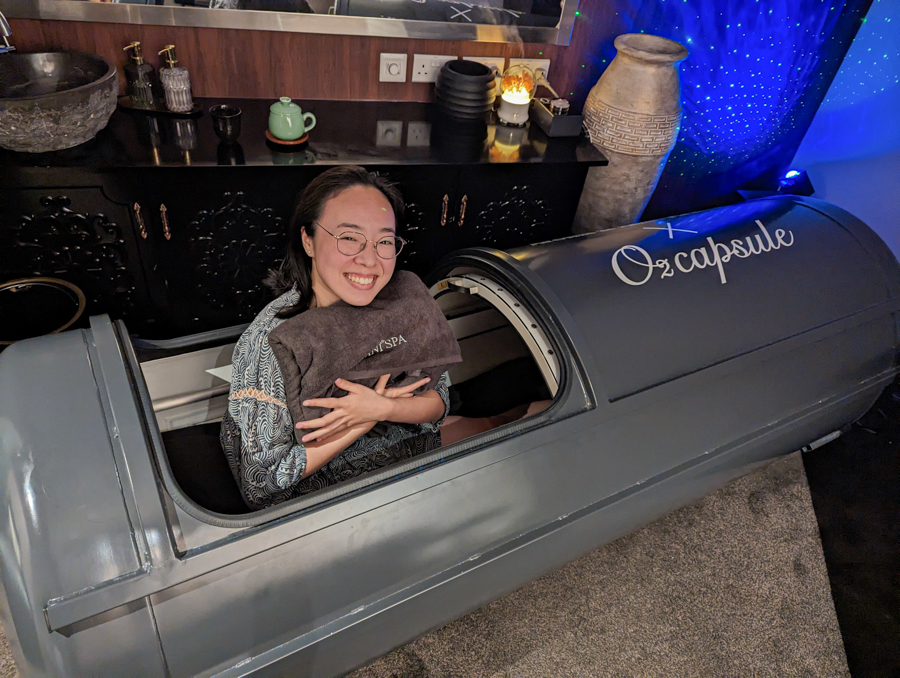 A rather unique treatment is the Oxygen Capsule, which puts you in a pressurized oxygen-rich space to help the body recover. It's supposed to help bring oxygen to areas that lack it and reduce fatigue, making it good for those with insomnia.
You're not allowed to bring electronics into the capsule, so the staff provided a bell just in case.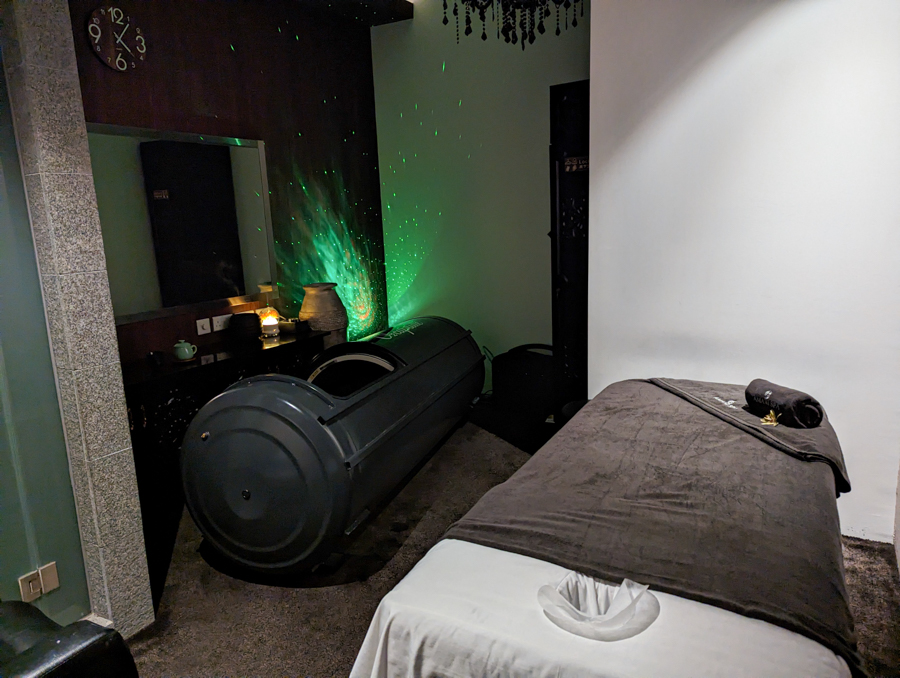 At first, I was skeptical as the capsule looked daunting, but it was surprisingly comfortable! There's a soft bed lining the base, so it felt as if I was taking a nap (spoiler – I did). There's constant ventilation and airflow within the capsule so it didn't feel suffocating. I think it was the best 30-minute nap I had taken in a while! 
After the treatments, I could see a visible glow in my skin and more energy in my body – safe to say that they definitely made an impact!
Japanese Spa In Orchard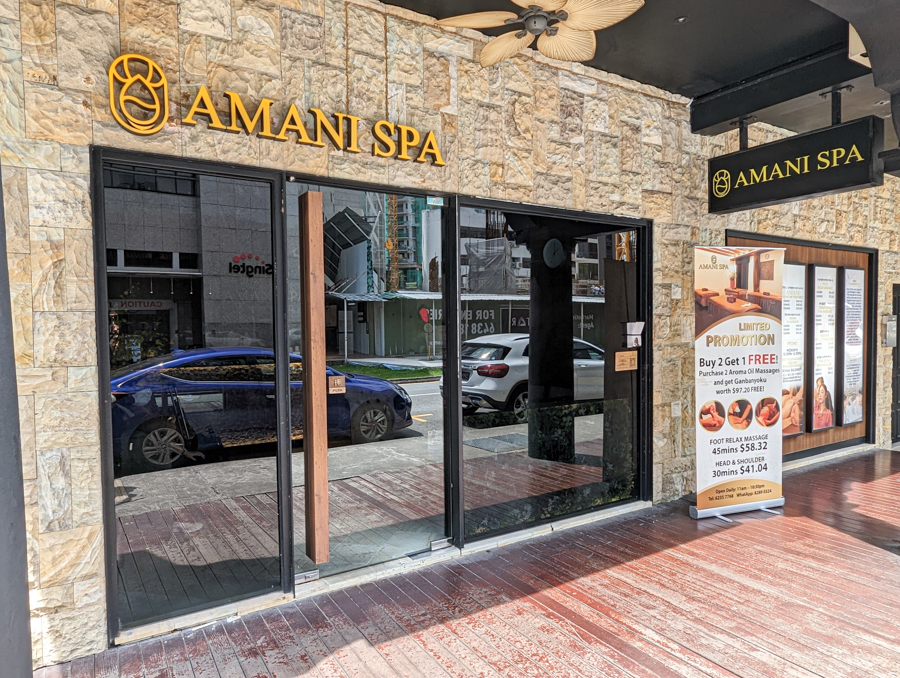 If you're looking for way to treat yourself, consider this your sign to book a slot at Amani spa! They are having a special promotion for the month of June – purchase two  Aroma Oil Massages and get 1 free Ganban-yoku Hot Stone Therapy (30mins)!
Check out our full experience on Tik Tok:
Make your bookings online. 
Amani Spa
101 Killiney Road, Singapore 239544
Open daily: 11am-11pm
*Follow MiddleClass.sg on Facebook, Instagram, and Telegram for more food, travel, and trending stories