Located beside Morganfield's and a stone's throw away from the Promenade station exit is Synthesis, a restaurant, and bar that will probably confuse you with its outer appearance.
TCM Shop Or Bar?
With a wooden shopfront that looks seemingly like a Traditional Chinese Medicine (TCM) spot to get your dried goods and medicine, we spotted lots of people walking past the space with confused looks. From glass jars of dangui to trays of luo han guo, Synthesis not only looks like a TCM shopfront, but it also smells like one too.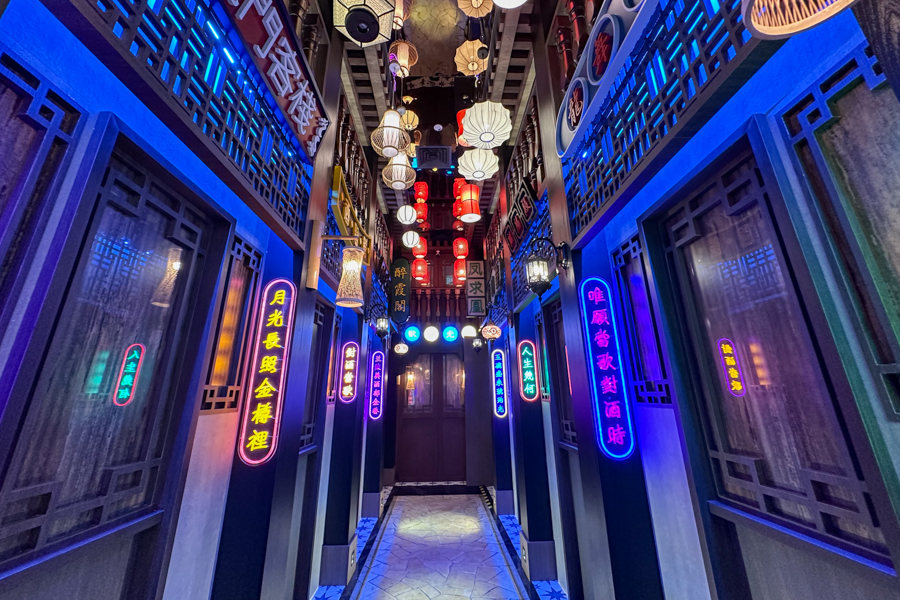 However, hidden behind the secret door is a short corridor that gives off Hong Kong vibes, with its neon signs and traditional inn interior. Don't be surprised if you find people crowding the corridor as it's already a popular photo spot.
It also slightly reminded us of this place known as Art Monster in Seoul, which was seen in one of the episodes of Refund Sisters, starring Yoo Jae Suk, Jessi, Hwasa & more.
Once you make it through the corridor, you'll be welcomed by a totally different space, with futuristic wall lighting fixtures and a grand bar counter that simply takes your breath away.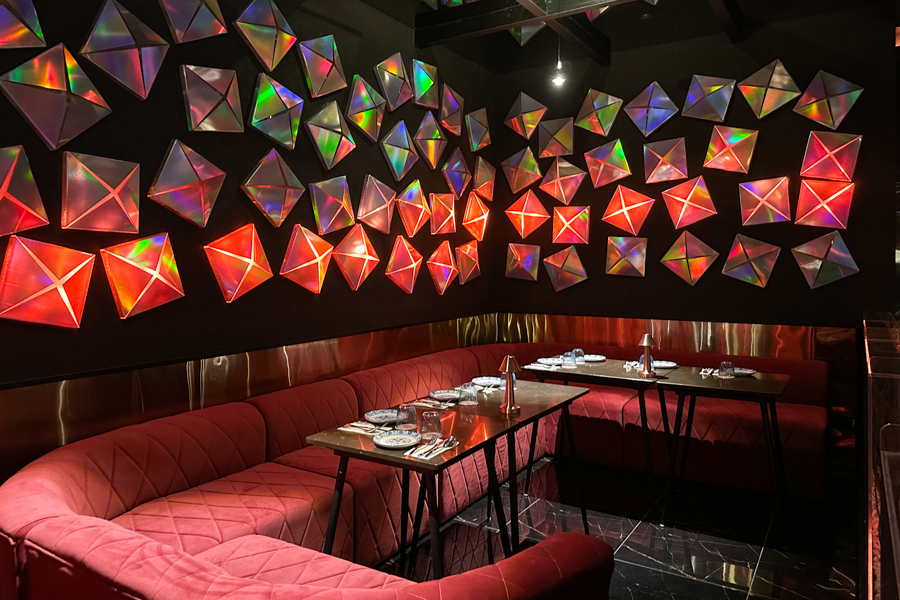 The interior almost feels like a club, however, there's no dancefloor here. Instead, you'll find a variety of seats, from semi-private booths to the ones in the main dining hall.
Menu at Synthesis Bar & Restaurant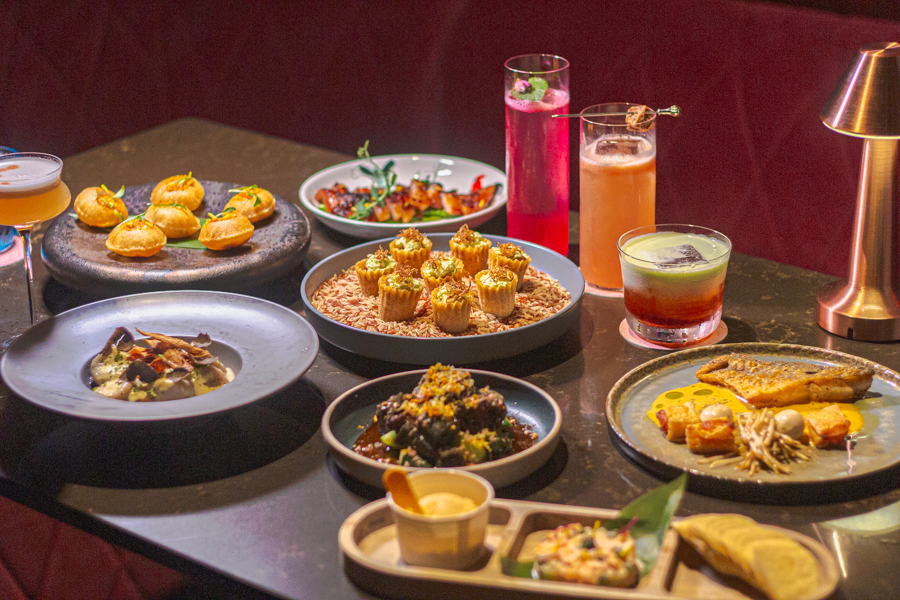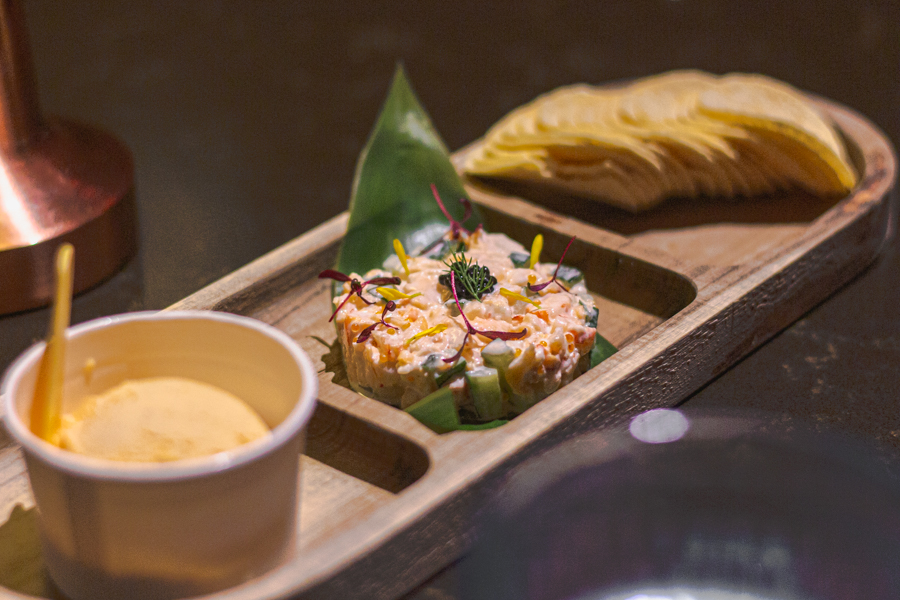 Synthesis' menu consists of cold plates, small plates, bar bites, mains, pasta, and sharing platters. For the cold plates, we tried the Laksa Prawn Tartare ($22) which featured an in-house made laksa gelato! The team at Synthesis wanted to introduce laksa flavours in an unconventional way and the Laksa Prawn Tartare proved to be a really fun dish.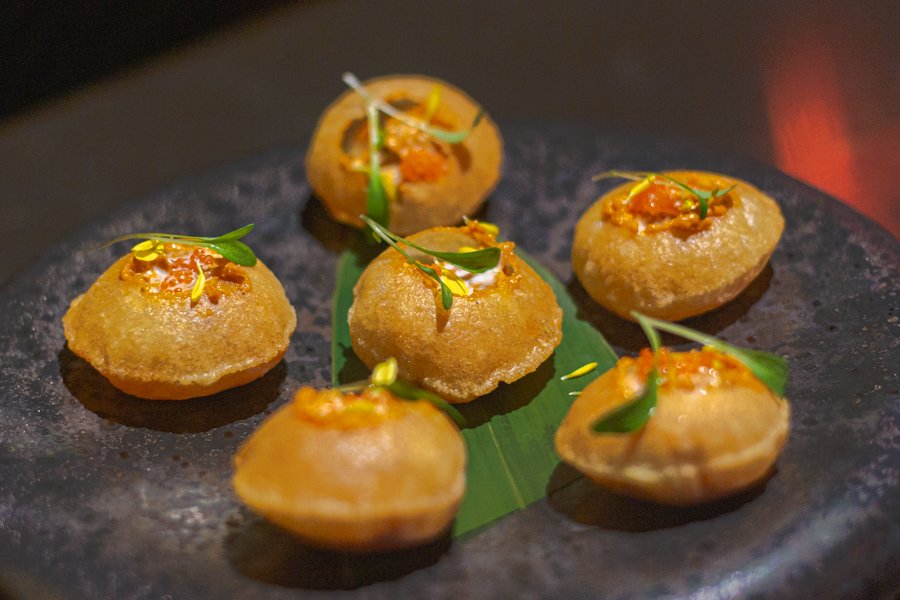 We also tried the Pani Puri w Cold Assam Curry ($22) which had cured Atlantic salmon and lemongrass cream in it.
The bar bites menu has a few Asian and TCM-inspired dishes like the Dang Gui Shaker Chicken Bites ($18), Ikura Papadum ($14), and Crab Begedil-yaki ($20). We tried the "Xia Hua" Charcoal You Tiao ($18) which is a blend between the usual zi-char style prawn paste stuffed you tiao and the local delicacy, Rojak.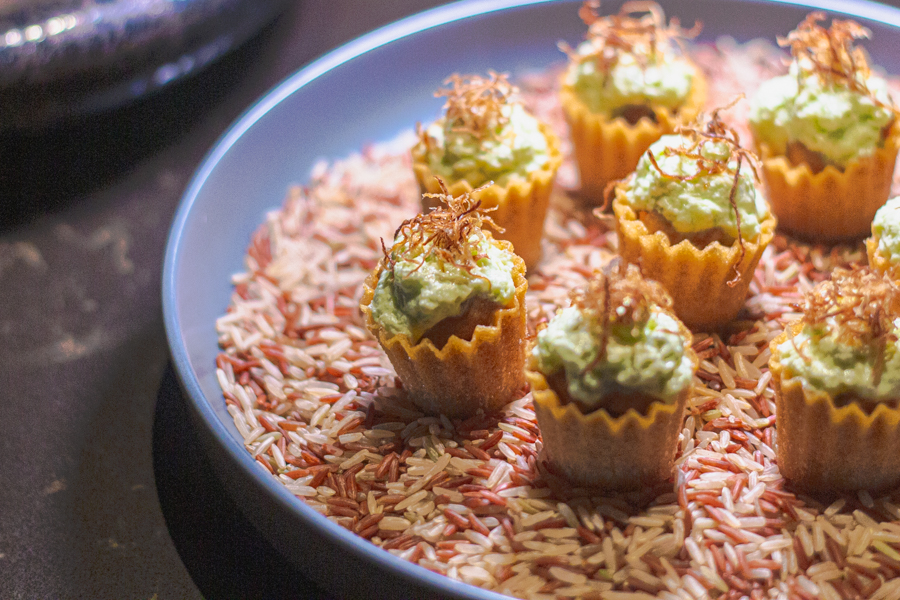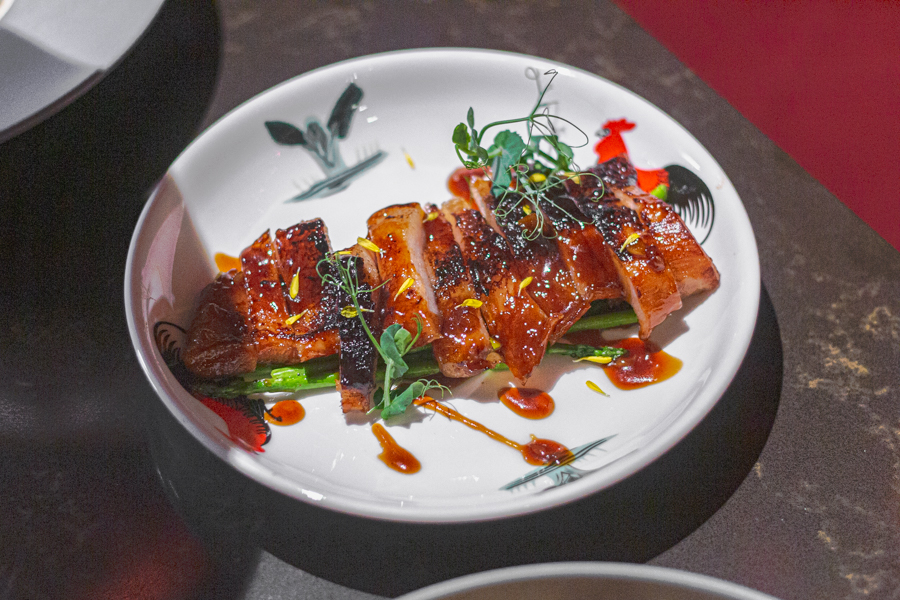 Moving on to small plates, we tried the Kung Fu Kueh Pie Tee ($18) which featured a Kung Bao Chicken filling topped with spring onion foam. The Heavenly Char Siew ($22) uses Iberico Pork Jowl and was served on top a bed of baby asparagus before it was finished with a nice, sweet char siew glaze. Other small plates include items like Butter Chicken En Croute ($20) and Sambal Oelek Broccolini ($18).
For Mains, the menu features items like a Sakura Chicken Herbal Pao Fan ($24), which is quite apt for its TCM concept, alongside classic items like Australian Wagyu Beef Striploin ($38) and Burnt Butter Cauliflower Steak ($24). We tried the Pan Seared Barramundi ($28) which infused a pinch of local flavours with a Laksa Foam.
One of our favourite dishes for the night was the "Suan Pan Zi" Truffle Carbonara ($30) which used yam abacus seeds as the pasta and was tossed in a creamy truffle carbonara sauce. The icing on the top was the crispy pieces of burdock root, which added a nice herbal tinge to the dish, which we thought reflected the TCM concept aptly.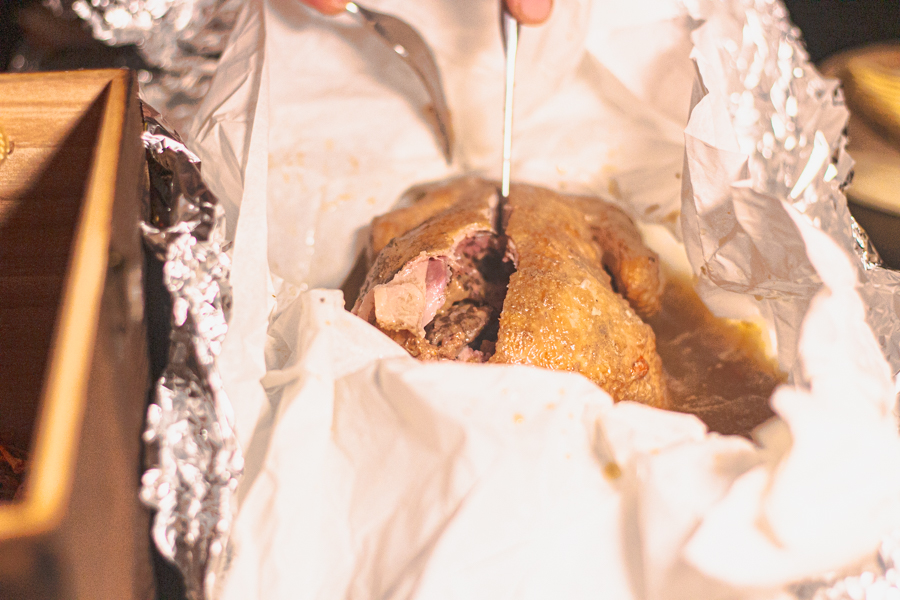 Lastly, from the Sharing Platters menu, we had the Herbal Emperor Chicken ($68) which was served in a box with a flashy presentation (think smoke). The chicken was stuffed with roasted chestnuts, fried shallots, garlic, and shitake mushrooms.
We ended the meal with some desserts, such as the Yuzu Nashi Pear Swirl ($18) which featured slices of yuzu infused nashi pear and an in-house made winter melon gelato, alongside the Rainbow Bread Sandwich ($6), an homage to our local ice-cream sellers. You get the choice of either a Herbal Peppermint or Honey Osmanthus ice cream, both made in-house as well.
TCM-Inspired & Asian-Inspired Cocktails
The alcohol menu at Synthesis is quite interesting, with a combination of TCM-Inspired and Asian-Inspired cocktails. TCM-Inspired cocktails include items like the Goji Roni ($24) which is a white rum-based drink with goji berries, and a drink named Date with Jia Jia ($24) which uses Jia Jia Herbal Tea in the cocktail!
As for the Asian-inspired cocktails, there are drinks like Uncle Tom's Kopi-O ($24) which uses whisky, black coffee liqueur, and butter foam for a spin on our local coffee scene.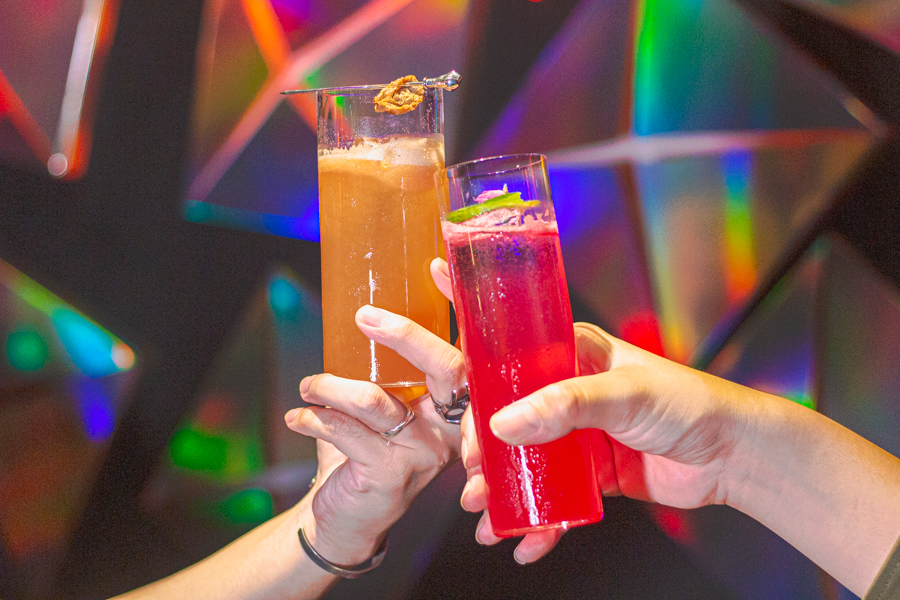 In the photo is the Giam Sng Tee Highball ($22) made using a sour plum infused vodka with pink guava, lime, and soda, and the Roselle Gin Highball ($22) which features calamansi, roselle, and soda.
Speakeasy Bar in Suntec
Synthesis makes a great spot for some food and drinks after work, and the concept does not disappoint. This is no surprise as Synthesis is opened by the folks behind Mama Diam!
Synthesis 食拿酒稳
3 Temasek Boulevard #01-643 Suntec City Tower 4, Singapore 038983
Mon-Sun, 4pm-11pm
*Follow MiddleClass.sg on Facebook, Instagram, TikTok, and Telegram for more food, travel, and trending stories