Song Fa Kway Chap has opened a second outlet in ION Orchard Food Opera with the same delectable Teow-Chew style kway chap options. This outlet offers outlet-exclusive dishes that are perfect for sharing! 
Song Fa Kway Chap Orchard Menu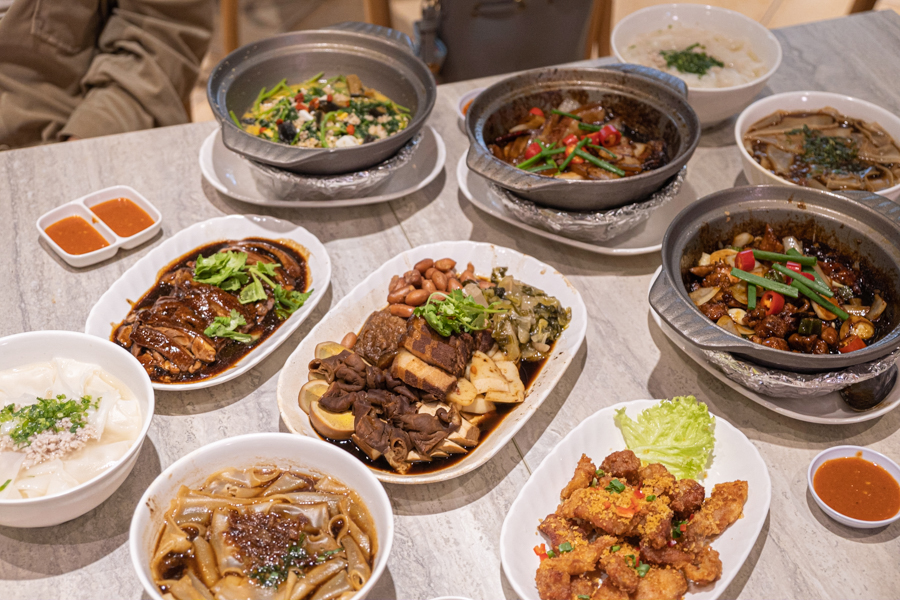 The main menu selection stays largely the same, with their signature Kway Chap Set ($7.90 for 1, $14.90 for 2). Each set comes with black pepper kway, braised intestines and sides like eggs, pork belly and peanuts. 
For a more premium version, try the Peppery Kway Chap Deluxe Set For 2 ($26.90) with a plate of braised duck and white peppery broth (a variant of their Michelin-starred recipe). Get the Braised Duck Rice ($8) and Braised Duck Noodle ($8) if you don't fancy kway chap. 
There are also a selection of claypot dishes for sharing like Spicy Chicken ($9.90) and Spinach with Salted and Century Egg ($8.60).
Peppery Kway Chap Deluxe Set For 2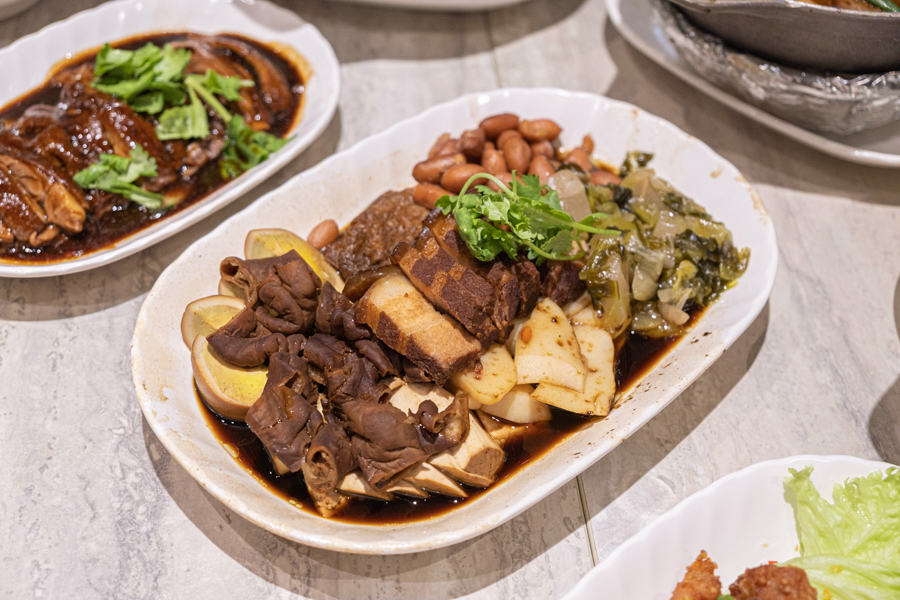 The Peppery Kway Chap Deluxe Set For 2 ($26.90) came with a large plate of pork belly, fish cakes, tofu and large intestines. It had a pleasant braised flavour but could be more robust in our opinion. 
We enjoyed the peppery kway, with a familiar Song Fa taste. Opt for the regular braised kway if you enjoy a richer flavour! They also have cuts like pig's stomach, pig's skin and more. 
The highlight for us was the braised duck. It was so tender that we almost mistook it for chicken; pairing well with the thickened gravy overtop. We think the duck would shine in their braised duck noodle or duck rice!
Claypot Pork Belly with Salted Fish
Our favourite dish was the Claypot Pork Belly with Salted Fish ($12.90). This is an Orchard-exclusive item and features sliced pork belly in a savoury, umami-packed gravy.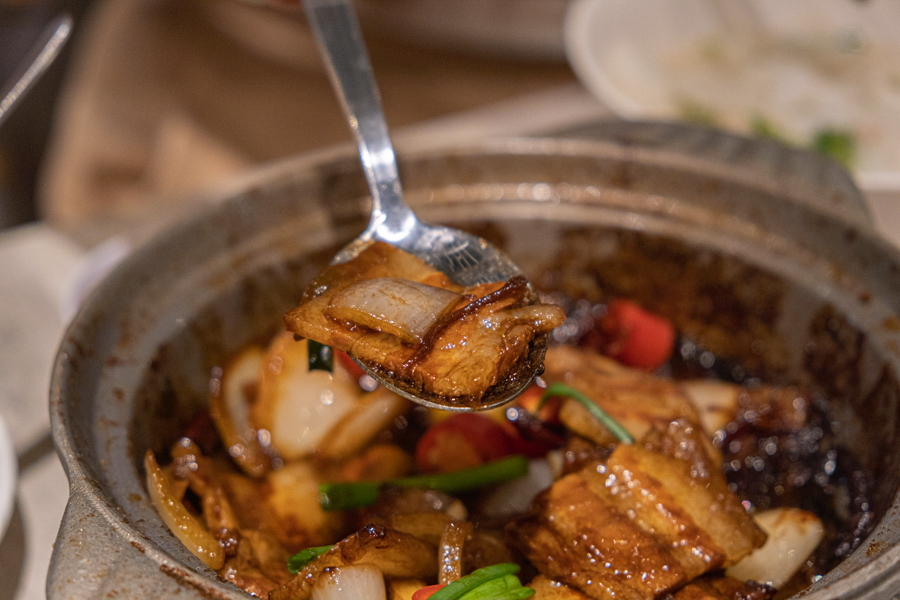 The fragrance of the salted fish, fatty pork belly and a slight kick from the chilli made this a perfect rice-pairing dish. We kept going back for more! It's greasy and sinful but worth every bite. 
Fried Garlic Pork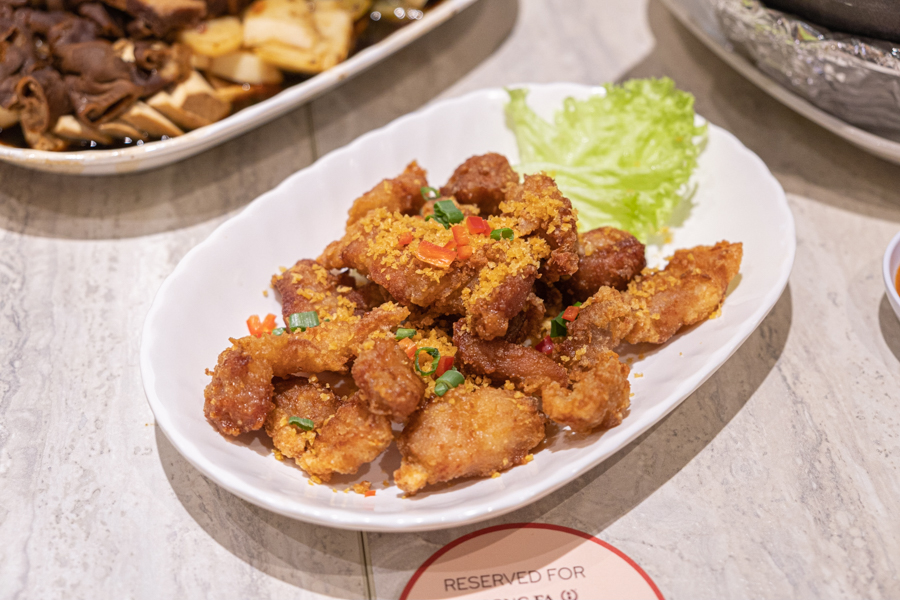 The other Orchard-exclusive dish is Fried Garlic Pork ($8.90). It featured deep-fried pork belly slices and a generous serving of crispy garlic. 
The meat was crisp on the outside but tender on the inside, infused with a strong garlic flavour. If you enjoy garlic, this is the dish for you! 
Claypot Spinach with Salted and Century Egg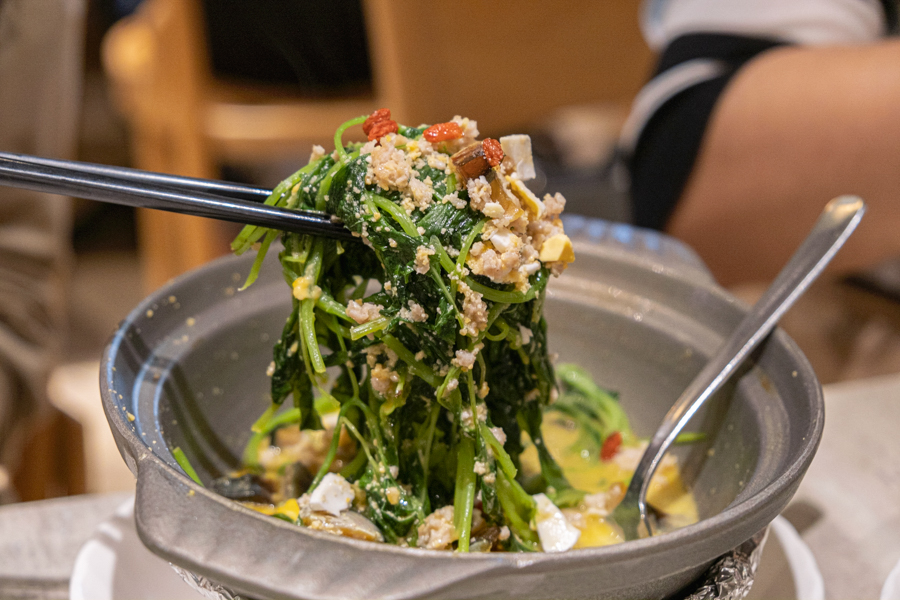 The Claypot Spinach with Salted and Century Egg ($8.60) is a classic zhi char dish, made with chunks of salted and century egg. 
This dish was well-executed with a strong umami and saltiness from the eggs and gravy. The spinach was also cooked well, providing a good texture. 
Claypot Spicy Chicken
The Claypot Spicy Chicken ($9.90) is another rice-pairing dish, with chicken thigh pieces in a soy sauce gravy. 
The chicken was tender and coated thoroughly with the savoury, spicy sauce – definitely homey and hearty! 
King's Garden Tea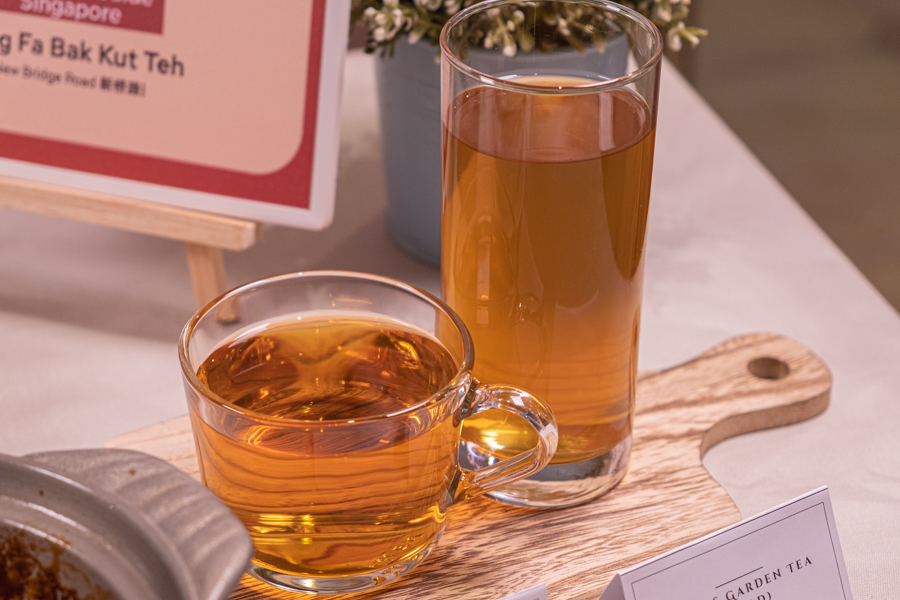 Something that took us by surprise was the King's Garden Tea ($1.50 for hot, $2.20 for cold). This is Song Fa's special blend of chrysanthemum, oolong and green tea for a very fragrant and warming tea. 
The cold version has just a touch of honey to sweeten it, and we found it super refreshing! 
Song Fa In Orchard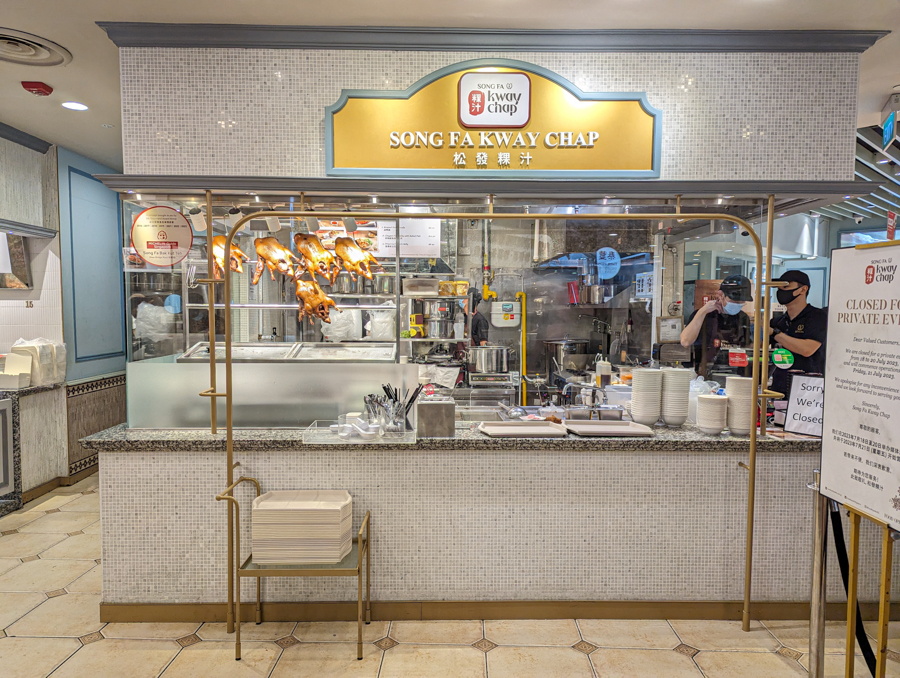 Now you can try Song Fa Kway Chap's options in a more central location! We really enjoyed the special clay pot dishes and think this expansion highlights the versatility of Song Fa. 
Song Fa Kway Chap (ION Orchard)
Stall 14, #B4-03/04, Food Opera ION Orchard
Open daily: 10am – 10pm
*Follow MiddleClass.sg on Facebook, Instagram, TikTok, and Telegram for more food, travel, and trending stories