When you think about Korean food in Singapore, Tanjong Pagar is one area that might come to mind (Beauty World is another). It's a foodie haven that offers some of the best selections of Korean food around. From K-BBQ to dessert cafes, here are some Korean restaurants in Tanjong Pagar you can patron the next time you're in the area!
Seoulizm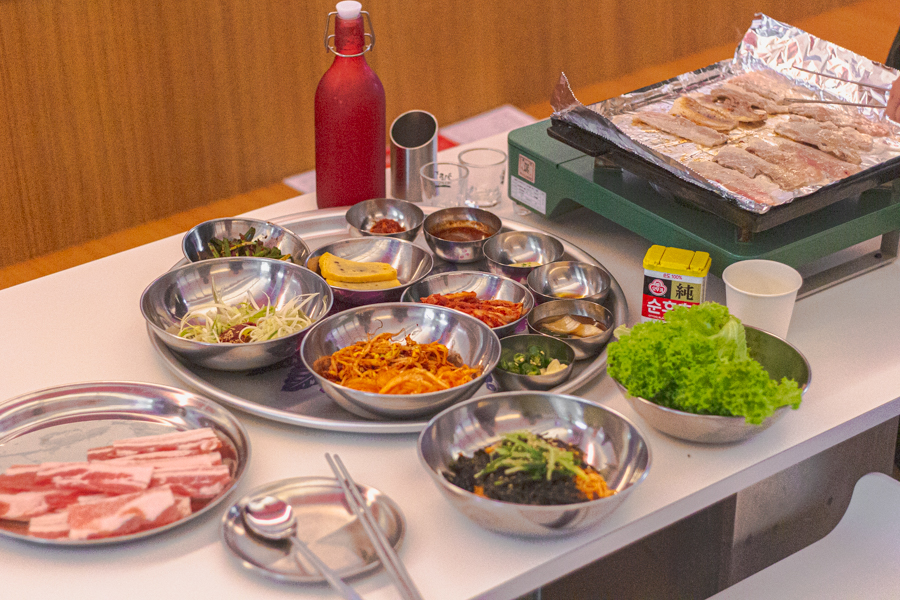 Seoulizm brings Seoul to Singapore, with their delicious food and great vibes. The restaurant offers a 'newtro' vibe, combining neon lights and a retro-inspired décor of the 90s. Seoulizm's menu features K-BBQ favourites like thin cut pork belly, spicy noodles and Cheese Fried Rice.
They even have a house drink called the Seoulizm Red Bottle, a lemon-based sparkling soju! The food and aesthetically pleasing interior makes for the perfect place for a gathering and a comfortable KBBQ experience.
Read our full review of Seoulizm here!

ANJU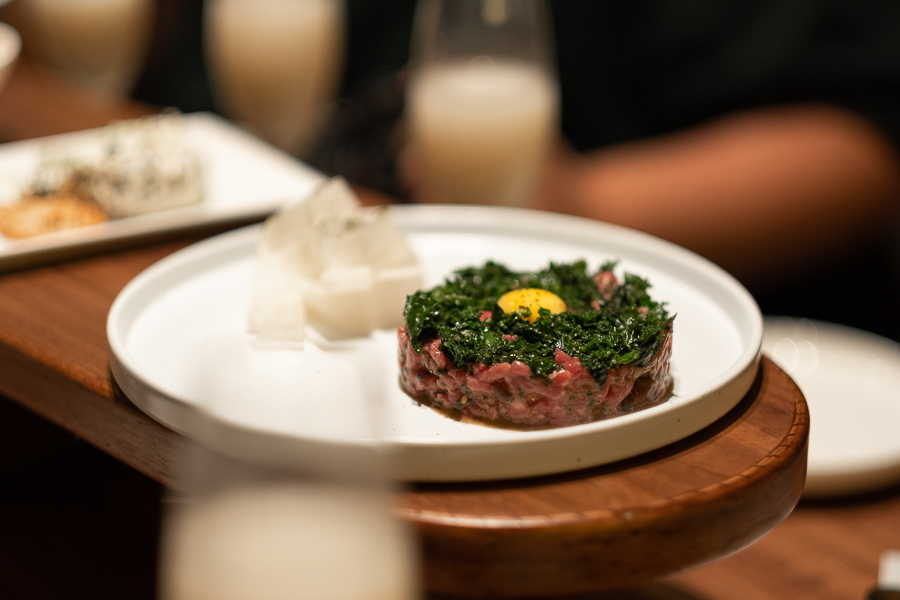 Another great part of Korean food culture is the pairing of alcohol with food – anju.
ANJU is a modern Korean restaurant with a selection of curated Korean alcohols and elevated savoury pairing dishes like Abalone Pasta and Yuk Hoe. Drink options include double distilled oat wood Soju, Champagne Makgeolli and more! Perfect for a casual Friday night post-work dinner with friends!
Check out our full review of ANJU here.
Itaewon Jjajang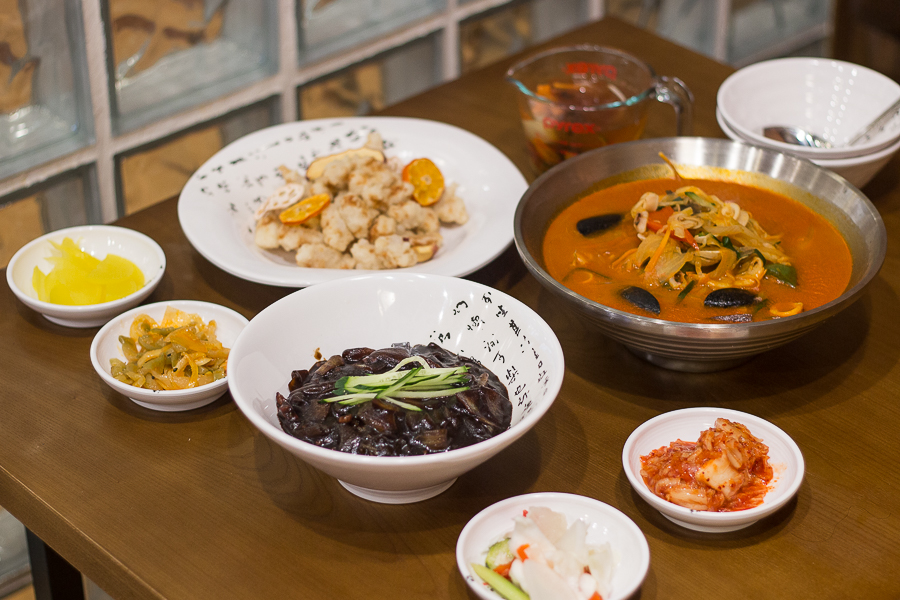 No Korean food guide would be complete without a restaurant specialising in Jjajangmyeon, and Itaewon Jjajang is one of them!
They serve up a hearty and authentic menu of Jjajangmyeon, Jjamppong and Tangsuyuk in the provided set menus. One of our highlight dishes was actually the Jjampong, which was packed with ingredients!
Read our full review of Itaewon Jjajang here.
Mul Gogi Korean BBQ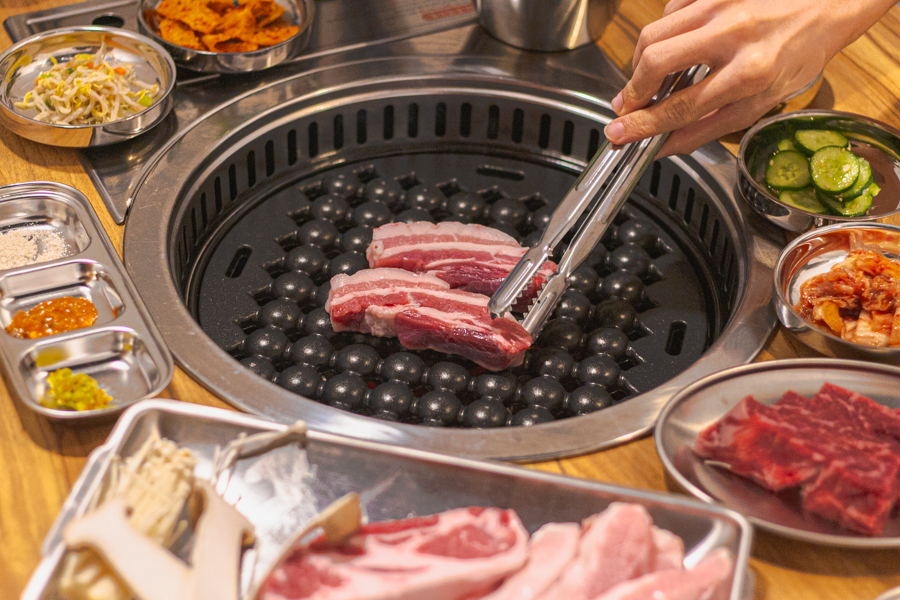 Mul Gogi Korean BBQ has a unique way of ageing their meats – in water. The cuts are vacuum-sealed and water ageing helps breakdown the collagen for more tender meat.
Their grill also has a special shape made up of spheres! Their menu includes BBQ sets that come with pork belly, jowl and bean paste soup – enough to feed 2 to 3 people comfortably.
Read our full review of Mul Gogi Korean BBQ here.
Haewon Korean Sashimi Restaurant
As we know, Korean food is not limited to fried chicken and KBBQ.
Haewon Korean Sashimi Restaurant serves delectable Korean sashimi platters and other seafood dishes for your seafood cravings. The restaurant has items like raw octopus, grilled fish and spicy seafood stew.
They even have unique Korean specialties like Gwamegi, a dried pacific saury popular in Pohang and Mulhoe, a spicy cold seafood soup with raw fish – great for a seafood-loving person!
Read our full review of Haewon Korean Sashimi Restaurant here.
MiMi Korean BBQ Restaurant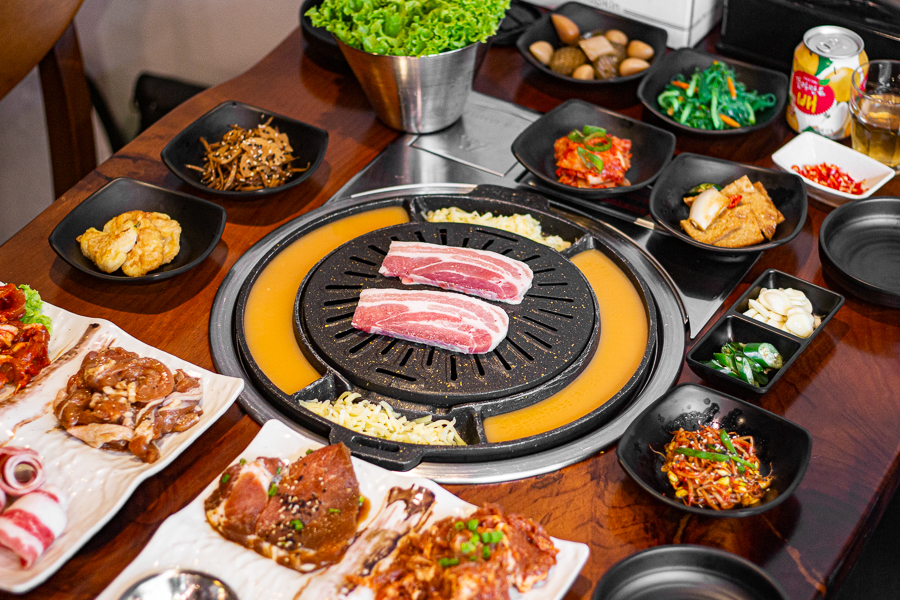 Here are three words, that when paired together, create magic: Unlimited BBQ Buffet.
MiMi Korean BBQ Restaurant offers ala carte and unlimited buffet options, providing you with quite a few delicious food options at a pretty good price (starting from $29.50++).
The buffet meat options include pork belly, beef short plate and even spicy pork bulgogi. Those who fancy something non-BBQ can try the Beef & Vegetables Cypress Steamer that highlights their natural flavour and sweetness!
Check out our full review of MiMi Korean BBQ Restaurant here.

Busan Korean Sashimi & Seafood Restaurant
Busan Korean Sashimi & Seafood Restaurant is another restaurant specialising in Korean sashimi!
They offer a plethora of cooked and raw Korean seafood dishes including abalone, yellowtail (bangeo) and flatfish (gwang-eo). You can supplement it with cooked dishes like steamed seafood, corn cheese and Nakgopsae, a spicy stew with octopus and beef intestines.
Read our full review of Busan Korean Sashimi & Seafood Restaurant here.
SURA Korean Restaurant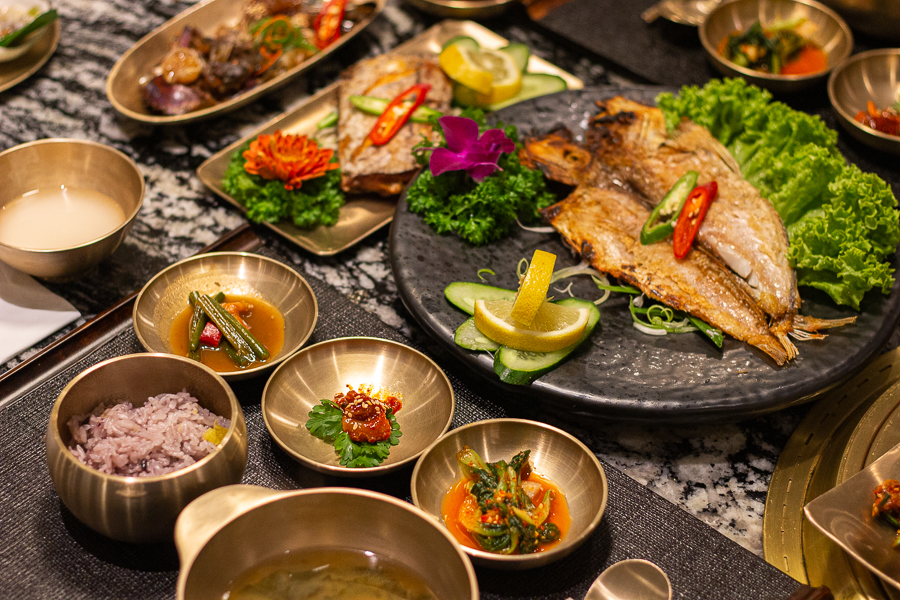 Sura-sang (수라상) is a word in Korean that means a meal prepared for kings.
At SURA Korean, they specialise in Hanjeongsik which is a multi-course Korean table meal. You can expect a minimum of 12 side dishes, including stews, soups, kimchi, and rice!
The entire experience is also a bang for your buck at $120/person for generous portions. SURA Korean Restaurant is great for celebrations and special occasions!
Read our review of SURA Korean Restaurant here.

Ko Ryo Jeong Takeaway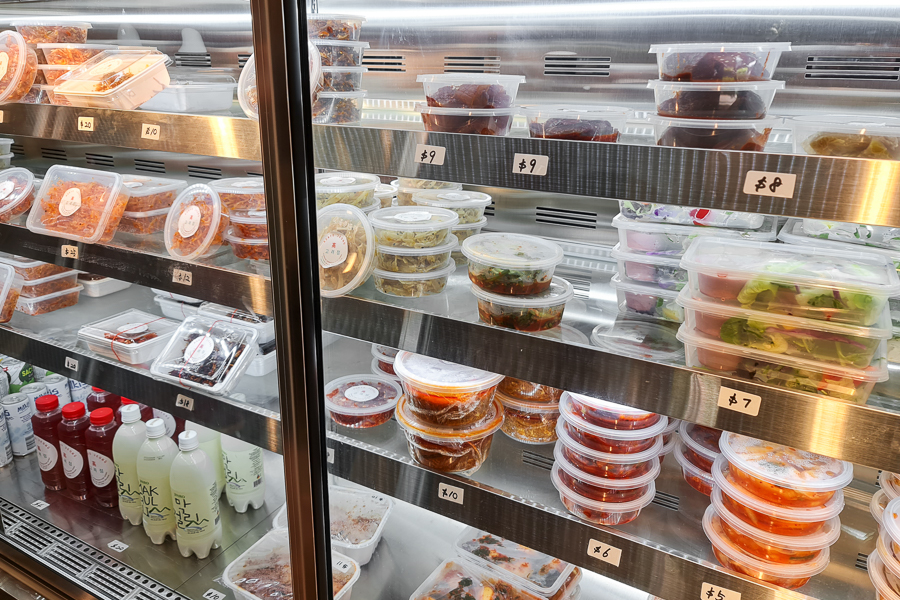 If you are interested in restaurant-quality side dishes without the waiting time, Ko Ryo Jeong Takeaway is the perfect option for you.
Located in International Plaza, they offer a delicious range of banchan as an extension of their restaurant, Ko Ryo Jeong. There are over 10 options including kimchi, seasoned anchovies and cuttlefish.
For a heartier snack, get their hot snack menu with So-tteok, dumplings and Gimari (fried seafood rolls).
Read our review of Ko Ryo Jeong Takeaway here.
The Gogijip Korean BBQ
Located amongst other great Korean restaurants on Tanjong Pagar Road, The GogiJip specialises in Black pork and Ganjang Gejang (also known as soy-marinated raw crabs)!
Gogijip also offers traditional charcoal Korean BBQ options, as well as ala carte menu items, like Galbitang, Gamjatang and Budaejjigae.
Check out our review of The Gogijip here.
Sin Man Bok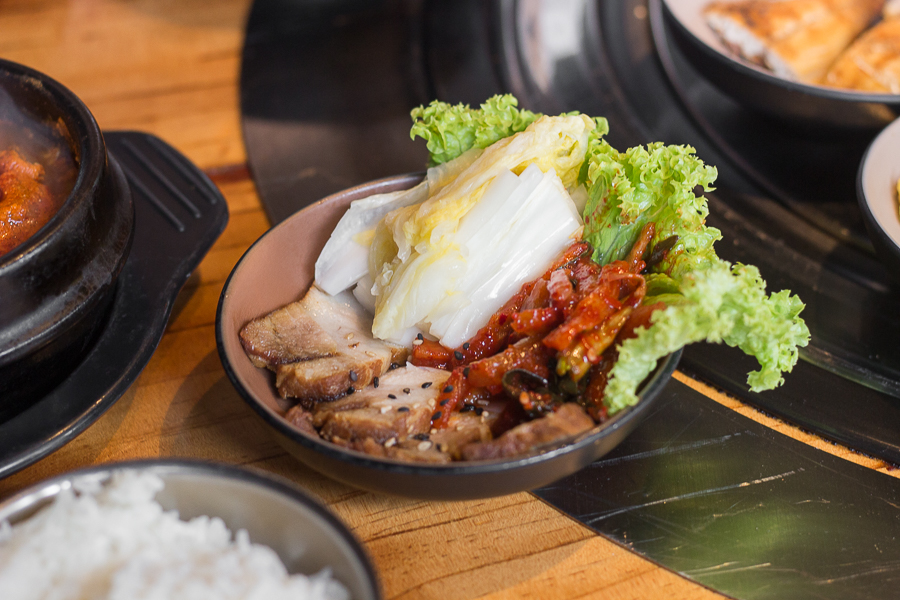 If you are a lunch time foodie in Tanjong Pagar, Sin Man Bok is a restaurant you should consider!
They offer lunch sets with options like Bossam (boiled Pork), stir fried octopus and seafood soybean stew. These sets go for as little as $12 each, excluding GST and service tax, which makes it super worth it!
Read more about Sin Man Bok in our article here.
Kreams Beer
For an after-work drink, head down to Kreams Beer at Duxton!
They offer different types of beer, such as Golden Ale, Dark Stour and fruity beers, as well as Somaek. This bar is a great place to catch up with friends or a loved one over drinks, with cherry blossom-themed décor.
The bar is an extension of the popular Kreams Café in Maxwell.
Read our full review of Kreams Beer here.
Korean Restaurants in Tanjong Pagar
If you're a Korean food lover, Tanjong Pagar is arguably one of the best places to go in Singapore! Now that you have seen all these delicious food options, where will you visit first?
*Follow MiddleClass.sg on Facebook, Instagram, and Telegram for more food, travel, and trending stories