A familiar name in the local coffee scene, King's Cart Coffee Factory has made coffee a focus of its offerings. You can enjoy a selection of brunch items – food and drinks – that incorporate the versatility of coffee and familiar flavours. 
King's Cart Coffee Brunch Menu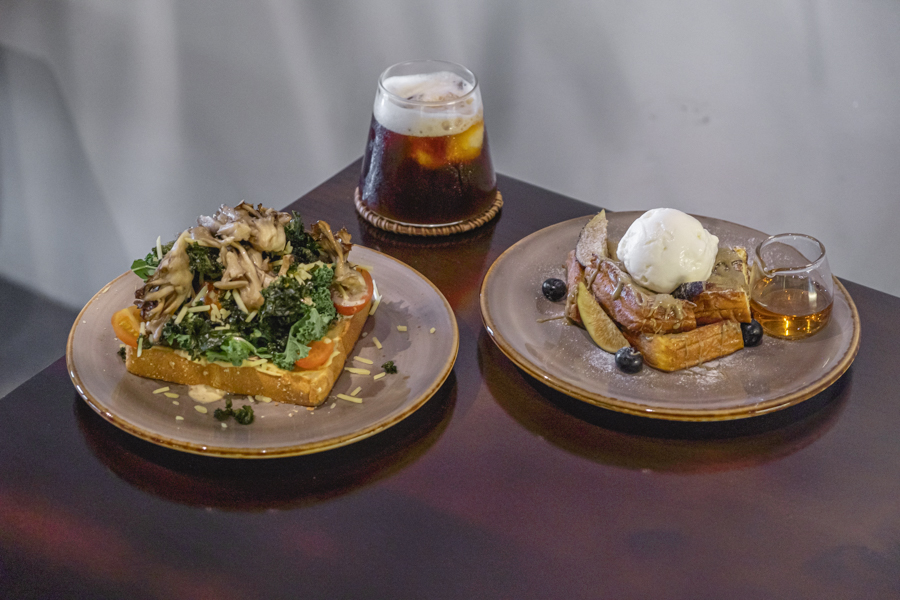 Their brunch menu is streamlined but still offers good variety. Some options include the King's Breakfast ($28) with scrambled eggs, two types of sausage and tater tots; and the Goat's Cheese & Caramelised Figs Toast ($23) which mixes creamy goat's cheese and balsamic glazed figs. 
There are also pasta like the tomato-based Napolenta ($20) and Portobello Aglio Olio ($21). Try the Dark Chocolate Lava Cake ($11) made with Araguani 72% dark chocolate for dessert.
The real unique part of their menu is the diverse coffee selection! There are Singapore Specialty coffees like the Pandan Sweet Cream ($9) with a cold brew base and the Sng Buey ($9) featuring a serbuk assam (sour plum powder) rim. 
For a boozy brunch, try the Rum Pum Pum ($22) with gula melaka-infused rum or the Cold Brew Highball ($22) with Singapore Dry Gin. You can tell they get creative with their coffee here!
Kale & Roasted Hiratake Tartine
A new menu item is the Kale & Roasted Hiratake Tartine ($23), which features picked roasted maitake mushrooms.
It came served with a mountain of fresh and crispy kale, cherry tomatoes and feta; sitting atop brioche toast. At first glance, it looks deceivingly plain and healthy. 
But the combination of the crunchy vegetables and meaty maitake made it both hearty and appetising! The brioche is also spread with house-made hummus which provided extra creaminess. 
We felt that the vinaigrette that coated the vegetables was tangy and refreshing, but got a bit overwhelming towards the end. Nevertheless, this is a good meat-free option! 
Gypsy Toast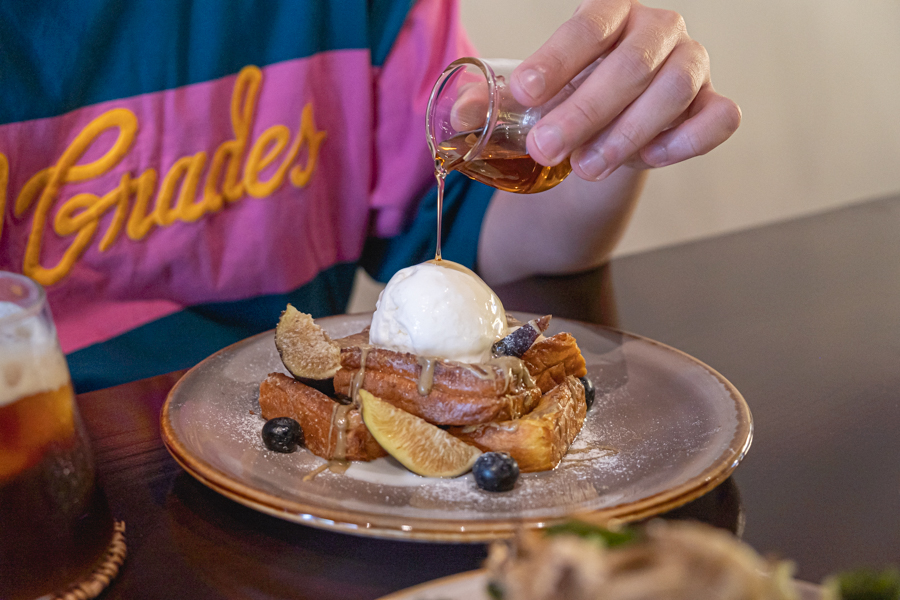 The Gypsy Toast ($19) is a brioche French toast topped with coconut ice cream, pistachio cream and fresh figs. There's also a side of maple syrup if you'd like it sweeter. 
We enjoyed the combination of flavours, from the creamy coconut ice cream to the nuttiness of the pistachio cream. The brioche toast kept its shape and was the perfect vessel for all the toppings. 
Despite all the toppings, this dish wasn't too sweet! It would pair perfectly with a cup of their coffee. 
Yuzu Cloud
A new speciality coffee addition is the Yuzu Cloud ($9). The base of cold brew is topped with yuzu foam and a scoop of yuzu sorbet! 
The recommended way to enjoy this is to first have the coffee with the foam, before mixing the sorbet in. If you like a refreshing, light coffee, this drink is exactly up your alley. 
The yuzu foam provided a pleasant natural citrus fragrance that perfumed the coffee and surprisingly made it even easier to drink! When the sorbet is mixed, the flavour profile changes to a creamy, mellower taste. We liked the fact you can enjoy two experiences in the same cup. 
Brunch In Joo Chiat
King's Cart Coffee presents a unique brunch menu plus a creative coffee selection that is sure to interest all types of coffee drinkers. They also have a nighttime concept – Joo Chiat Oyster House – that provides an equally vibey experience! 
King's Cart Coffee
#01-05, 328 Joo Chiat Rd, Singapore 427585
Open daily, 9am- 5pm
*Follow MiddleClass.sg on Facebook, Instagram, TikTok, and Telegram for more food, travel, and trending stories