Some of the best travel finds are the ones you come across unintentionally. Costeno is one of those for us.
Cafe Along The Coast of Jeju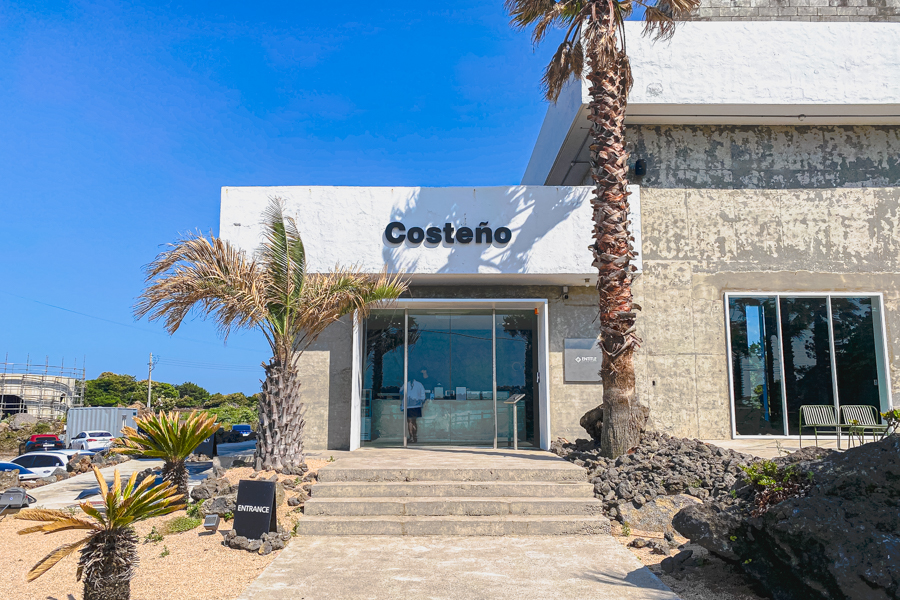 While heading to Hado Hado 1929, which was our accommodation in Jeju, we drove past and were immediately intrigued by the huge space. Curious, we parked at the neighbouring car park and found out that Costeno was actually a cafe, with the gorgeous right in front of it.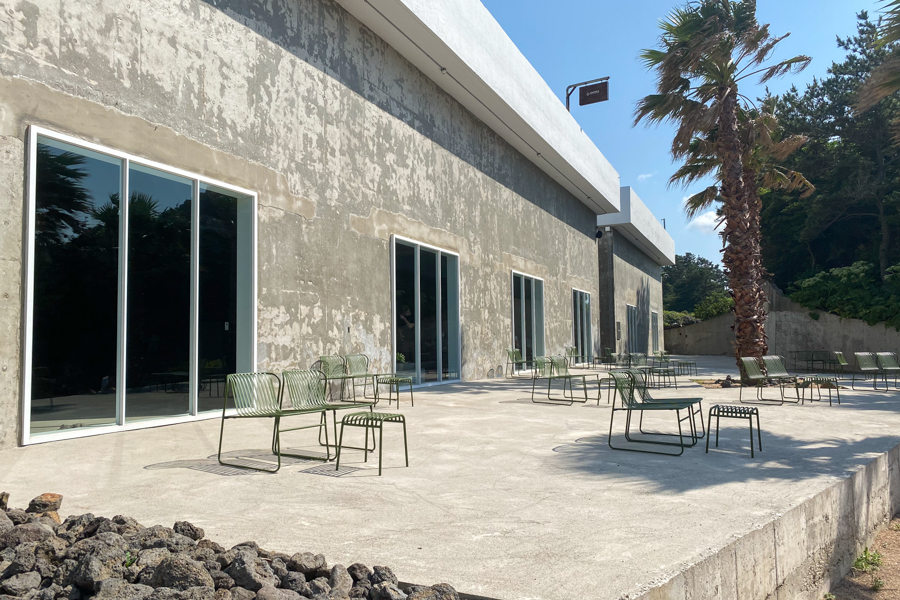 With the palm trees, concrete walls, and white-washed details on the building coupled with its name, Costeno felt like something we would find in South America. Turns out that there's a beach located on the Caribbean Coast of Colombia named Costeno!
Due to the strong winds, not many people were seated in the alfresco area, but we would imagine it to be a popular spot in autumn/spring.
Once you pass through the doors, you would be welcomed by a small ordering counter, still unaware of the huge space that awaits you. Here, you'll get a glimpse of the bakes available, such as Salt Bread (2.800won), Ang-Butter Baguette (6,000won), and Salted Peanut Caramel Cookie (4,000won).
Since this was an unexpected visit, we decided to opt for some beverages instead.
Costeno Jeju Cafe Menu
The names of the drinks at Costeno might get a bit confusing, but no worries as there's a monitor screen showing photos of the various signature drinks.
They have the usual Americano (6,000won) and Latte (6,500won) alongside more unique drinks like Café Brulee (9,000won) which is an espresso-based drink with ice cream, custard cream, and a layer of torched sugar. There's also Coconut Coffee (9,000won) which is a coconut smoothie with espresso, served in an actual coconut!
Under their signatures, they have items like Tasha's Milk Tea (8,000won), Tasha's Strawberry Latter (8,000won), Honeycomb Latte (8,000won), and Jeju Forest Latte (8,000won).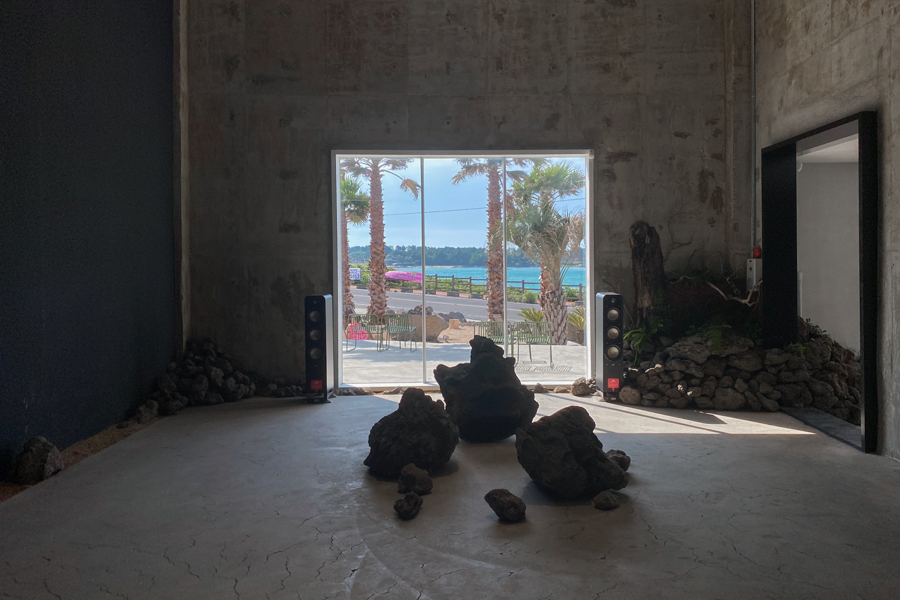 After placing your orders at the small counter near the entrance, you'll need to collect your orders from a different counter on the inside. This time, you'll get a glimpse of how big the space is.
The huge "room" next door houses the collection counter and the coffee-making area. There's also a window with a view of the ocean, making it a common photo spot for many.
Huge Interior, Lots Of Seats
The huge space isn't decorated much, with the concrete walls and flooring being a constant concept throughout the entire cafe.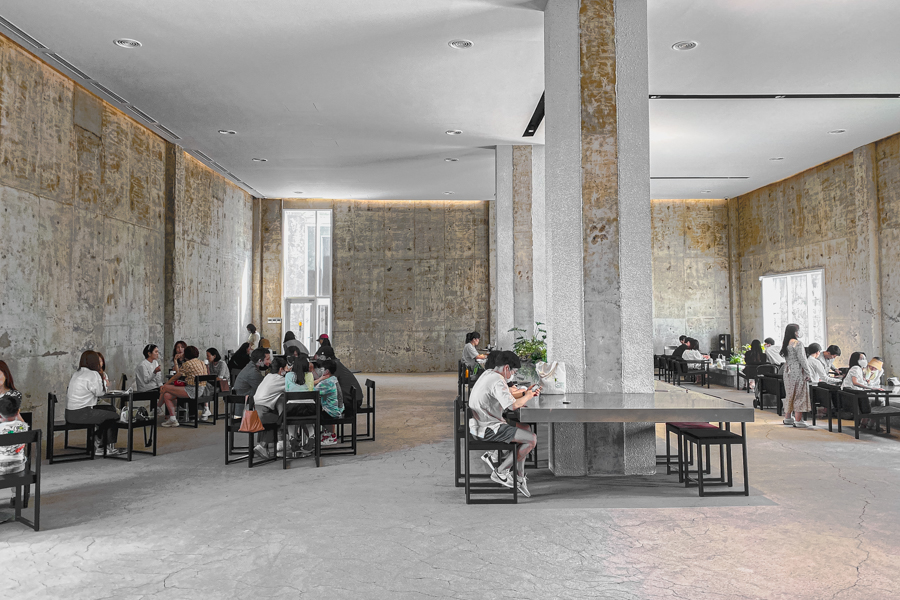 There are tables for small groups along with a communal table right in the middle. The seats near the windows are usually packed thanks to the view, and most people go for those.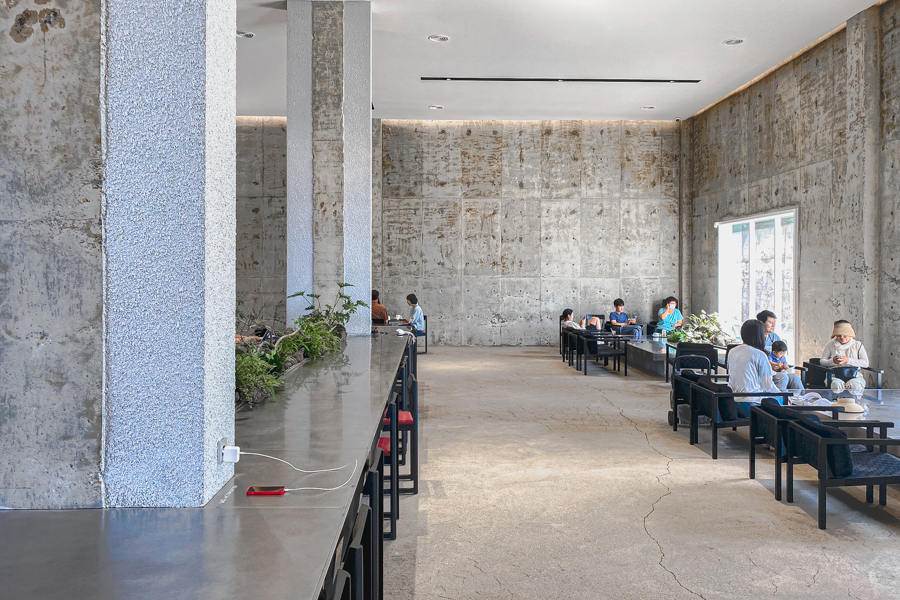 There are a couple of power points here, but you'll probably need a travel adaptor for emergency charging. This is also why there were a few people using their laptops here.
Apart from this space, Costeno also has a gallery right beside it and a rooftop space that wasn't as popular due to the cold weather.
We managed to snag a seat near the windows, which was undoubtedly the highlight of the cafe.
As for our drinks, we got Tasha's Strawberry Field (8,500won). It's written as 타샤의 딸기밭 on their menu. We don't know who Tasha is, but she sure makes a heck of an aesthetic drink. There were pieces of strawberry in the beverage, decorated with a sprig of thyme. Despite its bright red colour, the drink wasn't too overwhelming and had a nice mild fragrance of strawberry.
There was also the Jeju Barley Mill (8,000won), which is written as 제주 보리방아밀 on their menu. This was basically a misutgaru drink made using Jeju Barley, which tasted nutty and savoury. The bits of puffed rice made the drink more interesting with its crunchy texture, but a tip is to finish them first before they get soggy.
East Jeju Cafes
If you're ever heading to the East of Jeju, Costeno is a great spot to drop by along your drives. Grab a cuppa before heading to the coast for a great view.
Costeno (꼬스뗀뇨)
2080 Haemajihaean-ro, Gujwa-eup, Jeju-si, Jeju-do, South Korea
제주 제주시 구좌읍 해맞이해안로 2080
Mon-Sun, 11am-7pm, Last Order 6:30pm
Some other things to check out in Jeju:
*This is an independent review by MiddleClass.sg
*Follow MiddleClass.sg on Facebook, Instagram, and Telegram for more food, travel, and trending stories