From the same creators as Tomahaw King comes Charr'd, a newly opened halal steakhouse in Changi that specialises in A5 Wagyu from Japan!
Their menu features cuts of Kuroge beef from the Mie Prefecture which is known for its high-fat content and beef flavour. 
The restaurant is currently in its soft launch phase but is still accepting reservations and walk-ins. Their official open date is 4th April 2023!
Dark Industrial Interior
The restaurant is hard to miss, with a recognisable store sign and fully transparent doors that showcase its interior.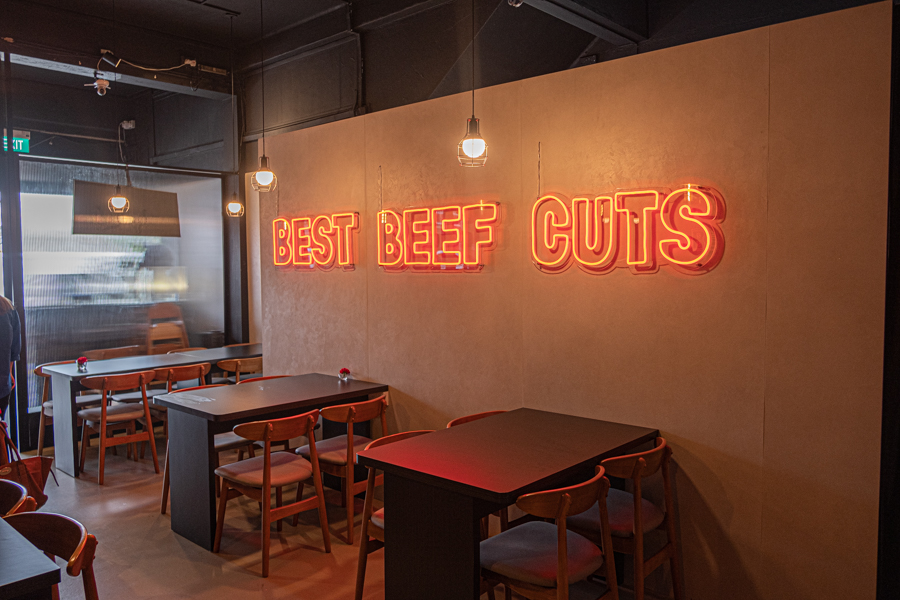 The space is dark but stylish, taking influence from modern industrial aesthetics. It's designed with fully black furniture, illuminated by a few ambient lights and a red neon sign.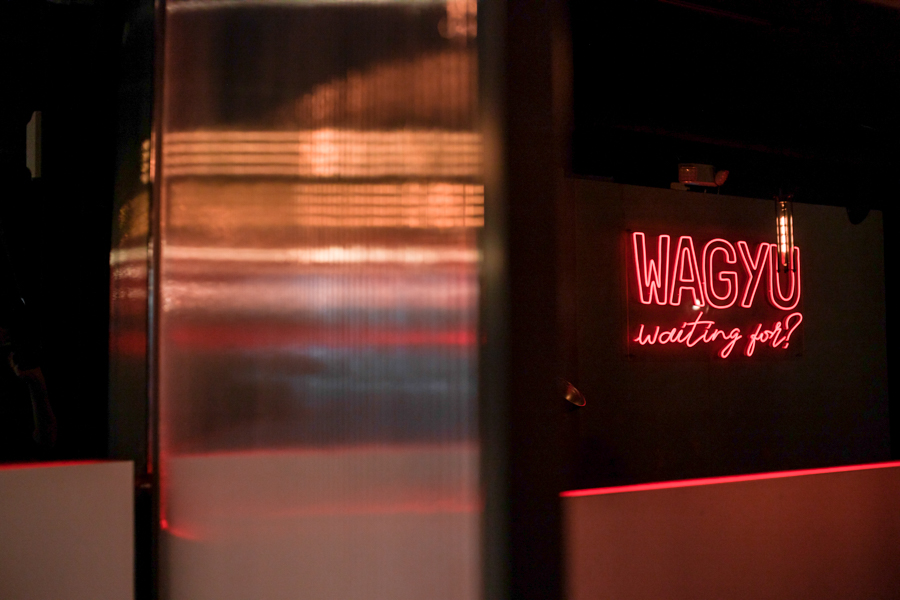 The restaurant also has a more private space in the back divided by a glass panel. 
Charr'd Menu
The menu at Charr'd is varied, with different starters, mains, sides and even desserts!
The mains feature the selection of A5 Kuroge Wagyu cuts like Tenderloin ($58) and the Butcher's Secret ($28).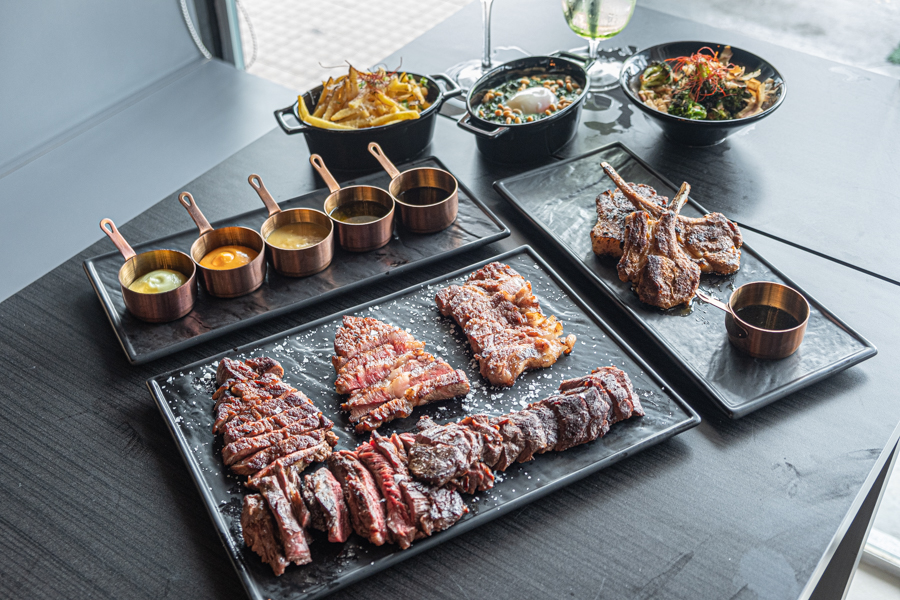 There are other meat alternatives like Charr'd Salmon ($22) and Charr'd Lamb Rack ($38). 
The sides and sharing options are also generous, ranging from A5 Wagyu Cubes ($19), Mentaiko Jo Jos ($12) and Charr'd Edamame ($6). 
They also have a menu of mocktails like the First Glimmer Of Dawn ($12) with red grapefruit and Muscat Kick Fix ($12). 
A5 Wagyu Cubes
Opening the meal was the A5 Wagyu Cubes ($19), served with shimeji mushrooms and baby spinach. 
The bite-sized morsels of meat were cooked perfectly, and quite literally burst with fat when we bit into them! 
Salmon Cube Tare
The Salmon Cube Tare ($14) came with charred salmon nuggets glazed in their Yakiniku No Tare sauce atop a bed of caramelised onions and pea shoots. 
The glaze was sweet and salty, and the fish was tender and fresh! We recommend you eat it hot for the best experience. 
Heavenly Meat Board
Designed for sharing, the Heavenly Meat Board ($198) features four of Charr'd signature cuts – Hangar Steak, A5 Ribeye, A5 Sirloin and A5 Tenderloin. It comfortably feeds 3 to 4 people!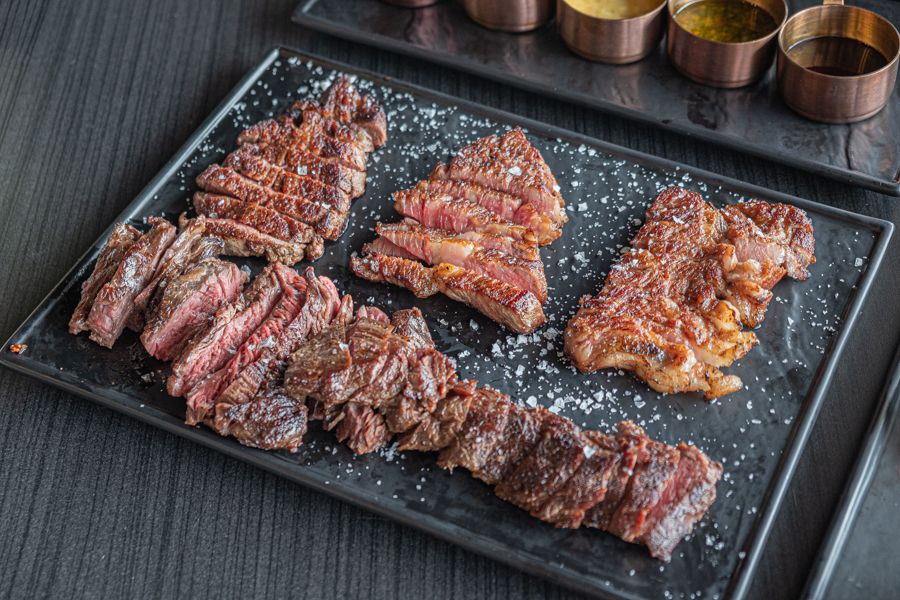 It also comes with a choice of two sauces to pair. They have five sauce choices you can try: House Bearnaise, Chimichurri, Wasabi Mayo ($4), Yakiniku No Tare ($4) and Ghost Peppercorn Mayo ($4).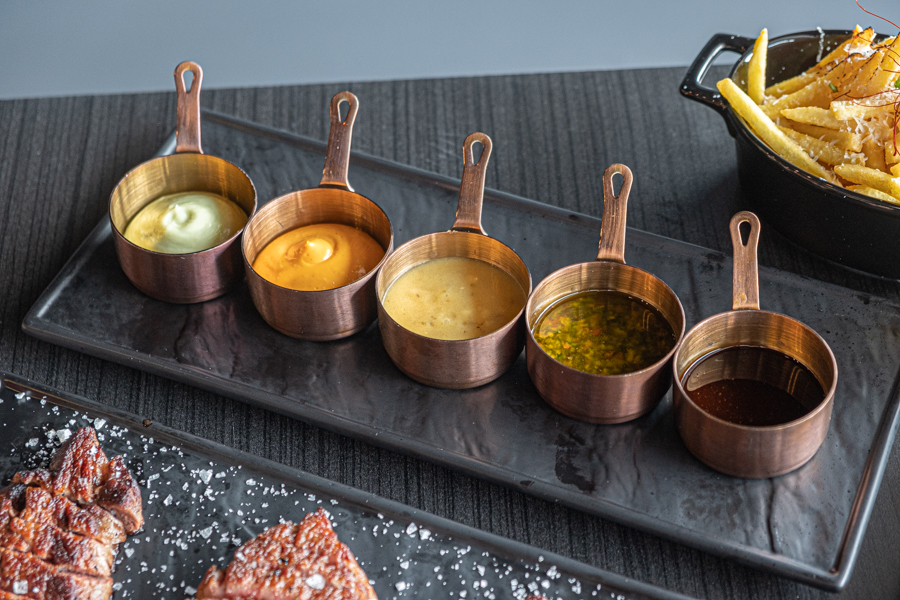 We recommend  House Bearnaise ($5) and Chimichurri ($5). If you want something with a kick, the Ghost Peppercorn Mayo is a good choice!
The visuals alone were enough to whet our appetites. The meats were practically glistening and cooked to a perfect medium rare, dusted simply with flaky salt. 
The quality of their cuts is evident from the first bite, with a clean beefy flavour and fattiness from the marbling. 
There was a nice char on the outside from the grill, making for a slight crust that sealed the juices within the meat. Our favourite cut was the A5 Ribeye! 
Charr'd Lamb Rack
They also have the Charr'd Lamb Rack ($38) served with a house mint sauce. 
The meat didn't have the strong gaminess you usually find in lamb. It was tender with a nice charred, crisp exterior and a savoury seasoning. 
The house mint sauce was the perfect accompaniment to cut through the richness!
Charr'd Broccoli 
A signature side is the Charr'd Broccoli ($12) was served with bonito flakes, roasted pine nuts and a roasted sesame dressing. 
Though simple, this was an unassuming favourite of ours!
Each piece has a great smoky flavour that was further amplified by the bonito flakes and spice from the red chilli. 
Cream'd Moonlight Spinach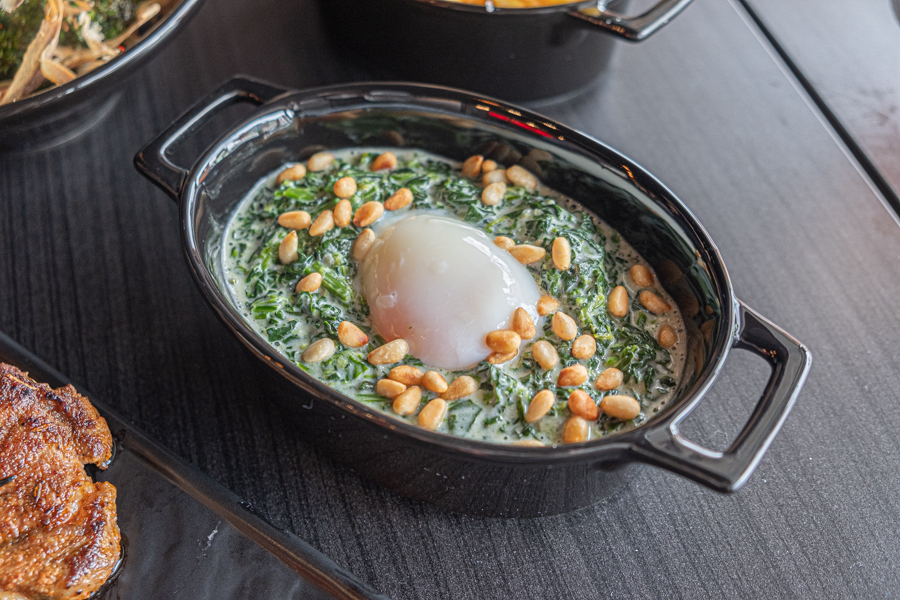 Another signature is the Cream'd Moonlight Spinach ($13), served with a runny onsen egg.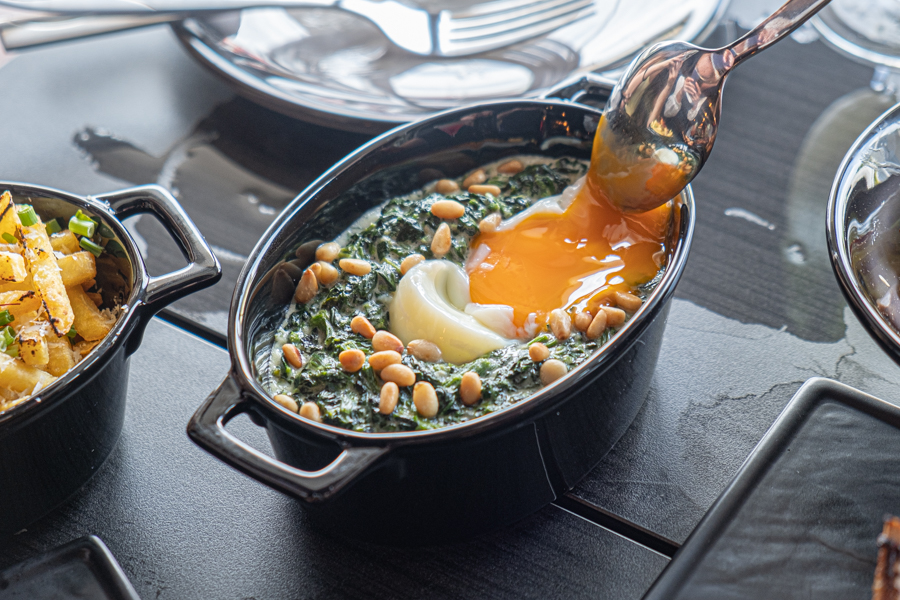 The savoury white sauce and nutmeg paired great with the creaminess of the yolk. The spinach also had a pleasantly soft texture that wasn't mushy!
Truffle Fries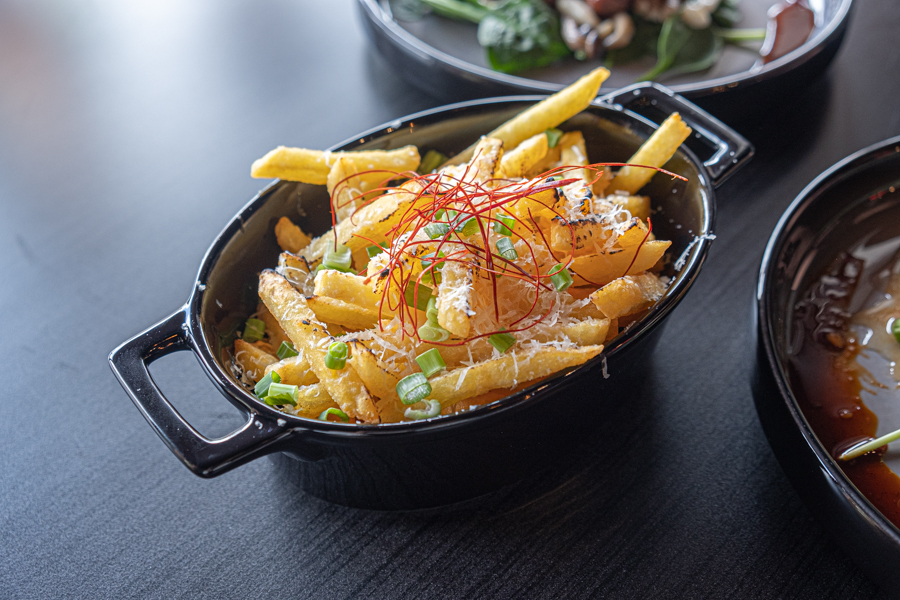 The Truffle Fries ($13) came with a generous shaving of parmesan cheese and chilli strings. 
The fries are twice-fried in beef tallow complete with thyme smoked olive oil aioli, and it tastes as good as it sounds! 
They were crisp on the outside and fluffy on the inside, with an enjoyable but not overwhelming truffle fragrance. 
House Desserts
Charr'd also has two house-made desserts. The House Croffles ($13) came garnished with dark chocolate gelato sitting on a crisp croissant-waffle. 
The combination of crisp, sweet croissant paired perfectly with the creamy gelato. The gelato is rich but not sweet, which is perfect for those who love dark chocolate. 
While pleasant, this dessert was quite heavy and can be easily shared between two people – or just for one, we don't judge.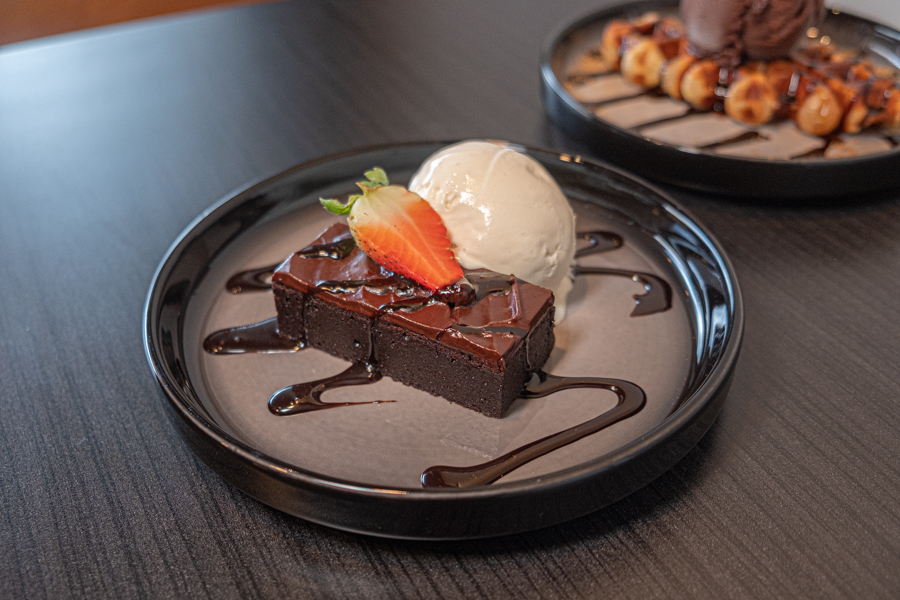 The House Brownie ($12) was served with their burnt cheesecake gelato. 
The batter had walnut pieces for a great crunch, with sea salt cutting through the richness of everything. A sweet treat to end the meal! 
Mocktails
They have a menu of four house mocktails, featuring different fruity flavours.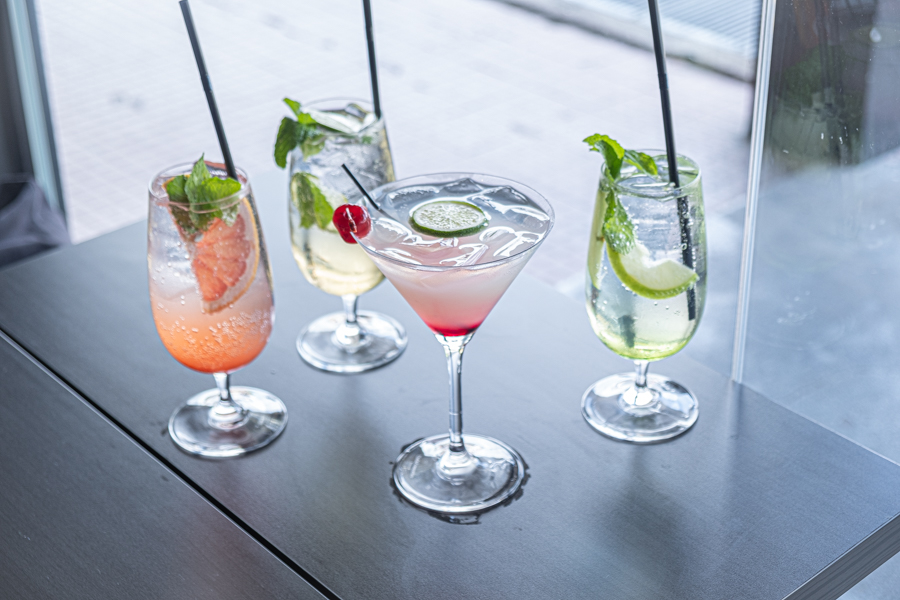 Smoke Above Water ($12) is served in a cocktail glass with a pretty pink colour, featuring flavours of orange, ginger and smoked oak. 
Our favourite was the Muscat Kick Fix ($12) with white grape and elderflower for a refreshing floral taste! 
There's also The Greenhouse Effect ($12) and First Glimmer Of Dawn ($12) with flavours of green apple and grapefruit respectively. 
Opening Promotion
From now till 31 March 2023, enjoy 10% off the Heavenly Meat Board and 1-for-1 Mocktails! This discount is available for dine-in only, to celebrate the launch of Charr'd. 
Charr'd is officially opening its doors on 4th April 2023 and they are offering an even better deal – you can enjoy 1-for-1 on any of their A5 Wagyu Cuts on top of the 1-for-1 Mocktails!
Halal Steakhouse In Singapore
The ambience and premium offerings at Charr'd are unrivalled, making for a perfect halal casual dining dinner spot for any meal. 
Charr'd
324F Changi Road, Singapore 419799
Tue-Sun: 11 am – 10 pm, Closed on Mondays
*Follow MiddleClass.sg on Facebook, Instagram, TikTok, and Telegram for more food, travel, and trending stories