Located along Telok Ayer is Boeuf, a restaurant specialising in all things beef. They have a great selection of dry-aged beef cuts, wines and pairing dishes designed to bring out the best of the meat. 
Stylish But Comfortable Interior
The exterior is highly recognisable, with a bright blue wall and a statue of a golden calf head. 
The space is intimate but cosy with dark wood furniture and warm ambient lighting, complete with cow-themed decorations.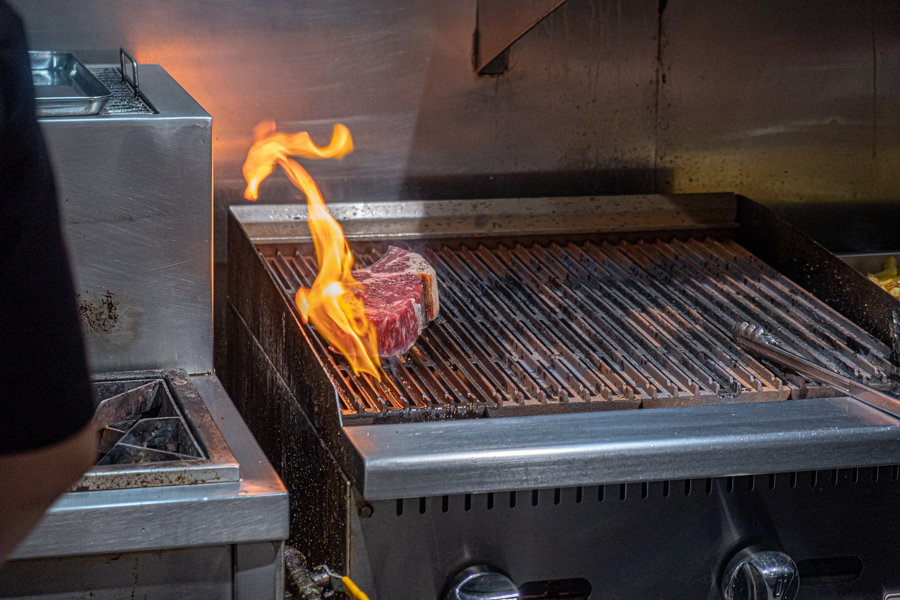 There's an open bar on the first floor and a small window where you can watch the chefs cook up your meal.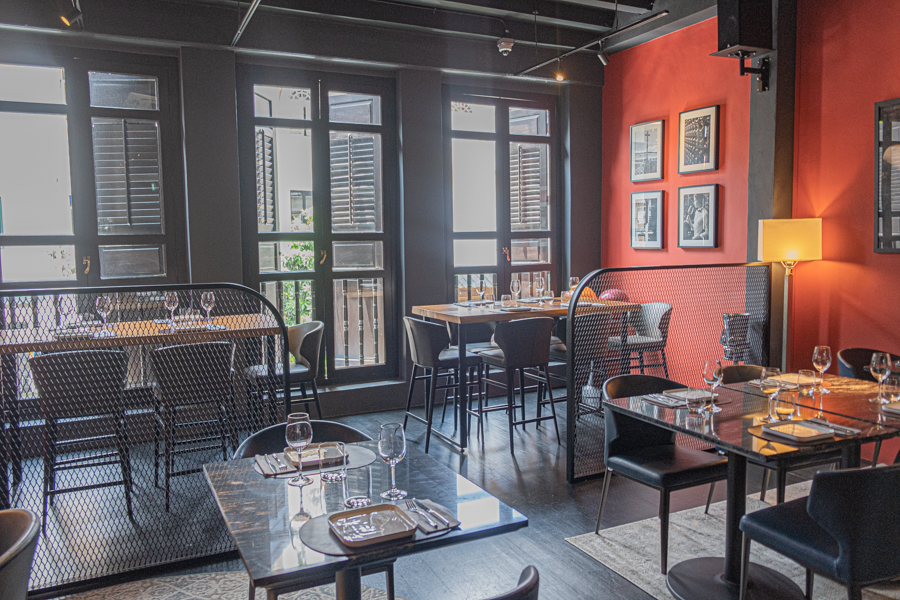 Boeuf also has a second floor where they house their own wine cellar! There is an indoor and outdoor space which you can book for corporate events and private gatherings.
Boeuf Menu
As the name suggests, the menu focuses on various beef cuts in different preparations. 
There are cuts from different parts of the world, including a USDA Prime Black Angus ($36 for 200g) and an Australian F1 Wagyu Sirloin Cap MB6 ($34 for 200g).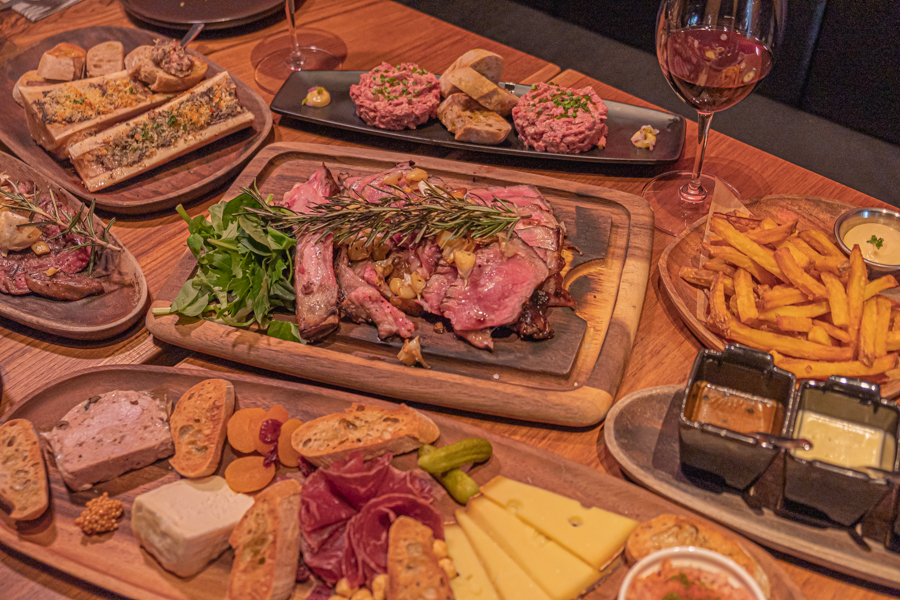 More premium options include the Japanese F1 Wagyu Iwate Sirloin ($78 for 200g) and USDA Prime Black Angus Ribeye Roast  ($138 for 600g). These cuts are all dry-aged in-house, which you can peek at the entrance!
Other sides you can order include Burratina Di Puglia ($28) with roasted cherry tomatoes and truffle balsamic reduction and Beef Bouginion ($42), a classic french red wine beef stew. 
Boeuf also prides itself on its extensive wine list, which you can pair with a series of cheese boards ranging from two cheeses ($48) to a DIY selection ($13 per cheese).
Board Minnie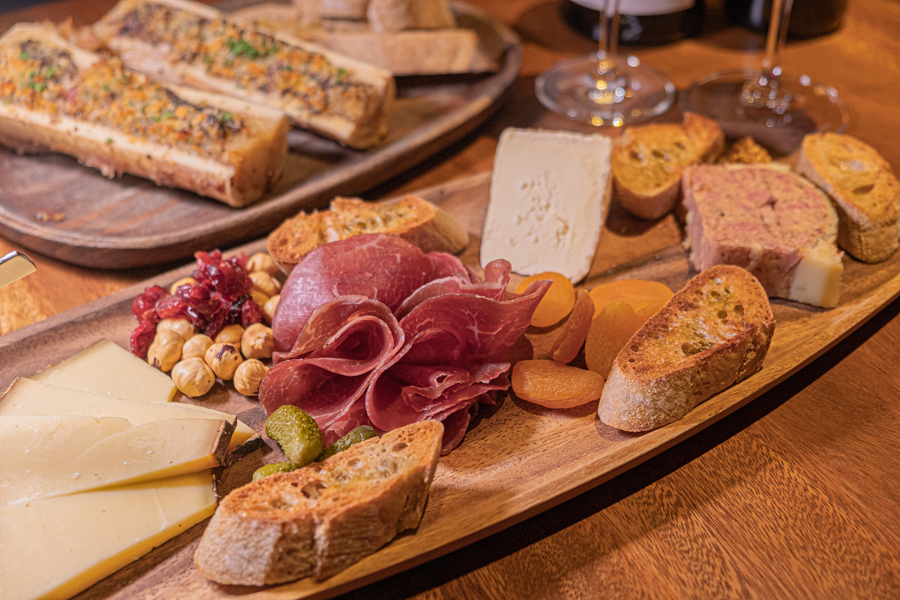 We started with the Board Minnie ($48) that came with 2 kinds of cheese – a hard Appenzeller from Switzerland and soft, aged Brillat Savarin from France.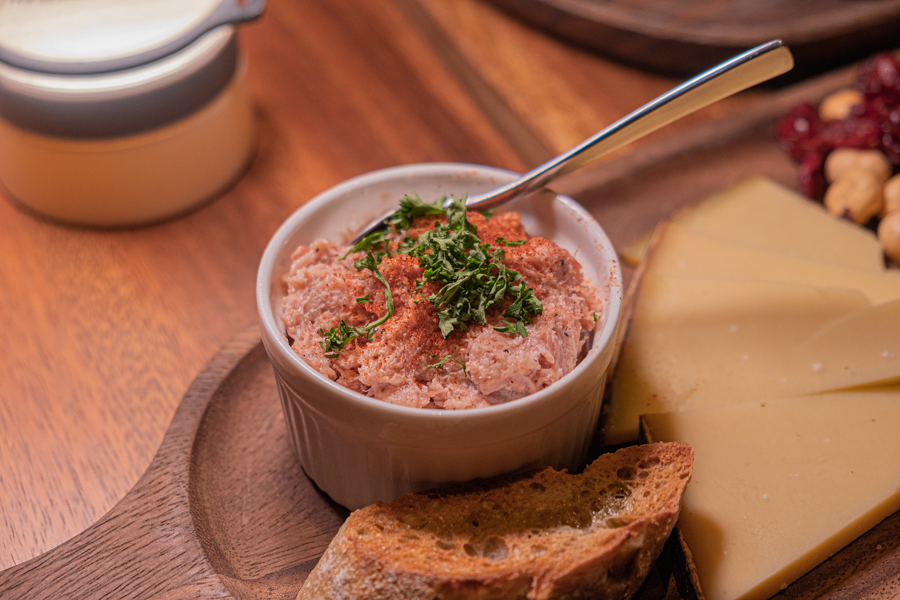 The board also came garnished with Bresaola (a salted beef), Veal Rilette with thin strips of slow-cooked veal and Beef Terrine which is an additional $13 add-on.
Those who enjoy a classic wine-cheese pairing will really enjoy this board, as it balances all the savouries with sweet garnishes like dried fruit. 
Wine Selection
Boeuf has its own curation of wines, ranging from red to white and even bubbly. 
We got to try two wines with the cheese board – a 2020 Anthoinette Bordeaux Blanc from Château Castera and a 2012  Saint Emilion Grand Cru from Chateau Simard. 
This selection was curated by the team at Boeuf, and had a refreshingly crisp finish that brought out the flavours of the cheese (and even the beef)! 
Bone Marrow 
The Bone Marrow ($18/$30) came with sizeable bones coated in a crunchy breadcrumb layer. 
The bones are brined in salt water for 2 days to remove the blood before being topped with a mixture of homemade mushroom duxelles (paste). 
This was decadent, with a great beefy fattiness from the marrow that went perfectly with the provided bread. 
Wagyu Tartare 
One of our favourite starters was the Wagyu Tartare ($28), featuring an Australian Wagyu Rump MB5 mince.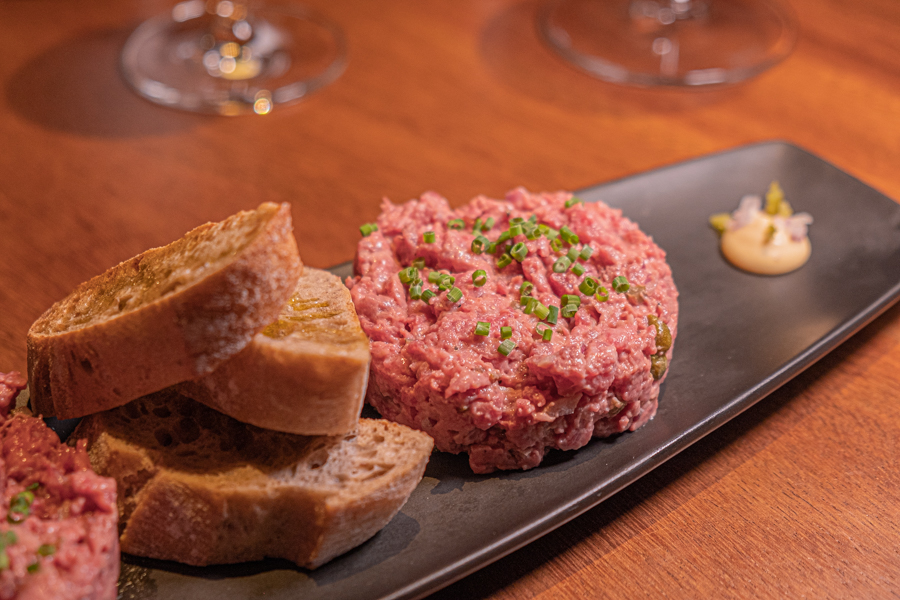 The beef was fresh and had no gaminess, instead flavoured to be savoury and slightly acidic.  It also had a tender but not-mushy texture that paired great with the crusty bread. 
We found ourselves going back for seconds! You can have it with the side of mayonnaise and capers for a different flavour. 
Rib Eye 
The first meat cut we tried was the Argentinean Aberdeen Black Angus Rib Eye ($32 for 200g), served with a sprig of torched rosemary and cooked to a perfect medium rare. 
The dry-ageing process really concentrated the beefy flavour, which was further enhanced by their seasoning and a great char from the lava rock they grill the meat on. 
Signature Dry Aged Prime Rib Bone-in 
The highlight of the meal was Boeuf's Signature Dry Aged Prime Rib Bone-in (1kg) ($18/100g). The cut was carved into easy-to-eat pieces, showcasing the great marbling and fat cap of the meat.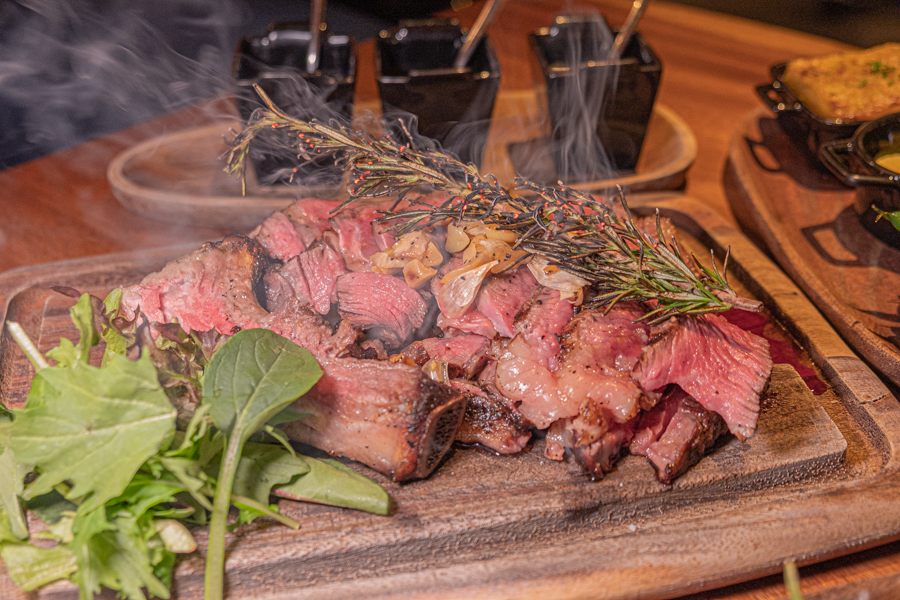 This iteration featured a house brand Cognac and Porcini mushroom powder seasoning before being aged for 30 days, a flavour we could taste in each bite.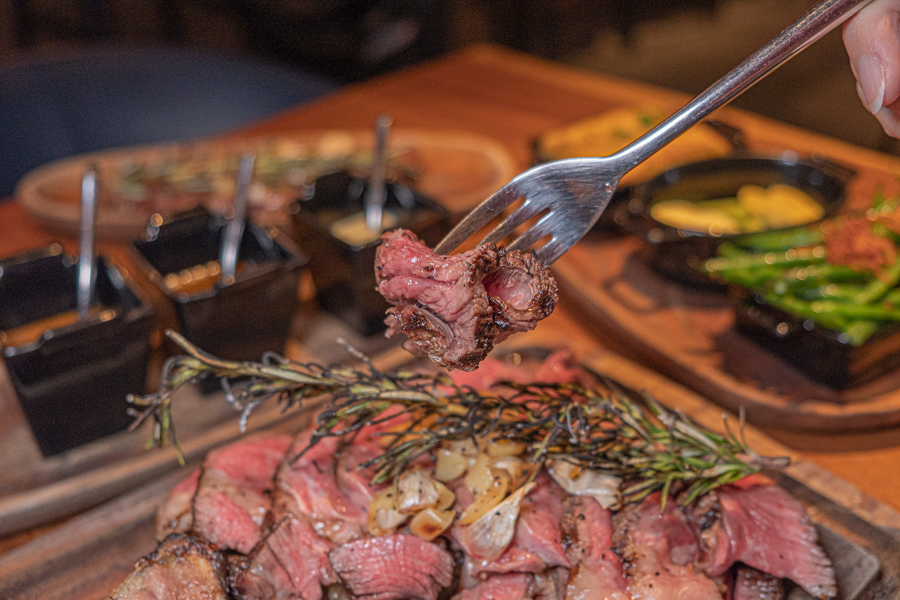 It was fall-apart tender and required little help from the knife, even the cuts without any fat.  Each bite was juicy with an intense but not overwhelming beefy flavour which had a clean finish! 
The prime rib came lightly seasoned so we were encouraged to enjoy it with the assortment of sauces available.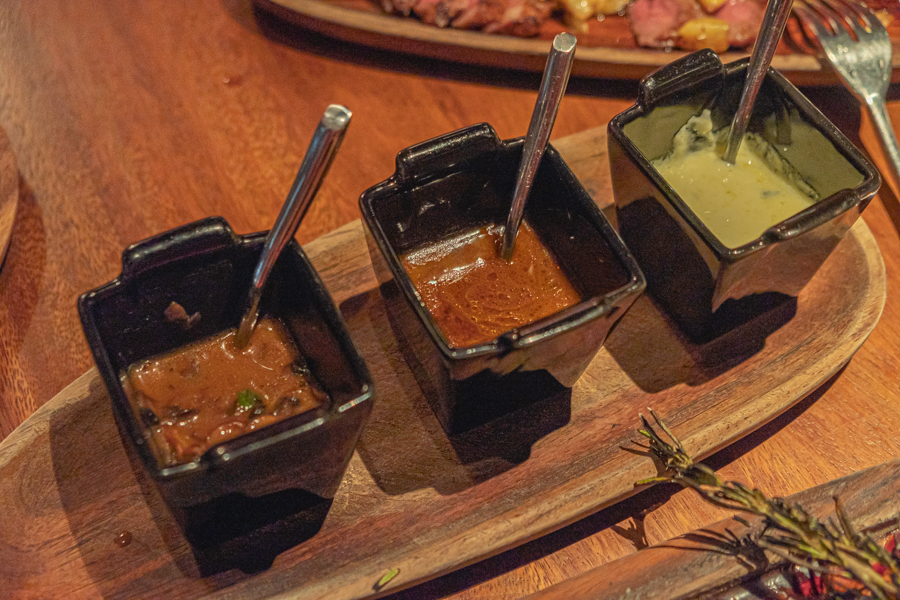 There's a cream-based Pepper Sauce ($5) with two types of pepper, Mushroom Sauce ($6)with swiss brown button mushrooms and a potent Blue Cheese Sauce ($6).
Our recommendation is to try the meat with Steak Butter ($5) – garlic, herb or Cafe de Paris, a famous herb and mustard butter mix in Paris. 
The different additions to the butter melted into the meat, which added an extra oomph to the beef. The Cafe de Paris lives up to its name!
Sides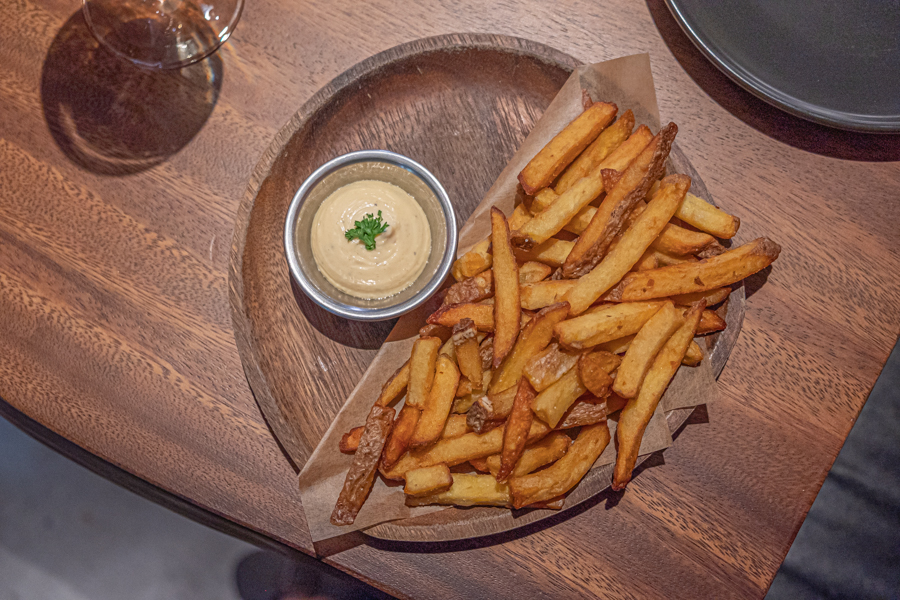 There are also a variety of sides to try, like the Hand Cut Fries ($9). 
These are made with the Agria potato from Holland, one of the best potatoes for frying with its low sugar content and thin skin. 
Each fry was crisp but fluffy, acting as the perfect vessel for their homemade mayonnaise.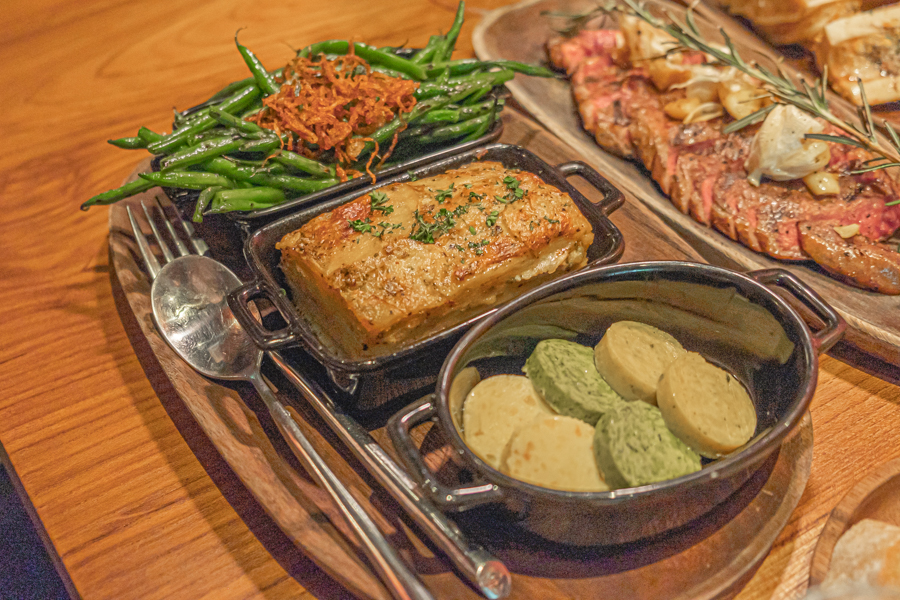 There's also the Kenya Bean ($9) served simply sautéed with fried shallot and a Potato Gratin ($12) infused with nutmeg, rosemary and garlic. 
Creme Brulee
The desserts began with a Creme Brulee ($13), with a crunchy caramelised shell complimenting the smooth vanilla custard, which was not too sweet! 
Chocó de Coco
For a more decadent finish, try the Chocó de Coco ($13), a rich chocolate cake with Weiss Dark Chocolate (LI CHU 64%) from Vietnam. 
This had an intense chocolate flavour that wasn't too sweet or bitter, best eaten with the creamy vanilla ice cream. 
The cake itself was surprisingly light and fluffy, with a pleasant fudginess. It was quite jelak for us so definitely get this to share! 
Promotions
Boeuf is running a number of attractive promotions you can enjoy! 
You can enjoy 15% off any bottle of wine with any order of a charcuterie or cheese board! This discount will apply Tuesdays to Saturdays from 3 pm till late when you head up to their Cellar on the second level. 
Free-Flow Argentian Ribeye
On weekends, enjoy all-day free-flow Argentian Ribeye for only $48/pax!
Indulge in this promotion from 12 pm to 10.30 pm.
Have a bit of weekday indulgence with Boeuf's 3-course set menu, available for both lunch ($29.90++) and dinner ($59.90++). 
Choose from items like Wagyu Beef Burger, Boeuf's Signature Steak Tartare or Black Angus Flank Steak.
The set menu is available from Mondays to Fridays from 12 pm to 3 pm!
Steak Restaurant In Telok Ayer
For the quality and variety of beef offerings, Boeuf provides an elevated dining experience which is perfect for beef lovers! 
Boeuf
159 Telok Ayer Street, Singapore 068614
Open daily, 12pm to 10.30pm

*Follow MiddleClass.sg on Facebook, Instagram, TikTok, and Telegram for more food, travel, and trending stories