You don't often see Burmese cuisine featured in Singapore, but Burma Social is a step in that direction. The multicultural bar and restaurant in Tanjong Pagar is offering a multi-story dining experience focused on the Six Kingdoms – Myanmar, Thailand, Laos, India, Bangladesh and China. 
Burma Social will officially open its doors on 21 August 2023.
Stylish Themed Interior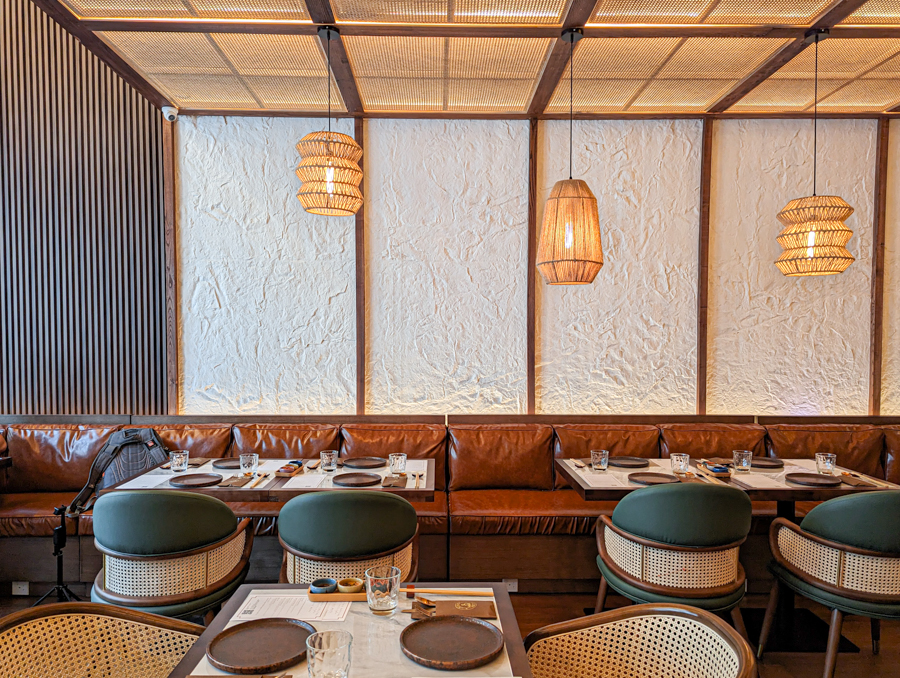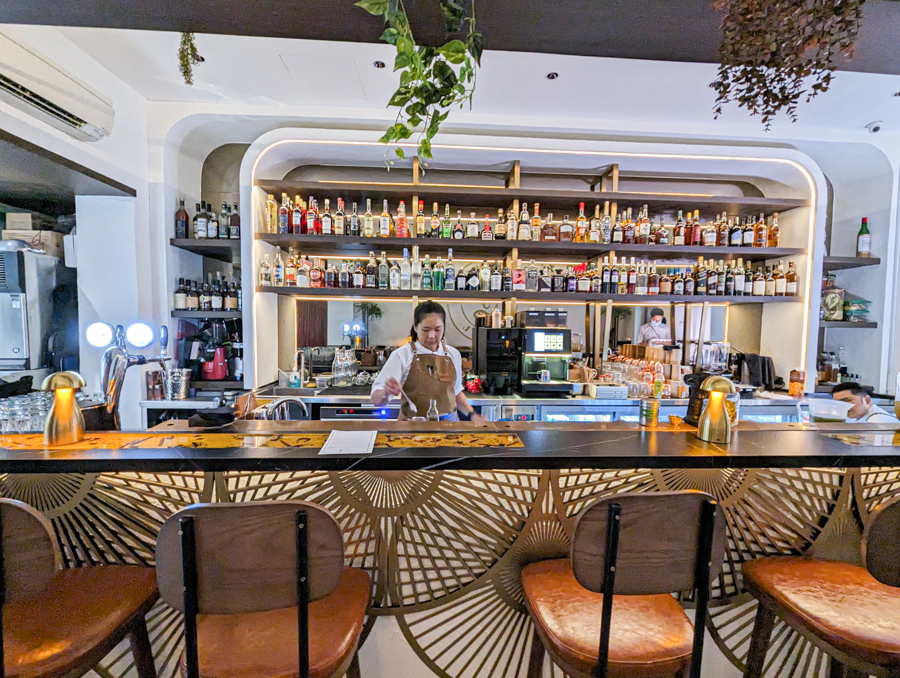 The space spans three floors, intricately designed and decorated with elements of Burmese culture. This includes wishing bells and rattan light fixtures contrasted by sleek leather seats and gold cutlery.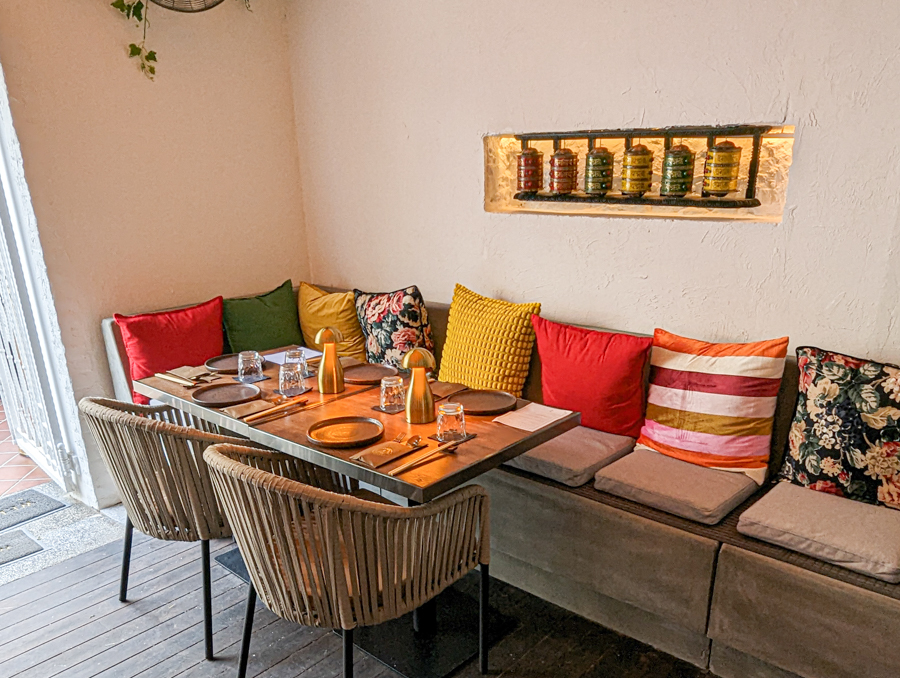 It's a full experience starting from the moment you enter, where you'll be greeted with a Burmese Silk Scarf that you can take home. There's also a Golden Hour Welcome Drink – with notes of lemongrass and basil – to kickstart the meal. 
Burma Social Menu
The menu features a mixture of traditional Burmese dishes and flavours taken from its neighbours, with starters, mains and desserts. 
Options include the Golden Mandalay ($12) with crispy kang kong and Kyaw Swè Kya ($18), a Burmese dish with fermented eggplant. There's also the crispy lotus-based Padonma Blossom ($22) and La Zi Ji Mala Maestro Chicken ($24).
The main options feature everything from rice to noodles. The Kanom Chin ($22) is made with Thai rice noodles, while the Soe Squash Lamb Rack ($38) has a Burmese squash curry. There are also quite a few vegetarian options! Choose from Ching Mai ($26), a spicy tomato curry or the mushroom-based Mélange ($28). 
Their cocktail menu is equally expansive – each region of the Six Kingdoms is represented by a selection of alcoholic and non-alcoholic drinks. Sample Laos flavours in Silky Smooth ($25) with rice wine and rambutan reduction, or travel to India with Taj Mahal Royale ($25) with spiced rum.
Non-alcoholic options include the Dragon's Kiss ($14) with dragonfruit juice or the Wulong ($14) with mandarin orange and oolong tea. 
Raw Coconut Milk & Broccolini Adorned with Flying Fish Roe
Our meal started with Raw Coconut Milk & Broccolini Adorned with Flying Fish Roe ($22). It featured a coconut-based broth flavoured with confit tomatoes and a spiced nut mix.
The flavour was clean and light, but we preferred it spiced with the nut mix! The tomatoes added an extra burst of juice and tang that elevated the flavour profile. 
Lahpet Nay Wai Thoke
A national dish of Myanmar is Lahpet Nay Wai Thoke ($18), a traditional salad made with fermented tea leaves. 
It is an acquired taste, but we liked it! There was a combination of tang, umami and slight saltiness plus the fragrance of tea. It's mixed with fresh cabbage and nuts for extra texture, which we enjoyed. 
This iteration is on the spicier and saltier side, but our Burmese companion said that the flavour is quite accurate!
Papaya & Mango Thoke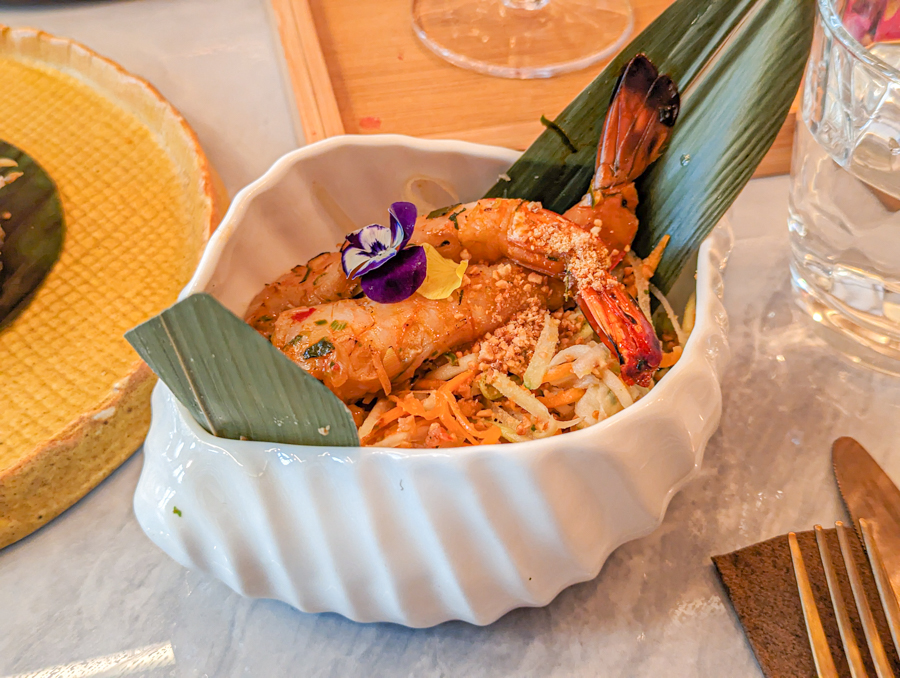 The Papaya & Mango Thoke ($22) is a nod to the classic Thai mango salad, served with seasoned poached prawn. This was refreshing, crunchy, spicy and tangy altogether, making for a perfect starter. 
Crispy Tohu Jaw
The Crispy Tohu Jaw ($20) is housemade with Indian chickpeas, coated with Burmese spices and a black jaggery sauce. 
Each morsel had a crisp outside and firm, almost creamy interior with an earthy fragrance! We enjoyed how it was complemented by the sweet and savoury flavours of the sauce. 
Hnin Si's Steam Puzon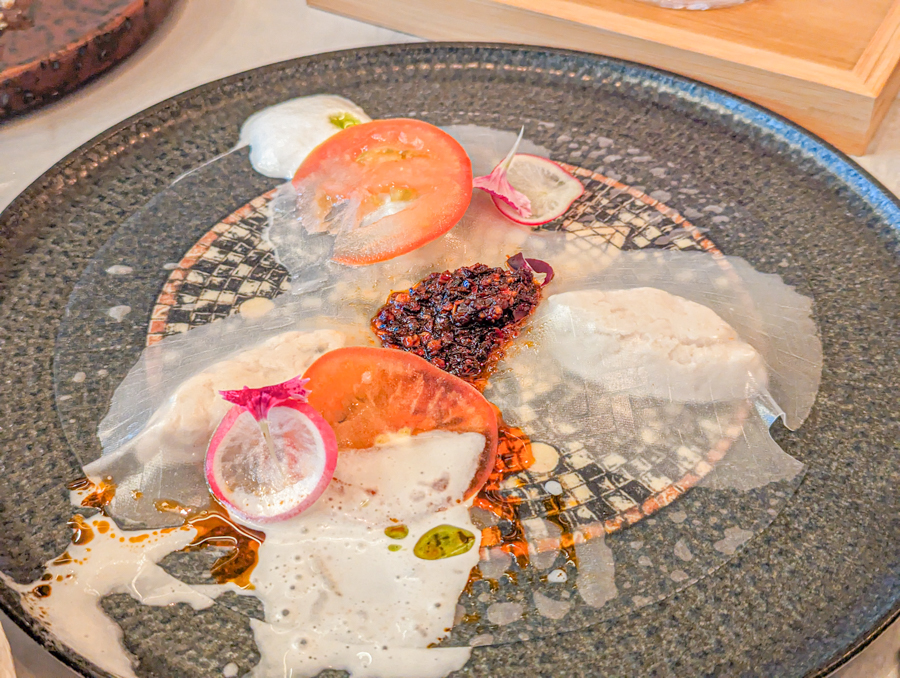 Hnin Si's Steam Puzon ($32) came in a unique presentation, with three fish cakes under a piece of rice paper. It was garnished with coconut cream and housemade chilli. 
The recommended way of eating it is to wrap the fishcake with rice paper and dip it in the sauce of your choice. We liked the slight chew from the rice paper, plus the fragrant and tender fish cake. 
A shoutout to the housemade chilli! It was spicy, savoury and added a needed flavour boost to the overall dish. 
Ohn-no Kyaukswe
Another national dish of Myanmar is Ohn-no Kyaukswe ($32). It's a noodle dish in a coconut-based gravy that's similar to laksa. Burma Social's iteration serves the noodles separately, and you can dip them according to your taste.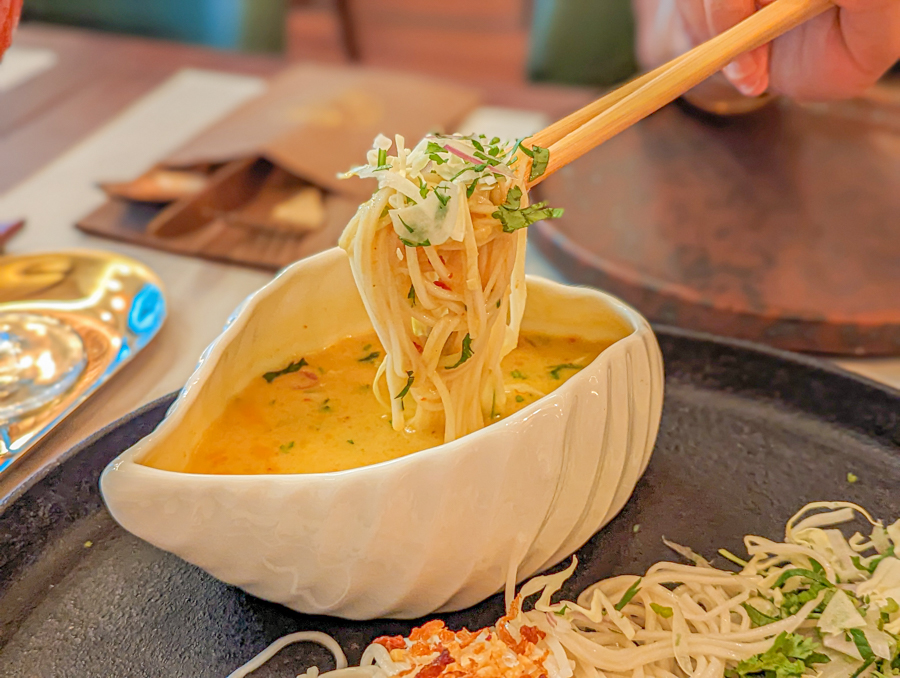 The broth was light and drinkable despite the coconut flavour, which wasn't overwhelming. It's served with lime, fresh herbs and more spiced Burmese nut mix to adjust the flavour – we recommend adding lime juice for an extra tang. 
A-thi
For dessert, we tried the A-thi ($14) with coconut sorbet, burnt mango and black jaggery sauce. It was creamy, fragrant and not too sweet. The burnt mango added a pleasant tang and slight smokiness to the dish!
Cocktails
The Jewel of India ($25) was smokey with the whiskey base, mellowed by the sweetness of pomegranate, cumin and kokum, a fruit native to India. It's strong enough to taste the alcohol but balanced enough to enjoy the flavours!
The Dragon's Kiss ($14) came in a deep pink shade but was not as memorable. It tasted similar to sweetened dragonfruit juice. 
Burmese Restaurant & Bar In Tanjong Pagar
Burma Social provides a pretty immersive dining experience and unique dishes that pay homage to the motherland.We do think the pricing is steep for the type of cuisine, but we can appreciate the effort to recreate the flavours.  For someone who hadn't tried Burmese food before, it was an interesting entryway!

Burma Social
34 Tras St, Singapore 079026
Lunch, Mon-Fri: 11.30am-2.30pm
Dinner, Mon-Sat: 6pm-12am
Closed on Sundays
*Follow MiddleClass.sg on Facebook, Instagram, and Telegram for more food, travel, and trending stories!