Korean variety shows have rapidly become popular all around the world, featuring juicy storylines that will have your eyes glued to the screen. But sometimes, we all crave something more wholesome and authentic – that's where Korean travel variety shows come in! 
These Korean travel variety shows not only showcase some of the most beautiful destinations from around the world but also bring you hours of laughter and fun.
The Hungry And The Hairy (2021)
Starting their journey on Jeju Island, hosts Rain (Jung Ji-hoon) and Ro Hong-chul embark on a road trip through Korea on their motorcycles.
They explore regions like Gochang, Busan and Gangwon, taking in the sights and sounds of each location they visit.
The chemistry between the two hosts makes this show more entertaining, especially when they take jabs at each other.
It promises to be an enthralling watch that also showcases the most attractive destinations in Korea!
You can watch The Hungry And The Hairy on Netflix here.
Korea No.1 (2022)
In this variety show, hosts Yu Jae-suk, Lee Kwang-soo and Kim Yeon-koung travel to different parts of Korea to take up apprenticeships under a traditional master.
Each episode features a different element of Korean culture, and the hosts have to learn the crafts as best as they can as they will be evaluated at the end of the episode.
This has some seriously amusing moments, especially the hosts' frantic attempts at completing the tasks.
It provides viewers with a great chance to learn about the significance of Korean heritage in a light-hearted setting.
You can watch Korea No. 1 on Netflix here.
Adventure by Accident (2022)
Korean artist Kim Hee-min (Kian84) goes on a journey to South America, accompanied by actor Lee Si-eon and YouTuber Pani Bottle.
Over a span of 10 days, the trio traverse locations like Peru and Bolivia to experience the breathtaking scenery, delicious food and rich culture.
This show does a great job of highlighting the amazing hospitality of Latin American people and also captures the magnificent landscapes of South America through its superb videography.
You can watch Adventure By Accident on Apple TV.
Besties In Wonderland (2022)
This travel variety show follows six celebrity best friends who studied together in the Korea National University of Arts – Suho, Lee Sang-yi, Lee Khoo-hyung, Cha Seo-won, Lee You-young and Lim Ji-yeon.
Together, they head on an adventure-filled trip to Queensland, Australia.
Their journey is packed with activities like skydiving and scuba diving – but the show strikes a balance of adrenaline-pumping activities and wholesome moments.
Despite the star-studded cast, they have extremely down-to-earth personalities. Their long-lasting friendship dating back to their college days is apparent even on screen, making for a great watch. 
You can watch Besties In Wonderland on Apple TV. 
Bros On Foot/Ticketing With Two Feet (2023)
Ticketing With Two Feet is already set to be one of the hottest Korean travel variety shows of 2023 due to its star-studded cast. 
Ha Jung-woo, Joo Ji-hoon, Yeo Jin-gu, and Min-ho head on an eight-day trip to New Zealand.
As they make their way through the scenic terrain, they are tasked with completing a series of missions in order to win 'Dream Tickets' – which are actually plane tickets to be given to youth in need!
The antics that they get up to while trying to complete the challenges are the highlight of this show, and they eventually form strong bonds with one another.
You can watch Bros On Foot on Viu here.
Europe Outside Your Tent (2022)
Four actors – Yoo Hae-Jin, Jin Seon-kyu, Yoon Kyun-sang and Park Ji-hwan – go on a 9 Day, 8 Night trip across Switzerland and Italy.
They embrace the wilderness by setting up campsites outdoors and immersing themselves into the different local cultures.
One of the best aspects of this show is the chemistry between the cast members, which makes them effortlessly hilarious.
This variety show is full of relatable moments that will leave you in stitches, making it an extremely entertaining watch!
You can watch Europe Outside Your Tent on Viu here.
Battle Trip (2016-2022)
In this travel variety show, two groups of celebrities are pitted against each other.
They travel to different destinations in order to experience things that each country has to offer.
The winner is then chosen based on votes from the audience or the judging panel.
Since its inception in 2016, Battle Trip has been to over 40 countries across the globe such as Vietnam, Czech Republic, Croatia and much more!
They have even been to Singapore, exploring places like Haji Lane, Little India and indulging in local delicacies like char kuey teow, satay and curry fish head!
Catch a few episodes of Battle Trip on Viu here.
Gamsung Camping (2020)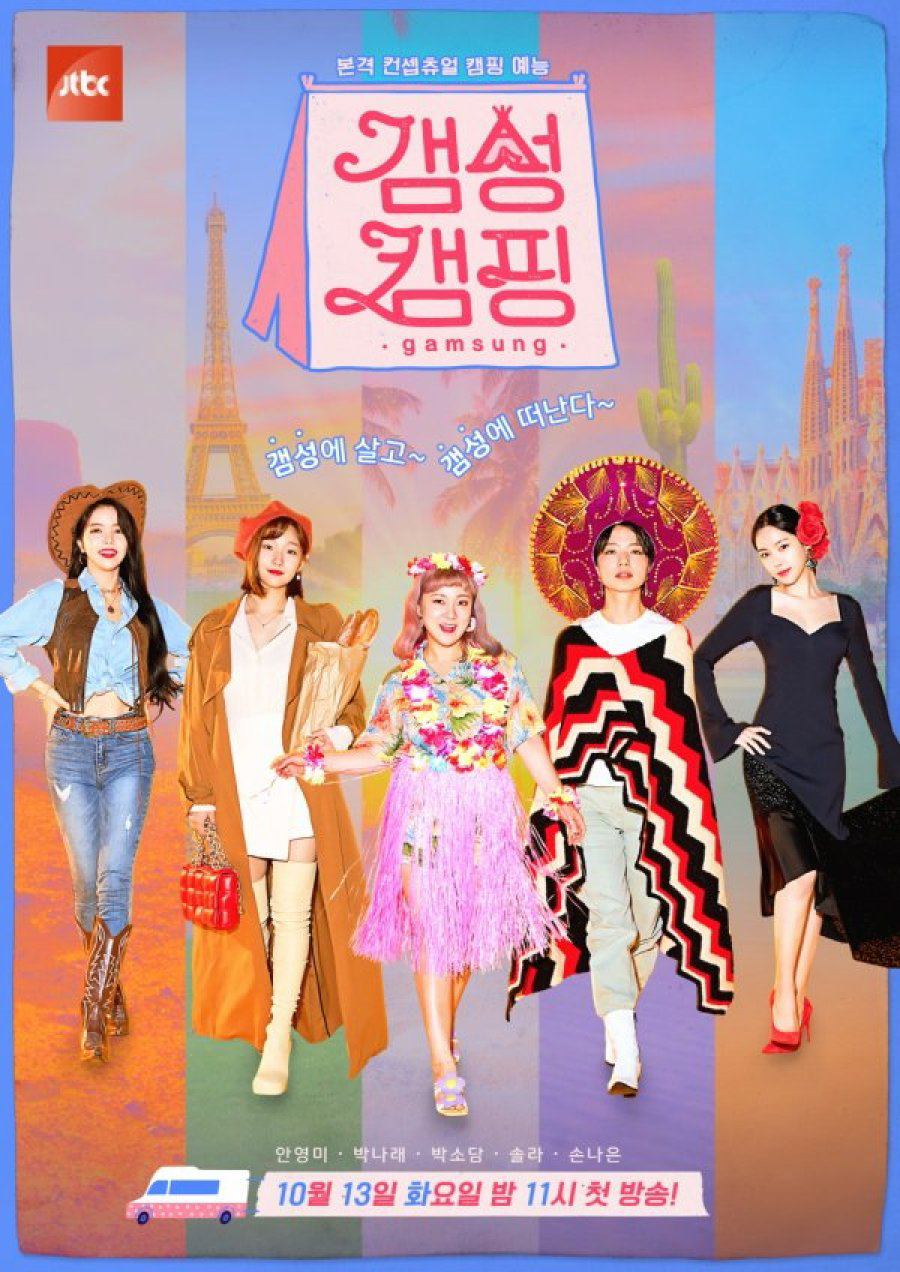 Gamsung Camping is a travel variety show with an interesting concept.
It features an the all-female cast, consisting of Park Na-rae, Ahn Young-mi, Park So-dam, Kim Yong-sun (Solar) and Son Na-eun.
In each episode, the cast heads to different spots in Korea that resemble another country, such as Switzerland, Vietnam and Canada.
They set up camping sites, usually accompanied by celebrity guests who join the cast on their camping journey!
When this show initially aired during the COVID-19 pandemic in 2020, it brought a smile to many viewers' faces as it showed everyone that they could have fun despite travel restrictions.
House On Wheels (2020-2022)
House On Wheels features Sung Dong-il and Kim Hee-won as well as a guest host who rotates every season.
Together, they journey on a caravan to different locations in Korea's picturesque countryside regions and invite celebrity guests to chat with them, usually over a delicious meal prepared in the 'House on Wheels' kitchen.
This show takes a more laid-back approach that focuses on the conversation between the cast.
The hosts dive deep into topics such as marriage, relationships with parents, stepping out of your comfort zone and often impart life lessons that leave you reflecting on life well after the episode ends.
You can watch the latest season of House On Wheels on Viu here.
Welcome, First Time Living In Korea? (2017-2022)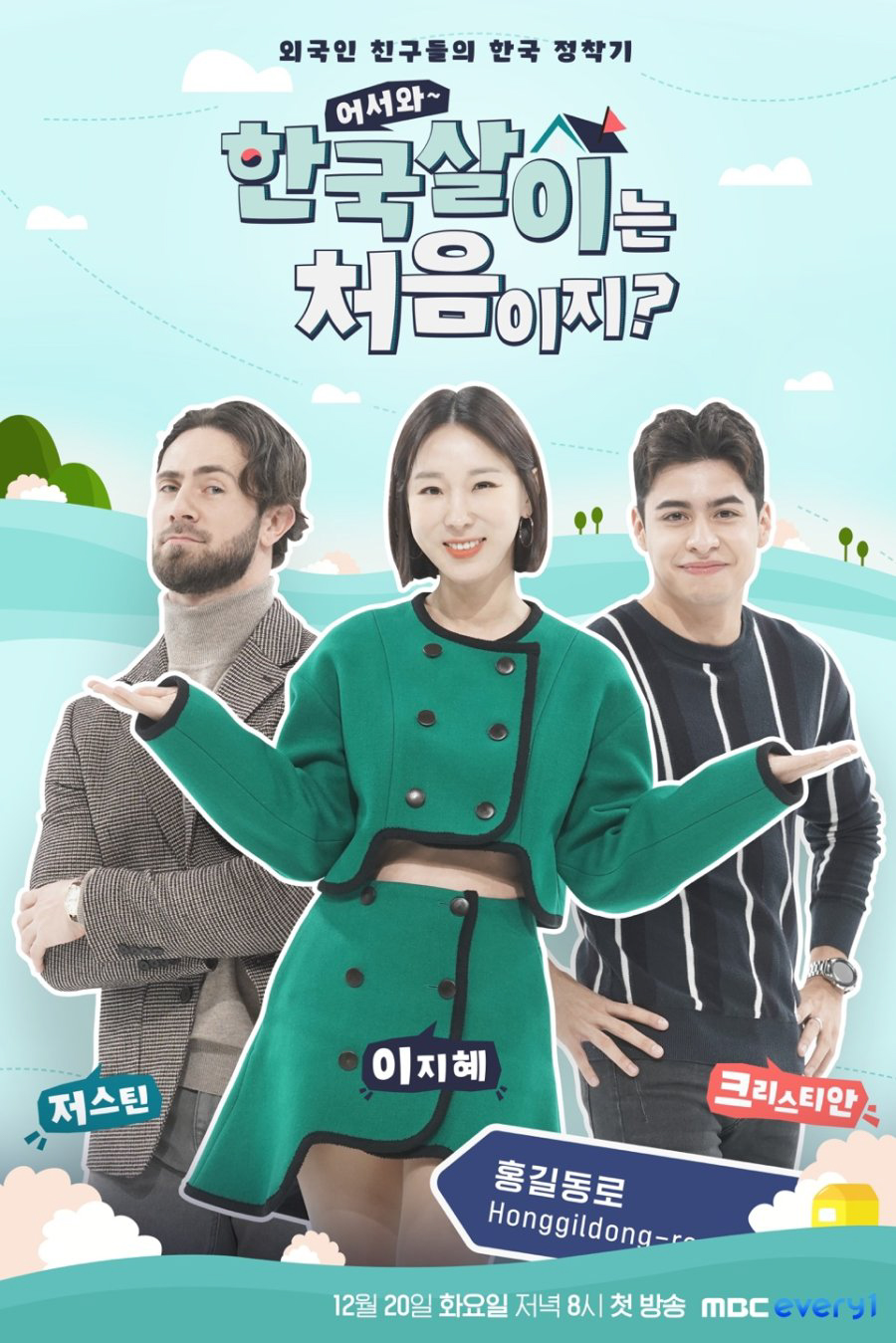 A travel variety show with a unique concept, this show invites foreigners who are living in South Korea to invite three friends from their home country to travel to South Korea for the first time.
For the first two days, the three friends travel and explore South Korea on their own. For the remaining two days, the host plans an itinerary for his friends and takes them on a mini-tour.
It is heart-warming to hear the guests talk about what they miss in their home country, how life is different in Korea and reminisce about moments spent together last time.
The concluding segment of each episode where they bid farewell to one another is always a tear-jerking moment, even for viewers.
You can watch Welcome, First Time Living In Korea? on Apple TV. 
One Night Sleepover Trip (2018)
This show features a concept that has raised quite a few eyebrows. The hosts, Kim Jong-min and Lee Sang-min, head to a foreign land without having a place to stay.
The challenge? They need to ask strangers if they can spend the night in their home – completely unscripted. 
Though controversial, it makes for an entertaining watch. The hosts have travelled to many countries like Italy, Spain, England and Vietnam.
It is heartwarming to witness the kindness of people who are willing to open their homes and hearts to strangers
You can watch One Night Sleepover Trip on the official KBS Youtube Channel, starting with Episode 1.
Twogether (2020)
Korean actor Lee Seung-gi and Taiwanese actor Liu Yi-hao (Jasper) come together to travel across Asia and experience local culture.
The language barrier adds an element of humour to this show – especially because they speak little English and barely know each other's language.
The awkwardness soon vanishes and they bond over the series of challenges that they have to overcome to meet their fans in each region.
This travel variety show showcases some of the most spectacular destinations to visit across Asia, so be sure to check it out for ideas on where to head for your next vacation!
You can watch Twogether on Netflix here.
Dopojarak: Story of Homme the K-Wanderer (2022)
Consisting of five members: Kim Jong-kook, Ji Hyun-woo, Noh Sang-hyun, Joo Woo-jae and Hwang Dae-heon, the cast embarks on a journey to Denmark.
Their objective is to explore Denmark while promoting Korean culture by selling traditional Korean products to locals.
The innovative methods that they employ to achieve their goal are the highlight of this show! The cast comes from diverse backgrounds, but their personalities mesh well together on screen.
Denmark's serene landscapes and peaceful atmosphere adds to the calming vibes that you get when watching this show!
You can watch Dopojarak: Story of Homme the K-Wanderer on Apple TV.
Korean Travel Variety Shows
Travel vicariously with these heartwarming and funny shows! P.S. If you're considering your own trip to Korea, check out our articles here.
*Follow MiddleClass.sg on Facebook, Instagram, TikTok, and Telegram for more food, travel, and trending stories