We're huge fans of  Stayfolio (as you can tell from our multiple articles and posts). They specialise in aesthetic accommodation experiences across Korea, each with its own unique design and story. One of these stays is the Batdam House, located in Jeju. 
Modern Stone Wall House In Jeju
Batdam House is located in a quiet neighbourhood about 40 minutes car ride away from the Jeju International Airport.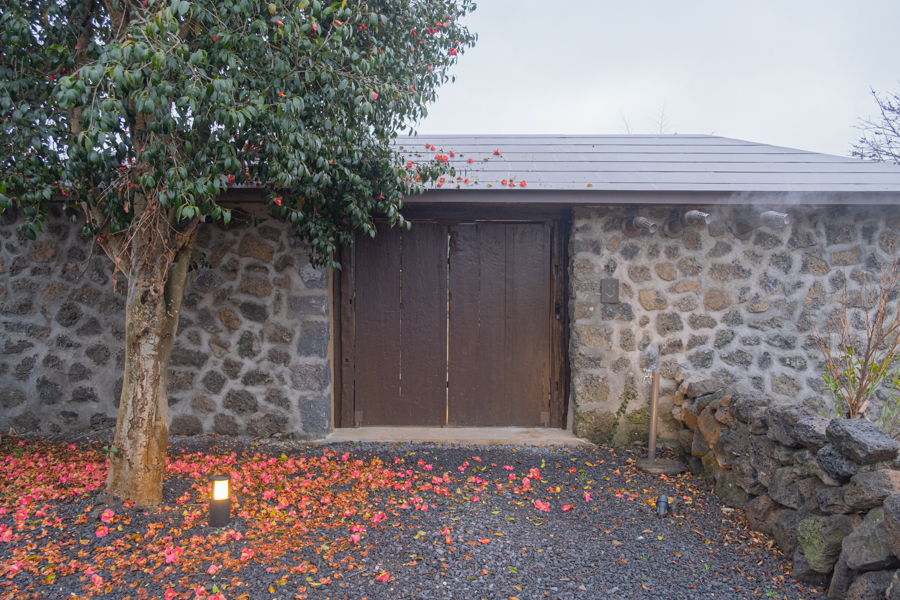 We were greeted by a flowering camelia flower tree (depending on the season you visit) and wooden doors with recognisable stone walls. If you're driving, there are 2 parking lots at the entrance. 
Enjoy Jeju's Tranquility With Stayfolio
When we entered through the doors, we immediately saw the entire layout of the space.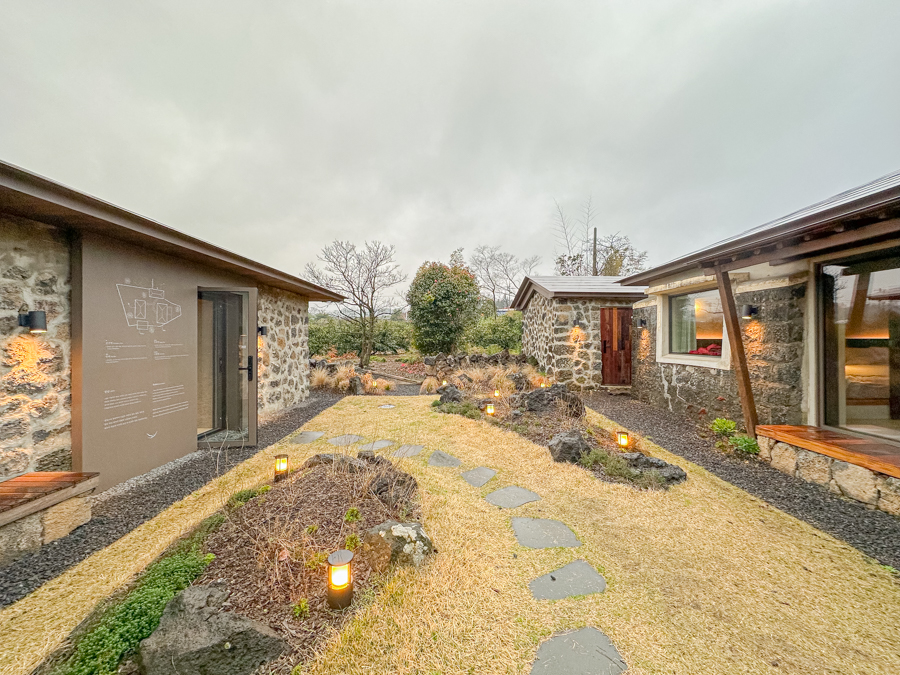 Batdam House is split into three areas joined together by a courtyard garden with a walking trail in the middle. 
Despite the large expanse of the stay, it felt very private and cozy. It felt almost like walking into our very own spa retreat! 
The main design motif is the batdam, or stone walls made with basalt. These structures have been used for traditional Korean housing for centuries, heavily incorporated into the stay.
Each area has its own dedicated 'house': Anchae (안채), Mungan Chae (문간채), and Baggat-Chae (바깥채). 
Modern Korean Living Area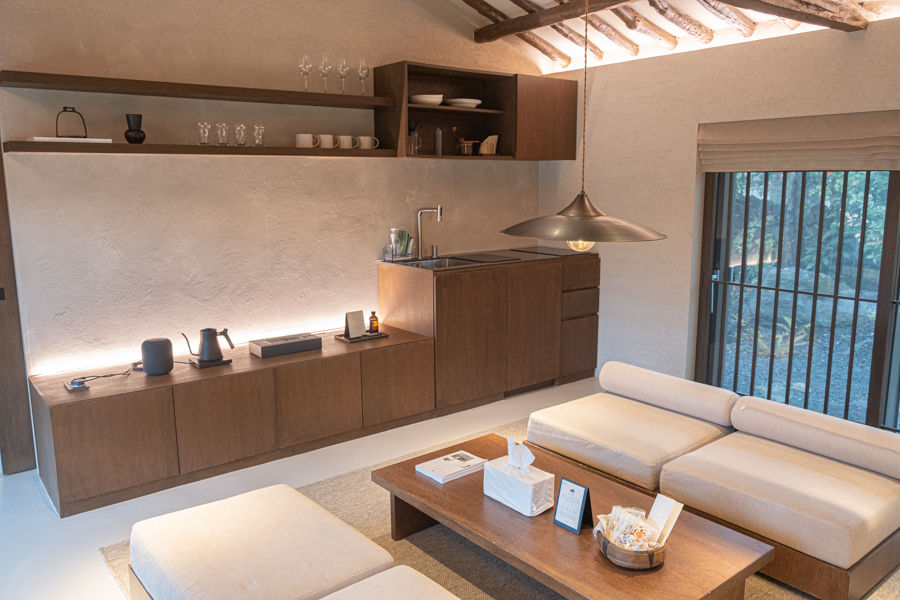 The Anchae (안채) is the main living area. It has an attached functioning kitchenette, living room, and a bedroom that comes with two queen-sized beds.
The living room has floor-to-length windows overlooking the beautiful garden, furnished with sleek dark wooden furniture and a neutral colour palette.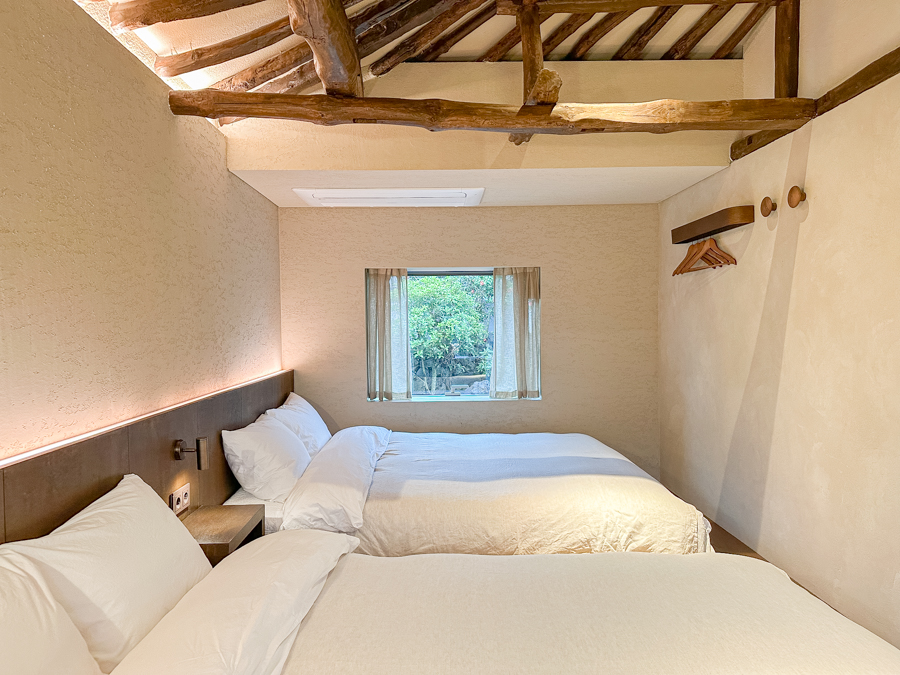 The beds had plush sheets and blankets which made for a very comfortable sleep. 
That's not all – The entire property is equipped with a smart home system! We could control everything from the lighting and curtains to the temperature from the included iPads. 
Despite the modern finishes, the house still incorporates traditional designs including recognisable wooden beams and concrete flooring.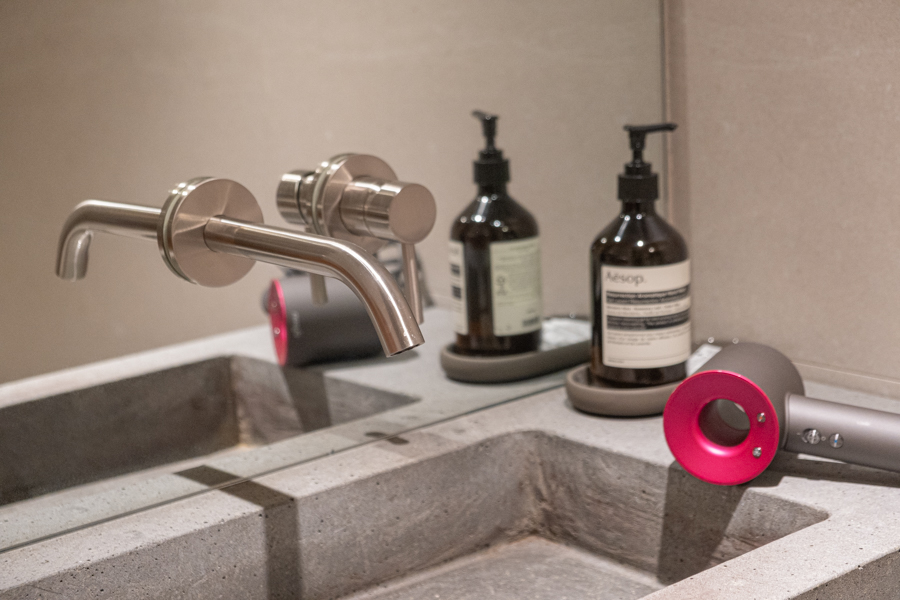 The amenities are also generous and of high quality! There are Aesop handsoaps, a Balmuda microwave oven, and a Dyson hair dryer for the ultimate comfortable experience. 
We had a quiet morning with coffee (which they provide) and it was a truly healing experience. 
Enjoy A Soak Indoors (Or Outdoors)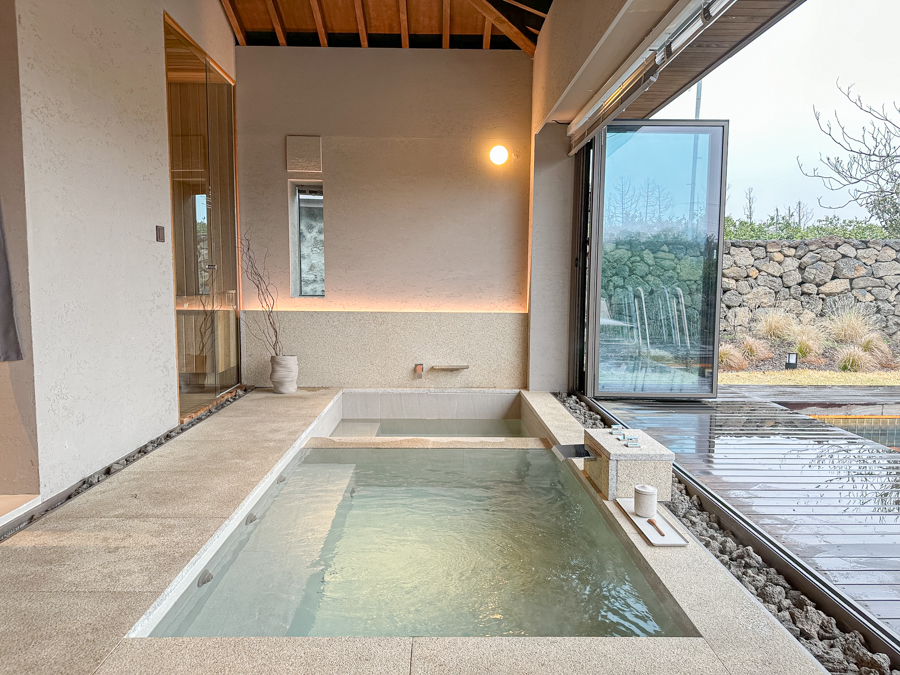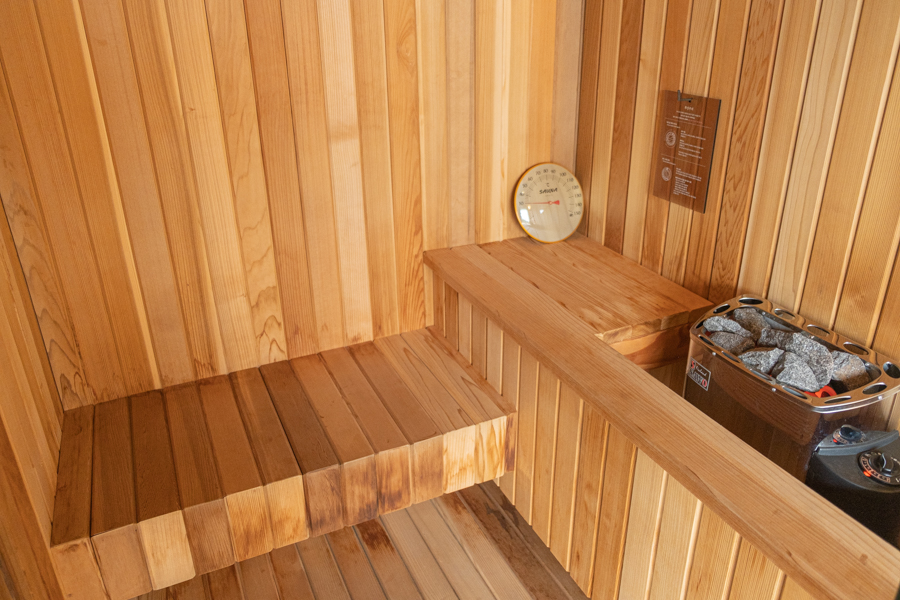 A unique feature of this stay is the Baggat-Chae (바깥채). This area functions as your own private spa – it has an indoor jacuzzi, dry sauna, and even an outdoor pool!
Also, there are robes, towels, and a shower area included so you just need to be present.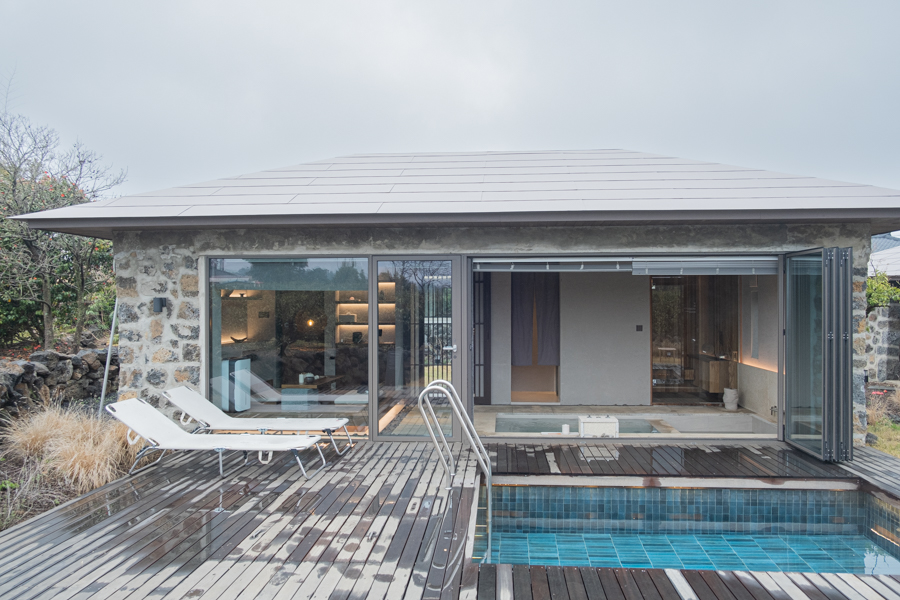 The outdoor pool faces a tangerine garden so you don't have to worry about people peering into your space. 
It also has a tea area with a kettle and incense burner for you to unwind and enjoy the outdoor scenery, complete with a wind chime. 
This is the perfect opportunity for a quiet soak to rejuvenate yourself. We got to enjoy a soak and this was easily our favourite room during our stay. 
Personal Spa Room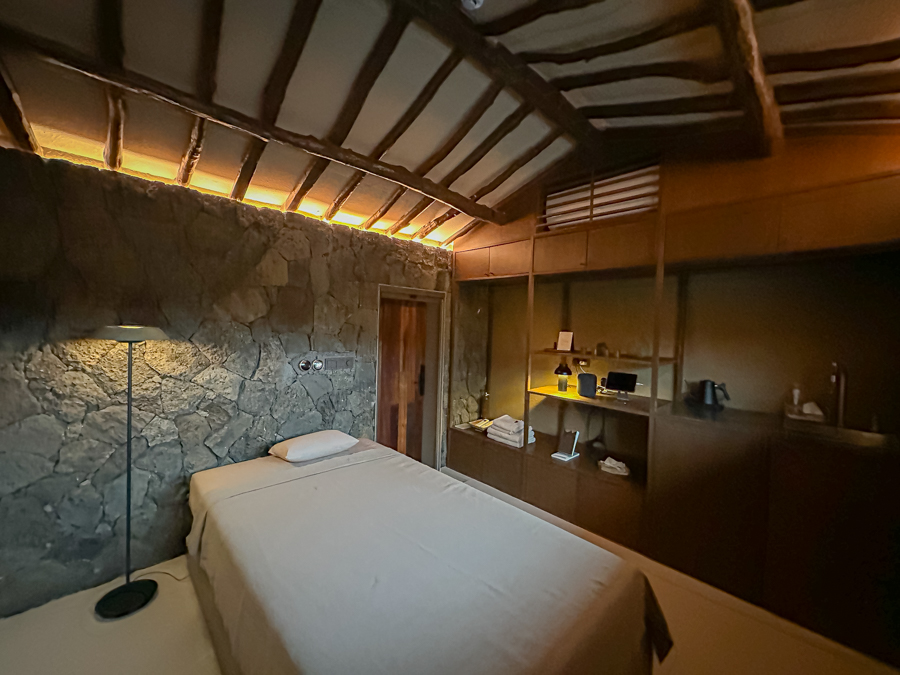 For those who prefer time alone, spend it in the Mungan Chae (문간채). This space is designed for private meditation, so it's darker and private. 
The room is built with stone, wood, and concrete but still retains modern fixings like a remote-controlled bed and private bathroom.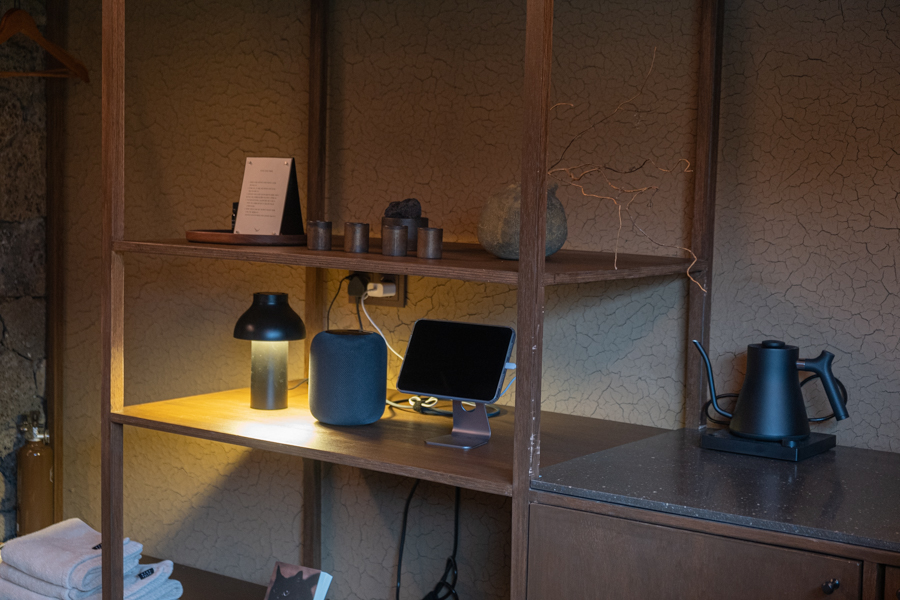 There's incense and a sound system for you to play music and let yourself be in the moment without interruptions.
Aesthetic Korean House In Jeju 
Batdam House is truly the epitome of comfort and relaxation, thoughtfully designed to incorporate natural and modern elements for a truly rejuvenating stay. 
If you're keen on the stay, here is a link with 10% off any bookings at Batdam House! The link is valid till May 31st and users can book any available date on the booking calendar using the link provided.
Batdam House
357-8, Jowa-ro, Jocheon-eup, Jeju-si, Jeju-do, Republic of Korea
제주 제주시 조천읍 조와로 357-8
Nearest route: By Bus 231
*This article is done in collaboration with STAYFOLIO Global.
*Follow MiddleClass.sg on Facebook, Instagram, and Telegram for more food, travel, and trending stories