A trip to Busan is not complete without a visit to the Haeundae Blueline Park. The park consists of the sky capsule ride and beach train, both of which you might have already come across on social media.
Haeundae Blueline Park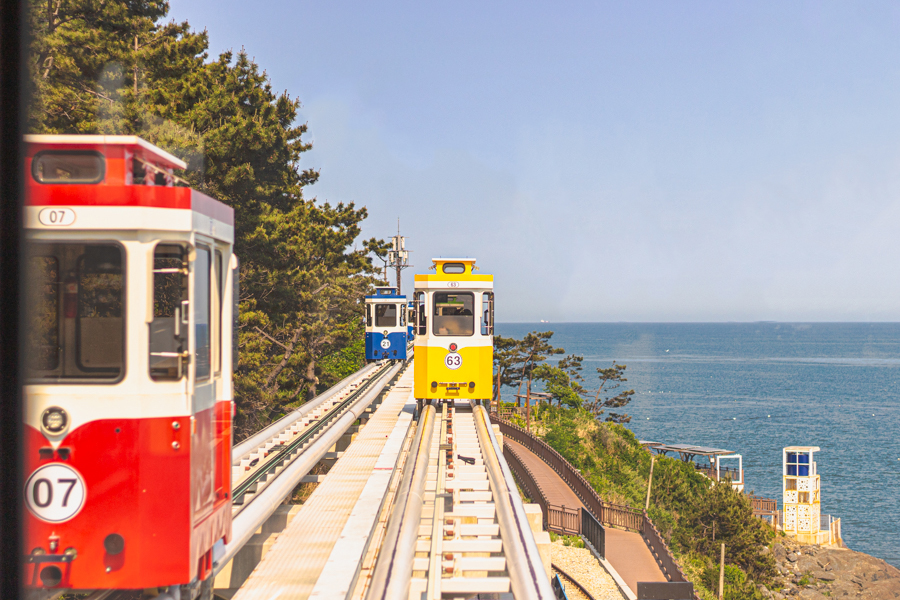 Located near Haeundae Beach, the Blue Line Park is a must-visit tourist attraction when you're in Busan. Depending on your budget and preference, you might want to choose between the Beach Train or Sky Capsule, or maybe even both! If not, there is also an entire boardwalk section where you can take a stroll along the coast and enjoy the view!
FYI: The distance from Mipo all the way to Songjeong is 4.8km.
Busan Sky Capsule
Stretching over 2km, the Busan Sky Capsule is a romantic capsule that ranges from 7 to 10m up in an aerial rail, stretching over 2 kilometers along the coast. There are two stations for the Busan Sky Capsule, Mipo Station and Cheongsapo Station.
The capsules go one-way, so if you want to do a round-trip, you'll have to buy a one-way ticket at each station. The majority of visitors will purchase a ticket from Mipo Station to Cheongsapo Station since Mipo Station is conveniently located near Haeundae.
Prices of the Sky Capsule start from 30,000won for 2 pax, 39,000won for 3 pax, and 44,000won for 4 pax. If you're a solo visitor, this might be quite a pricey attraction to visit since you'll be paying 30,000won for 1 entire capsule. The good thing is that you'll have the whole space to yourself and won't have to share with strangers.
We recommend heading earlier to purchase your tickets as they do sell out sometimes! There are a couple of restaurants/cafes nearby to pass the time, but you can also explore Haeundae while waiting for your timeslot.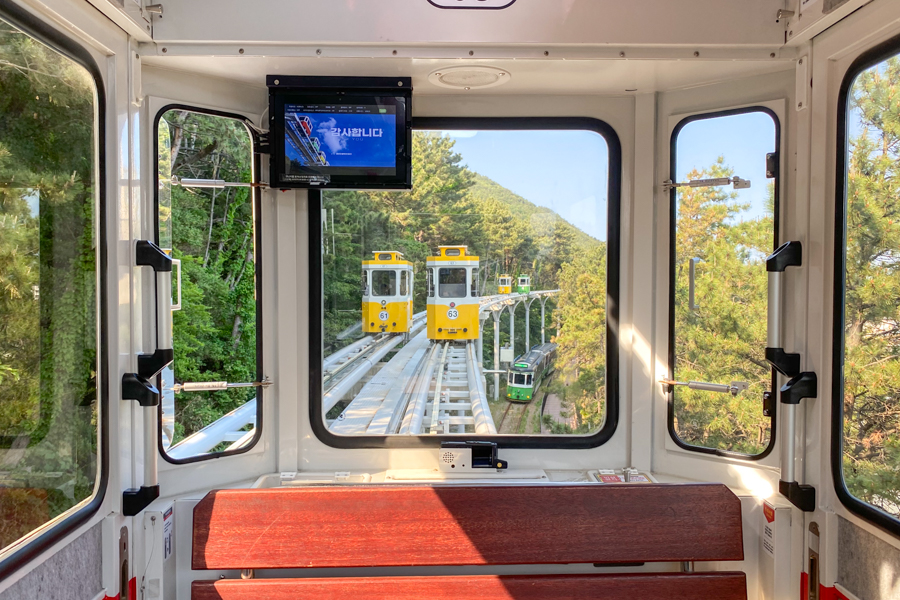 The train moves at a comfortable pace so there'll be time to capture the scenery as you go along the coast.
Busan Beach Train
Once you reach Cheongsapo Station, there are a couple of options:
Walk back to Mipo Station using the Busan Green Railway
Take the Sky Capsule back to Mipo Station
Take the Beach Train back to Mipo Station
Take the Beach Train to Songjeong Station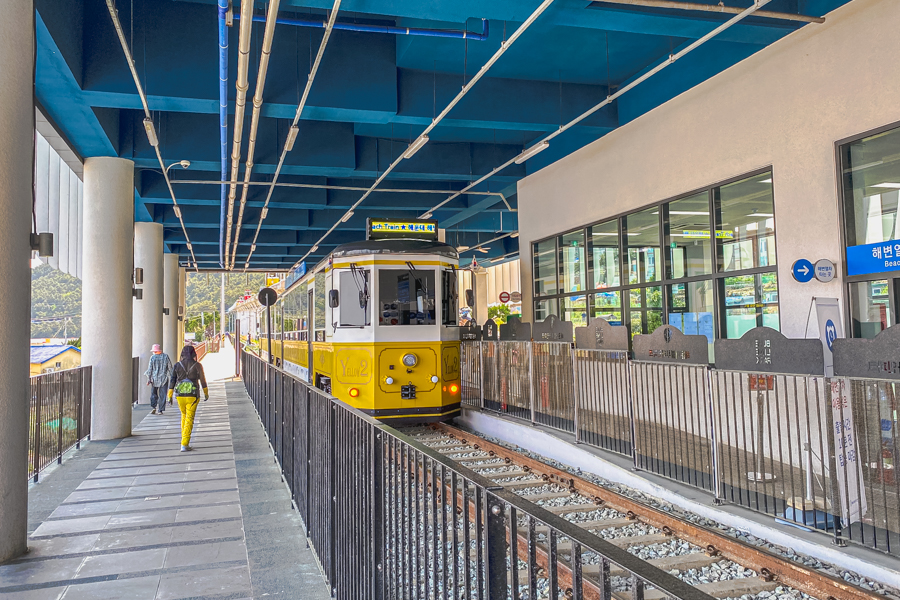 Most people would spend some time exploring the area around Cheongsapo station, before making their way back to Mipo Station.
However, if you're not pressed for time, we recommend taking the Beach Train that goes all the way to Songjeong Station and slowly walking back to explore the various attractions along the way, such as the Cheongsapo Daritdol Observatory.
A Beach Train pass costs 7,000won for a one-way trip and reboarding is not allowed. The pass for two rides costs 12,000won (round trip, re-boarding is allowed once just one more time after getting off). If you're intending to visit all the stops, we highly recommend getting the Pass for All Stops, which costs 16,000won.
Haeundae Blueline Park Recommended Route
Take the Sky Capsule from Mipo Station to Cheongsapo Station
Walk from Cheongsapo Station to Daritdol Skywalk (600m)
Walk back to Cheongsapo Station and explore the surrounding area + lighthouses (600m)
Take the Sky Capsule/Beach Train from Cheongsapo Station back to Mipo Station
Must Visit Attraction in Busan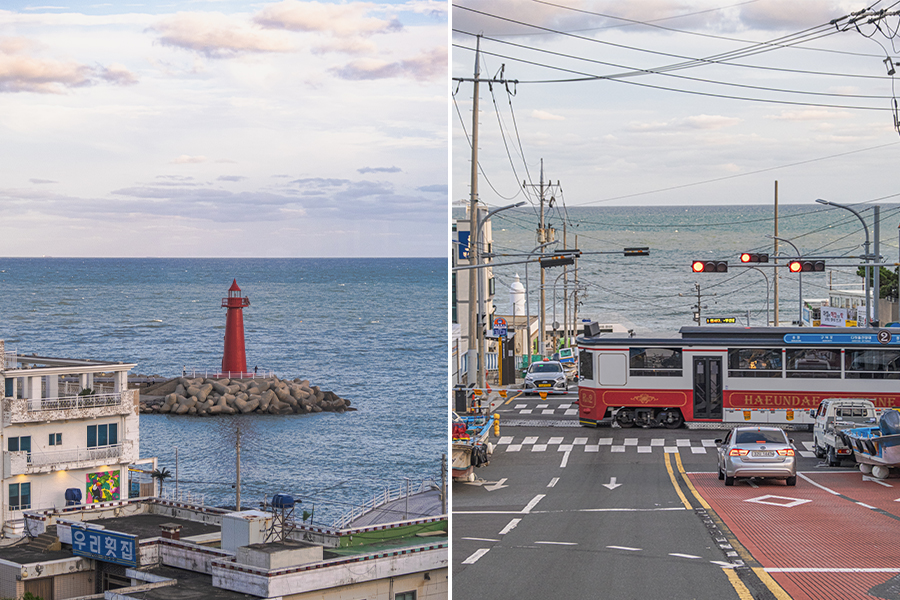 We highly recommend visiting the Sky Capsule during your trip to Busan, as it offers up a gorgeous view of the coast. Tip: If you're trying to catch the sunset, make sure to choose a slot that's at least 30mins to 1 hour before the actual sunset time. We realized that the queue does take some time and you don't board exactly at your booked time.
Once you're in Cheongsapo station, don't immediately make your way back. Take a stroll around the station as the area is filled with photo spots!
If you want a fuss-free way to explore Busan, you can opt for this East Busan tour which will bring you to places like the Haedong Yonggungsa Temple, Sky Capsule, Beach Train & more.
Haeundae Blueline Park (Mipo Station)
13 Dalmagi-gil 62 beon-gil, Haeundae-gu, Busan
부산 해운대구 달맞이길62번길 13
Opening Hours: 9:30am-7pm (Last train depends on season, view here)
Naver Maps Link
*Follow MiddleClass.sg on Facebook, Instagram, and Telegram for more food, travel, and trending stories