Get a taste of spring in Japan with Wagatomo, a modern Japanese restaurant concept in Guoco Tower focusing on the charcoal grill, or binchotan. 
They have launched a new spring-themed omakase showcasing the best seasonal Japanese ingredients. 
It is headed by Chef Tomoyuki Kiga, the same brains behind Wagyu-specialty store Gyu San!
Wagatomo Spring Omakase Menu
The omakase is priced at $96 per person with a minimum of two people to share. It features seven courses that showcase some Japanese spring produce. 
Maguro & Green Pea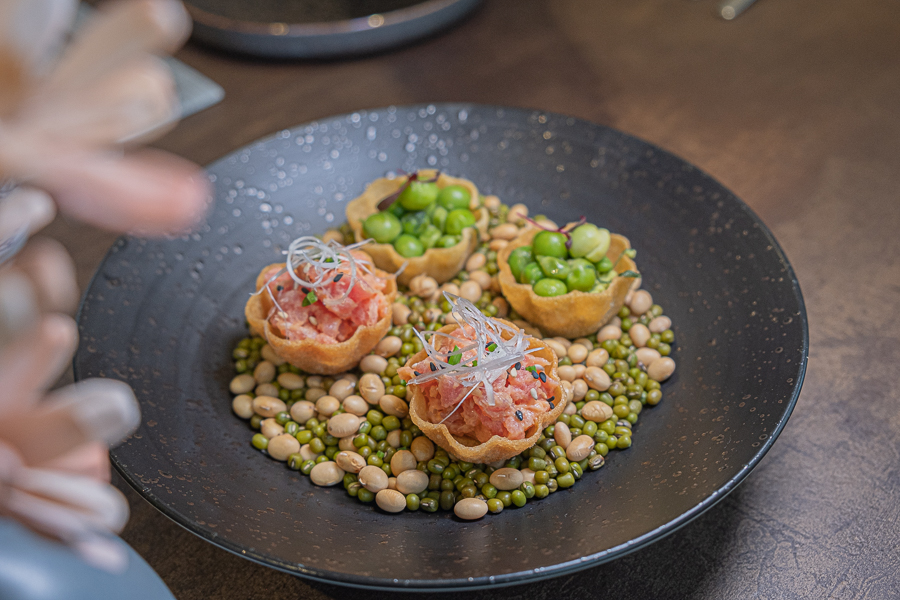 The first course featured two different fillings served in a crisp tartlet shell: a spicy tuna sashimi with togarashi aioli and green pea puree topped with Japanese pease. 
This was reminiscent of kuay pie tee, with a slightly savoury crust and flavourful fillings. 
The green pea filling took us by surprise! It wasn't mushy or grassy, but rather sweet with a pleasant snapiness. 
The maguro was fresh and had a great spicy kick that whet our appetites but didn't overwhelm.
Tomato 3 Ways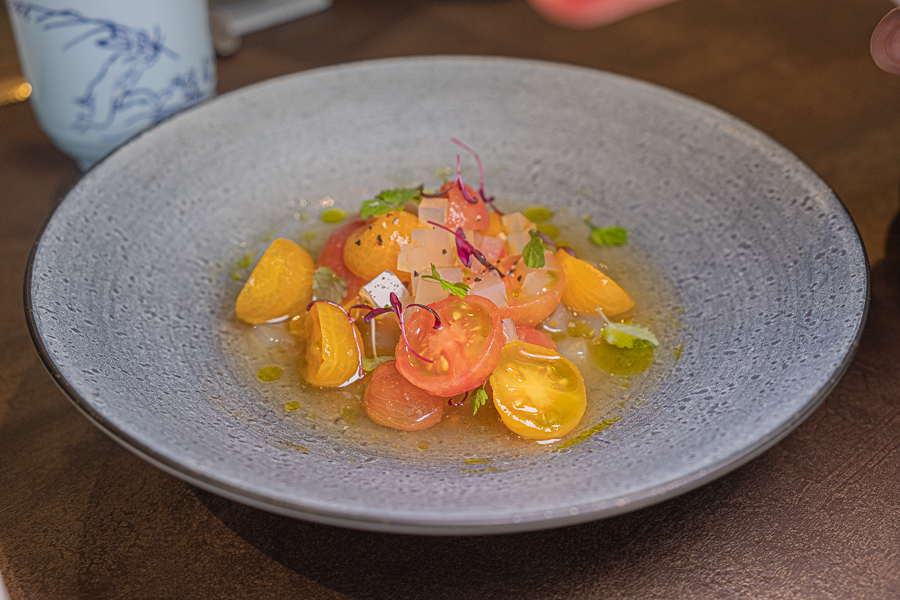 If you are a tomato lover, you'll enjoy this course!
Tomato 3 Ways features cherry tomatoes marinated in amazu – a sauce of rice vinegar, sugar and kombu – atop a bed of tomato hojicha consomme and tomato jelly cubes. 
Each bite was bursting with sweet, savoury and umami thanks to the light seasonings.

The tomato jelly cubes were an interesting addition – they really tasted just like a sweet tomato! 
Maguro Tataki 
The Maguro Tataki features lighty torched maguro slices in a vinegar, soy sauce and sugar sauce and garnished with ginger flower. 
The tuna was fresh and had a great meaty texture complimented by the savoury sauce. 
The ginger flower was a great addition with its floral fragrance, tied together with crispy garlic chips. 
Haru Kakiage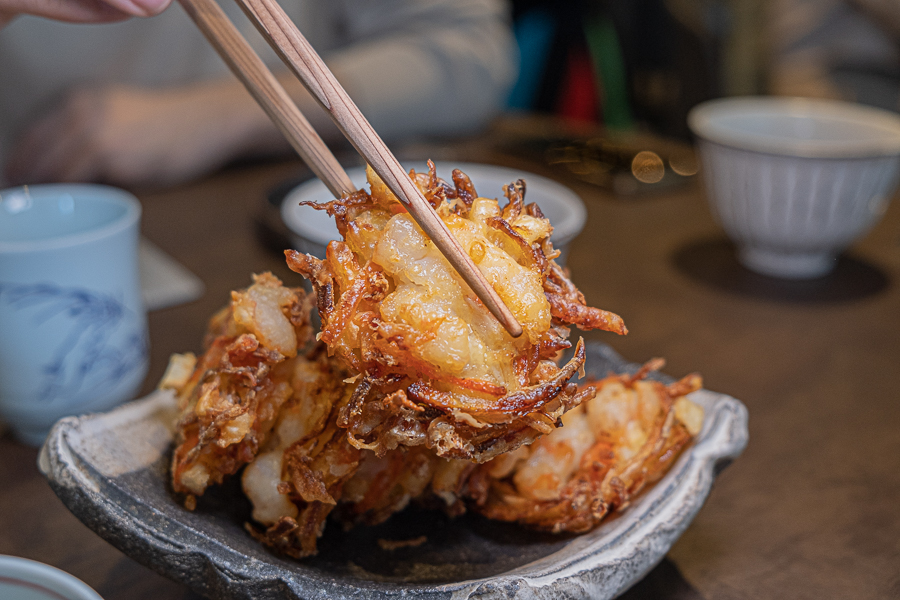 The first hot dish was Haru Kakiage, a fried fritter made with prawns, asparagus, bamboo shoots, burdock root and carrots. 
The fritters were delicious, with a crunch from the vegetables and bouncy prawns. 
If it's getting too heavy on its own, you can enjoy it with the light dipping sauce.
Saba Shio Yaki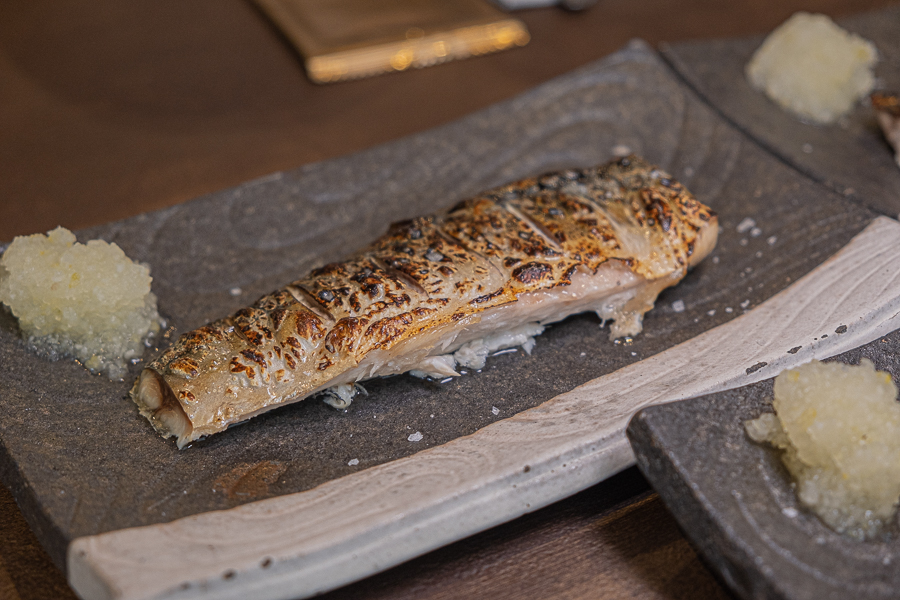 This was easily one of the best iterations of grilled saba fish we've eaten so far. 
The Saba Shio Yaki was served simply with a side of grated radish and yuzu, boasting a crisp charred skin. 
The flesh was quite literally bursting with juice, and each bite had a pleasant sweetness with soft flaky meat. 
When paired with the refreshing yuzu-radish, it made for a highly addictive bite. This was our favourite course!
Beef & Negi
Featuring the special Kamichiku 4% Miracle Gyu is Beef & Negi, featuring a 4% Miracle Gyu chuck roll, umeboshi potato puree and brown butter negi. 
The meat was fall-apart tender with a great fattiness, complimented by the savoury brown butter sauce and creamy potatoes. 
This course was another favourite for us!
Baked Ringo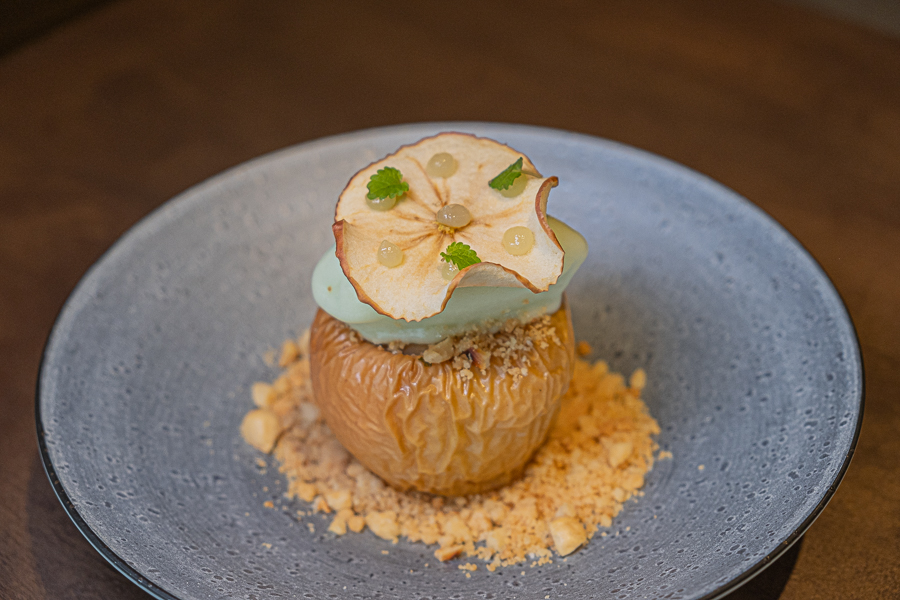 The meal ended with the Baked Ringo, a baked apple served with apple chutney and a green apple sorbert. 
This dish was a reimagining of the classic apple pie, and it captured all the familiar flavours. 
The warmth from the cinnamon, slight tang and sweetness from the apples that were complimented by the crunch of the hazelnut crumble. 
It was a great way to end the meal! 
Omakase In Tanjong Pagar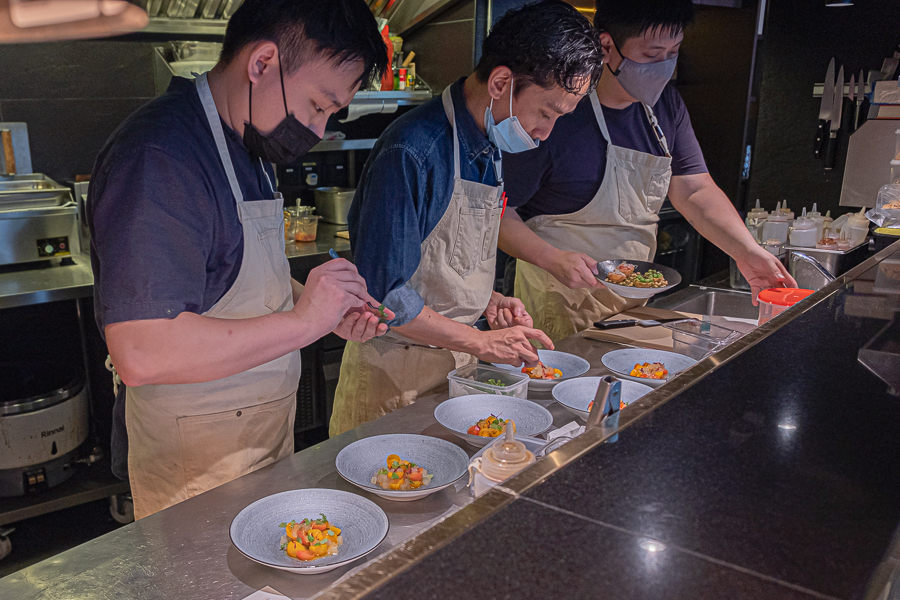 Wagatomo promises a satisfying and memorable meal with fresh ingredients and elevated flavour palettes! 

Wagatomo
#01-12, Guoco Tower, 5 Wallich Street, Singapore 078883
Mon – Sat: 11.30 am – 2.30 pm, 5.30 pm to 10.30 pm 
*Follow MiddleClass.sg on Facebook, Instagram, TikTok, and Telegram for more food, travel, and trending stories