A new addition to the food scene in Joo Chiat is Salt & Palm, a soon-to-be-open modern fusion restaurant serving up a menu of elevated fare with Indonesian-inspired flavours. 
Open officially on 23 March 2023, Salt & Palm had its start in Australia and they have chosen to expand their horizons into Singapore. 
Modern Bohemian Interior 
The theme of Salt & Palm's space is similar to a Bali cafe, with a light colour scheme and rattan furniture, complete with modern lights.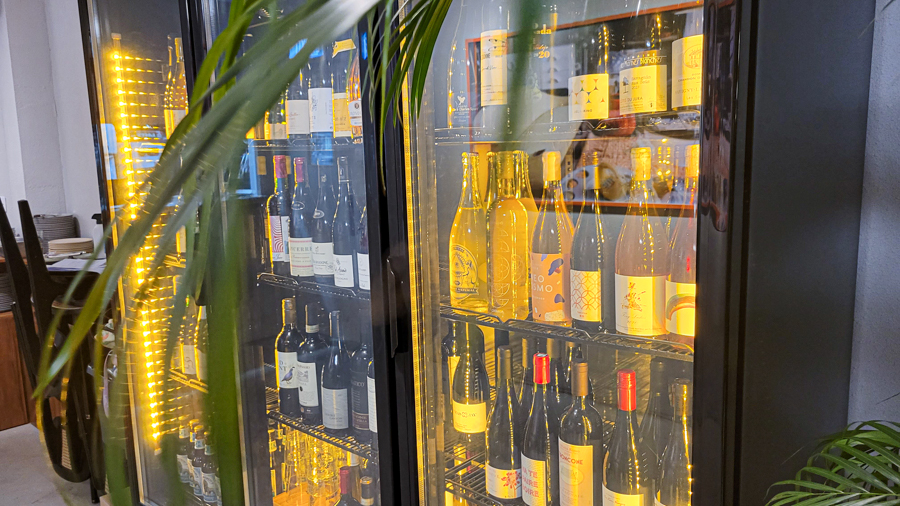 The space is complemented with plenty of greenery and matching finishes, including an open bar and wine fridge!
Salt & Palm Menu
Salt & Palm is best described as a cafe brunch-wine bar hybrid, with a food menu and wines to choose from.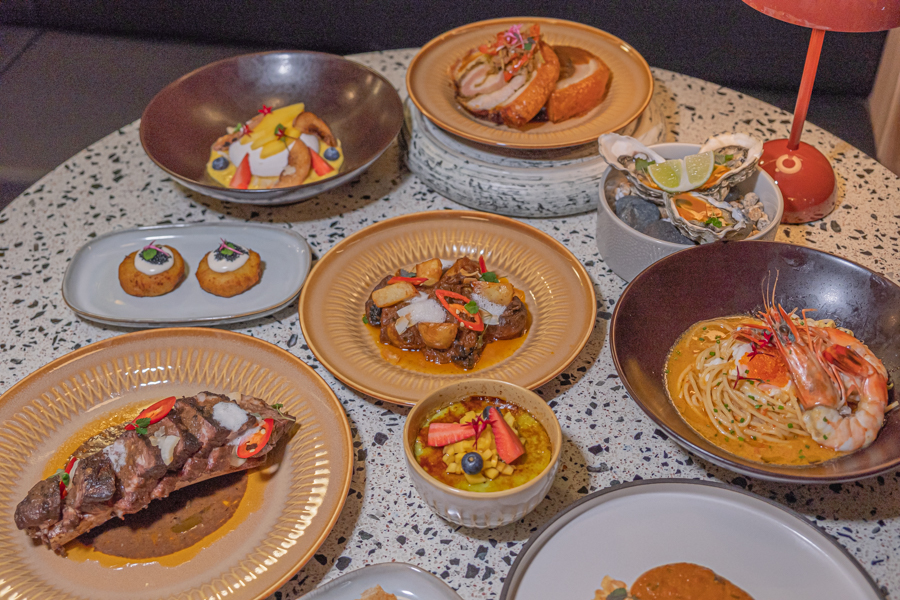 All the dishes include an Indonesian twist, including Kerupuk ($12) with tempe chips and a chilli lemongrass shallot salsa and Swordfish Gohu ($26) with cured swordfish and a basil kemangi (lemon basil) pandan oil. 
There are a few vegan items on the menu as head chef Natasha Soetantyo was once vegan. You can try the Corn Fritter ($15 for 3) or Mushroom Rendang ($20).
When the space officially opens, they will also offer a brunch menu with other interesting items! 
Their alcohol menu is extensive with a full list of natural wines ranging from red to bubbly and even orange. 
They also offer cocktails like a Spiked Cendol ($23), Kecup Manis ($23) and Koh Samui ($23). 
Fresh Oyster
The first starter was the Fresh Oyster ($28 for 3), featuring Amelie oysters from France finished with tomato tamarind and basil kemangi pandan oil. 
These were fresh with a great briny flavour, and the savoury-sweet tamarind sauce complemented the seafood really well! 
It had a slight tang which brought out the flavours of the oyster. 
You can also opt to have the oysters on their own with lime wedges, but we highly recommend the tamarind sauce.
Hokkaido Scallop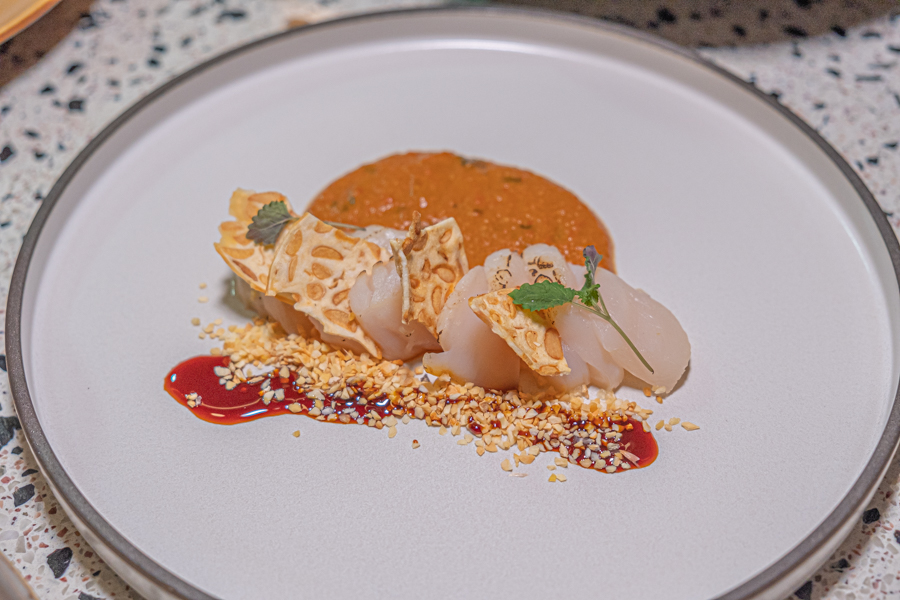 The Hokkaido Scallop ($22) came with a lightly torched scallop topped with a chilli peanut lime sauce and tempe chips. 
The scallops were sweet and had a firm bite. Much like the oysters, the chilli peanut lime sauce elevated the dish. 
It was fragrant and had a satisfying kick at the back of the throat, reminiscent of a flavourful satay sauce.
Potato Cake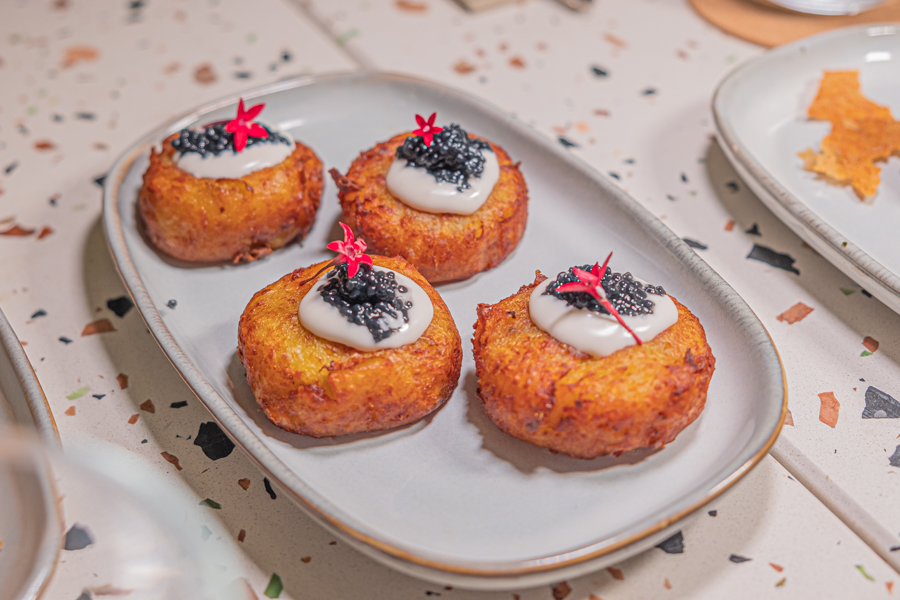 The first hot food item was the  Potato Cake ($12 for 2) garnished with vegan mayo and vegan caviar. 
These fritters reminded us of perkedel kentang, a common fried Indonesian dish that features a seasoned potato patty dipped in egg.  
With a crisp outside and soft inside, the potato cakes were a great starter. 
The vegan mayo and vegan caviar were also well-made, we could hardly tell the difference!
Fish Cake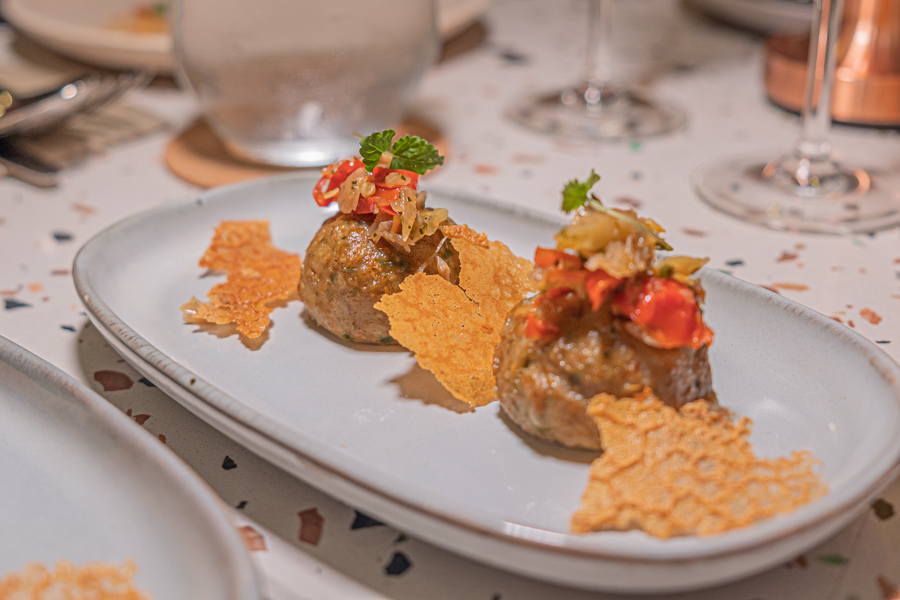 Served with chilli lemongrass shallot salsa, the Fish Cake ($12 for 2) is a Balinese-style fish cake served with a crispy chicken skin tuille. 
The fish cakes were well-seasoned and had a bouncy texture, cut through with the tangy spicy salsa. 
Porchetta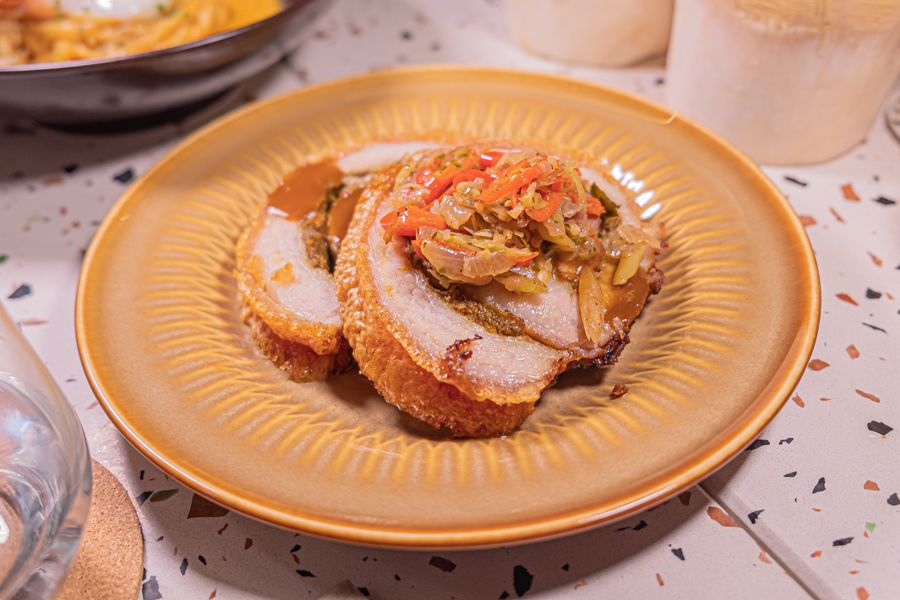 One of our highlights of the night was the Porchetta ($32). 
This is Salt & Palm's iteration of Babi Guling, another classic Indonesian roast pork dish. 
Their version features a crispy crackling with a coconut spice gravy and chilli lemongrass shallot salsa. 
This was one of our favourite bites! The skin was perfectly crispy while the meat was extremely tender, flavoured by the fragrant mix of Balinese spices. 
Prawn Bisque Pasta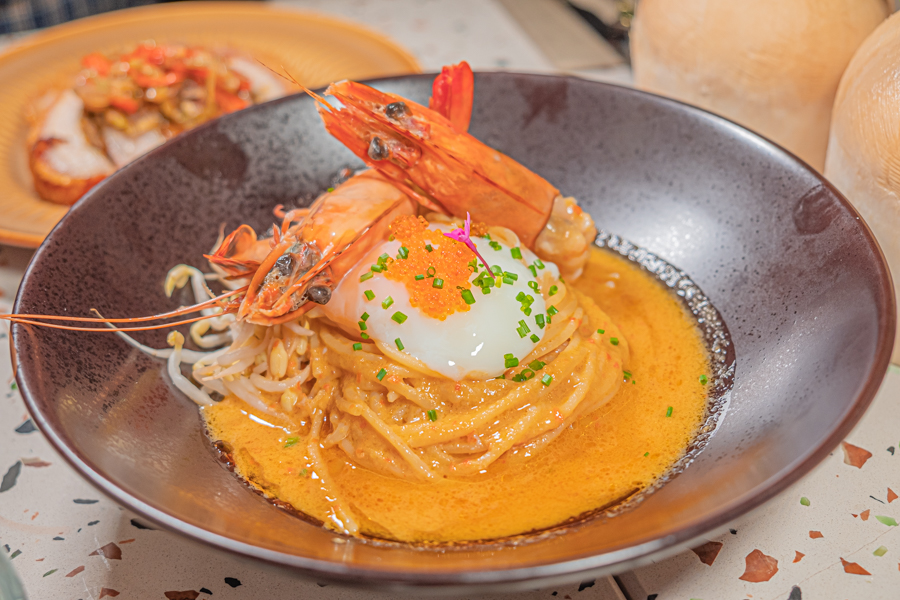 The Prawn Bisque Pasta ($32) came with two sizeable king prawns and an onsen egg in a South Sumatran prawn bisque. 
The bisque had a strong umami from the prawns, paired with the creaminess from the coconut milk base. 
It's their iteration of Mie Celor, a speciality of Palembang city in south Sumatra. 
The broth is rich but easy to enjoy on it's own, but we wish it could be punchier and spicier for a better kick. 
Beef Short Ribs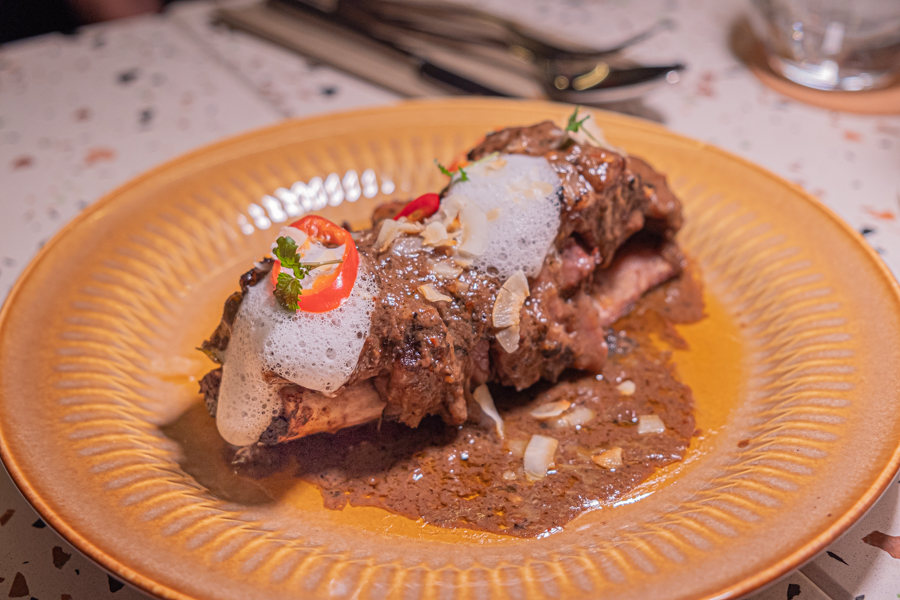 The  Beef Short Ribs ($52) are cooked in a rendang sauce and were served with the meat pre-cut. 
Each slice of meat was melt-in-your-mouth tender, even the cuts that had parts of the tendon! 
The fattiness from the meat mixed well with the familiar spicy rendang sauce and definitely called for some rice.  
Despite being only one rib, the serving was quite big so this can be comfortably shared between two people.
Dessert
We tried two desserts. The first was the Pavlova ($18), which is completely vegan!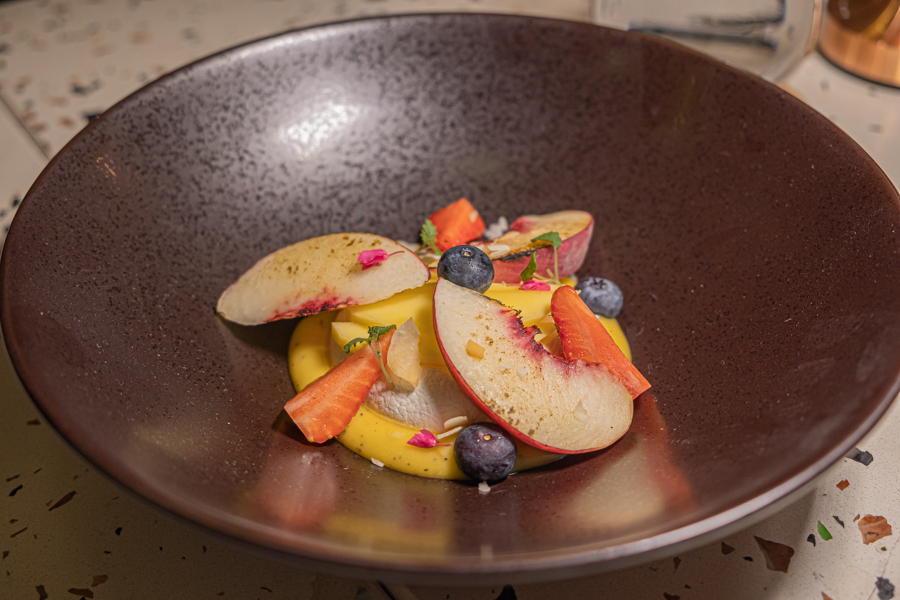 A usual Pavlova uses an egg white meringue, but Salm & Palm's version uses an Aquafaba meringue. 
It's served with mango passionfruit cream, mango and torched peaches. This was a pleasant dessert that balanced sweet and sour, with refreshing fruity flavours.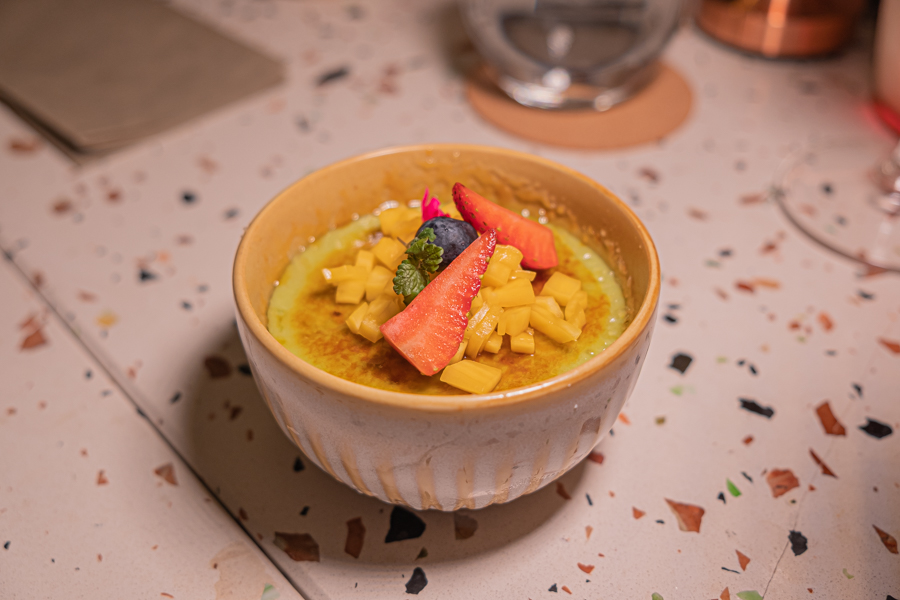 The next was a Pandan Coconut Creme Brulee ($15), garnished with a colourful assortment of jackfruit, strawberries and blueberries. 
The pandan custard was soft and had a pleasant green colour, complemented by the bite from the fruit and hidden strips of coconut flesh. 
Alcoholic Drinks
Each food item had its drink pairing, ranging from mocktails to natural wines. 
Salt & Palm also has mocktails, coffee and tea. We tried the Jamu Leci ($10) with ginger, turmeric, tamarind and lychee and the Yuzu Galangal Fizz ($10) which was tangy and refreshing.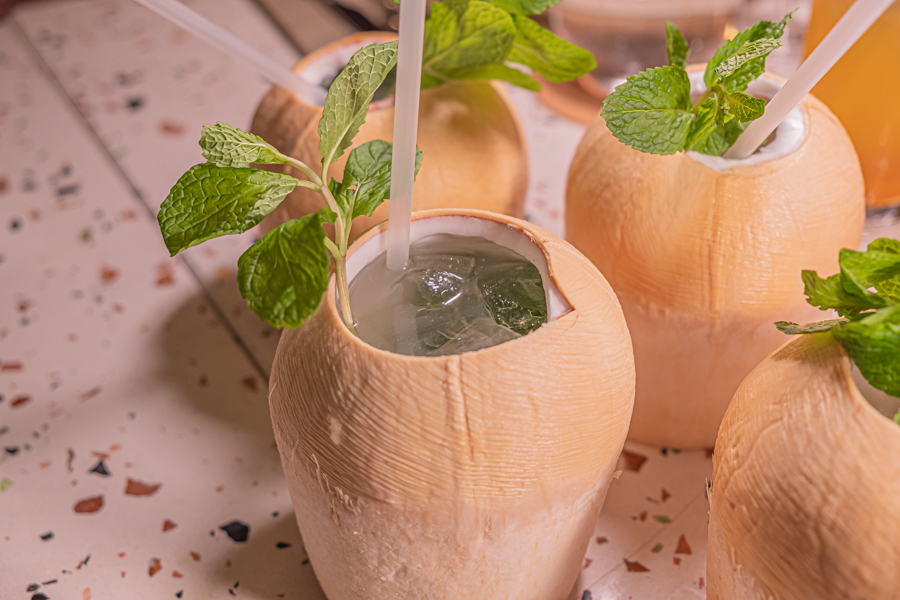 One of the more unique alcoholic drinks was the Coconut Mojito ($23), served in a coconut husk! 
Unlike the usual mojitos that use lime juice as a mixer, this version uses coconut juice for a more tropical and mellow taste. 
Don't be fooled – it's still quite strong, but the sweetness from the coconut helped make the drink easier to enjoy! 
We also got to try a variety of natural wines.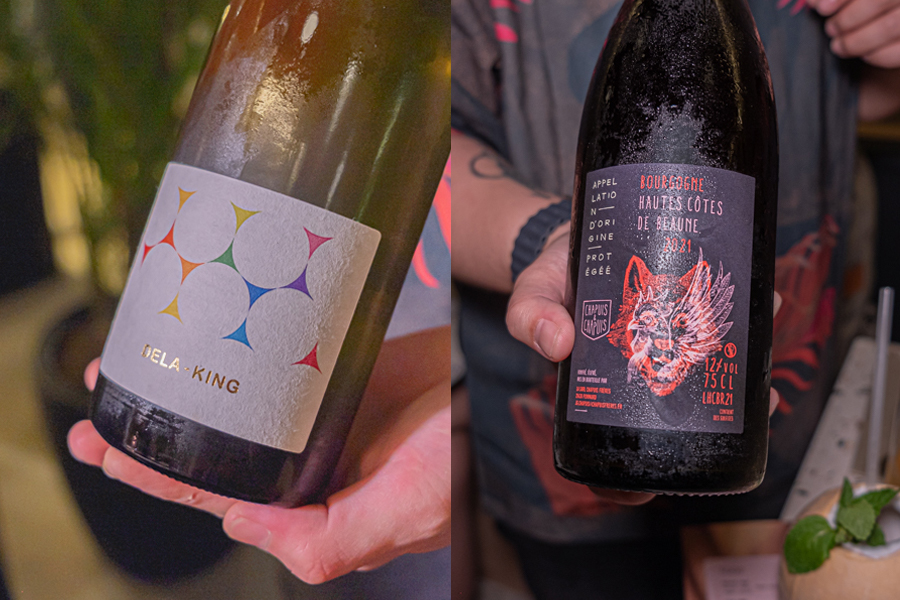 The 2015 Amelie & Charles Sparr Crement Celebration Blanc ($17/$85) was a sparkling wine from France, with pleasant notes of apple, pear and peach.
If you're up for something more adventurous, try an orange wine like the 2021 Fujimaru Table Top Daidai Iro Delaware ($24/$110) with notes of lychee and pineapple. 
There are also reds and whites like the 2021 Chaupis Freres Hautes Cotes De Beaune Rogue ($23/$105) and 2020 Domaine De La Patience Chardonnay Coteaux Pont Du Gard ($19/$90).
Indonesian-Fusion Restaurant In Joo Chiat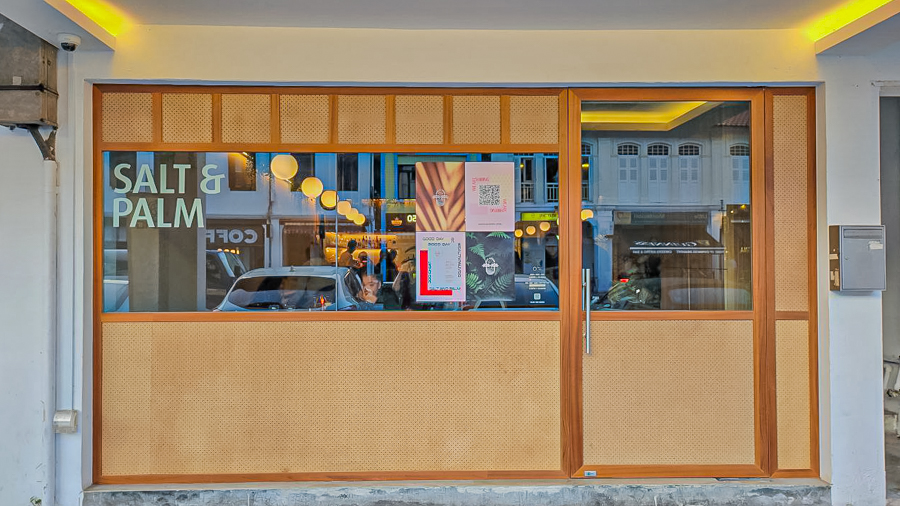 With a cosy atmosphere and a truly unique menu of elevated Indonesian-fusion dishes, Salt & Palm is sure to surprise and satisfy.  It's also well-located along the alcove of Joo Chiat alongside other names in the cafe scene. 
Keep an eye out for their official opening on 23 March 2023 and an upcoming brunch menu! 
Salt & Palm
467 Joo Chiat Rd, Singapore 427678
*Follow MiddleClass.sg on Facebook, Instagram, TikTok, and Telegram for more food, travel, and trending stories