Did you know that the Cold Storage in Compass One is one of the busiest in Singapore? Sporting a trendier and fresher new look, we visited the NEW Cold Storage at Compass One.
Brand New Cold Storage Look
Inspired by farmers' markets, the store has a rustic new look thanks to their sustainability initiatives, such as repurposing old pallets, using bamboo and recycled glass. The CS at Compass One is not going to be the only one undergoing a revamp, but all 22 Cold Storage outlets across the island will soon sport a newer, trendier look!
There are also special features such as a Potted Herb Wall, which is similar to the one you find at CS Fresh Gold at Paragon.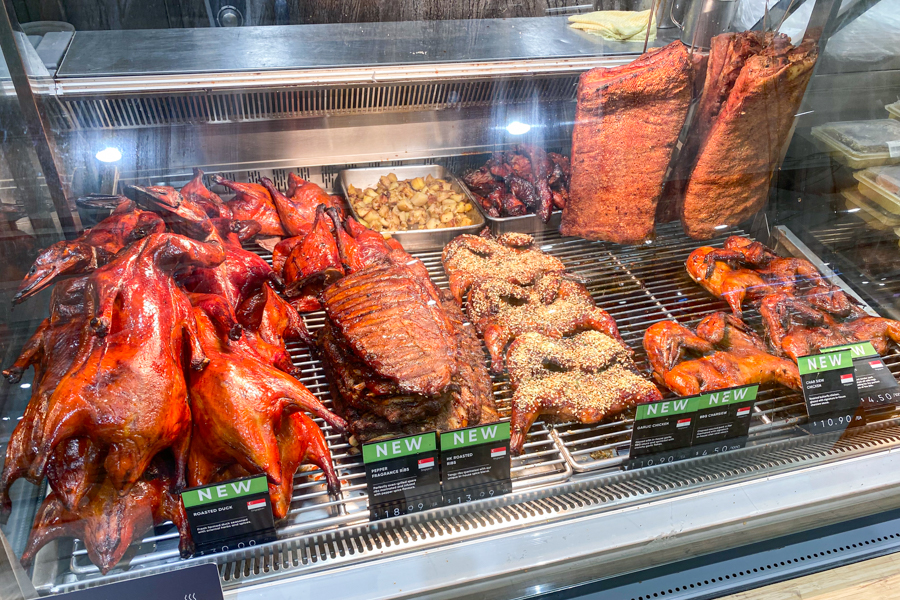 You can also find imported fresh meats with butcher counter service and extensive ready-to-eat selections such as Pepper Fragrance Ribs, HK Roasted Ribs, Garlic Chicken, BBQ Char Siew, and more.
Shoppers can also head over to the Pick-Your-Own Tong Tau Foo station where you can get a variety of ingredients such as Handmade Fish Balls from Dodo.
There's also a local fish counter with a free prep service.
We also realized that the selection for Korean food had more variety compared to other supermarkets. Here, we found Vegan Kimchi, lots of packed side dishes, and easy-to-cook items like Jjamppong, Naengmyeon, and Jjajangmyeon from Pulmuone. The essential condiments like Gochujang and Doenjang are also easily available.
Alcohol-lovers will appreciate the large selection of wines and spirits available at Cold Storage Compass One. We even found Ido Premium Organic Soju here!
Apart from the usual plant-based brands like Impossible Foods or Beyond Meat, here you can find items from Arlene as well.
Top Value Picks
Do keep a lookout for the bright red signs placed throughout the store, which are Top Value Picks by Cold Storage. These are usually daily essential items at low prices. The list is refreshed monthly, so you can look forward to more items going at great prices.
From now till 19 May 2022, some of their Top Value Picks include the Black Angus Chuck Steak going at $2 per 100g, Leafy Vegetables (Assorted) going at 3 for $2.50 and Fuji Apples going at 5 for $3.
*Follow MiddleClass.sg on Facebook, Instagram, and Telegram for more food, travel, and trending stories