Takeshi-San is an unassuming but cosy izakaya located in Holland Village, serving up a menu of affordable dishes and drinks. They have launched a refreshed food and drink menu that starts at only $5, including happy hour!
Visually Aesthetic Interior
Aside from its food, one of the highlights of Takeshi-San is the interior. You're greeted by a beautiful array of Japanese lanterns on the ceiling the moment you enter! The walls are decorated with retro Japanese-style posters that add to the atmosphere.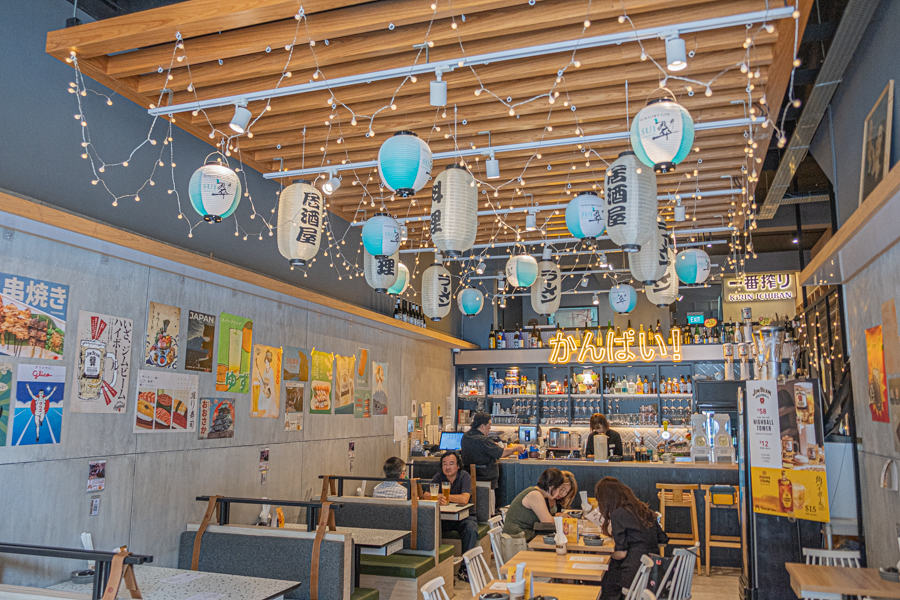 The high ceilings and light colour palette give the illusion of space, with a small second-floor seating corner.  Takeshi-san will also start hosting live band performances on Thursdays to Saturdays from 6.30pm onwards, so you can relax and unwind with great music. 
Takeshi-San Menu
The izakaya has launched a new menu with a plethora of small bar dishes, ranging from grilled to fried and even braised. Options start only from $5 and range to $8, including Lobster Salad ($5), Tori Karage ($6) and Ikura Chawanmushi ($8). The dishes are divided into five categories based on their method of preparation – yakimono, agemono, nimono, sushi and chinmi.  
There is a selection of alcoholic beverages, including sake, over 15 Highball options, Frozen Beer ($11), whisky and gin. 
Chinmi Chinmi Set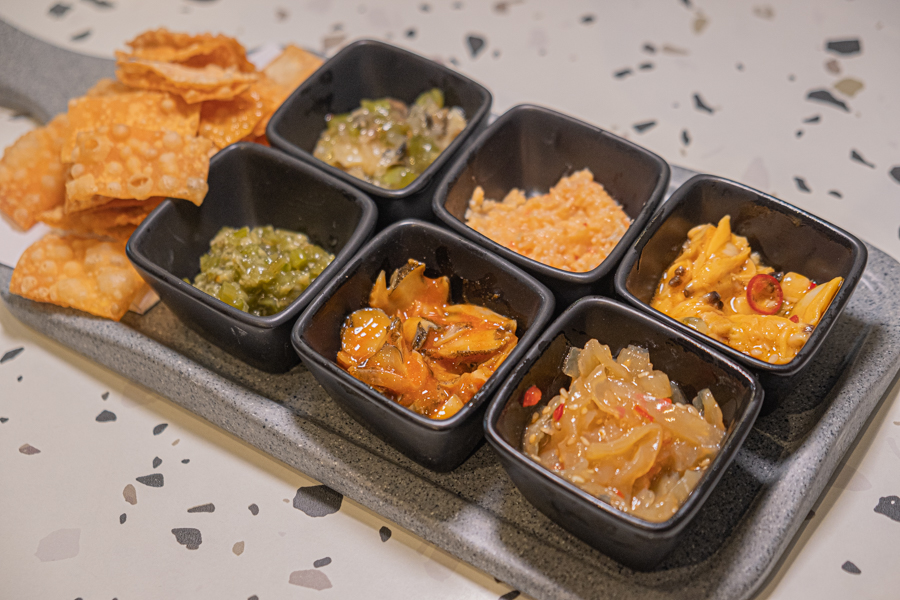 Chinmi refers to a rare delicacy, usually pickled/marinated Japanese seafood. You can sample six types of chinmi in the Chinmi Chinmi Set ($25) with fried crispy wonton skins. 
It looks a bit intimidating, but each dish is salty and well-seasoned, designed to be enjoyed with drinks! The crunch from the wanton skins added a great texture. 
Yakimono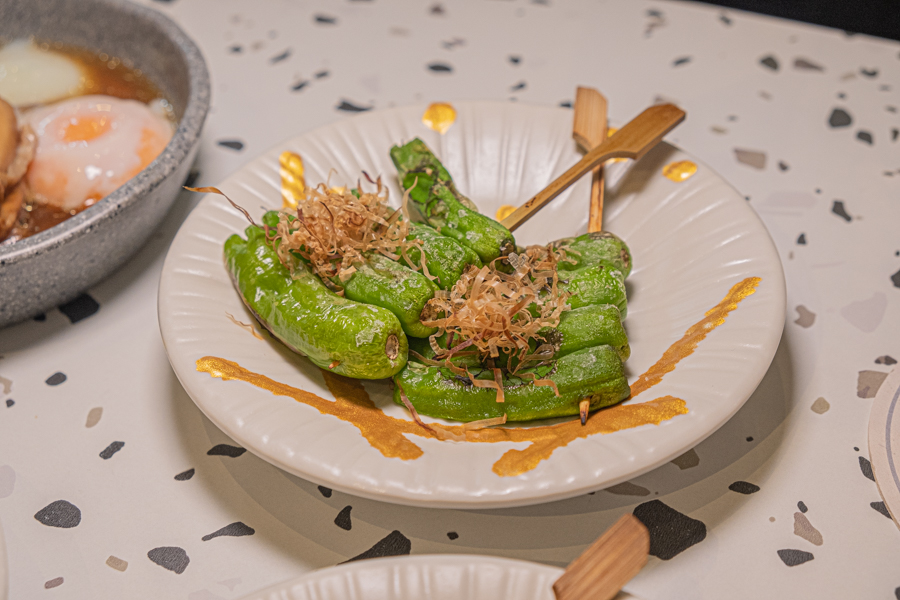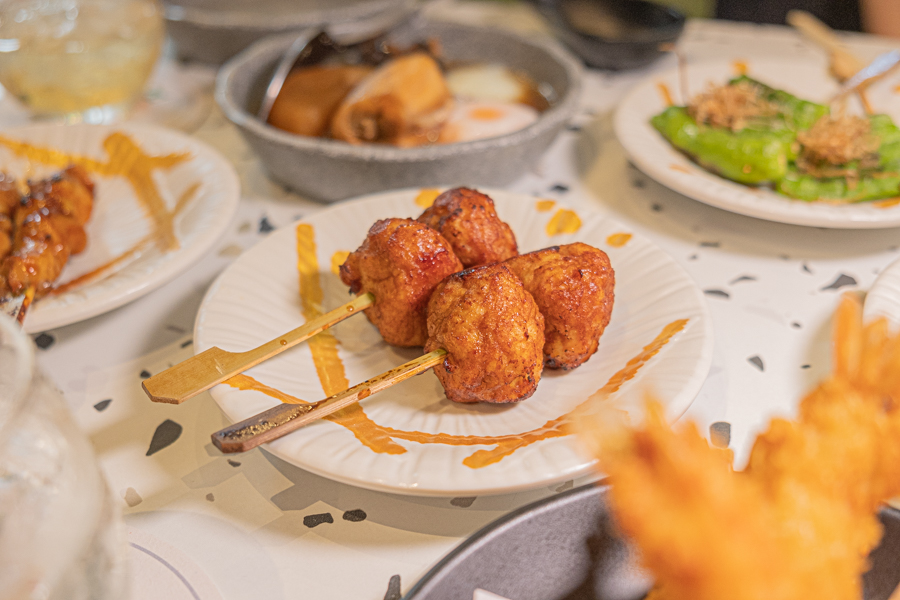 As the name suggests, yakimono refers to grilled dishes. You can choose from chicken Yakitori ($5) or Tsukune ($6) meatballs, seasoned with a sweet-savoury glaze. 
They are also vegetable skewers like Shishito ($6) and Shitake ($6); other options include Ehire ($6), stingray fins and Tebansaki ($6) wings. 
Agemono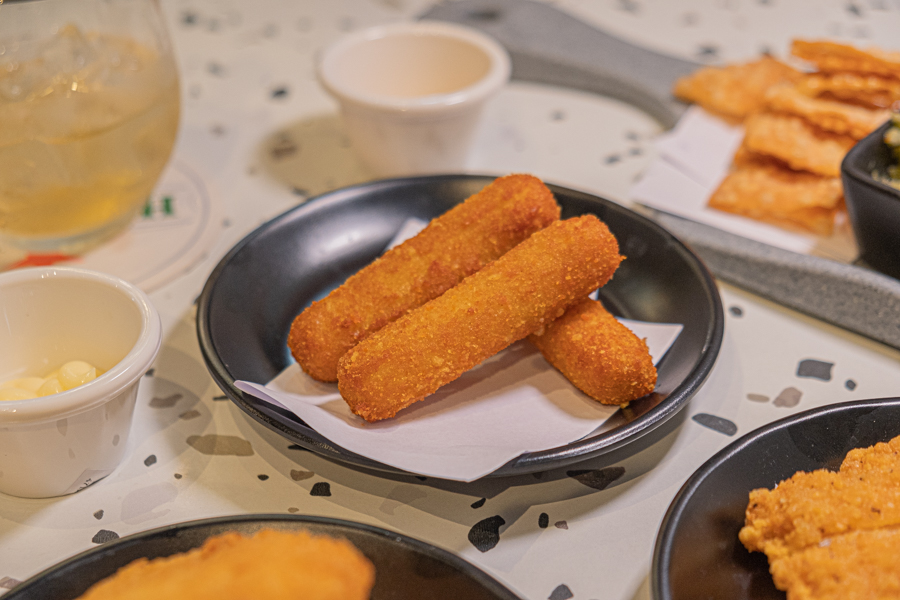 The fried items are called Agemono. The Corn Croquette ($5) had a crunchy exterior and gooey, creamy centre, while the Mozzarella Sticks with Spicy Sauce ($5) provided a great cheese pull.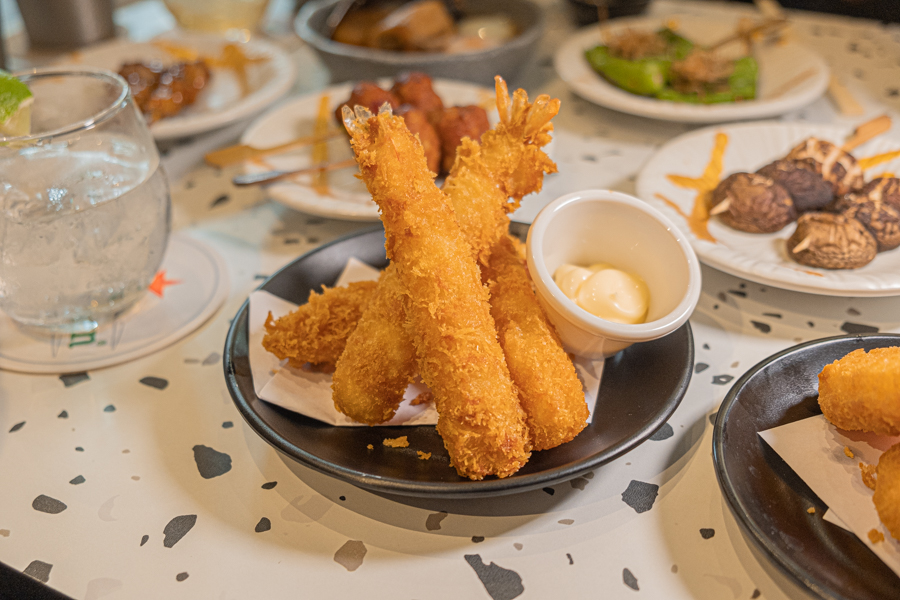 You can also get the Spicy Katsu ($5) and Ebi Fries ($8). All the items were served hot and crispy which paired great with their alcoholic drinks!
Nimono
Those who prefer milder flavours can opt for Nimono dishes, aka braised dishes. Try the Mushitori ($6), braised chicken with daikon, shiitake and an onsen egg. The broth was light but very flavourful with a tender bite of chicken.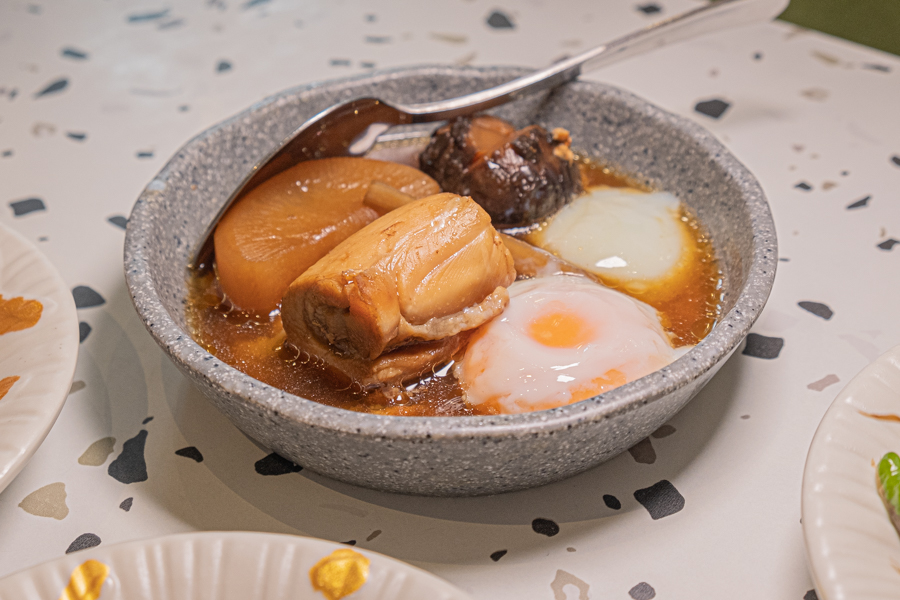 The Asari Soup ($6) had a generous serving of Japanese clams and mushrooms in an umami-packed soup. You can also get Nimono like Chawanmushi ($5) and Butani No Nikomi, braised pork ($6).
Sushi
No Japanese restaurant is complete without sushi! Takeshi-san offers nigiri options like Aburi Salmon Mentai ($6) and Hotate Nigiri ($8). 
We also got to try their Fireball Roll ($13), deep-fried sushi with crab stick salad and a spicy mayo dipping sauce; and the Incredible Hulk ($18) with unagi and avocado. Both rolls had a generous serving size!
Happy Hour & Promotions
Takeshi-san is now hosting a $5 Happy Hour from 5pm to 7pm, starting earlier so you can enjoy $5 drinks like a mini Suntory Highball, Cucumber Sui Gin Soda and Junior Pint Beer! 
To celebrate their new menu launch, you can get the Chinmi Chinmi Set at only $19.90 instead of $25 – perfect for a night out with friends!
Izakaya In Holland Village
Takeshi-San has always been a mainstay in the izakaya scene, but their new menu selection makes it an even bigger bang for your buck! 

Takeshi-San
38 Lorong Mambong, Singapore 277694
Mon-Thu: 12pm-2.30pm, 5pm-11pm
Fri, Sat, Eve of PH: 12pm – 2.30pm, 5pm-1am
Sunday & PH: 12pm-10pm
*Follow MiddleClass.sg on Facebook, Instagram, TikTok, and Telegram for more food, travel, and trending stories