Sushi-GO has opened a second outlet over at AMK Hub, right next to the cinema with a futuristic theme! This comes after their first outlet over at Jurong Point. The new outlet boasts 118 seats, with robots serving you plates of sushi.
Sushi-GO Ang Mo Kio
The new Sushi-GO outlet in AMK Hub immediately caught our eyes the moment we reached level 4 via the escalators. The bright storefront looked futuristic, especially with the electric blue colours, almost like a spaceship interior.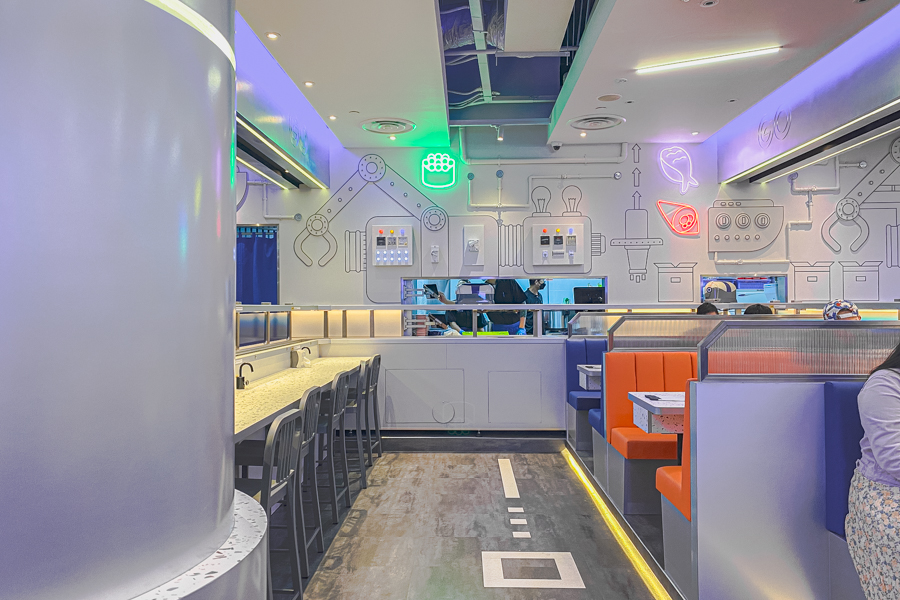 Usually, the service staff will bring you to your seats, but here at Sushi-GO, there was a robot "staff" who greeted us in Japanese and led us to our seats, which was a pretty cute experience.
We also got a glimpse of the cute mini robots zooming on the sushi tracks, which serve your orders to your table. They have different emojis on them which might be something attractive to families with young kids!
Sushi-GO Menu
The menu here at Sushi-GO has over 150 varieties of sushi, hot items, and desserts which are made fresh upon order before they are served via the cute robots.
Here are some items you can try when visiting Sushi-GO:
Salmon Dragon Roll & Salmon Sashimi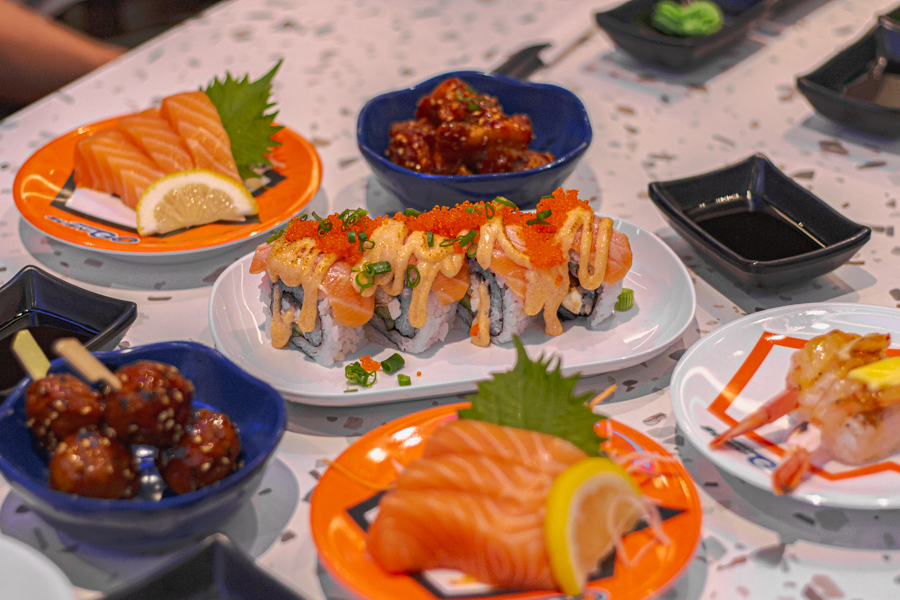 The Salmon Dragon Roll ($8.90) features unagi, cucumber, and cream cheese rolled with rice and seaweed before topped with seared salmon, mentaiko mayo, and shrimp roe.
Don't miss out on their thick Salmon Sashimi ($7.50) slices which come in a thick cut that is bound to satisfy salmon lovers!
GO-Tsumami Salmon
Bringing the usual Salmon sushi to the next level was the GO-Tsumami Salmon ($5.80 for 2pcs) which features slices of salmon pressed over vinegared rice topped with shredded crab stick and salmon roe for that extra oomph.
Aburi Shoyu Butter Hotate/Ebi Sushi
If you're a fan of scallops, opt for the Aburi Shoyu Butter Hotate Sushi ($2.80) which comes with a huge piece of flame-seared hotate scallop with teriyaki sauce topped with a thin slice of butter.
The Ebi version ($3.50) features seared red shrimp with teriyaki sauce and butter.
Torotaku Gunkan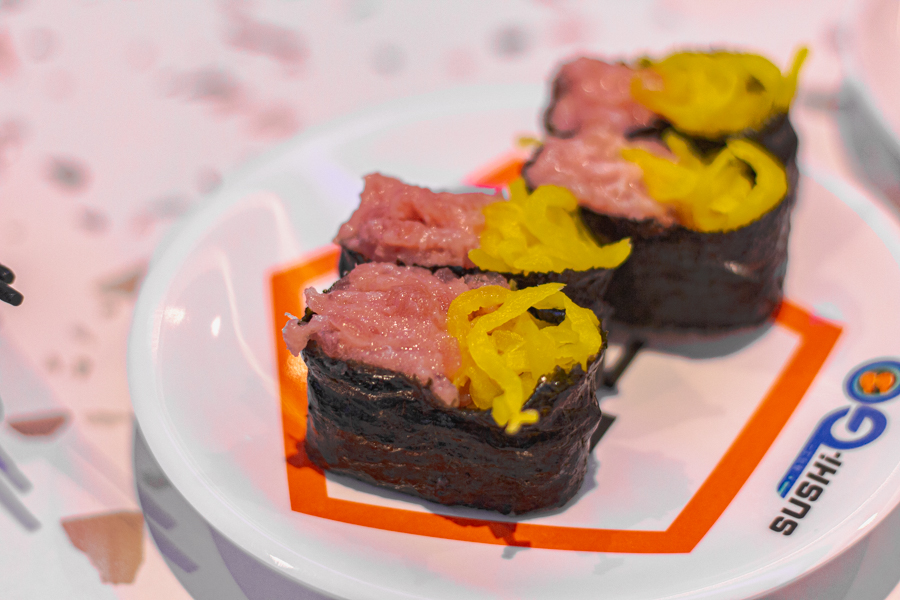 The Torotaku Gunkan ($2.30) is topped with minced fatty tuna and pickled radish which help to balance out the fatty flavours of the tuna.
There are lots of other new menu items such as Unagi Shiitake Gunkan ($2.30), Parma Ham & Cream Cheese Sushi ($2.50), and the Mentai Mayo-GO ($3.50) which features 3 different sushis topped with a creamy mentaiko mayo sauce.
End off the meal with some of their desserts, such as Matcha Cheesecake ($3.50), Matcha Daifuku ($3) or a serving of Matcha Warabi Mochi ($3.50) that's served with brown sugar syrup!
Opening Special Promotion
To celebrate the opening of the Sushi-GO AMK Hub outlet, they will be having unlimited $1 sushi all-day long, valid on 30 nigiri items from 30th to 31st Jul 2022.
Sushi-GO (AMK Hub)
53 Ang Mo Kio Avenue 3, #04-02, Singapore 569933
Mon-Fri, 11:30am-10pm, Sat-Sun, 11am-10pm
*Follow MiddleClass.sg on Facebook, Instagram, and Telegram for more food, travel, and trending stories