For anyone visiting Jeju, Black Pork is usually one of the food items you'll add to your itinerary as it's one of Jeju's famous dishes. We 100% agree that black pork is a must-try in Jeju, and if you do, always go for the best. Sukseongdo (숙성도) is one of those places in Jeju city that constantly attracts long queues and raving reviews.
Sukseongdo in Jeju
Located in downtown Jeju, which is close to the Jeju airport, Sukseongdo is a famous restaurant serving black pork. We immediately knew the extent of how popular the restaurant is as the place is packed no matter what time you visit.
We planned our itinerary around the restaurant and grabbed a queue number for dinner at 4:30pm. We managed to get a seat around 6:45pm. When we asked the staff how the queue situation is on a daily basis, he mentioned that people start queuing at 9am even when the restaurant opens at 11am.
Getting a queue number early is important as they do close the queue from time to time.
The restaurant started as a single outlet, and now they have opened a second outlet along the same street (just a quick walk away). We were directed to the second outlet when our number was called.
Menu at Sukseongdo Jeju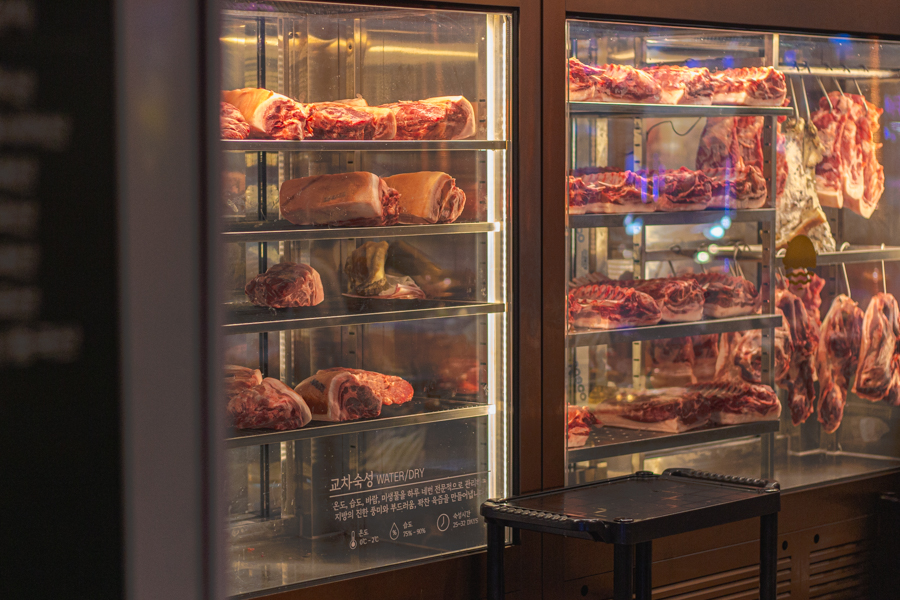 Sukseongdo is known for its aged meats, which isn't surprising as Sukseong translates to ageing in Korean.
We found a whole display of meat in an ageing shelf where they undergo the ageing process in a controlled environment, for a period of 25 to 32 days. This helps elevate the flavour of the meat and improves the texture of the meat as well.
For meats, the most famous cut is the 960 Sukseong Black Bone-in Sirloin (960 숙성 흑뼈등심) priced at 37,000won for 360g. However, this cut is limited to 80 servings per day, and was already unavailable during our time of visit. They have other cuts such as Samgyeopsal and Moksal.
As for side dishes, you can find unique items such as Hairtail Salted Gut Fried Rice 갈치속젓볶음밥 (8,000won), Flatfish Sashimi Bibimguksu 가자미회 비빔국수 (8,000won) and Dongchimi Young Radish Guksu 동치미열무국수 (8,000won).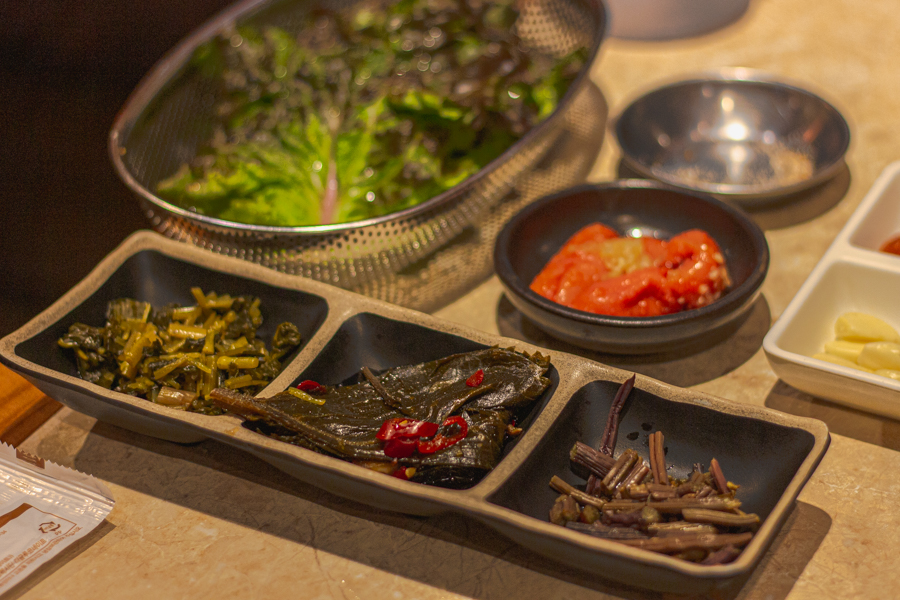 After ordering your meats, you'll notice lots of small dishes on your table. Unlike the usual BBQ places that serve bright red kimchi, you'll find none of that here. Instead, there's a plate of 3 side dishes: Perilla leaves, pickled radish and bracken stems.
Along with that was also a basket of fresh lettuce for wraps, some pollack roe, garlic slices and pink seasoning salt. (Do note that the pollack roe is not refillable for free, and costs 3,000won for an additional serving)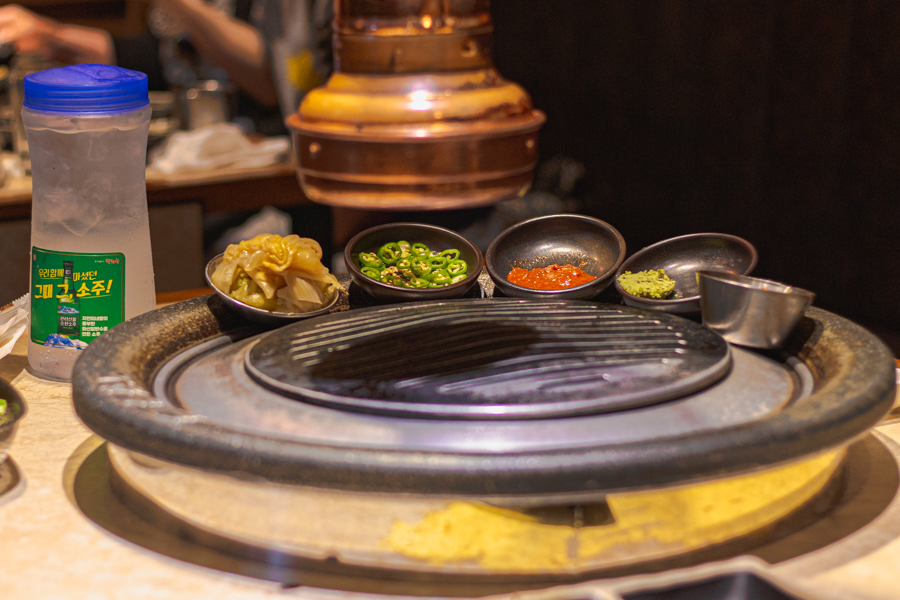 On the grill, there was white kimchi, green chilli, salted anchovies, salted hairtail, and wasabi with canola flowers.
We ordered the Aged Pork Neck (21,000won for 200g), Aged Pork Belly (21,000won for 200g) as well as the Hangjeongsal (21,000won for 200g). They were served all at once together with Kimchi Jjigae.
The staff will help to grill the meat for you and recommend you the best way to enjoy the meat.
We were told to pair the pork belly with some salted hairtail, which turned out to be an amazing combo, an explosion of flavours between sea and land. The texture of the pork belly was juicy and there wasn't any gamey flavours.
Our favourite cut was the Aged Pork Neck (aka moksal in Korean) which burst with juices the moment we bit into it.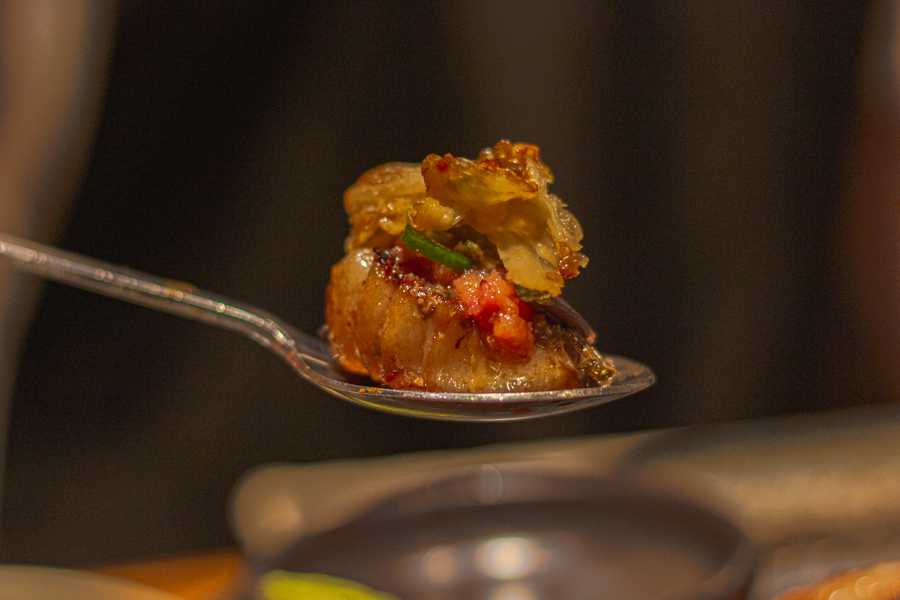 Another way to enjoy the meat (as taught by the staff) was to dip it in salted anchovy and pair it with pollack roe, wasabi, a piece of green pepper and grilled white kimchi. We got multiple textures from this combination, and everything worked together to provide a harmonious explosion in our mouths.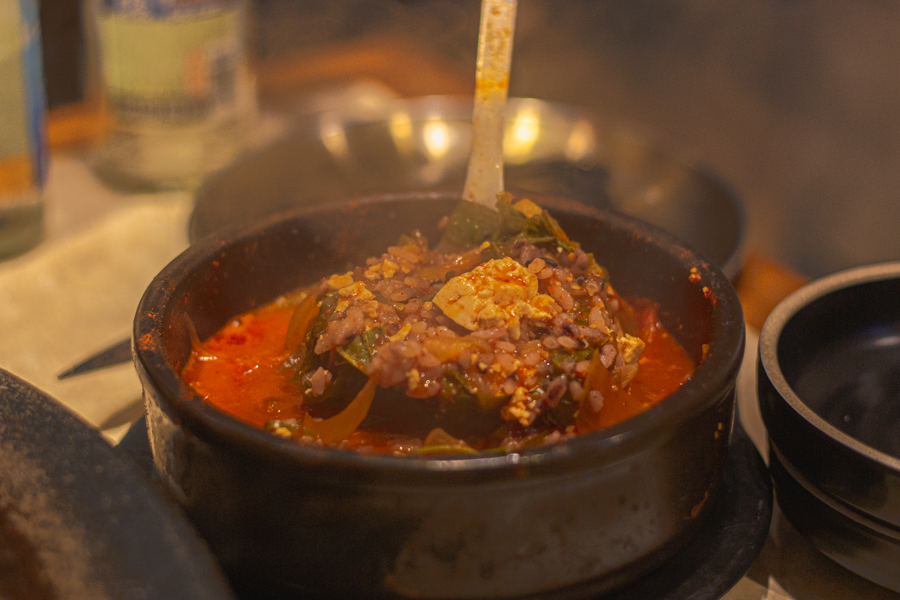 To go together with our meal, we also ordered the Doenjang-sulbap (8,000won) which is something like Doenjang Jjigae, but with rice in it. The soup wasn't too salty and had a deep flavour to it, which called for a shot of soju.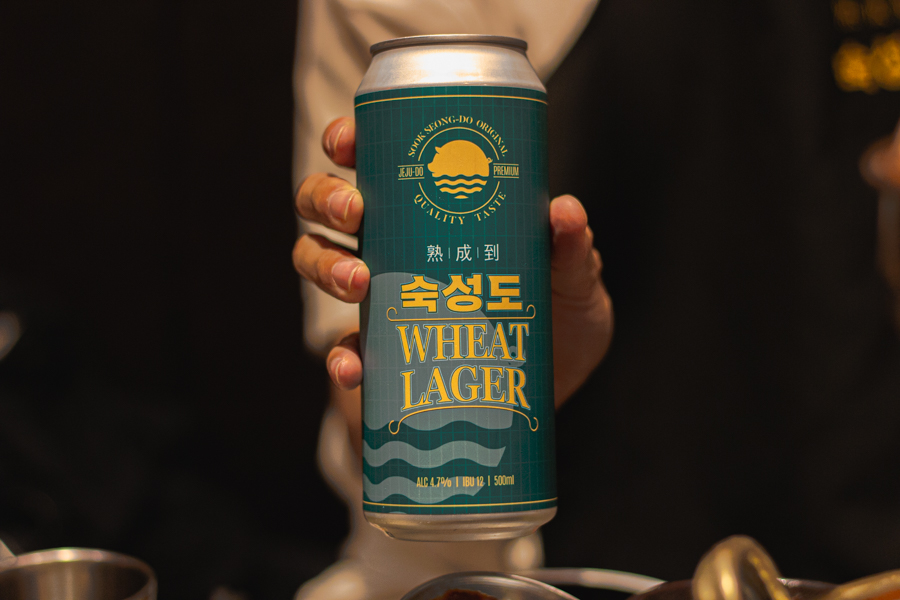 If you're not a soju fan (make sure to try Hallasan Soju when in Jeju!), you'll be glad to know that the restaurant also has their own brand of Wheat Lager (7,000won)!
Best Black Pork Restaurant in Jeju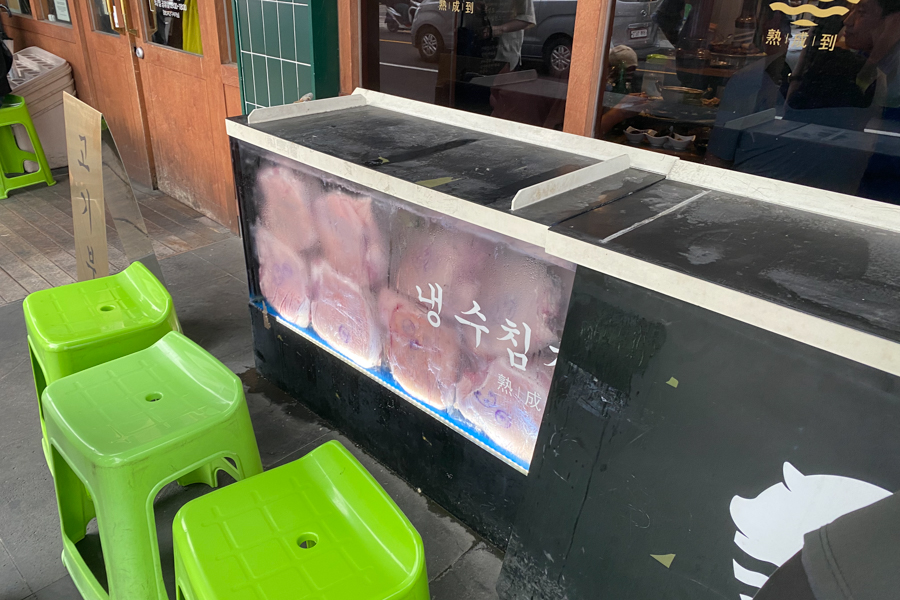 Sukseongdo undoubtedly provided us with one of the best black pork experiences we've had in Jeju. If you're thinking of visiting this restaurant, here are some things to take note of:
If you're visiting in groups of 6 or more, you'll have to head to the counter instead of just getting a queue number
All members of your dining party should be present when your number is called
Dining time is limited to 2 hours after 5pm
There's not parking at the restaurant, do head to the nearest public parking lot at Nohyeong-dong 913-5 or Nohyeong-dong 932-6
There are multiple outlets in Jeju, but the one we visited is the main outlet at Nohyeong-dong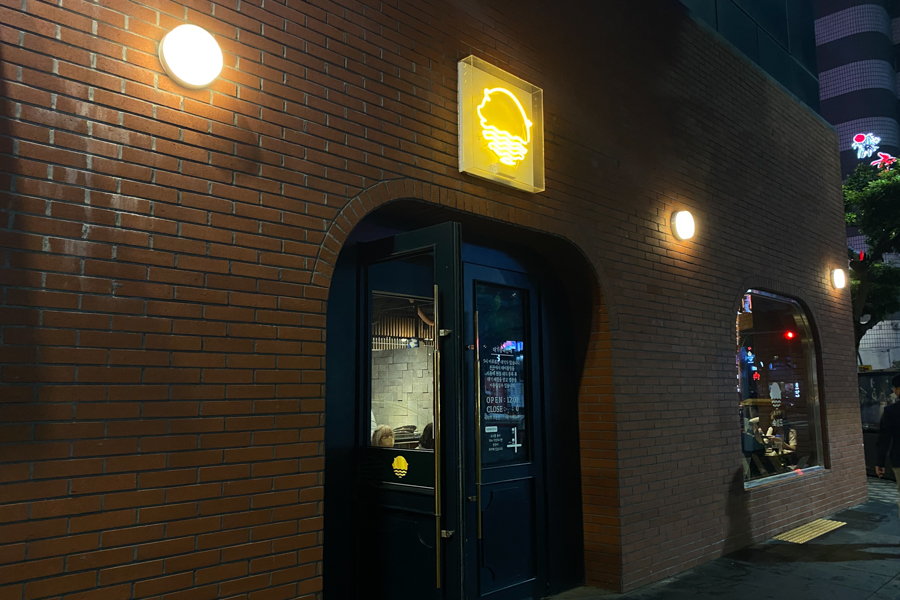 Sukseongdo (숙성도 노형본관)
41 Wonnohyeong-ro, Jeju-si
제주 제주시 원노형로 41
Mon-Sun, 11am-9pm
*This is an independent review by MiddleClass.sg.
*Follow MiddleClass.sg on Facebook, Instagram, and Telegram for more food, travel, and trending stories!