With full-service buffets and gatherings resuming in Singapore, it's the best time to host a party for friends and family you love most! Stamford Catering is now offering a tantalising halal Korean buffet spread for all your needs featuring your favourite Korean dishes like Japchae, Kimchi fried rice, Bibimbap and more. 
Korean Buffet Menu 
This Korean buffet menu is a collaboration with Chef Kevin Nam of the popular SBCD Korean Tofu House to curate authentic Korean flavours with each dish. There are two different sets – Daebak Korean Buffet Spread ($18/pax for min. 30, $22 for min. 25) and Daebak Korean Party Set ($200/pax or $240/pax for min. 10) – each with two different menu options for your choosing.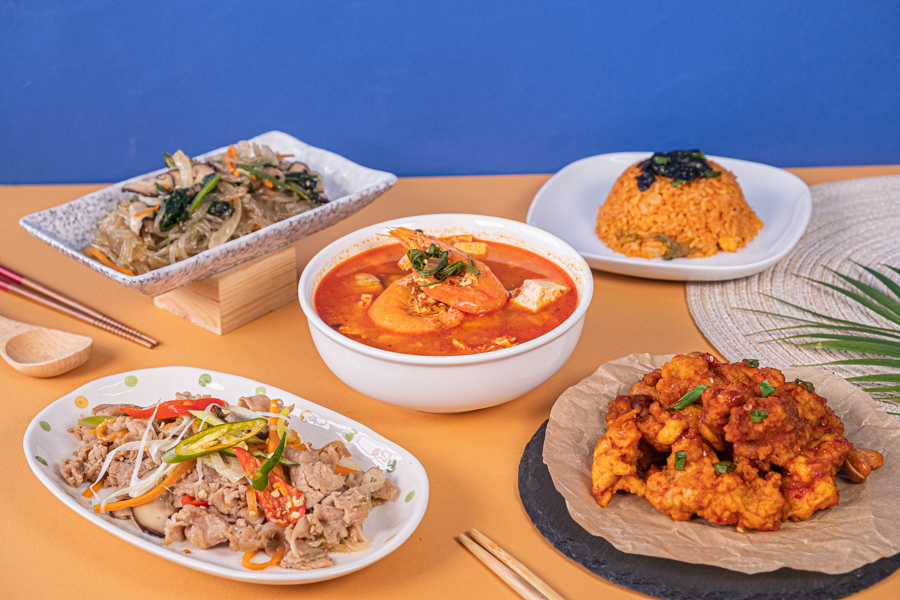 The Daebak Korean Buffet Spread is good to feed a larger party, while the Daebak Korean Party Set is more suited for intimate, at-home gatherings. The full menu selection features a combination of hearty mains and a line of banchan (korean side dishes), depending on which set menu you choose. 
The mains include quintessential Korean dishes like Japchae, Kimchi fried rice, Bulgogi and pancakes. While it seems like an expected selection of food, each item was chosen with the intention of showcasing the Korean philosophy of balance and wellness. Korean cuisine also emphasises on communal eating, making a buffet concept a perfect setting for you to enjoy these dishes with loved ones. 
You can also choose from other dishes like Jjajjangmyeon and Dakgangjeong (sweet-spicy Korean fried chicken), all familiar dishes from popular Korean dramas or reality shows. All the menus will feature SBCD Korean Tofu House's signature Soon Tofu Ham & Cheese or Seafood Soup made in a halal version, so you can enjoy the full-bodied flavour of the secret recipe soup base. The items come well-packed with all the utensils you need including serving tongs and a soup ladle, so you just need to show up and enjoy!
Stamford Catering offers an attractive lineup of hearty and tasty Korean food designed to be shared, perfect for a Korean-inspired party or a close family gathering. Order the buffet sets online at their website. 
*Follow MiddleClass.sg on Facebook, Instagram, and Telegram for more food, travel, and trending stories