Cafe Knotted has come a long way from being a simple donut cafe to one of the most popular donut brands in Korea. With each outlet attracting long queues for their coveted donuts, the brand has opened Knotted World, their largest outlet yet in Seoul, located in Jamsil's Lotte World Mall.
Largest Cafe Knotted in Korea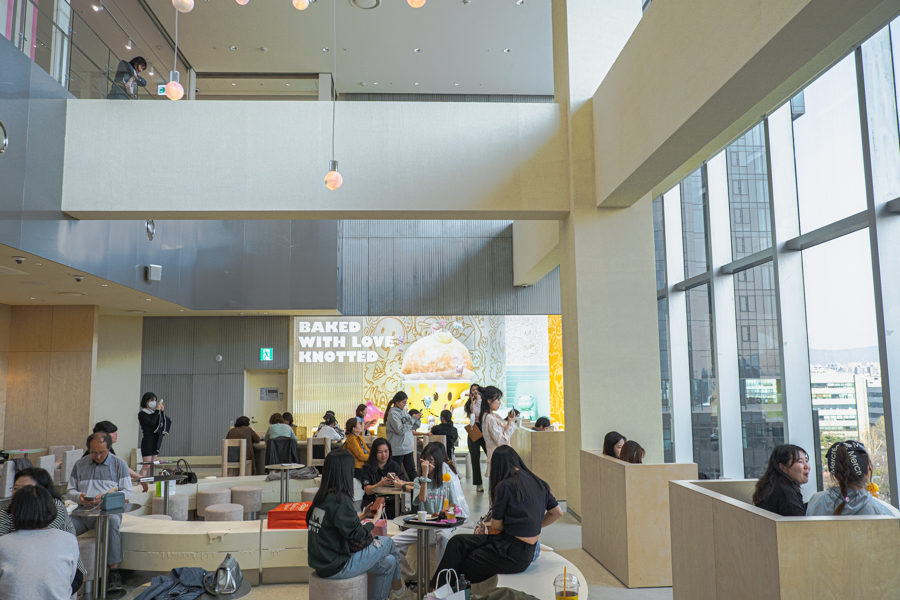 Right next to the iconic Lotte World Tower, Knotted World occupies a large space on the 5th floor of Lotte World Mall, where you'll be greeted by tall ceilings and amazing ceiling-to-floor windows which provide an unobstructed view of Seokchon Lake.
Knotted World has two floors and surprisingly, only the first floor is filled with seats. Pick from the ones facing the Seokchon Lake, or the ones sharing a communal S-shaped stool.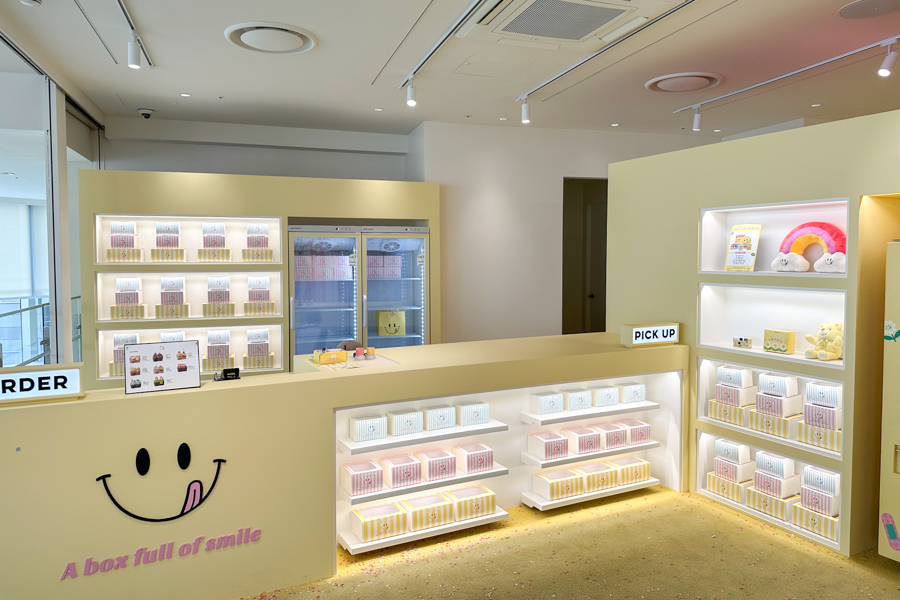 On the 2nd floor, you'll find lots of cute installations featuring their donuts and cupcakes. There's also an exclusive cupcake-only ordering counter on the 2nd floor. If you would like to order other items from the store, the 1st floor is the place to do so.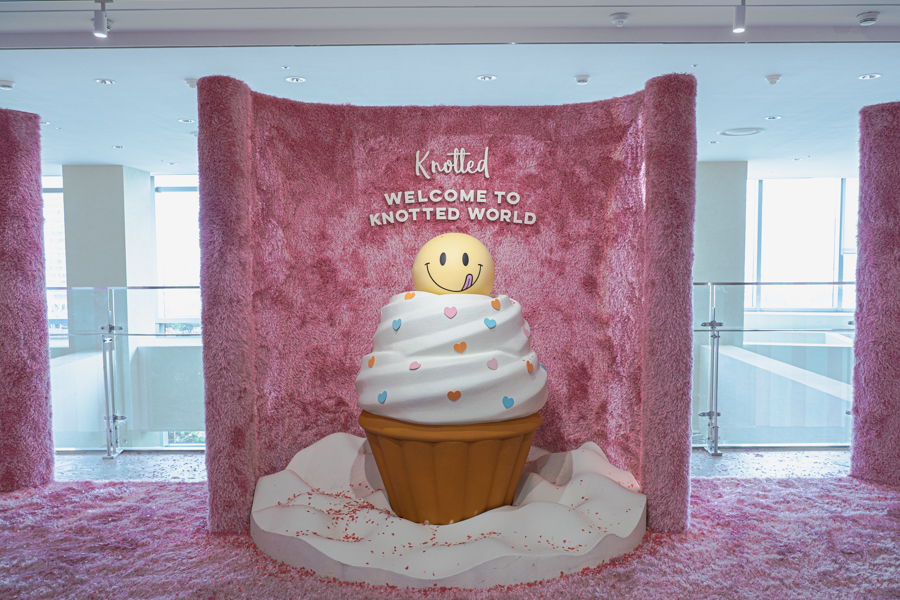 Getting a seat here isn't that easy, you'll have to get a queue number at the entrance of the cafe, and once they call your number, you will still have to fight for seats when you're inside. Since the cafe was newly opened, it was more crowded than usual. Hopefully, as operations continue, they will better their system and provide a more seamless experience for customers.
Menu at Knotted World
As mentioned previously, Knotted World is currently the only outlet to offer Knotted Cupcakes. There are 8 different flavoured cupcakes, each priced at 5,500won. Here are the eight flavours:
Rainbow Vanilla Cupcake
Banana Caramel Cupcake
Deep Chocolate Cupcake
Pistachio Cherry Cupcake
Twinkle Berry Cupcake
Berry Love Choco Cupcake
Mint Chocolate Cupcake
Green Tea Chocolate Cupcake
Apart from the cupcakes, you'll also find the famous donuts here, with over 12 different variations to choose from, such as the Hazelnut Chocoball Donut (3,900won), Classic Vanilla Donut (3,500won) to flavours like Kaya Butter (3,900won) and Mint Chocolate (3,900won).
There are also croissants and buns to choose from.
The cupcakes aren't the only special thing here at Knotted World. There are also exclusive slushies that come in the cutest packaging in two different flavours – Pink Cloud Lemon (5,000won) and Smile Peach (5,000won). Maybe because Lotte World is right next door, these slushies will make you feel like you're in an amusement park!
However, if slushies aren't your thing, no worries! The usual coffee and beverage menu is also available here, with new items like Nurungji Milk Tea (6,000won) and Raspberry Milk (6,000won).
Knotted Jamsil Lotte World Mall Outlet Review
We tried out 2 of their cupcakes, the Cherry Pistachio and Rainbow Vanilla. Both cupcakes hit the mark in terms of texture, which was moist and airy. The Cherry Pistachio cupcake had a cherry filling and was topped with a nutty pistachio cream, which was aromatic and very pistachio-y! The Rainbow Vanilla had such a cute topping decoration and was a pleasant treat for both the eyes and stomach.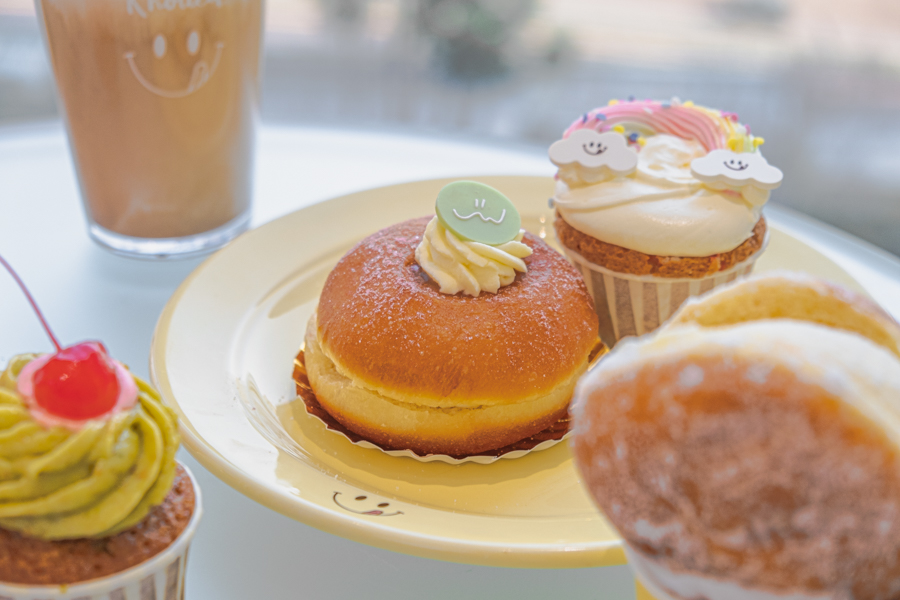 Apart from the donuts that were listed on their menu, we went for the My Sweet Peach (4,200won) which featured a peach jam sandwiched in between the doughnut, topped with a small blob of cream. We loved the texture of the doughnut which was light and airy, not too oily, and the peach jam was fruity and not too sweet!
However, our favourite donut from Knotted is still undoubtedly the Milk Cream Donut (3,900won) – so we got that as well! Our first time trying this was in Knotted Peaches and it still tasted amazing!
As for the drinks, we had to try one of the slushies and we opted for the Smile Peach (5,000won) flavoured one. Unfortunately, this was merely an okay drink, but you do get a cute bottle which we've seen people bringing home with them! If you're visiting with your kids, this would be a great option.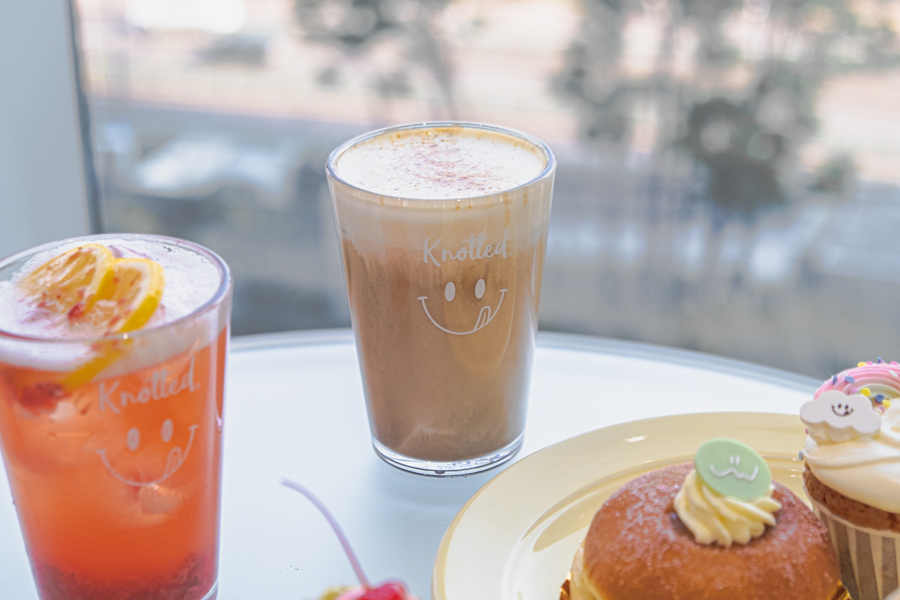 We also tried the Knotted Cream Coffee (6,300won, iced only) which was topped with a smooth cream that went well with the medium-bodied coffee.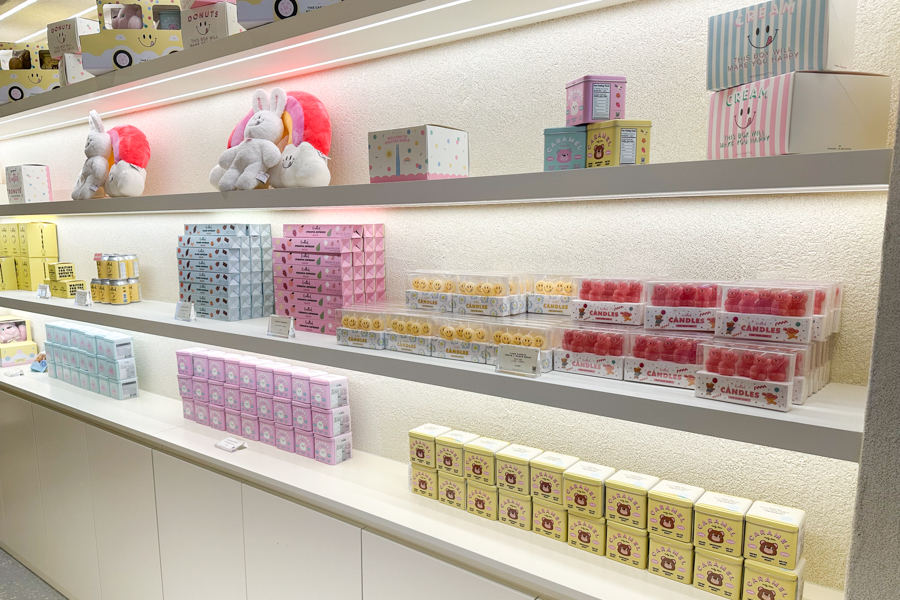 After having a sweet treat, the exit area also has a gift shop area where you can get cute goods and items from the Knotted brand!
Popular Donuts in Seoul
Knotted World is currently one of the hottest spots in Seoul. If you're around the area exploring Lotte World or the mall, we recommend heading down first to get a queue number as the wait can take quite long, especially during weekends.
Knotted World (노티드월드)
5F Lotte World Mall, 300 Olympic-ro, Songpa-gu, Seoul
서울 송파구 올림픽로 300 롯데월드몰 5층
Mon-Sun, 10:30am to 10pm, Last Order 9:30pm
Nearest Subway: Jamsil Station (Line 2, Line 8)
*This is an independent review by MiddleClass.sg
*Follow MiddleClass.sg on Facebook, Instagram, TikTok, and Telegram for more food, travel, and trending stories