When we saw Cafe Margaret opening in Singapore, we knew we had to cover it. The popular dessert cafe from Yeonnam-Dong, Seoul opened its first permanent outlet in Bali Lane and perfectly replicates the Korean cafe experience! 
Cottage Core Vibes With A Vintage Touch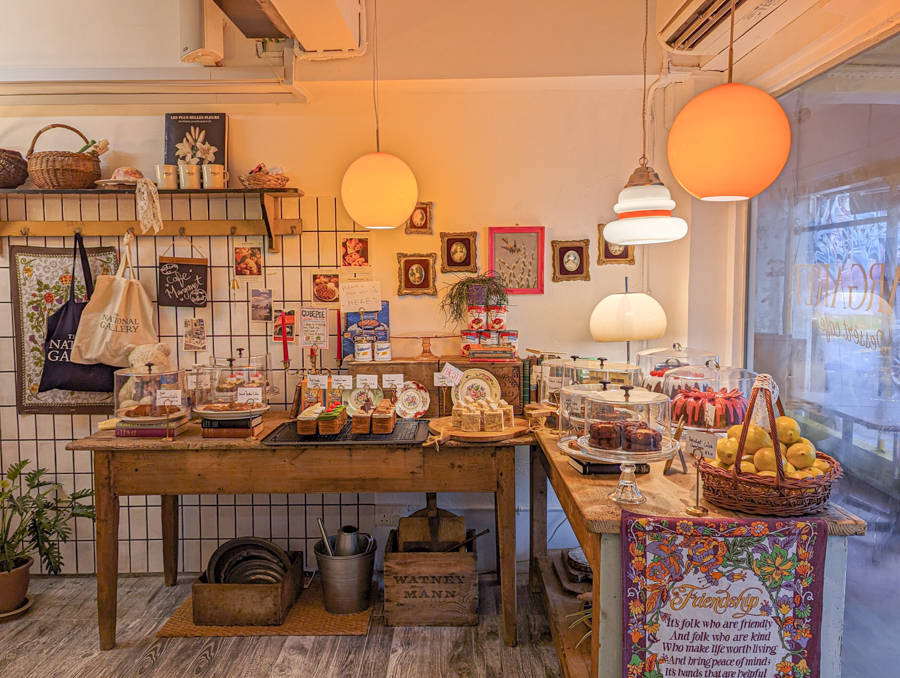 When we first stepped into the cafe space, we felt like we had been transported back to Korea. The set-up and overall design are exactly like those cafes in Seoul!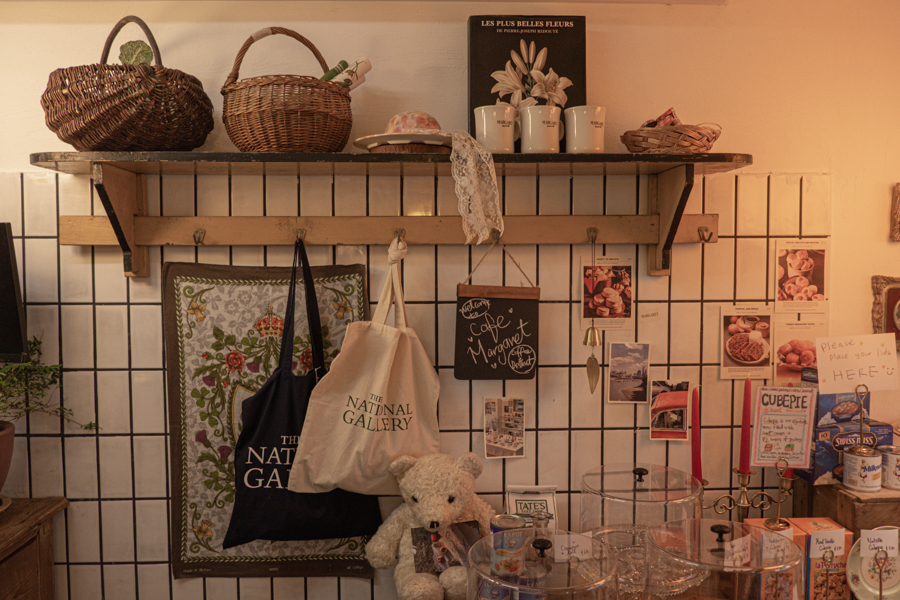 The cafe spans two floors with the main seating on the upper floor. Their bottom floor boasts an open display of their bakes, complete with cute trinkets and vintage decor – an aesthetic style that the Koreans have mastered.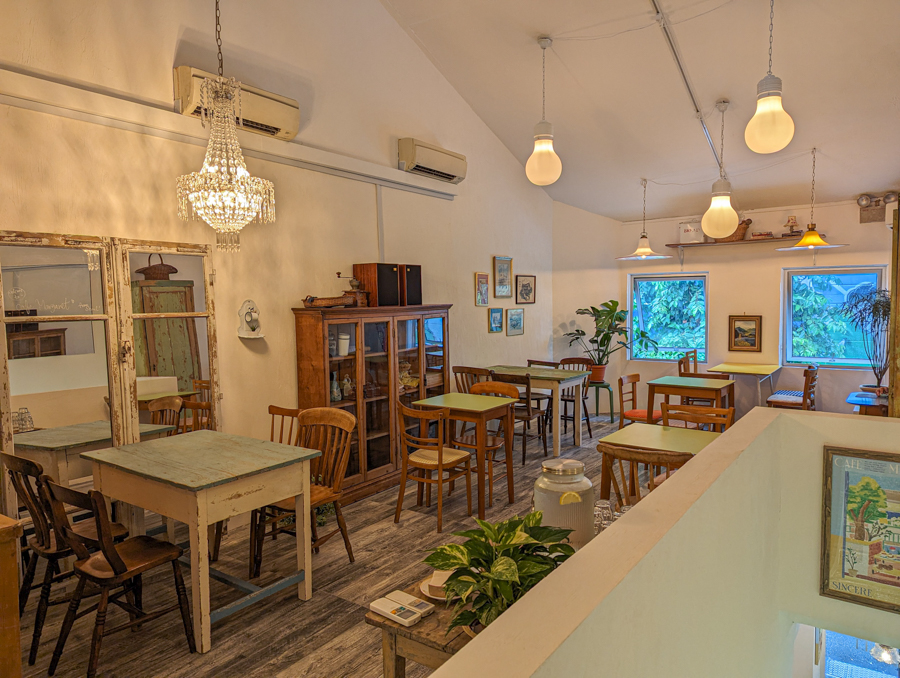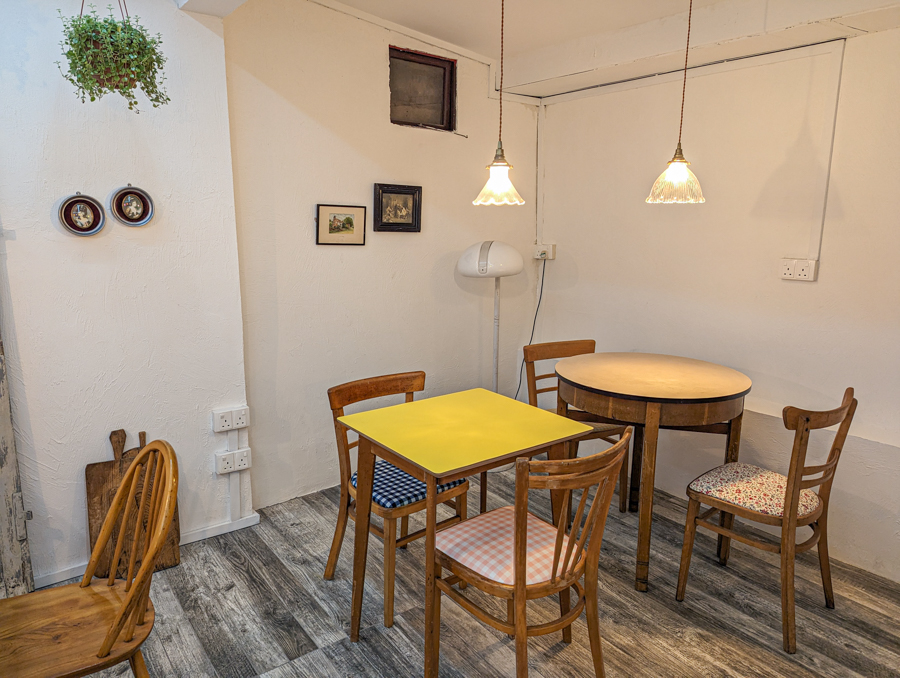 The seating area oozes cottage core vibes, decorated with wooden furniture, retro lampshades and quirky paintings. It was stylish but comfortable and extremely photo-worthy. 
Cafe Margaret Menu
The staff shared that the menu in Singapore is largely the same as their Korean counterpart, and will have seasonal rotations in the future. The main lineup includes cookies like Red Velvet Cheesecake ($5.10) and Black Chocolate Strawberry ($4.90); plus cakes like Raspberry Poundcake ($7.50).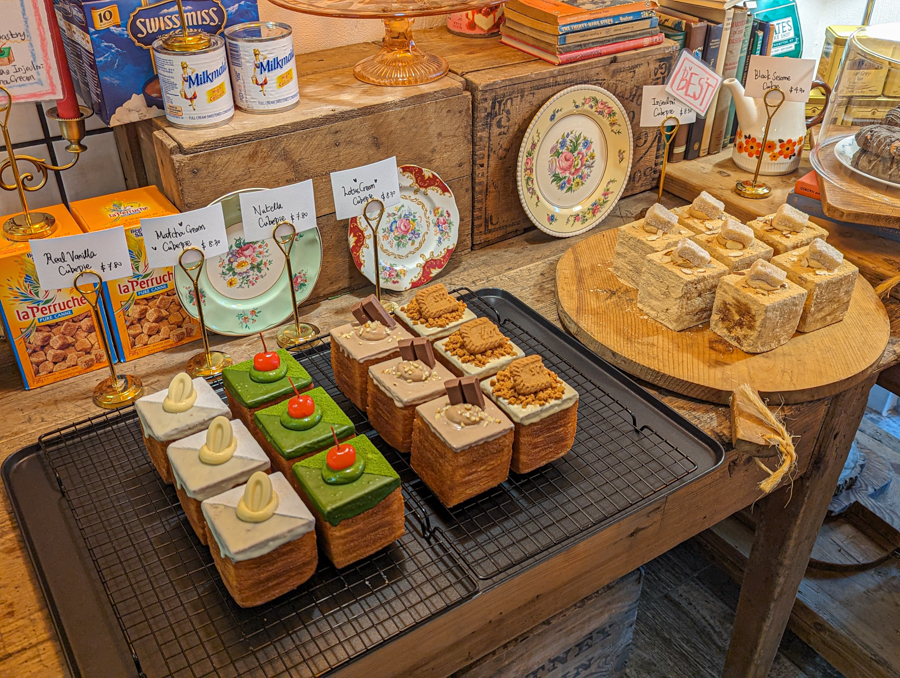 Their star item is the Cube Pie, boasting 72 layers of flaky pastry with different cream fillings like Real Tiramisu Cookie ($5.10) and Peanut Butter Cookie ($4.90). Do note the Cube Pies are only available from 10.30 am on weekdays and 11 am on weekends! 
For drinks, they offer a variety of coffee and non-coffee options. There are two coffee blends: E.Classico, a nutty 70-30 Arabica and Robusta blend and the Dolce Oro, a chocolatey blend from 100% Arabica beans. 
They are available in Americano ($5.20 Classico/$5.50 Dolce) and Latte ($7.20 Classico/$7.50 Dolce). Non-coffee options include Lemon Ginger Tea ($5.50), Dirty Matcha ($8) and Grapefruit Ade ($7.80).
Cube Pie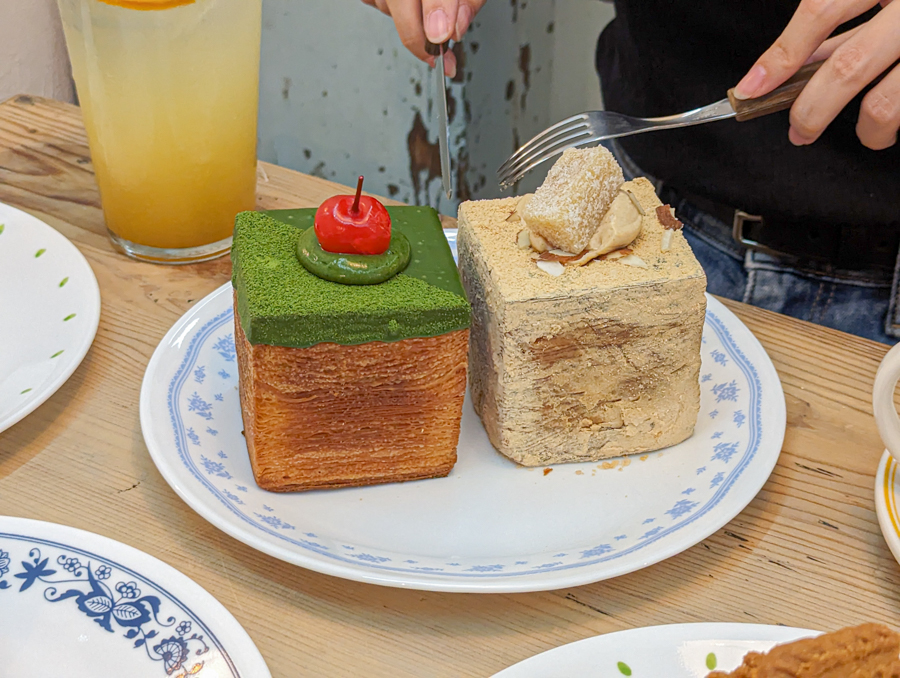 We tried the signature Injeolmi ($8.30), Lotus Cream ($8.30) and Matcha Cream ($8.30) Cube Pies. The visuals on these were stunning, with the visible layers of pastry and ornate decorations on the top.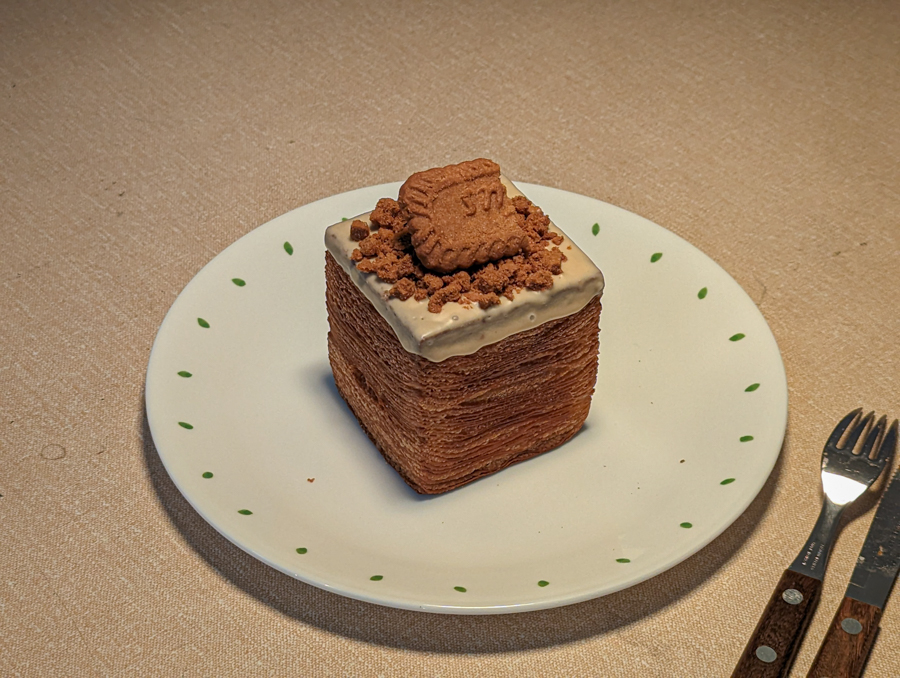 The pastry was crunchy, flaky and had a great buttery fragrance, essentially like a croissant dough. Each one was also packed to the brim with cream filling!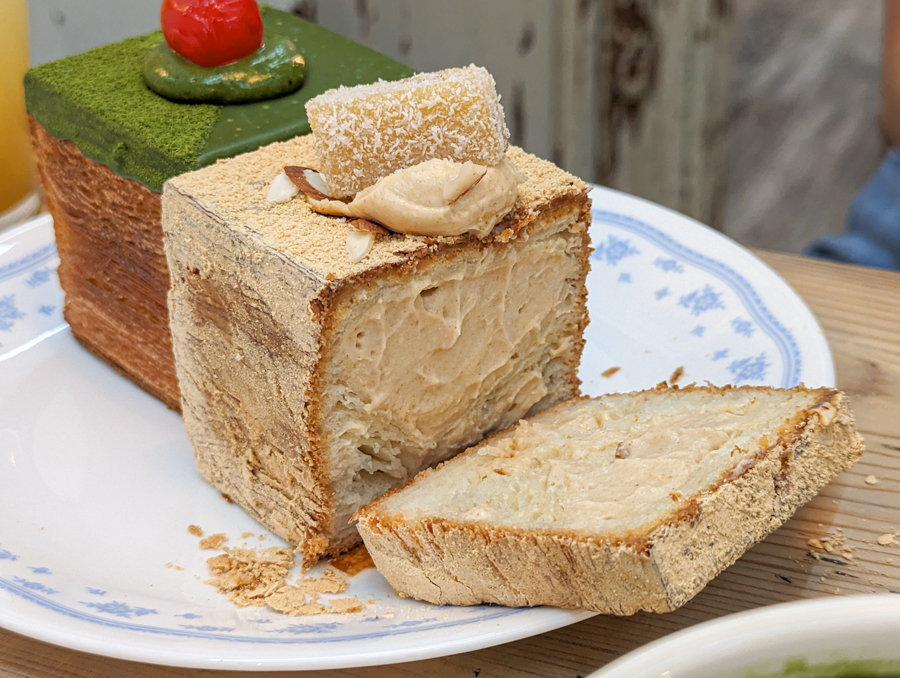 Our favourite and must-order is the Injeolmi, with a nutty flavour from the bean powder pairing perfectly with the slightly sweetened cream. The Lotus Cream is a sure hit if you're a fan of Lotus, both filled and topped with crumbled biscuits. 
We felt that the Matcha Cream flavour reminded us of matcha Kitkat with undertones of chocolate. It still had the slight bitterness and fragrance of tea, but may not satisfy if you prefer a concentrated matcha flavour. 
Cinnamon Roll

The Cinnamon Roll ($6.70) caught our attention with the cute Singapore flag ornament! It uses a flaky pastry similar to the Cube Pie instead of regular bread dough, which we found quite interesting. 
The buttery pastry paired perfectly with the warmth from the cinnamon sugar mixture and cream cheese frosting. We do think more cinnamon could be used, as the taste of cardamom stood out more to us. 
Black Sesame Cookie

The Black Sesame Cookie ($4.90) took us by surprise. The cookie was hefty, dotted with cashews in the batter and a chocolate drizzle. It was chunky and had a crumbly, cakey texture with a soft centre.
Each bite had a strong nuttiness and fragrance from the black sesame. Cashews were the perfect nut choice, providing a slight creaminess to compliment the sesame flavour!
Juicy Lemon Pound Cake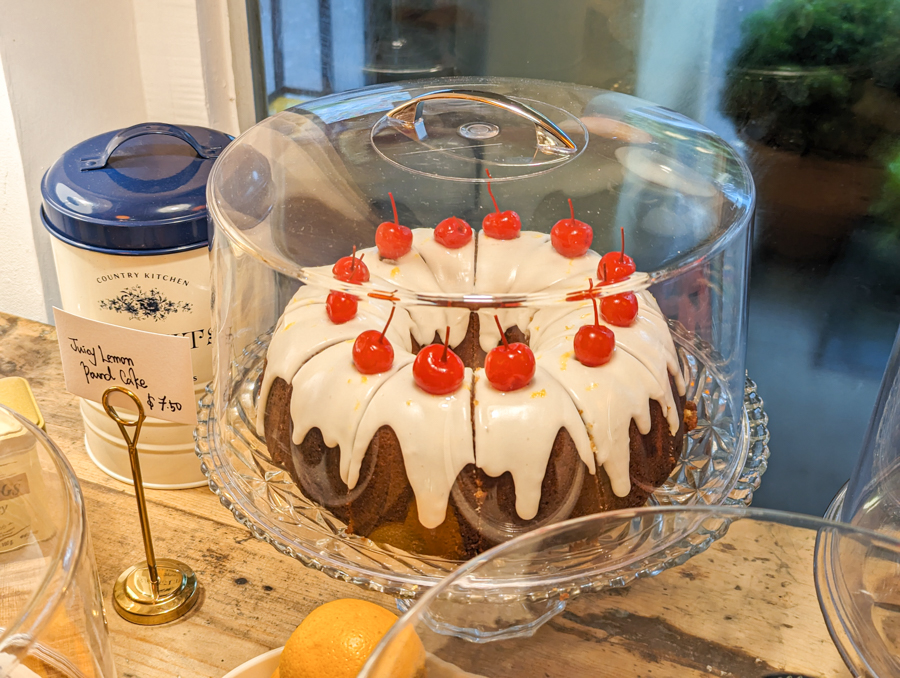 True to its name, the Juicy Lemon Pound Cake ($7.50) features a moist cake with picture-perfect white icing. 
It was indeed juicy, soaked thoroughly with lemon syrup which provided an enjoyable citrusy flavour. We think it could be tangier for better balance as it leaned on the sweeter side.  
Drinks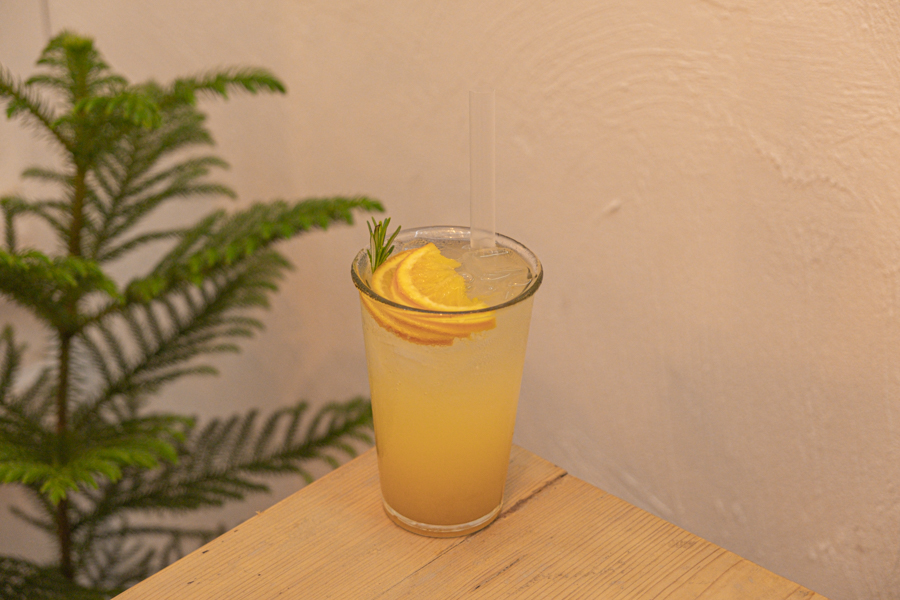 The signature drink is the Orange Ade ($7.80) which came garnished with fresh orange slices. It was refreshing and did not have an artificial flavour, but was a tad too sweet. It is still a good choice for non-coffee drinkers!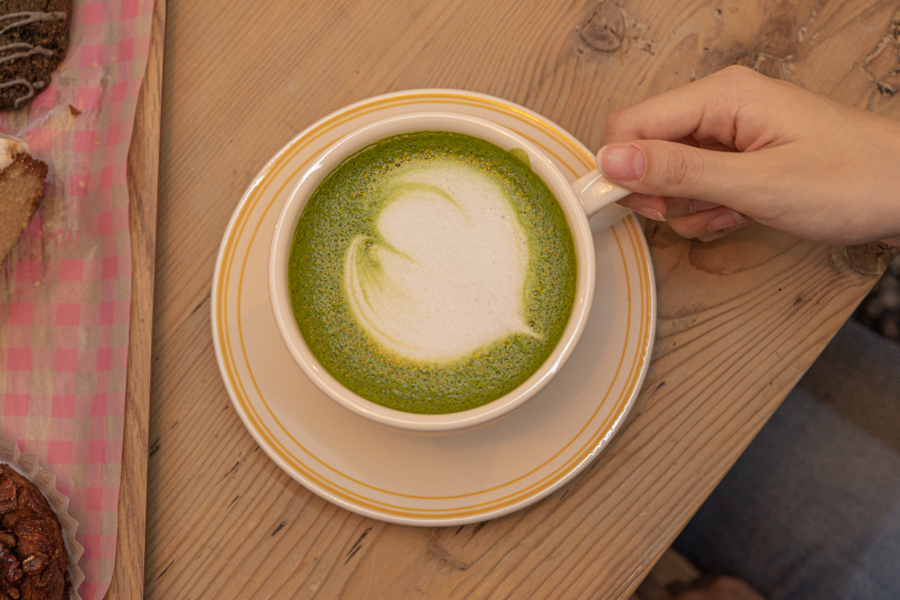 We also tried the hot Matcha Latte ($7.50) which we also felt was too sweet for our taste. Nevertheless, the matcha taste was still present and a comforting warm cuppa.  
Korean Cafe In Bugis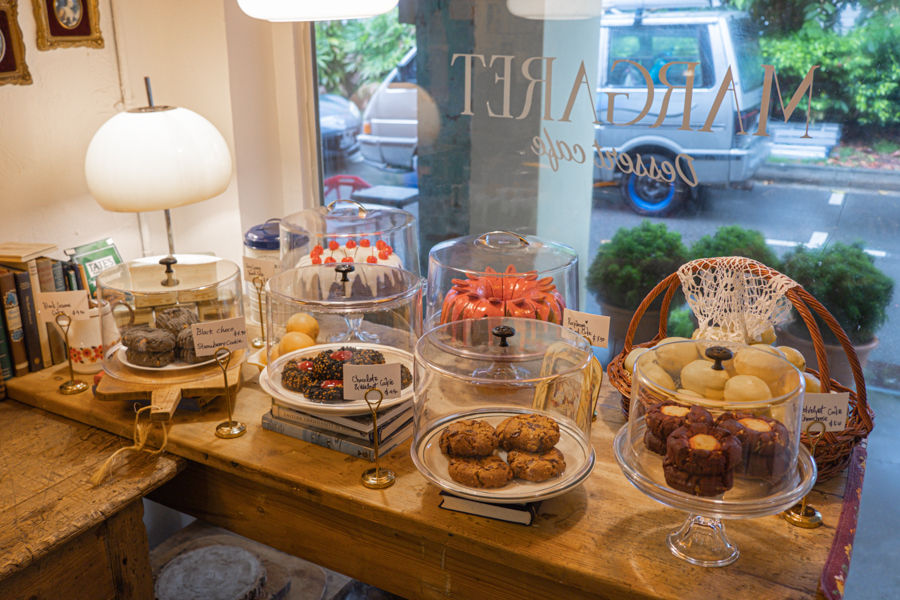 Overall, Cafe Margaret provided a great cafe experience with its cosy atmosphere and a spot-on replica of Korean cafes. The Cube Pies are definitely worth a try, although we hope the other bakes could be more well-rounded in terms of flavour. It deserves a spot on your cafe-hopping list! 
Cafe Margaret
32 Bali Lane, Singapore 189868
Open daily: 10 am to 8 pm
*This was an independent review by MiddleClass
*Follow MiddleClass.sg on Facebook, Instagram, and Telegram for more food, travel, and trending stories