If you like Tai Er's poached fish, you'll enjoy the offerings of their new sister concept – Beautiful Lai Grilled Fish! Beautiful Lai focuses on Chinese-style grilled fish with a different eating experience in their storefront at Suntec City. 
Lively & Vibrant Interior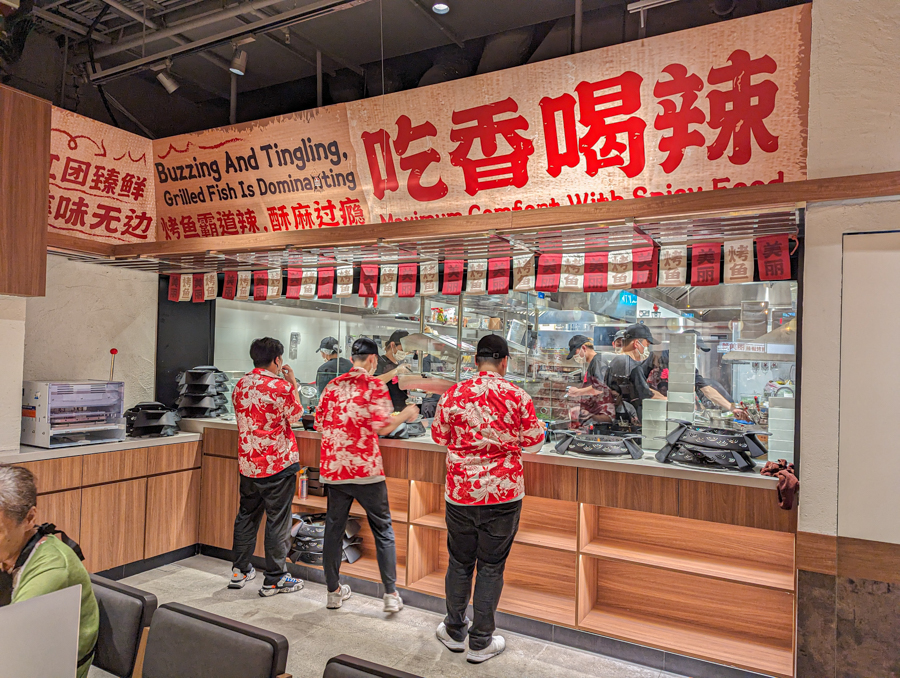 One thing that makes Beautiful Lai stand out is its liveliness. The interior is filled with bright red decor and street signs, plus their 'branded' cutlery and mugs. There's also a tea bar where you can get complimentary free-flow tea.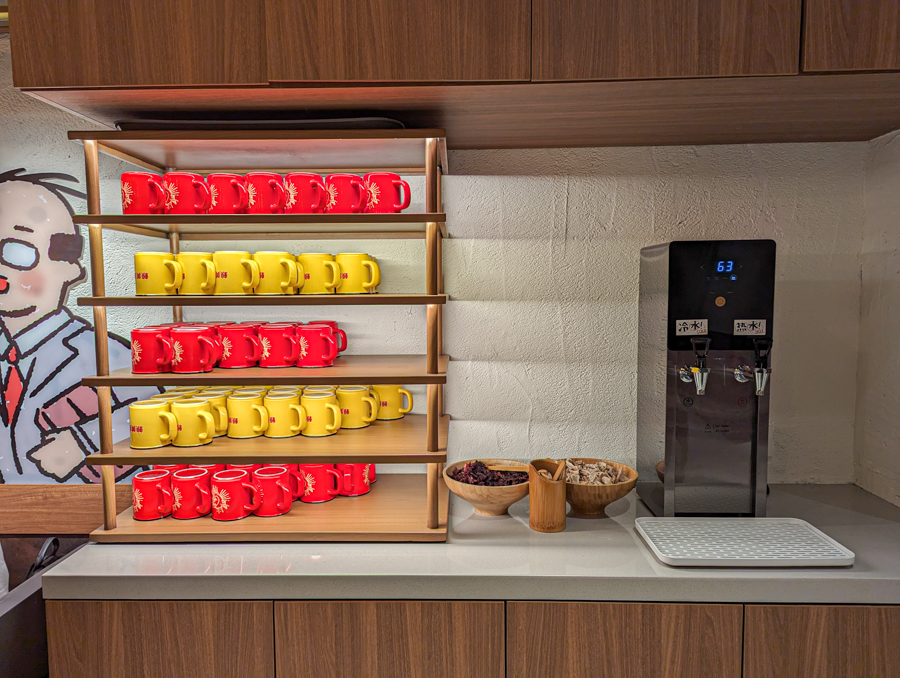 The staff greet every customer that enters the store, announce when the fish arrives at your table and greet you when you leave. It really added to the eating experience! 
Beautiful Lai Grilled Fish Menu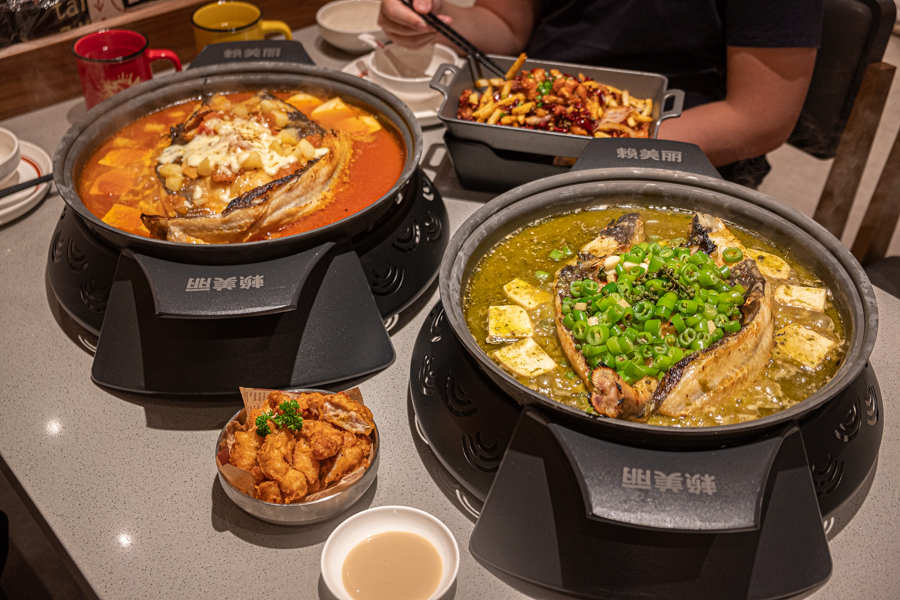 The primary item is their Grilled Fish, which is available in four flavours: Green Pepper ($55), Spicy ($56), Cheese Tomato ($58) and Crab Roe & Garlic ($58). Each fish can comfortably feed three people! 
There are add-ons like Luncheon Meat ($5) and Enoki Mushroom ($3.50), plus many side dishes. Some options include Salted Egg Prawn Tofu ($15), Brown Sugar Mochi ($10) and Cheese-Baked Sweet Potato and Banana ($10).
They even offer skewers in a Skewer Platter ($20 for 12), with items like Pork Belly ($7 for 3), Broccoli ($4 for 3) and Rice Cakes ($4 for 3). 
Signature Green Pepper Grilled Fish
The Signature Green Pepper Grilled Fish ($55) came garnished with a heaping serving of green peppers, tofu and a rich spicy broth. 
The recommended way to eat it is to let the fish simmer for 3 minutes, then eat the belly, back then lips (which are filled with collagen). When you're ready to eat, you can request the staff do it for you.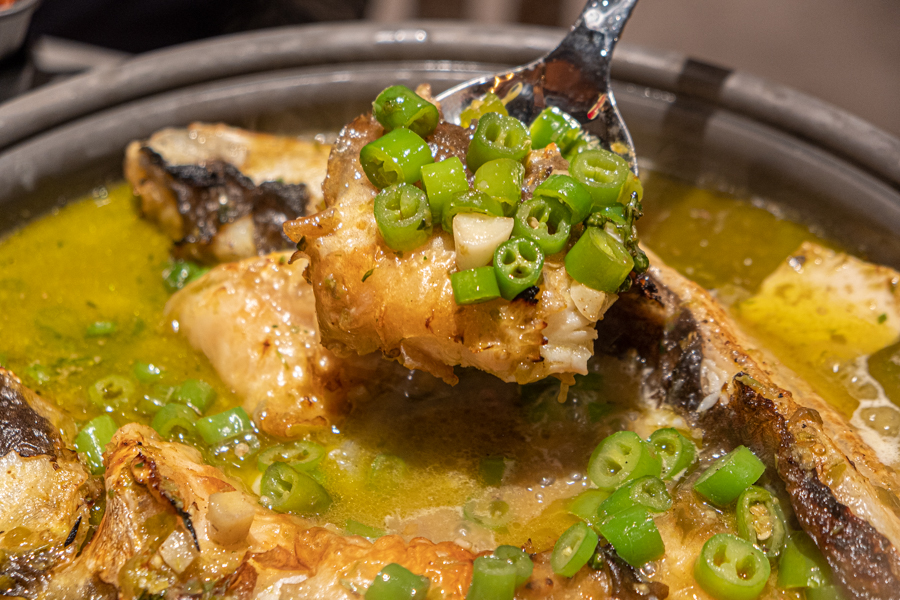 The fish was incredibly buttery and had a melt-in-your-mouth texture with natural sweetness! They use a premium Leoicassis (a type of catfish) from the Yangtze River known for its bounciness, which we could appreciate. Its delicate flavour was a good complement to the heavy flavours of the broth.
We also really enjoyed the broth, with an addictive kick from the green pepper. Despite how thick it was, it was relatively easy to drink without being too cloying. The staff will also periodically top it up with a base broth of chicken and fish bones, which gave it body. 
Cheese Tomato Grilled Fish
A non-spicy option is the Cheese Tomato Grilled Fish ($58), complete with melty mozzarella cheese and potato chunks. 
The broth was savoury and had good umami from the tomatoes, but we wish the tomato flavour could be more pronounced. We also liked the added saltiness from the cheese! 
Fried Spicy Bullfrog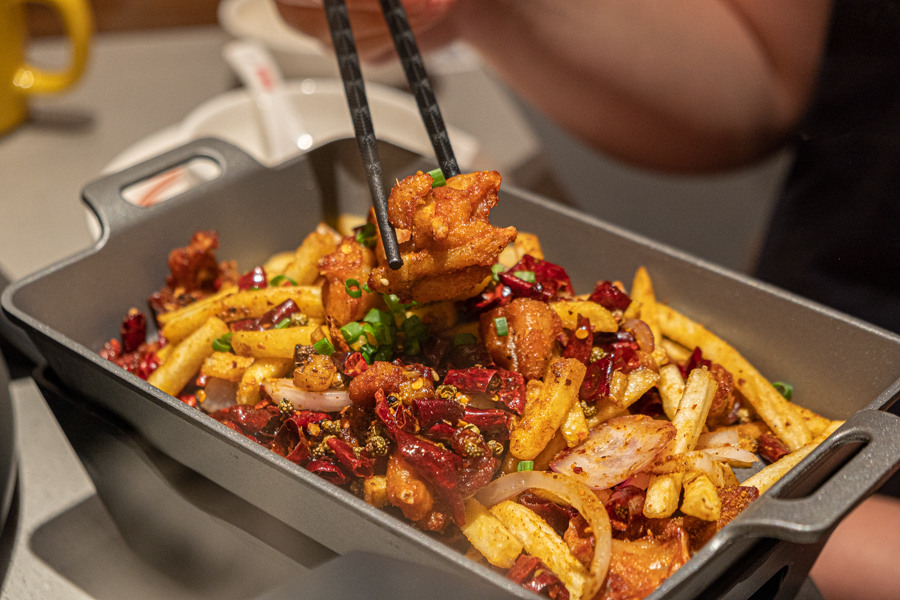 The Fried Spicy Bullfrog ($36) was tossed with fries, dried chillis and a fragrant seasoning. This was our first time seeing bullfrog prepared this way! 
The fried chunks were crunchy and meaty, coated in a classic Chinese-style seasoning powder. It was spicy, fragrant and quite addictive, although the quantity of actual meat is small compared to the price. 
Crispy Coconut Chicken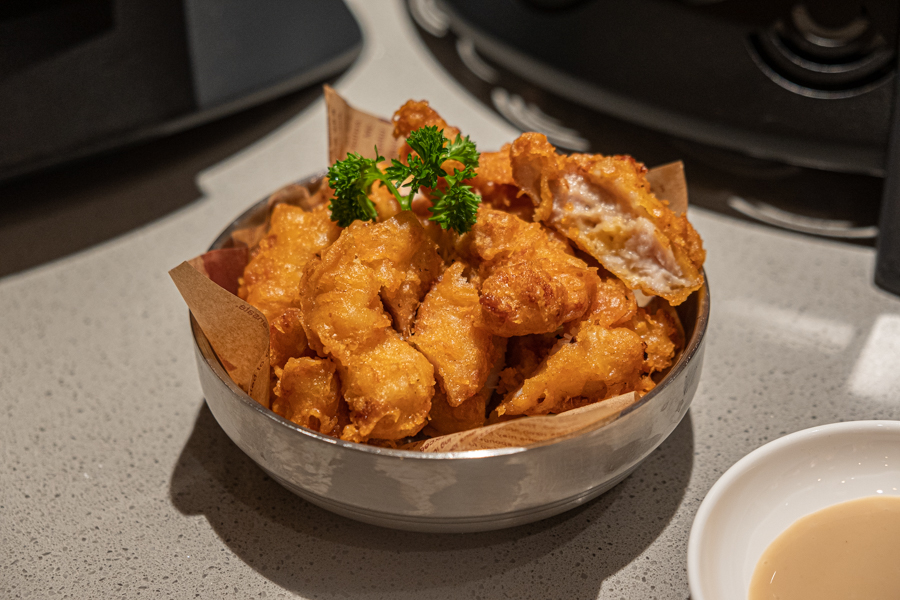 The Crispy Coconut Chicken ($12) is quite unique. The exterior batter was slightly sweet with a notable coconut fragrance which reminded us of pandan waffles! 
It might be an acquired taste due to the contrast between sweet and salty, but the meat was tender and clean. 
Giant Drinks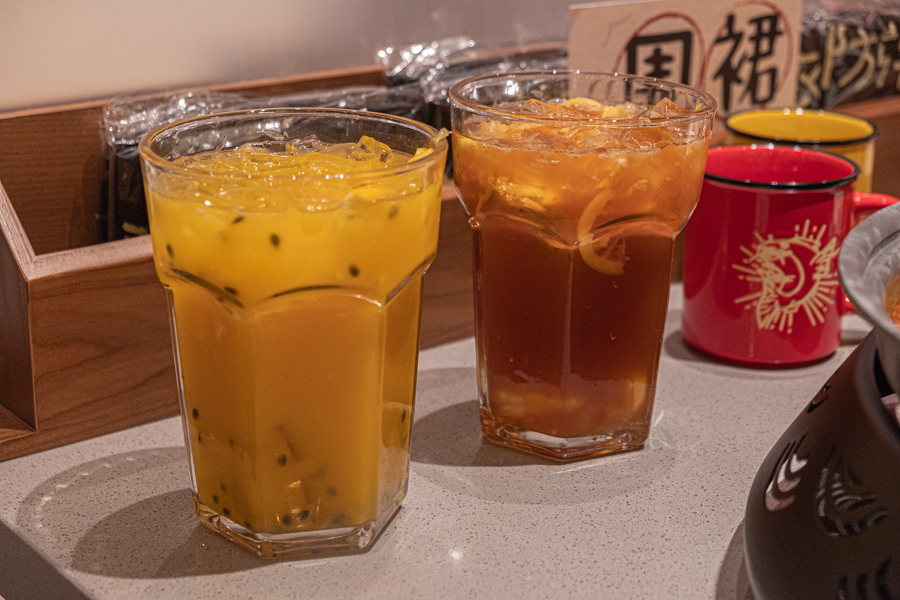 When we say giant, we mean giant – each glass was the size of our heads! We tried the Camelia Tea with Passionfruit & Orange ($6) and Iced Lemon Tea ($6). 
Our pick is the Camelia tea, which was super refreshing with a good balance between tangy and sweet. There was no artificial taste at all, meaning they use fresh fruit juices! This was a good palette cleanser between bites of the fish. The Iced Lemon Tea was also nice and not too sweet.
Opening Promotions
Stand a chance to enjoy up to 32% off your bill! During it's opening, you can try your hand at their game to score discounts starting at 12%. You can also walk away with a free kite! 
Grilled Fish In Suntec City
Beautiful Lai provides a hearty selection of dishes with premium fish, and we feel that you can taste the difference! Their side dishes add a unique modern twist to traditional Sichuan flavours and are worth a try. 
Beautiful Lai Grilled Fish
#B1-111 Suntec City Mall, 3 Temasek Boulevard ,  Singapore 038983
Open daily: 11.30am–9pm
*Follow MiddleClass.sg on Facebook, Instagram, TikTok, and Telegram for more food, travel, and trending stories