Recently charting #37 on Asia's 50 Best Bars 2022 is Analogue Initiative, a 100% plant-based bar serving unique cocktails and food.
3D-Printed Bar Countertop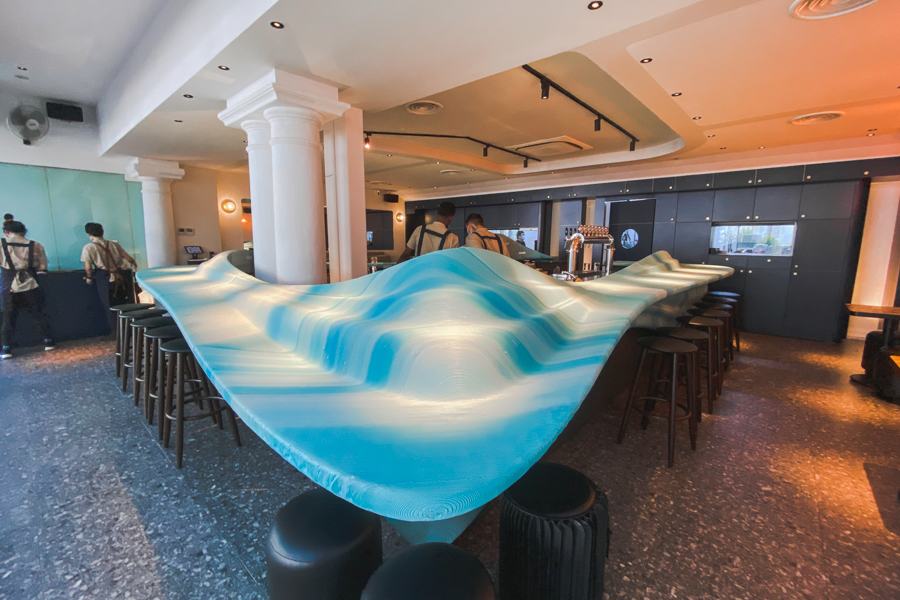 One of the very first reasons we wanted to visit Analogue Bar was the unique blue wave bar. It caught our attention when we were passing by to visit Dough, a cafe just next door to Analogue.
It turns out, the blue wave bar is made entirely from 1600kg worth of plastic bottles and through 3d printing. That itself is quite a feat, and this is before taking into account the 100% plant-based menu that Analogue offers.
That's not all, if you find yourself seated at the tables near the walls, note that those tabletops are made from mycelium, a kind of fungi.
Menu at Analogue Bar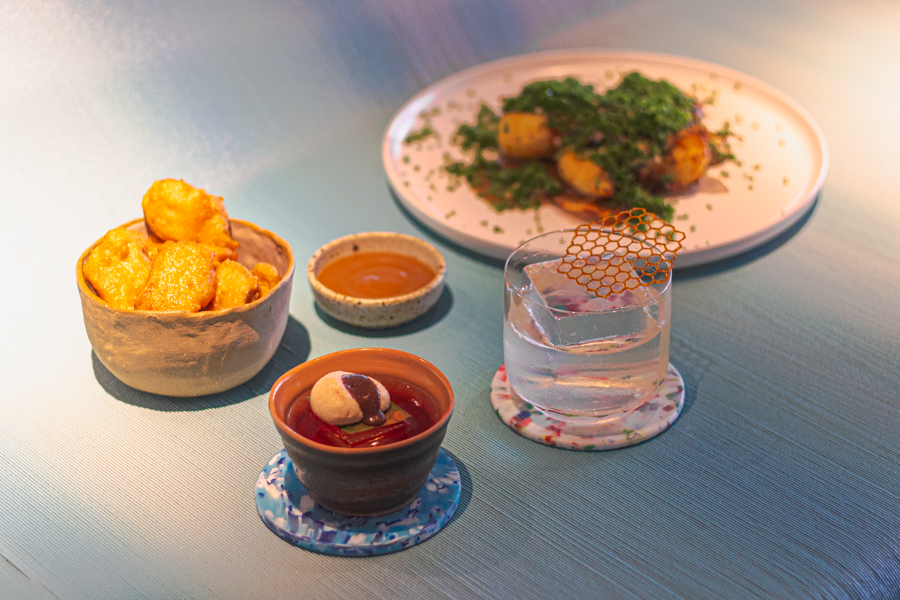 For drinks, pick from a selection of cocktails ranging from Classics such as Whisky Sour ($25), Bloody Mary ($25) to more unique ones like Smokey Jerky ($25) and Spirulina ($25).
Analogue also has a non-alcoholic menu that's priced at $16/each but offers an option to make it boozy.
Apart from cocktails, they also have draft beers, natural wines, and spritzers.
For food, indulge in a 100% plant-based menu with bites to share like their Pumpkin Dumplings ($22) and Puri Poppers ($16). They also have items that are more substantial, such as the Eggplant & Curry ($18), Jackfruit Tacos ($26) and Celeriac Ratatouille ($26).
The Spaceman ($25) was probably one of the most interesting cocktails we've had at Analogue. Inspired by what we will be bringing to space, the negroni is taken up a notch with peanut butter and kyoho grapes.
Topped with meringue and some strawberry powder, the drink had distinct nutty, savoury notes of peanut butter which might not sit well with some. Definitely an interesting drink to start off our experience at Analogue.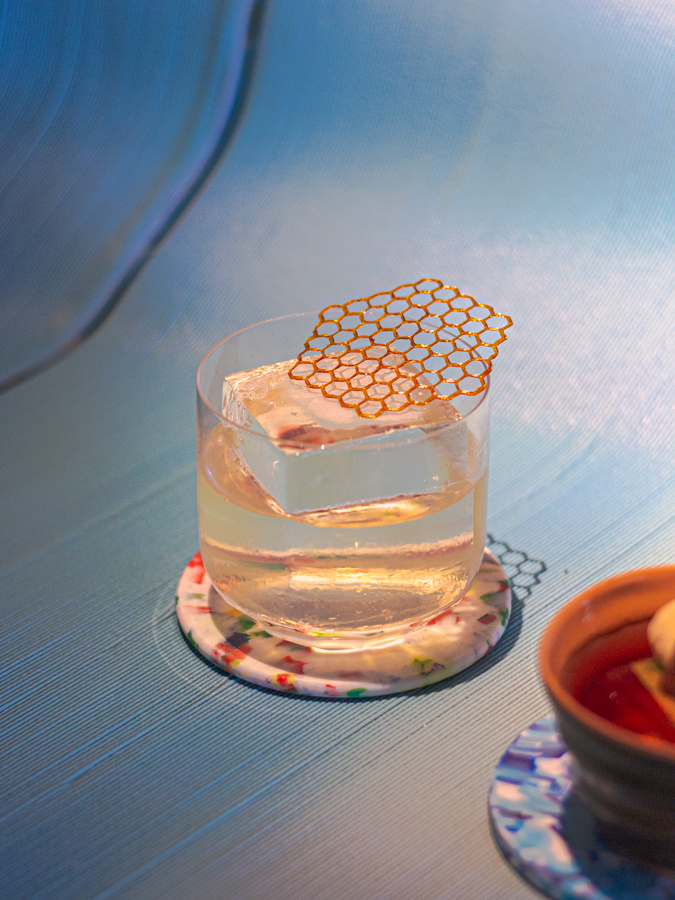 For something safer, the Soursop ($25) is refreshing and comprises of elements like soursop, lemongrass and the Empirical "Plum I Suppose". There's also vegan honey in this, which is made from custard apples.
To accompany our drinks, we tried the Poutine ($20) which is drenched in a mushroom miso sauce, topped with vegan cheese and chives. If you're a fan of potatoes, this dish is for you.
The Nuggetz ($18) not only resembled a certain fast-food chain's menu item in terms of visuals, but it was also almost 99% similar to it taste-wise. If you served this to us and told us it was from the fast-food chain, we would believe you. The curry sauce was spicier than the usual ones you get but has that iconic sweet flavour to it as well.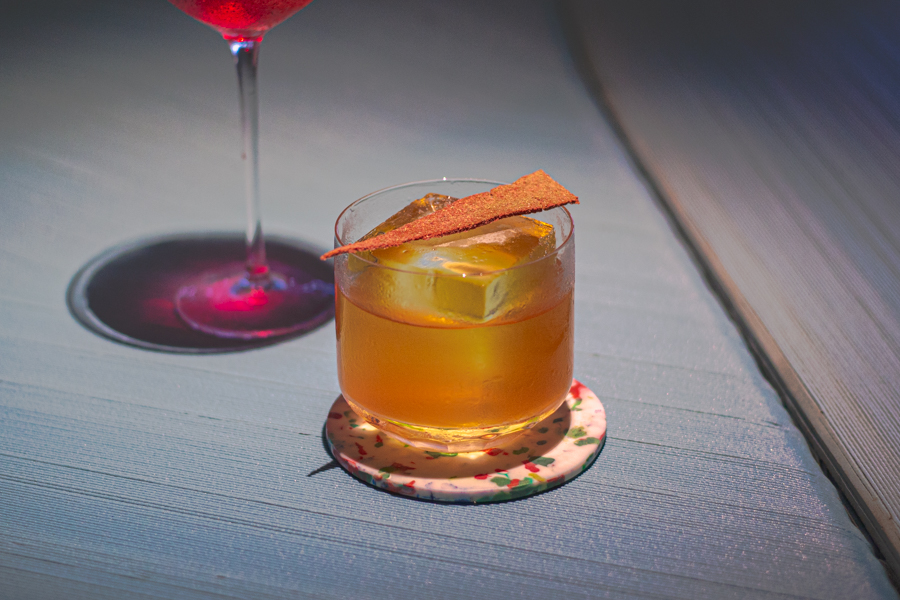 Another drink we tried was the Adzuki ($25), a whisky-based cocktail with adzuki, toasted buckwheat, matcha distillate and gula melaka. The cracker at the top is made with red beans, and the red bean notes were extremely prominent during the first sip, followed by a light, lingering matcha fragrance.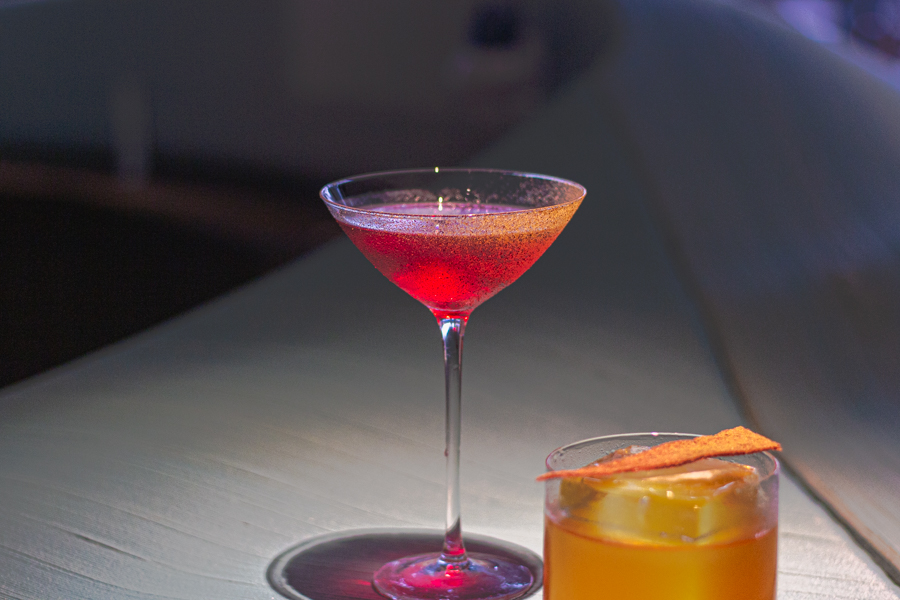 To end off the night, we dug into the Cactus ($25), a drink that reflects elements from the cactus family such as Mezcal, Prickly pear, pink dragonfruit and aloe vera. With the constant increase in temperatures, Analogue envisions the cactus to be a common food in the future, hence the drink.
Finished off with Pasilla chile reduction, lime oil and a Tajin salt rim, the cocktail was bright and interesting, with the tajin salt rim adding that finishing touch to the drink. One of our favourites for the night.
Must-Visit Bar Near City Hall
The unique way Analogue presents its plant-based menu through its cocktails and food is good reason enough to pay a visit. Do make a reservation to avoid disappointment.
Analogue Initiative
30 Victoria St, #01-31 Chijmes, Singapore 187996
Tues-Sun, 5pm-12am. Closed on Mondays.
*This is an independent review by MiddleClass.sg
*Follow MiddleClass.sg on Facebook, Instagram, and Telegram for more food, travel, and trending stories!