When it comes to POKKA, most of us would associate the brand with Green Tea. But did you know? POKKA also has an Asian Drinks category that features local favourites like Chrysanthemum Tea and Bandung.
The POKKA Asian Drink category features four Halal-certified drinks that contain zero preservatives. While the drinks are great on their own, we've come up with some fun recipes that you can attempt at home using the POKKA Asian Drinks for a refreshing afternoon snack!
Herbal Tea Jelly with Soya Bean Drink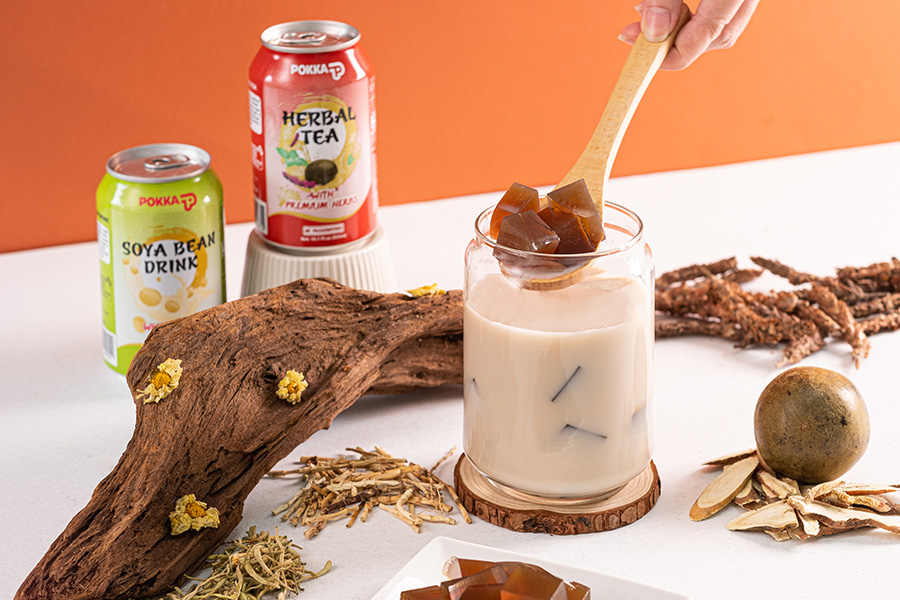 Using one can of POKKA's Herbal Tea, we simply added 1 teaspoon of powdered agar-agar. If you prefer a softer jelly, you can add less agar.
Bring the solution to a boil and pour it into a container to allow it to set. For a refreshing treat, chill it in the refrigerator before serving.
POKKA's Herbal Tea drink is formulated with 7 premium herbs and flowers, so the herbal tea jelly tastes great on its own, but we decided to cut the jelly into small cubes and added a can of POKKA's Soya Bean Drink to go with it.
Recipe: 
Pour 1 can of POKKA's Herbal Tea into a pot 

Add 1 teaspoon of powdered agar-agar and bring to a boil

Pour into a container and leave it at room temperature to set 

Place in refrigerator and let it cool 

Slice the herbal jelly to your preferred size. You can eat it as it is or pair it with a can of POKKA's Soya Bean Drink
Chrysanthemum Osmanthus Jelly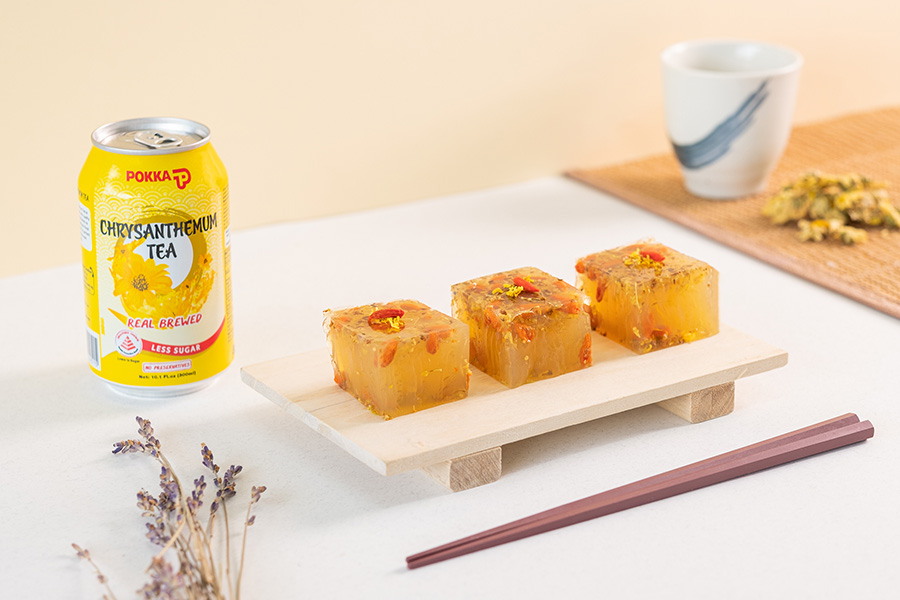 We're pretty sure you've come across Osmanthus or Chrysanthemum tea-based jellies before. You can make this treat beforehand and keep it in the fridge and take it out whenever you need a quick snack/dessert!
We used a 2:1 ratio of POKKA Chrysanthemum Tea to plain water, two tablespoons of wolfberries and a tablespoon of dried Osmanthus flowers. No additional sugar is needed for this recipe.
Add in some powdered agar-agar and bring the mixture to a boil. Pour it into individual moulds or a container, let it set and chill it in the fridge.
Enjoy this delicious and healthy snack made using real brewed chrysanthemum tea with your family members!
Recipe: 
Add a mixture of POKKA Chrysanthemum Tea and plain water using a 2:1 ratio to a pot

Add in 2 tablespoons of goji berries and 1 tablespoon of dried Osmanthus flowers

Add in 2 teaspoons of powdered agar-agar

Bring mixture to a boil 

Pour mixture into jelly moulds or a container and let it set at room temperature

Once set, place it in a refrigerator and serve chilled
Bandung Ice-Cream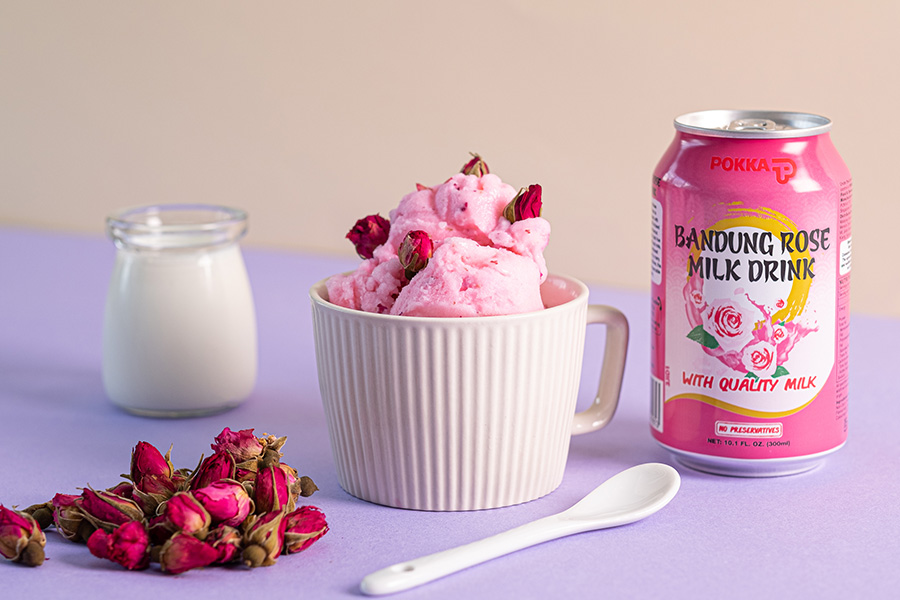 This treat is perfect for a hot afternoon, and a great activity to do with your friends and family members.
We mixed POKKA's Bandung with some milk using a 1:1 ratio, added a drizzle of condensed milk and some edible rose petals before freezing it using the ice-cream-in-a-bag technique.
This technique uses ice cubes sprinkled with salt to lower the temperature which allows our Bandung ice-cream mixture to freeze. Once frozen, scoop it out and enjoy the creamy Bandung ice cream!
Did you know? POKKA's Bandung Rose Milk Drink is made with quality, low-fat milk. The creamy balance of rose flavours makes it a great base for making ice cream!
Recipe: 
Mix POKKA's Bandung Rose Milk Drink and some Milk using a 1:1 Ratio 

Add a drizzle of condensed milk to the mixture 

Sprinkle some edible rose petals into the mixture and mix well 

Place mixture into a medium-sized ziploc bag 

Separately, prepare a large-sized ziploc bag and fill it with ice 

Sprinkle salt generously onto the ice

Place medium-sized ziploc bag containing your Bandung ice-cream mixture into the large-sized ziploc bag

Shake vigorously until mixture forms an ice-cream texture. Be careful when handling the ziploc bag as it becomes really cold!  

Serve in a chilled bowl 
Iced Soya Bean Matcha
A quick way to add a Japanese twist to POKKA's Soya Bean drink is by using some matcha!
We used some matcha powder, 1 tsp of sugar, some hot water and whisked it all together. Depending on your preference, you can use more or less matcha powder.
This is a fun and quick way to get a cafe-style drink at home using POKKA's Soya Bean which is freshly made using GMO-Free Whole Soya Beans.
Recipe: 
Add 2 teaspoons of matcha powder, 1 teaspoon of sugar and 30ml of hot water into a small cup 

Whisk matcha manually or use an electric whisk

Pour matcha over a cup of ice-cold POKKA Soya Bean Drink and enjoy
Yuja Chrysanthemum Coolers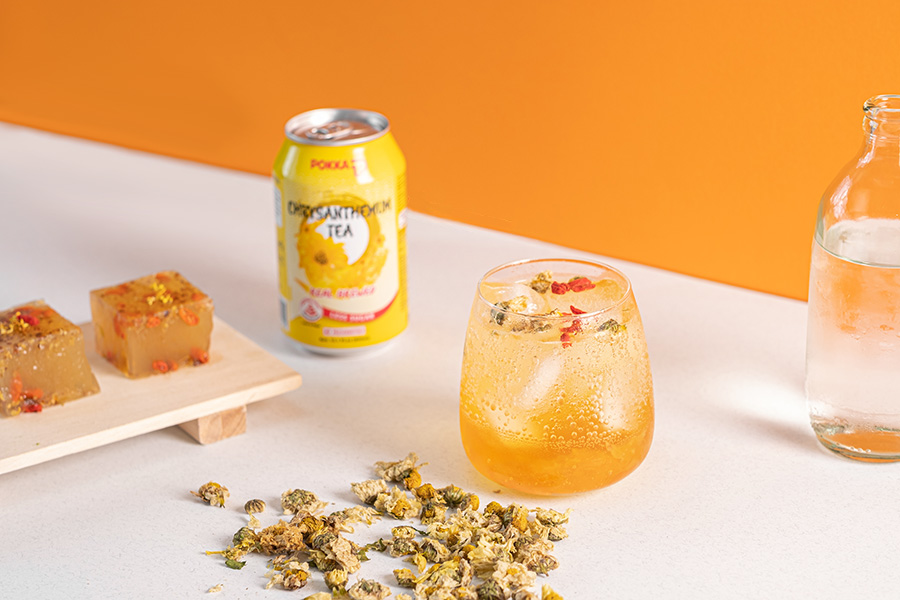 The Korean-inspired Yuja Chrysanthemum Cooler is the perfect drink on a hot day. Simply add your desired amount of Yuja pulp to a cup and top it off with a 1:1 ratio of POKKA's Chrysanthemum Tea and Soda Water. No additional sugar is required!
Experience a burst of citrusy and flowery flavours coupled with a fizzy sensation that will instantly refresh your afternoon.
It's also a pretty drink to serve your guests if you're having a gathering! (following Covid-19 guidelines of course)
Recipe:
Add 1 to 2 tablespoons of Yuja pulp to a cup 

Add in ice cubes as desired 

Pour in POKKA Chrysanthemum Tea first, followed by Soda Water, using a 1:1 ratio 

Garnish with pre-soaked wolfberries and serve
POKKA Asian Drinks Recipes
We hope these simple treats help to cheer you up this season. Let us know what's your favourite recipe and what's your favourite POKKA Asian Drink!
You can find POKKA's NEW Asian Drinks at leading supermarkets and online via various e-commerce platforms such as Lazada Redmart.
*This article is brought to you in partnership with POKKA
*Follow MiddleClass.sg on Facebook, Instagram, and Telegram for more food, travel, and trending stories!