Coming from the Land Down Under, Vibe Hotel Singapore Orchard is the first Vibe Hotel to open outside of Australia. Located in Orchard, this new lifestyle hotel is great for travellers and locals alike.
New Hotel in Orchard Singapore
Opened back in Nov 2022, Vibe Hotel Singapore Orchard takes over the premises of The Elizabeth Hotel and sports a new, modern luxe look. One is greeted with a well-lit lobby, and a glimpse of the hotel's restaurant, ROOS.
Check-in was relatively easy, with the friendly staff explaining everything swiftly and precisely.
A Look At The Deluxe Room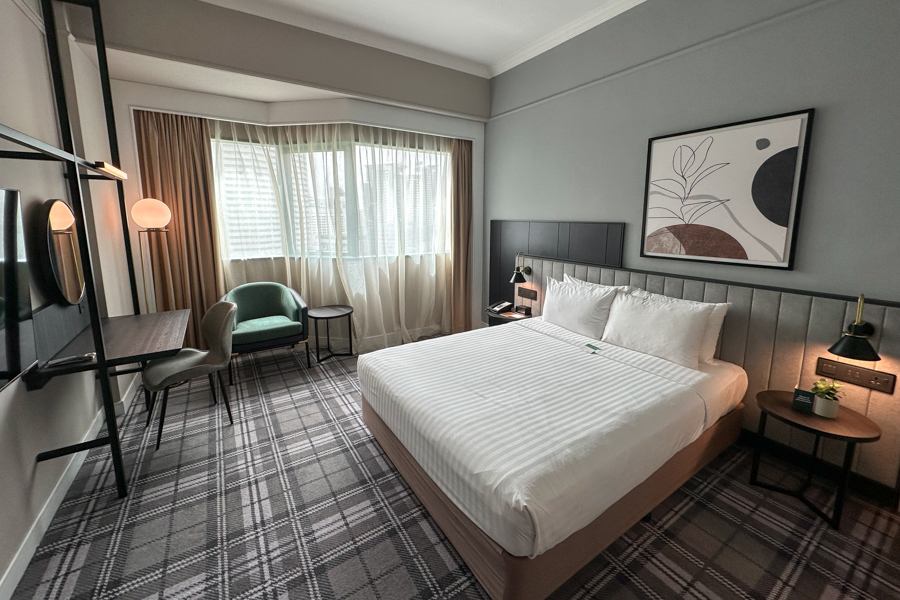 We checked into the Deluxe Room Queen and were pretty impressed with the size and interior design of the room. The neutrals used in the room made it feel modern and sleek, with a pop of colour from the green armchair that doesn't feel too over.
The room had plenty of walking space and is equipped with lots of power points which were easily accessible, something we really appreciated.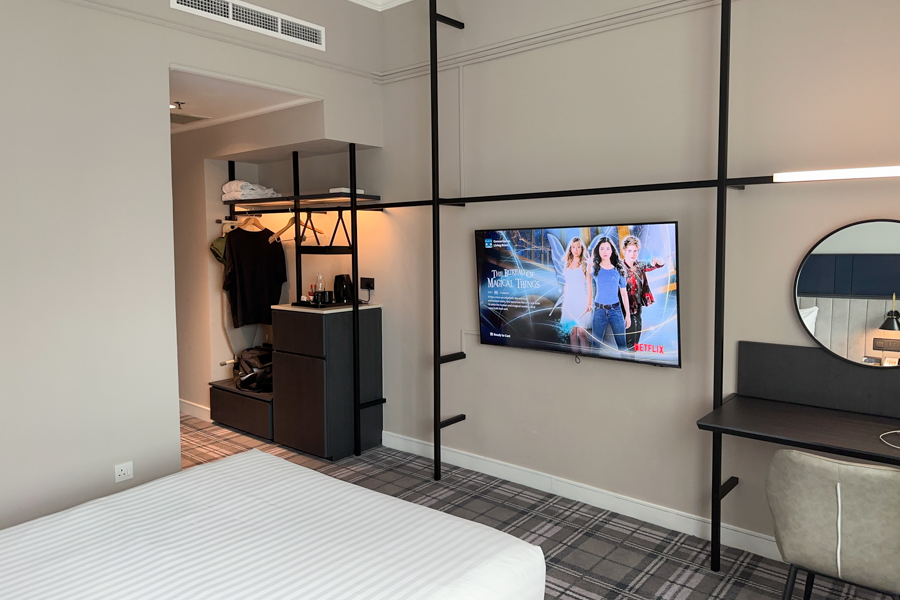 If you're here for a staycation, you'll be glad to know that the TV is 55 inches in size and supports Chromecast. We had no issues with playing Netflix and YouTube videos on the big screen.
Apart from the usual amenities like the electric kettle, there was also a limited selection of basic coffee and tea. Do note that the hotel doesn't provide bottled water, but instead encourages guests to fill up the glass bottle with drinkable tap water.
Hidden in a drawer near the entrance were also room slippers, a hairdryer, and a clothes iron – which might be convenient for business travellers.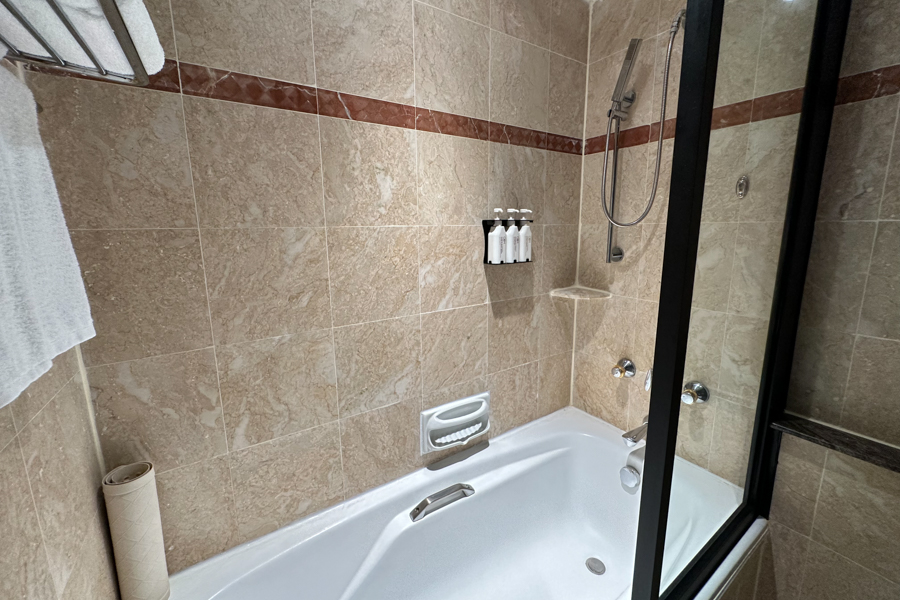 The bathroom is equipped with O&M amenities, an Australian brand that was delightful to use. There is also a bathtub which might be good news for some because it's an opportunity to use your bath bombs.
The only thing about the bathroom that inconvenience us slightly was how sensitive the controls were. An accidental turn while adjusting the water temperature had us bathing in scalding water.
Vibe Hotel Facilities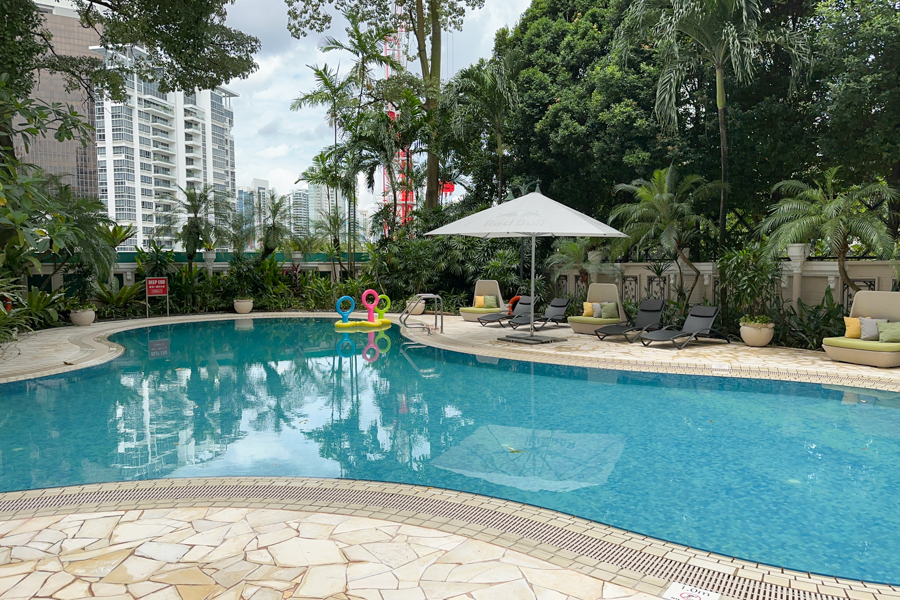 There's a swimming pool on the first floor of the hotel. While it might not compare to larger hotels, the pool comes with various floats that are popular among families with kids.
Near the swimming pool is also a gym that has basic equipment like a treadmill and weights.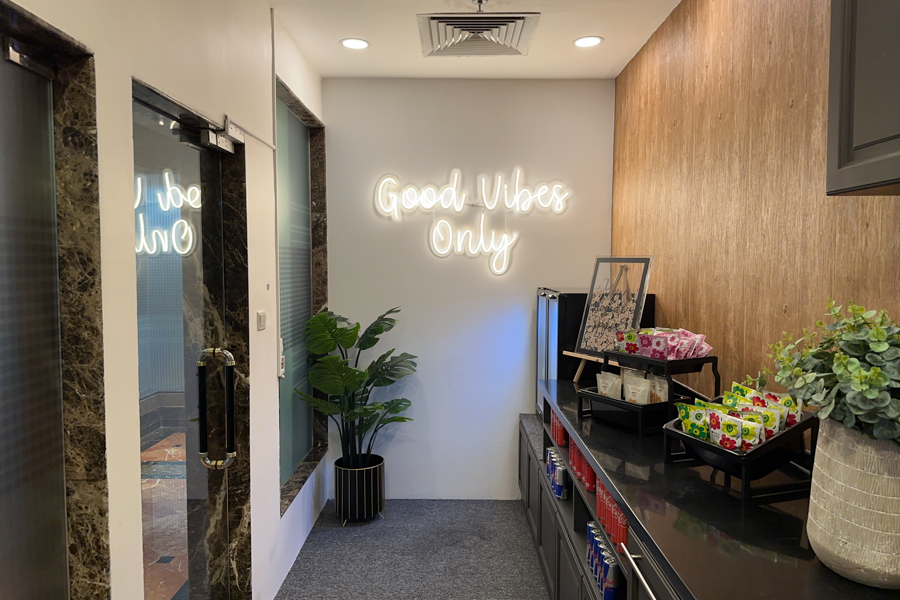 There's also a 24-hour pantry where you can get access to drinks and snacks. This is a free perk for those staying in Premier rooms and above, but also available to all for a small add-on fee.
ROOS Restaurant Vibe Hotel
For dinner, we tried out ROOS, which is the restaurant located in the lobby of the hotel. The restaurant had a nice ambience, and an impressive manmade waterfall feature right beside the restaurant.
There are booth seats and even long communal tables, which would be great for large groups.
The menu features items from grilled meats, burgers and sandwiches to pasta. There was also a section on Asian noodles, which we presume would be the go-to for travellers wanting a piece of Singapore.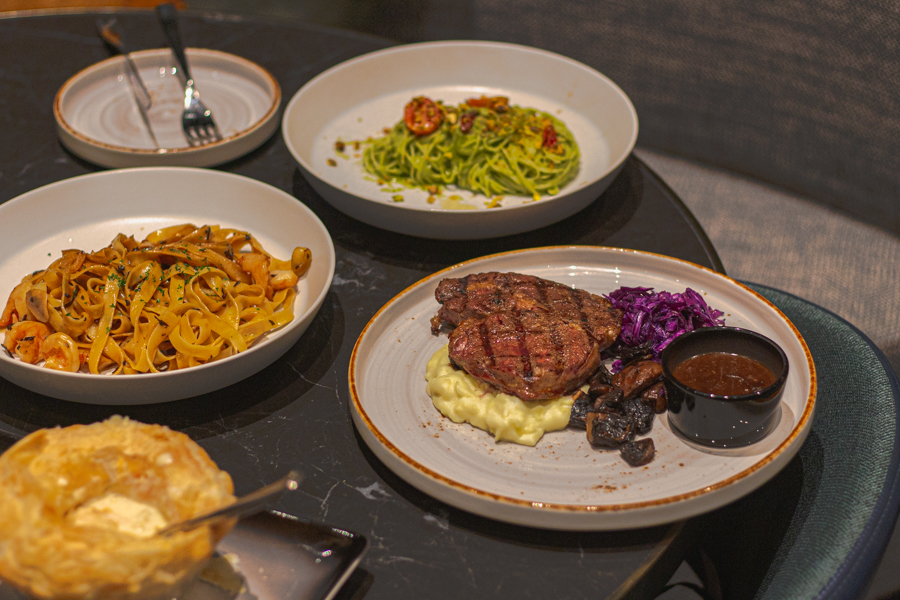 Among the items that we tried, we really enjoyed the Kombu Butter Tagliatelle ($16) and Pistachio Pesto Angel Hair ($18).
ROOS is also where to go for your hotel breakfast. Available from 7am to 10:30am daily, guests are to choose from one item from their brekkie menu, which consists of items like Avocado Toast, Chicken Congee and Nasi Lemak.
Each item is served with a set of mini pastries, yoghurt with berries and beverages like juice, coffee, or tea.
Vibe Hotel Singapore Orchard Review
If you're thinking of going for a solo staycation in Singapore, Vibe Hotel Singapore Orchard is a great place to experience some quiet and peace, while being close to town. If you're a traveller, the hotel is only a short walk away from Orchard Road, making it convenient to do some shopping and sightseeing.
The hospitality of the hotel staff is also applaudable, with everyone being so welcoming and warm – just makes your day feel better instantly!
To learn more about Vibe Hotel or to book a stay with them, head over to their website here.
*Follow MiddleClass.sg on Facebook, Instagram, TikTok, and Telegram for more food, travel, and trending stories