When it comes to Busan, we all think of the ocean and areas like Haeundae or Gwangalli Beach. However, did you know that if you travel upward, you'll find an array of hidden attractions in Busan? Seonyudowon is an instagrammable cafe we came across when we ventured away from the ocean.
A Different Busan Vibe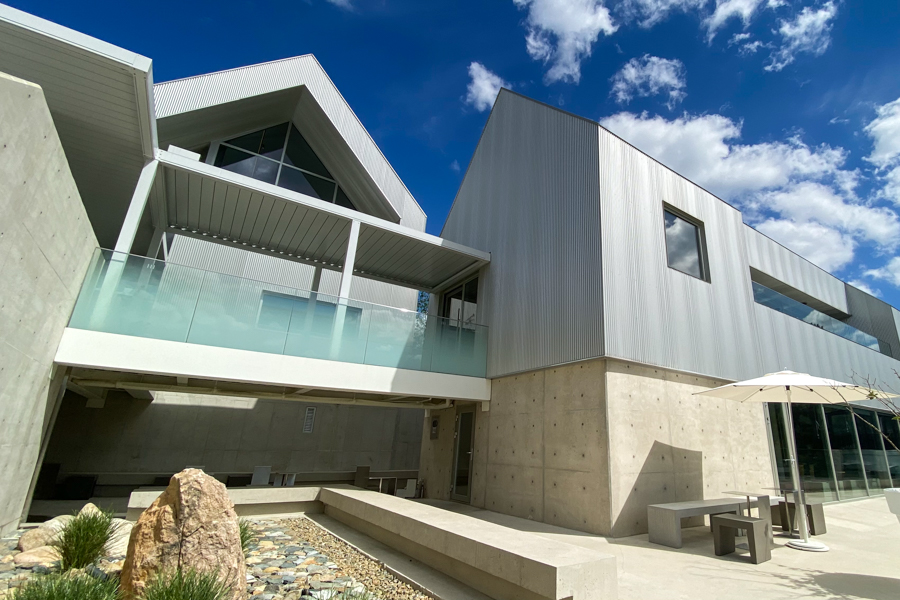 Located right next to a nature trail surrounding Hoedong Reservoir, Seonyudowon is surrounded by water and mountains, which makes the cafe feel very hidden, serene, and peaceful.
However, the exterior of the cafe is decked in exposed concrete, steel, and metal plates, which makes it stand out. There's sort of an unexpected harmony between the manmade and natural elements, which provided a lasting first impression when we approached the cafe.
The cafe is split into different areas, there are various gardens – from a grass garden to a moss garden. There are 3 main seating spaces, with one of them having a rooftop garden even.
One of our favourite spots is the 2nd-floor seating area located in the building where the entrance is located. The glass windows let in beautiful natural light while revealing a gorgeous backdrop of the reservoir and mountains. There's even a small balcony area perfect for photos!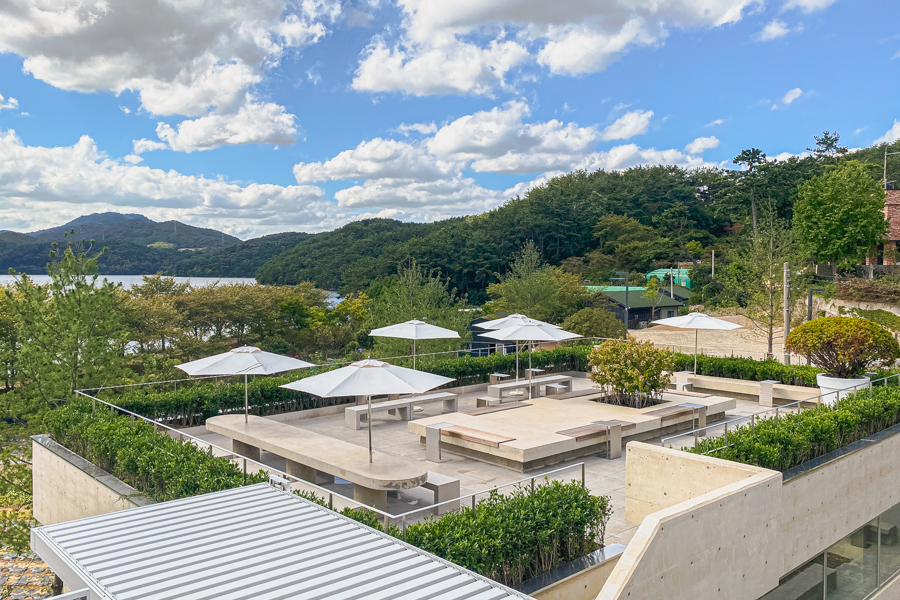 In the building towards the right, there's a tiered seating area facing the reservoir area along with some facing the moss garden. This was also one of our personal favourite areas of the cafe. Right on top was the rooftop garden, which sees alfresco seating and parasols.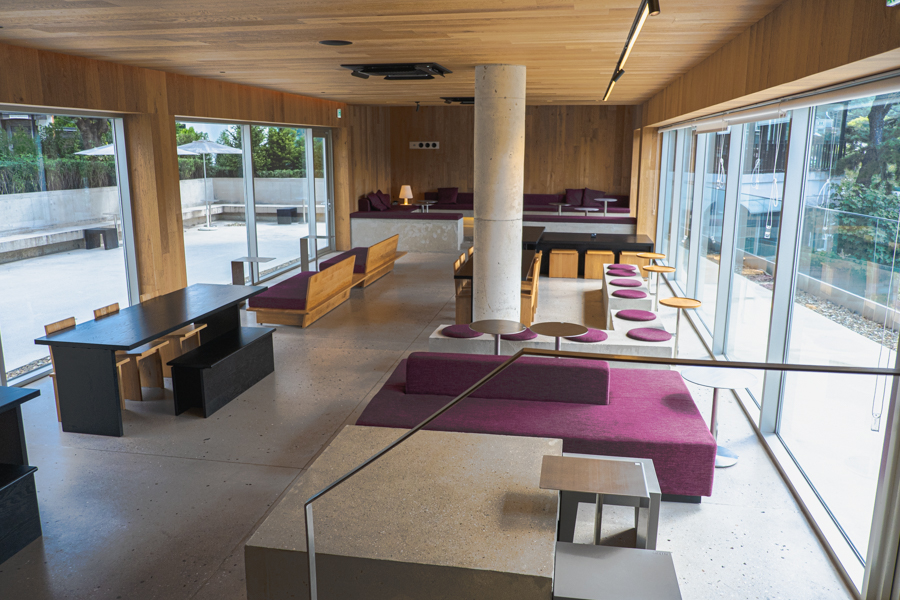 If you head left instead of right, you'll find the other seating area, which has a somewhat different interior aesthetic compared to the first two places. Here, you'll find a wooden interior, with pops of burgundy.
Once you're done with your coffee, take a stroll around the premises and you'll come across the various gardens, as well as the grand exterior of the cafe.
Seonyudowon Menu
The beverage menu at Seonyudowon is split into various sections: brewing coffee, espresso-based drinks, signature drinks, seasonal drinks, and more. Under the 'brewing coffee' section, one can find drip coffee such as their Seonyudowon blend and Costa Rica El Cedral Yellow Honey.
For espresso-based drinks, it consists of the usuals, like the Hazelnut Latte (6,500won), Cafe Latte (6,000won), and Vanilla Latte (6,500won).
Signature drinks include items like Kong-shupanner (6,500won) which is an espresso-based drink made with soybean powder topped with sweet vanilla cream.
You can also find other items such as the seasonal Strawberry Cream Latte (8,500won), assorted teas (7,000won to 7,500won), and even ice cream!
As for bakes/pastries, there is a whole display with items such as a Salt Butter Croissant (3,800won), Garlic Croissant (5,500won), Vanilla Bean Cruffin (5,000won), and Pistachio Cruffin (5,300won).
Because we went at an early time, a lot of the bakes weren't ready yet, so we opted for the Pain Au Chocolat (4,300won) and Kouign Amann (4,000won). The Kouign Amann reminded us slightly of Tiong Bahru Bakery's one, except that the one here had a slightly crunchier and sweeter exterior. As for the Pain au Chocolat, it was flaky and had a nice bittersweet chocolate center.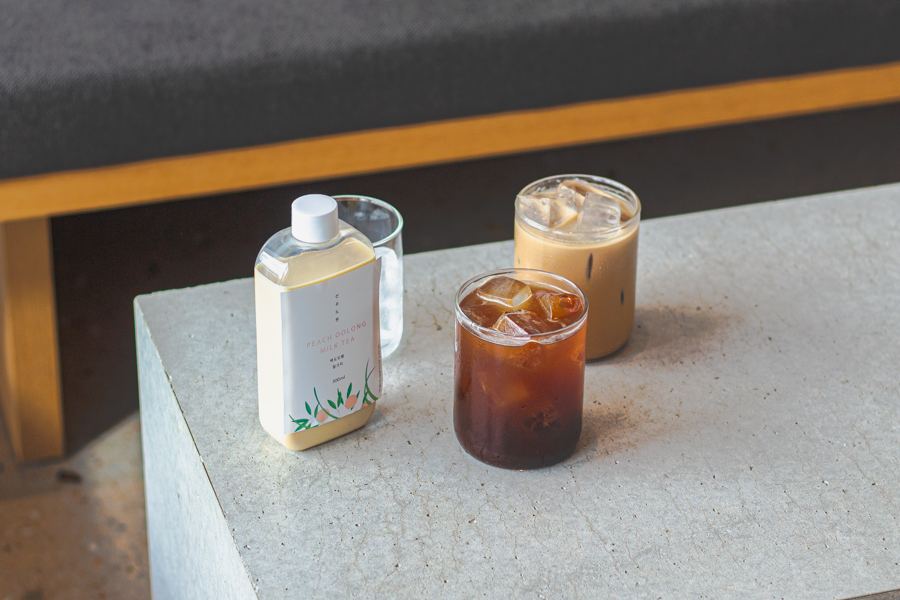 For drinks, we had one of the Signature items, which was the Peach Oolong Milk Tea (9,000won), served in a bottle with a cup of ice. There was a nice sweet and floral fragrance to the drink which we enjoyed!
Other than that, we opted for safer options like the Iced Americano (6,000won) and Iced Latte (6,000won).
Huge Cafe in Busan
Seonyudowon offers a different side of Busan to travellers, with the cafe being surrounded by a reservoir and mountains. While this is not usually associated with the image of Busan, the cafe and its surroundings are a great way to experience a different side of the coastal city.
Seonyudowon (선유도원)
64 Sanghyeon-ro, Geumjeong-gu, Busan
부산 금정구 상현로 64
Nearest Subway: Namsan Station (Line 1)
*This is an independent review by MiddleClass.sg
*Follow MiddleClass.sg on Facebook, Instagram, TikTok, and Telegram for more food, travel, and trending stories