You might know Hellu Coffee from all the buzz online, a new cafe concept in Telok Ayer serving up a unique menu centred around croffles – croissant waffles. Croffles were popularised in Korea and you can find them in plenty of Korean cafes, but Hellu Coffee is one of the few Singapore cafes specialising in this tasty treat!
Hole-In-The-Wall Cafe 
Hellu Coffee is located along the same street as Korio, and is quite literally a hole-in-the-wall. The space is small, with three small tables each for indoor and outdoor seating. The interior is covered in a calming, neutral cool-tone beige and decorated with adorable trinkets. It's quite reminiscent of a quiet Korean cafe in the streets of Hongdae!
We highly encourage you to avoid the lunch crowd (from 12 to 2 pm) because of the long wait time. We had to wait about 40 minutes for a table on a Monday and observed that takeaway orders took between 15 to 20 minutes as well. The crowd died down after 2 pm, which is the time we recommend coming. 
Hellu Coffee Menu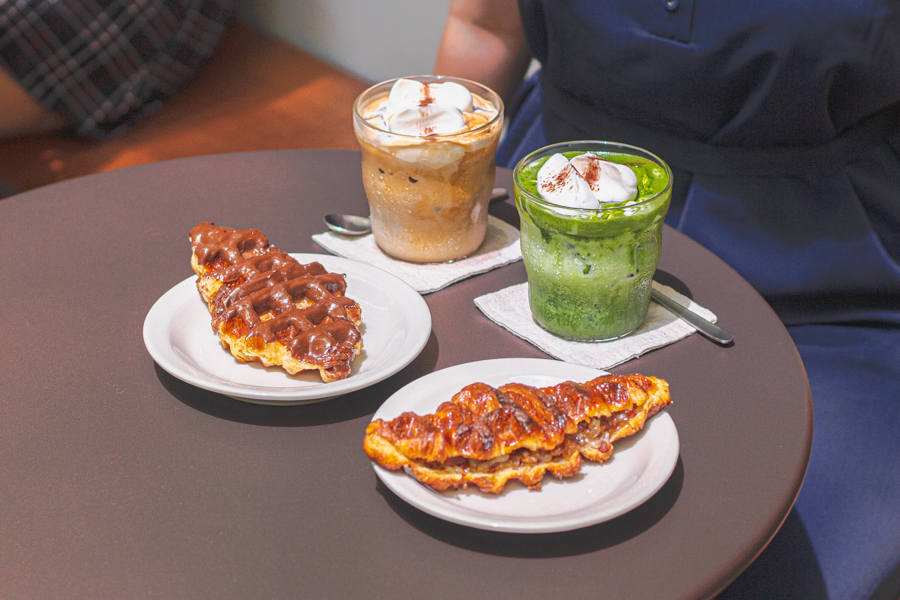 The menu has a varied selection of coffee and non-coffee drinks, including Black coffee ($5.20), Yuzu Lemonade ($6.50), Choco Creamu ($6.90 for hot, $7.90 for iced) as well as a number of teas. 
Their croffle menu has both savoury and sweet options, including Sesame Cream ($7.90), Spicy Tuna ($7.90) and Ham & Cheese ($7.90). Do note that they sell out of certain items so double-check with the staff for that day's availability!
White Creamu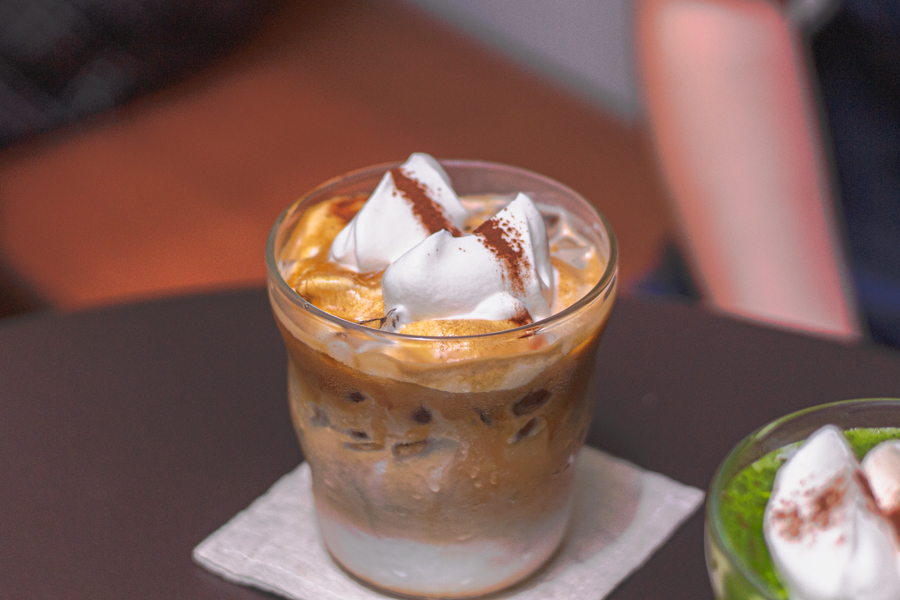 Hellu Coffee's signature is the Creamu drink series, featuring a milk base and a sweet whipped cream topping. We first tried the White Creamu ($8.70 for iced), which is a white coffee with two dollops of cream and a dusting of cocoa powder. 
The staff recommended that the drink and cream be enjoyed separately without stirring them together. Aside from the stellar visuals, the coffee was well-balanced and paired well with the cream. The cream itself had a familiar sweet and fragrant flavour and tasted great on its own! 
Matcha Creamu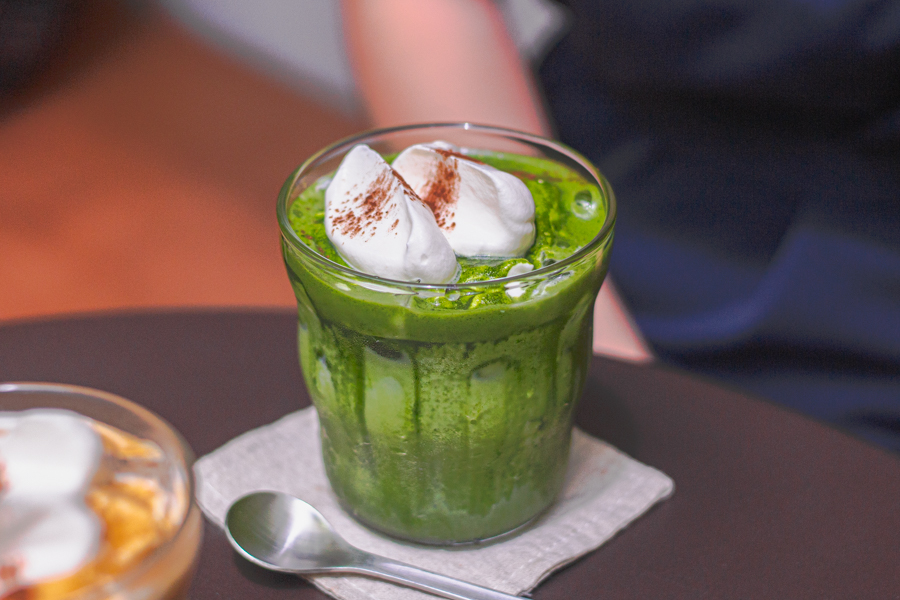 The Matcha Creamu ($8.90) was easy to drink with a clean and pronounced matcha flavour. We found it a bit heavy-handed on the milk but was still enjoyable and refreshing. The drink is only lightly sweetened, which is great for those who prefer matcha with less sugar. 
Maple Bacon Croffle
This was the highlight of our visit and a must-order! The Maple Bacon Croffle ($7.90) was filled with a bacon and onion filling. The crisp, golden exterior was practically glistening from its sugary coating.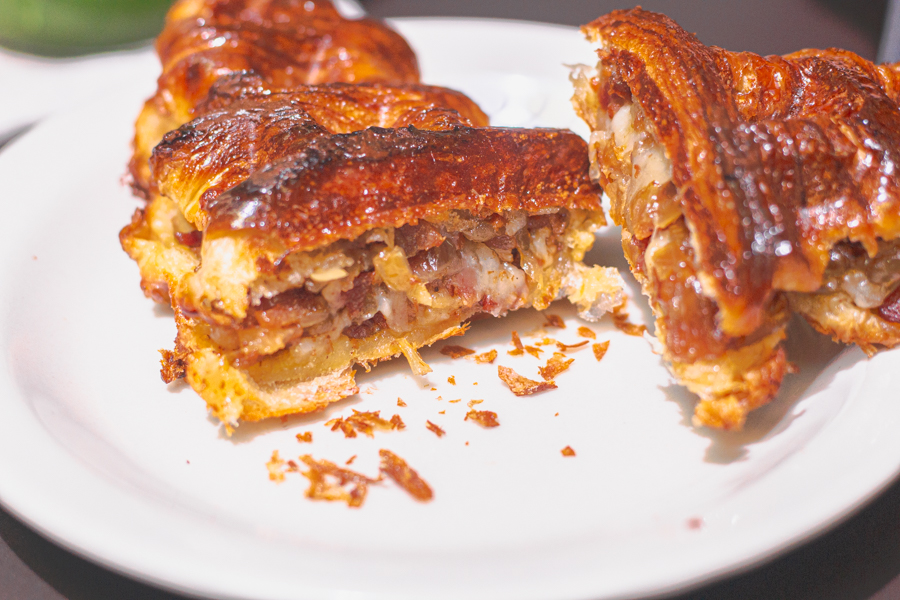 This was served fresh and had the perfect ASMR crunch when we cut through it. The combination of the crunchy croissant and salty bacon mixture made for a delicious salty-sweet bite. We imagine this would be a great tea-time snack when paired with one of their drinks. Do note that there is a 15 to 20-minute wait if you order this fresh, but we think it's definitely worth the wait! 
We also tried the Chocolate Sea Salt Croffle ($6). The chocolate was fragrant and did not have an unpleasant artificial taste, complemented by the flavour of the sea salt. This croffle was served at room temperature which resulted in a chewier texture – we recommend getting a freshly made croffle for the best experience. 
Cafe Serving Croffles In Telok Ayer
Despite the almost 40-minute wait, we found Hellu Coffee's offerings to be quite satisfying! The staff were also polite and ready to help even while they were busy tending to the influx of orders. 
There are a few more croffle options on the menu that are not yet available, and we look forward to see what else they have to offer. 
Hellu Coffee
#01-05 Far East Square, 137 Amoy St,  Singapore 049965
Mon-Fri 8am-5pm, Sat 10am-4pm, Closed on Sundays
*This is an independent review by MiddleClass.
*Follow MiddleClass.sg on Facebook, Instagram, TikTok, and Telegram for more food, travel, and trending stories