Jump in and seek the thrill right at the heart of Singapore with X-Scap8 at Orchard Central! A newly-opened indoor funground that boasts over 6,000 square feet of unadulterated play space, X-Scap8 is about bringing fun and excitement in the form of activities suited for all ages. 
Choose From A Variety of Exciting Activities 
The whole funground is split into 5 activity zones –   Infinity & Beyond, Balls & Birdies, Smash Lab, X-Warrior Challenge, and Arcade Zone – and 'Eat-Play-Laugh' RestoBar, a restaurant with alfresco dining options overseeing the Orchard skyline. 
Challenge Yourself With High Elements
Start with Infinity & Beyond, a 10-meter high element obstacle course with 3 different levels. Walk across beams, scale along boards with cut-outs, and penny board from one side of the course to the other! If you're worried about safety, don't be – there are friendly trained facilitators who will gear you up properly and give a safety brief before you embark on the challenge. Plus, there's a height requirement of 1.2 meters and children below the age of 10 must be accompanied by an adult.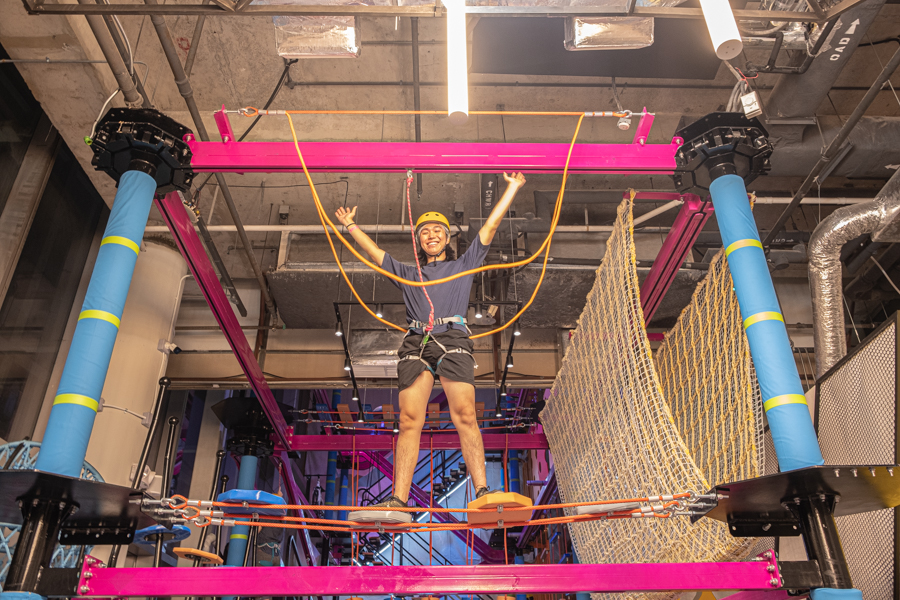 For a price of $35 per person, you can scale the entire course freely at your own pace, perfect for adrenaline junkies. When we were there, people were completing the entire course in record time! But there's no rush to complete the course, and if you find any level too tough, you can scale up or down using the staircases.
Geek Out At A Retro Arcade
If heights aren't your cup of tea, there are other fun things you can do! Spend tokens at the Arcade Zone, furnished with over 200 games like Pac-Man, claw machines, and even a punching bag machine. At only $1 per token, you can spend as much as you want till you're satisfied. We did a few rounds of Super Bike and Ultra Firepower, a first-person shooter game, and tried our hand at beating the highest record on the punching bag – we didn't manage to, but it was a mini workout!
Release Your Stress At the Smash Lab
Unleash your fury in the Smash Lab, where you get to destroy items in a soundproof room (safely). You'll be geared up in proper protective gear to smash recycled bottles, old furniture, and even an old TV! Equip from an attractive selection of 'weapons' like crowbars, baseball bats, and wrenches to wreak havoc upon the item of your choosing. This activity has a minimum age requirement of 18 and lasts 45 minutes per session. It costs $35 per person and $65 for two people – perfect to bring along a partner! 
Finetune Your Golfing Skills Or Tackle A Timed Challenge 
There's also the Balls & Birdies Golf Simulator that comes completely equipped with gloves, various golf clubs, and balls. All you need to do is set the ball and swing your best shot! Priced at $60 per session for a maximum of 4 people, it's easy to operate and suitable for golf pros and even beginners.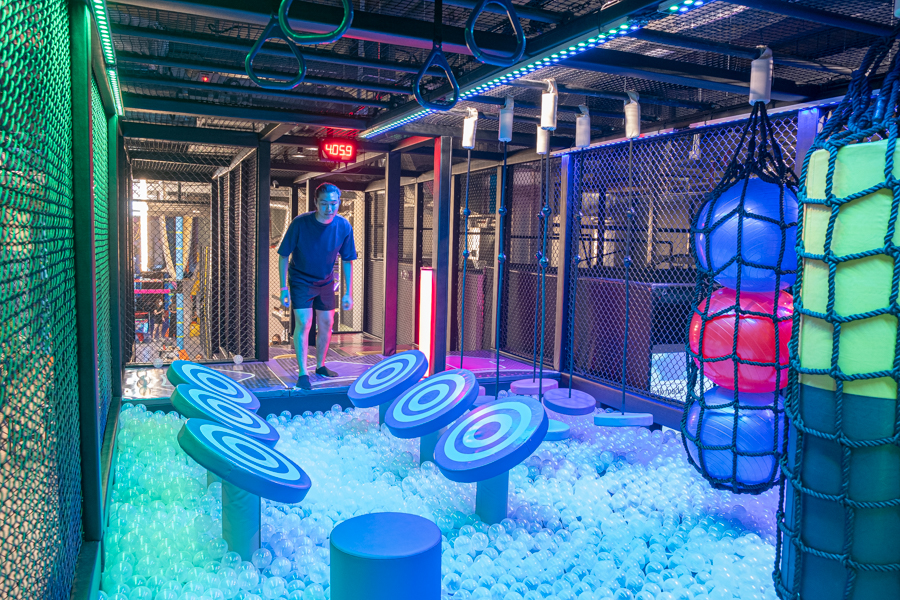 Right above it sits the X-Warrior Challenge which has stations of varying difficulty, ranging from normal monkey bars to a multi-platform course that emulates a stage in the Ninja Warrior challenge. Jump across elevated platforms, monkey bars, and rope courses to beat your own personal best timing.  The best part of this challenge is it's currently complimentary with a $30 spend per person at their restaurant, 'Eat-Play-Laugh' RestoBar!
Chow Down On Satisfying Dishes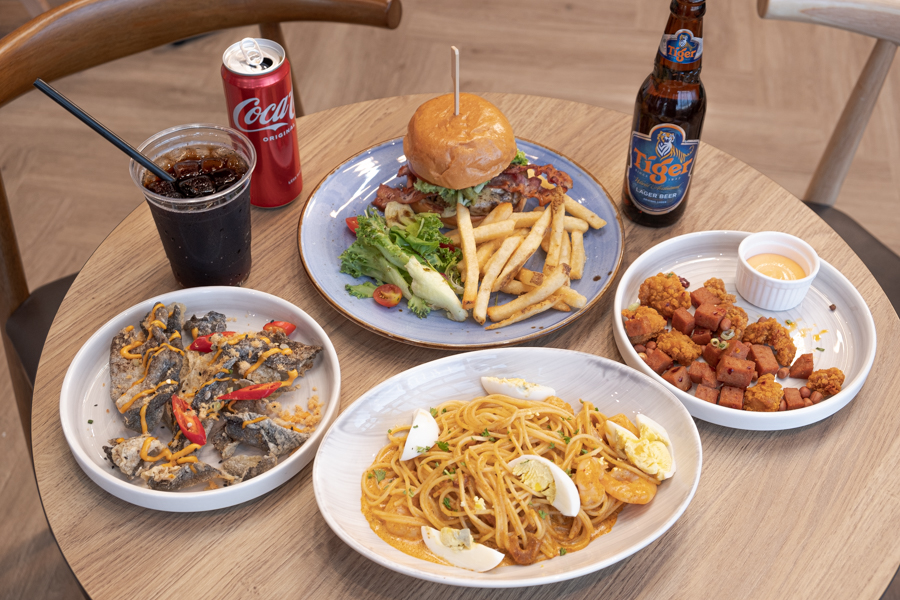 After a tiring day of activities, eat your share at the 'Eat-Play-Laugh' RestoBar with a tantalizing selection of dishes. Start with the X-Scap8 La Zi Ji ($22) and Crispy Fish Skins ($16) decorated generously with a savoury seasoning that was reminiscent of Taiwanese fried chicken. We also tried the California Burger ($25) that came with two large bacon slices and fries and the Laksa Aglio Olio with Prawns ($18), which we highly recommend trying. Both dishes had sizeable portions and were well-seasoned, especially the Laksa Pasta. There are other options like Fresh Seabass Fish, Crispy Har Cheong Gai, and the Pulled Pork Hot Dog, so there's something for everyone. There's even an alfresco dining option that overlooks the bustling city skyline for a relaxing or romantic evening. 
Perfect Funground For All Ages 
X-Scap8 provided an extremely fun space designed to cater to people of all ages and backgrounds, making it a worthwhile experience that is accessible for everyone. Head down to Orchard Central to give it a try! You can get tickets online or opt for walk-in instead.
X-Scap8
Orchard Central, 181 Orchard Road, #07-02 Singapore 238896
Opening Hours: Monday to Sunday, 11am – 10pm
*Follow MiddleClass.sg on Facebook, Instagram, and Telegram for more food, travel, and trending stories!