Nampo-dong is a neighbourhood a stone's throw away from Busan KTX Station and is usually one of the few places people tend to visit when in Busan. Nearby are iconic landmarks like Jagalchi Fish Market, BIFF Square, and Yongdusan Park. We discovered Yeongyeongjae Cafe (연경재), a 4-storey aesthetic cafe and roastery nearby, and fell in love with it at first sight.
Huge Aesthetic Cafe in Busan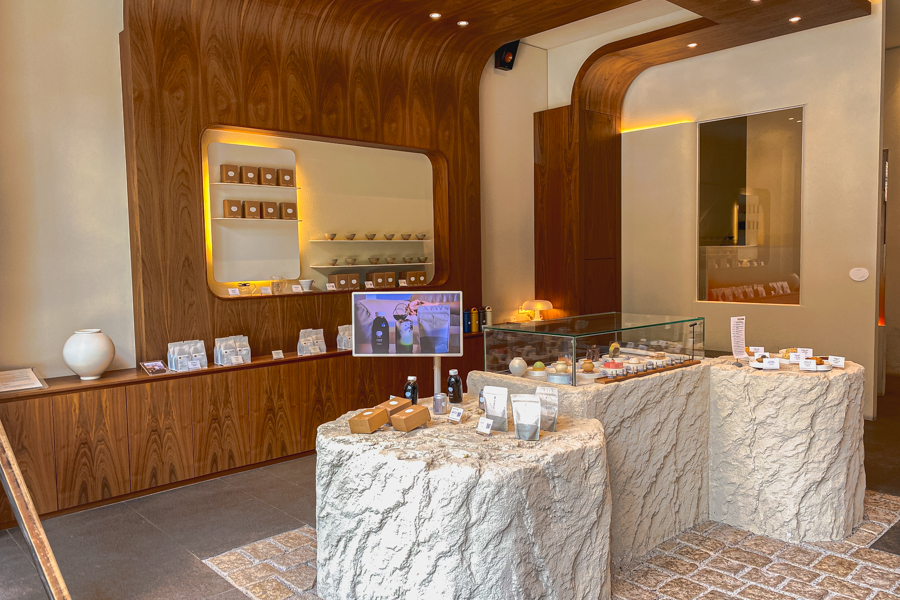 Occupying an entire building on its own, Yeonyeongjae has a total of 4 floors, with the first floor being home to its roasting machines, coffee bar, and display of desserts. This is also where you'll place your order before making your way up.
The 2nd and 3rd floors are filled with lots of seats, so you'll have plenty of choices when it comes to seating. As for the 4th floor, it's not accessible to the public as it acts as their office. Good news, there's an elevator so going up and down is an easy task for everyone!
Our favourite spot is on level 3, where there's a row of sofa chairs facing outside – a great spot to chill and just enjoy a cuppa or two. Overall, the space on levels 2 and 3 are quite similar, with wooden furniture and elements of rock and fabric highlighting certain corners.
Menu at Yeongyeongjae Cafe in Busan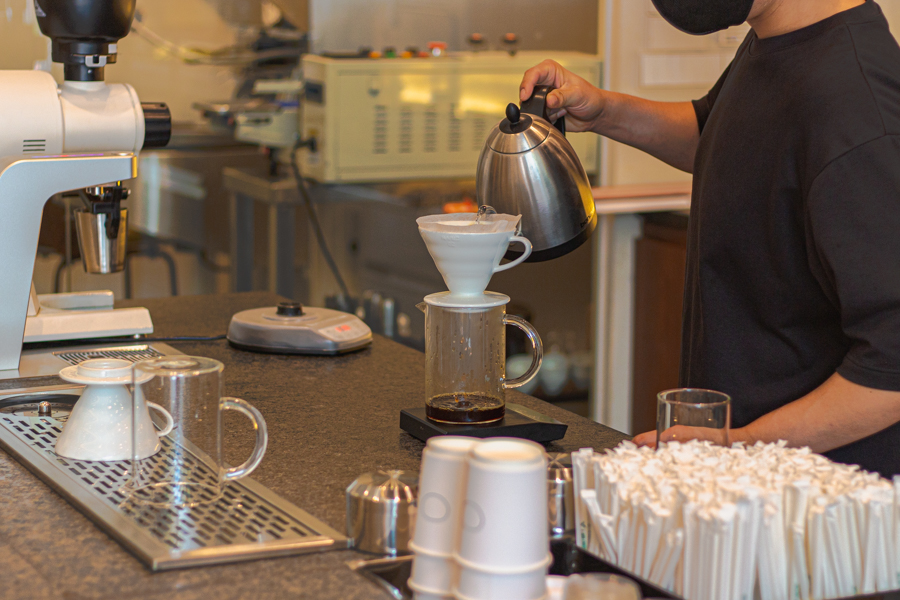 Being a roastery cafe, Yeongyeongjae offers a range of hand drip coffee such as Ethiopia Dumerso Washed (6,000won), Kenya Thriku AA Washed (6,000won), Colombia El Paraiso Lychee (7,000won), and Coastrica Cordillera de Fuego Natural (7,000won).
Apart from the hand drip coffee, the beverage menu also consists of items like Flat Latte (5,400won), Dolce Latte (6,000won), Hadong Green Tea (6,500won), Omija Ade (6,500won), and Floral Milk Tea (6,500won).
The highlight of Yeongyeongjae is undoubtedly their range of desserts, which are beautifully showcased near the entrance of the cafe. Ranging from baked scones and cookies to cold desserts, indulge in items like the Fromage Blanc Rose (8,500won), a berry mousse and strawberry custard dessert, or Season Hanjeong Green Apple (7,500won), an apple mousse dessert with plum cream.
We opted for the dessert called the Earthenware Moon Jar (토기 달항아리) which came in the shape of the jar itself. Priced at 7,500won, the dessert comprised of bean powder, caramel, and dark chocolate elements. Inside was a caramel center core, surrounded by smooth creamy mousse.
To pair with the decadent dessert, we asked for hand drip recommendations, and the barista mentioned that the Ethiopia Dumerso Washed would be a good fit. It felt clean and smooth, and to have it iced was refreshing.
Busan Cafes Near Nampo-dong
Yeongyeongjae (연경재) is definitely a cafe worth visiting, especially among avid cafehoppers. The huge size of the cafe also means lesser disappointment when it comes to finding seats. On the ground floor, they also sell items like Hadong Green Tea powder and beans that make perfect gifts for friends and family members.
Yeongyeongjae (연경재)
6 Jungangdae-ro 29-beongil, Jung-gu, Busan
부산 중구 중앙대로29번길 6
Mon-Sun, 11am-10pm, Last Order 9:30pm
Nearest Subway: Jungang Station (Line 1), Exit 1
*This is an independent review by MiddleClass.sg
*Follow MiddleClass.sg on Facebook, Instagram, and Telegram for more food, travel, and trending stories