Korea has its fair share of alcohol and food pairings. Some classic choices include the pairing of Makgeolli with Pajeon and Korean Fried Chicken with Beer. But wine with Korean food?
While the idea of wine and Korean food might seem weird, the pairing is actually quite popular. You can find wine bars in places like Seongsu-dong and Apgujeong that serve Korean dishes with your wine.
Most of the food in this list can be easily purchased at Korean restaurants scattered all over our little island. You can also try whipping up your own rendition of these Korean dishes at home to go along with the wines.
Sauvignon Blanc with Deep Fried Korean Dumplings
Just Wine's Sauvignon Blanc (750ml, $29.90) from Australia is an unoaked dry white with grapefruit and green guava aromas. This light-medium bodied wine is great for starters and generally goes well with deep-fried foods.
Pair this with your deep-fried Korean pork dumplings as the acidity of the wine helps to cut through any greasiness and balance out the flavours.
Shiraz with Yangnyeom Fried Chicken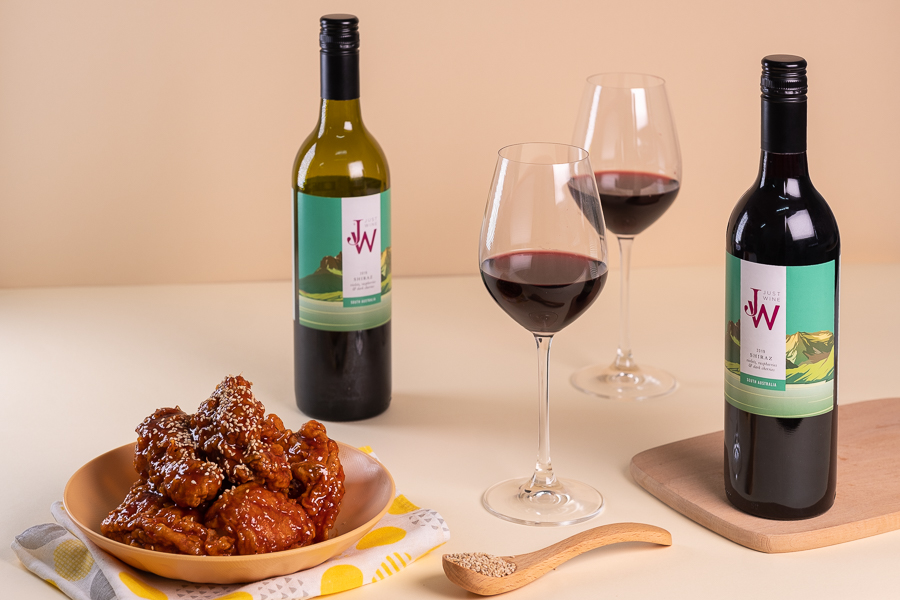 Red wine with chicken? Unlike the western recommendations of pairing wines with ingredients, such as red meat with reds and fish with whites, one way to pair wines with Korean food is through sauce.
The Yangnyeom Fried Chicken is known for its sweet, spicy, and sometimes smoky flavoured sauce. The sauce pairs well with Just Wine's medium-bodied smooth-tannin Shiraz (750ml, $29.90).
Fun fact: Just Wine Shiraz 2018 is the winner of the 2020 Decanter World Wine Awards bronze medal.
Make sure to serve your wines chilled when pairing them with spicy food to avoid an explosion of that 'burning' sensation.
Cabernet Sauvignon with Galbi-jjim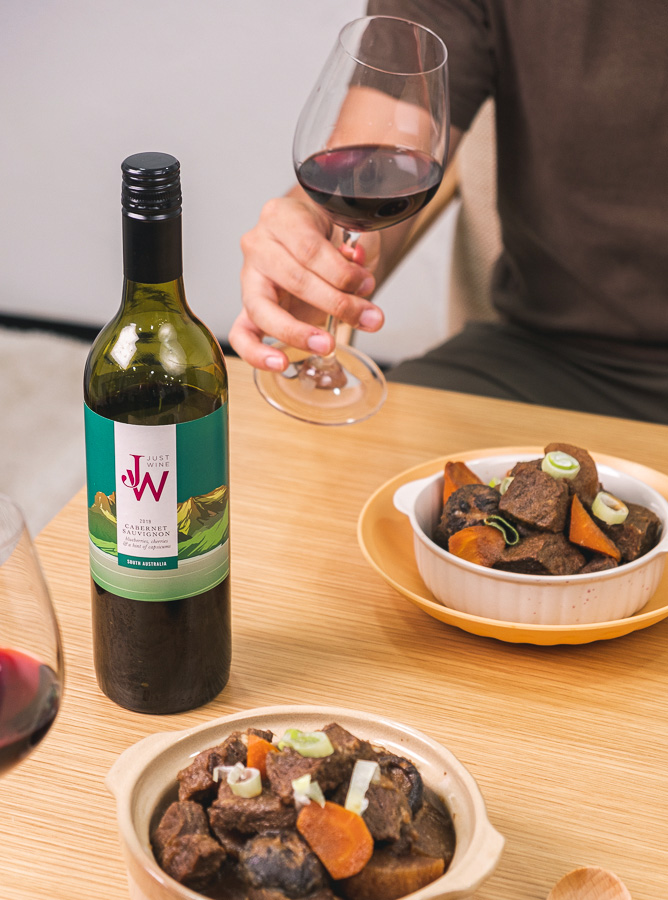 The Australian Cabernet Sauvignon (750ml, $29.90) from Just Wine goes well with meaty dishes such as stews like Korea's Galbi-Jjim. The braised beef dish has rich flavours that will not be overpowered by the Cabernet due to its medium-plus body and rich tannins.
You can expect some fruity blueberry and cherry notes with hints of capsicum in this Cabernet which is best served at 18-20°C.
Chardonnay with Bossam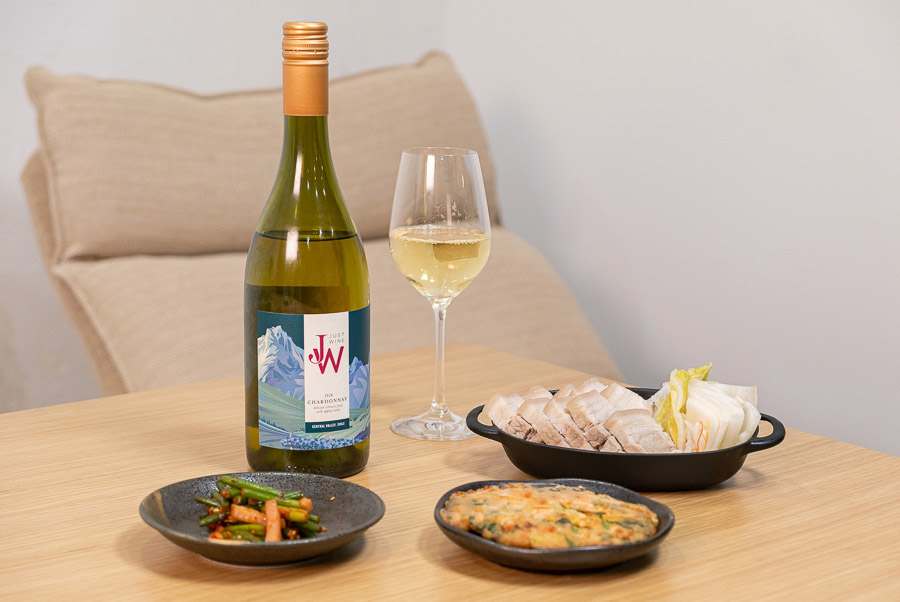 The Chilean Chardonnay (750ml, $28) is a white with tropical fruit and appley notes that is well-balanced by fresh acidity.
The wine goes well with rich foods such as the melt-in-your-mouth Bossam. With each sip cutting through the rich greasy flavours, you'll find yourself reaching out for more.
Cabernet Sauvignon with Korean BBQ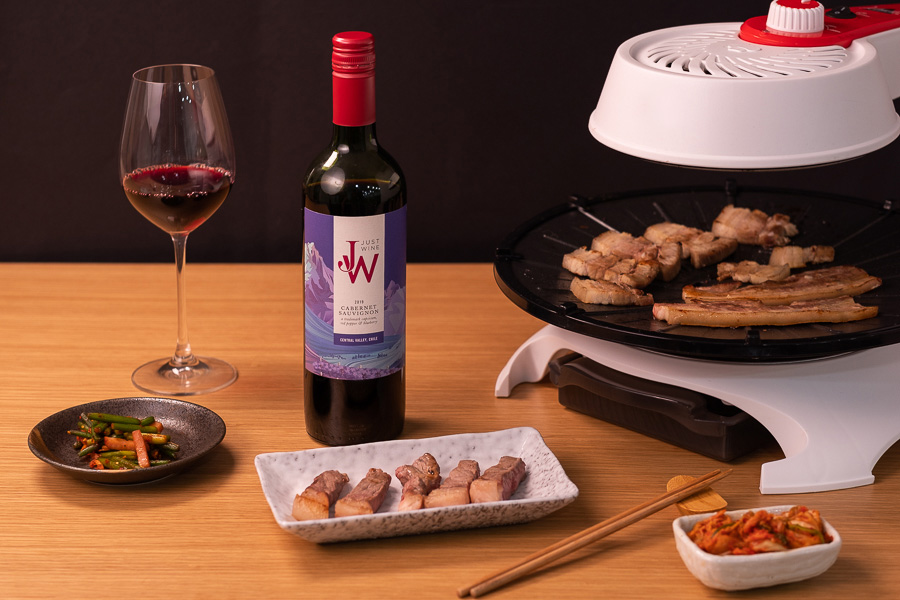 Apart from the Australian Cabernet Sauvignon, Just Wine also has a Chilean variant of the Cabernet Sauvignon (750ml, $28).
Compared to the Australian variant, this has a gentler grip of tannins, a softer acidity, and a balanced finish. This wine goes well with meat dishes, so we recommend pairing it with Korean Barbecue dinners.
Merlot with Bulgogi
The Just Wine Merlot (750ml, $28) is from Chile's wine-growing region, Central Valley. The wine has a light blueberry fruit with a whiff of mint. Its smooth and soft tannins make this a great beginner wine and goes well with grilled chicken or pork such as the non-spicy pork bulgogi.
A New Kind of Lifestyle with Just Wine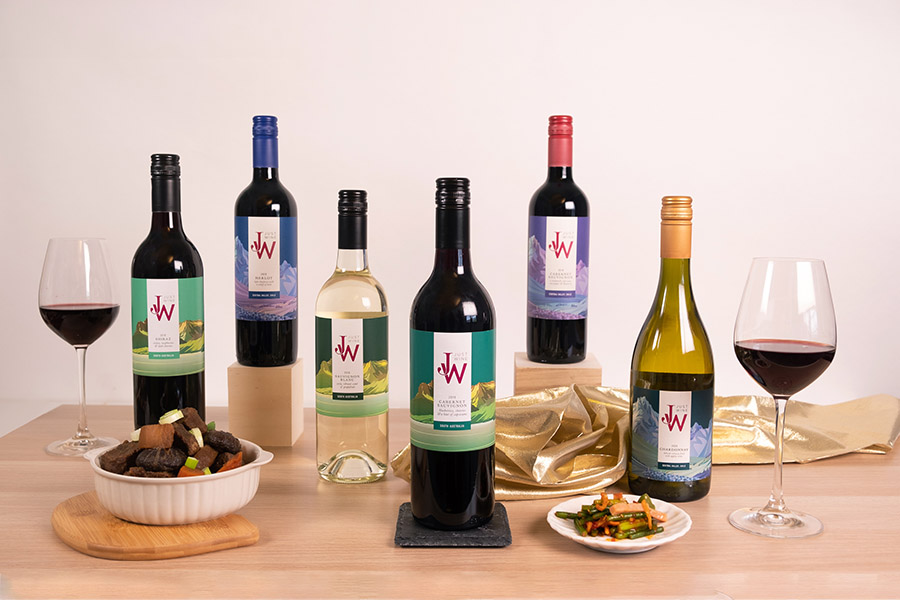 See life in a different light with these Korean food and wine pairings which would make great conversation during your next gathering. If not, surprise a special someone with a Korean themed date night and pair the dinner with some wines.
The possibilities are endless – from ordinary takeout nights to special anniversaries, Here's to Everyday Moments with Just Wine.
More About Just Wine
Established in 2017, Just Wine has come a long way with a total of 6 different quality wines from Australia and Chile. Their wine selection is selected based on blind-tasting comprising a dozen wines by a panel of experts headed by their Wine Consultant, Ch'ng Poh Tiong, a Regional-Chairman of Decanter World Wine Awards and a Vice-Chairman of Decanter Asia Wine Awards.
You can find Just Wine at your nearest FairPrice or have them delivered online.
This article is brought to you in partnership with FairPrice.
*Follow MiddleClass.sg on Facebook, Instagram and Telegram for more food, travel and trending stories!