Right beside the picturesque Verandah Bar is Verandah Rooftop Rotisserie, a buffet restaurant offering an alluring selection of hot and cold dishes! They have launched a new premium Weekend Dinner Buffet with options like Angus Ribeye, 48-Hour Brined Chicken and more. 
Stylish & Cozy Interior
The restaurant is located beside the pool and walking distance from Verandah Pool Bar & Grill, with a colourful but airy interior. There's plenty of seating for different groups, and there's even al fresco seating for a relaxing dinner!
Verandah Rooftop Rotisserie Buffet Menu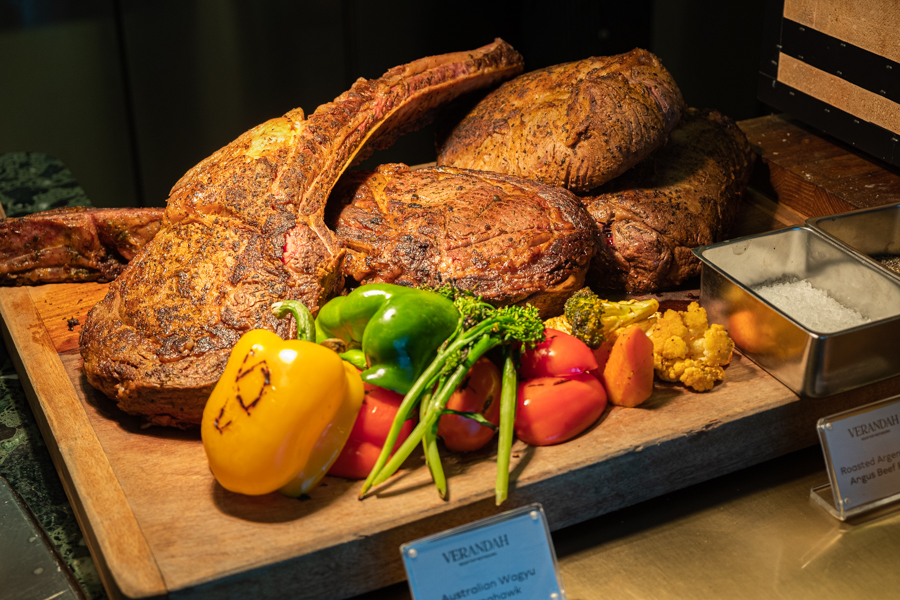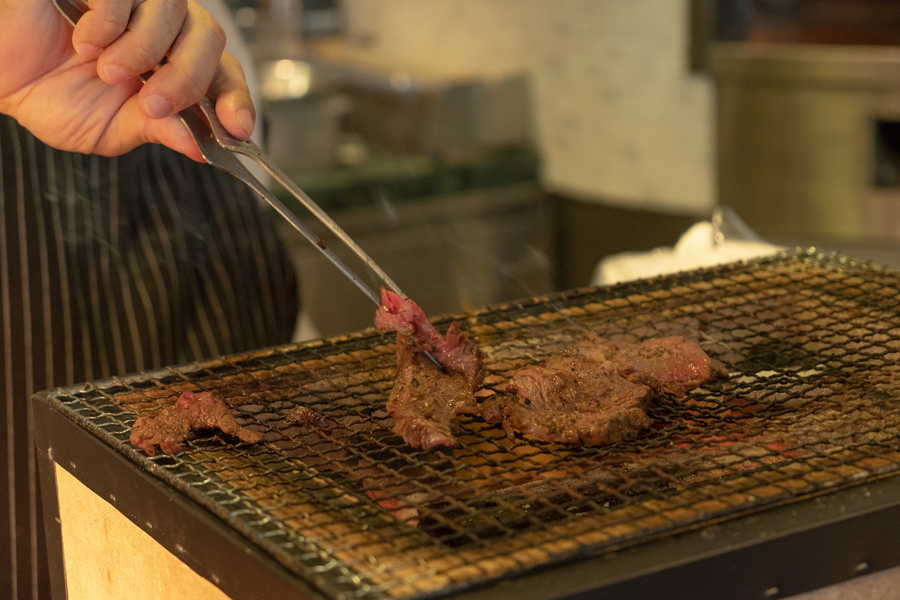 The Weekend Buffet Dinner ($88+ for Adults, $42++ for Children) offers access to the entire buffet menu including fresh seafood, charcuterie and a parmesan cheese wheel pasta! The star items are 75°C Slow Roasted Argentinian Angus Beef Ribeye and Australian Wagyu Tomahawk. Both meats are cooked rare before being finished on a charcoal grill with salt.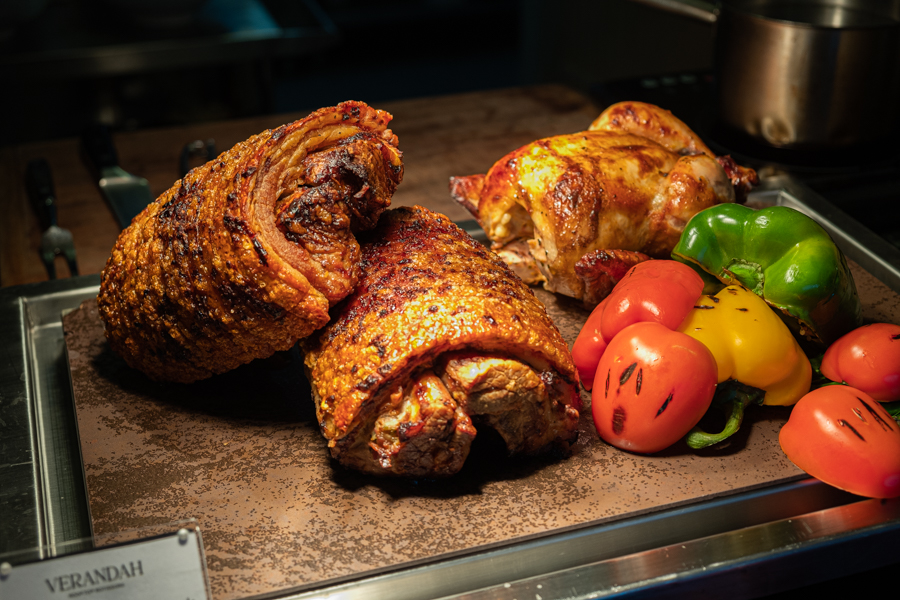 Non-beef options include the Porchetta and their signature 48-hour Citrus-Brined Rotisserie Chicken! There are also hand-pulled woodfired pizzas made fresh with each order.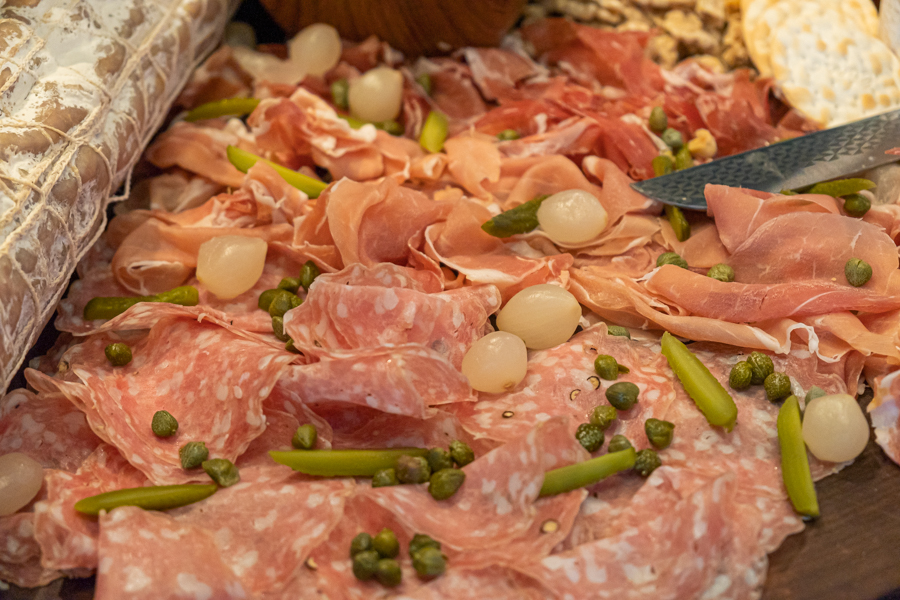 The cold food options include fresh oysters, welk and prawns; plus a whole charcuterie section! Choose from hard cheese, soft cheese, salami and ham – or opt for the salad toppings like feta stuffed mini peppers. 
This also includes a dessert bar with a pink chocolate fountain, Sticky Date Pudding, Croquembouche and Jackfruit Creme Brulee. 
Verandah Rooftop Rotisserie also offers an A La Carte Menu (items starting from $14++) and a Weekday Semi-Buffet Lunch ($25++) per diner.  
Hot Items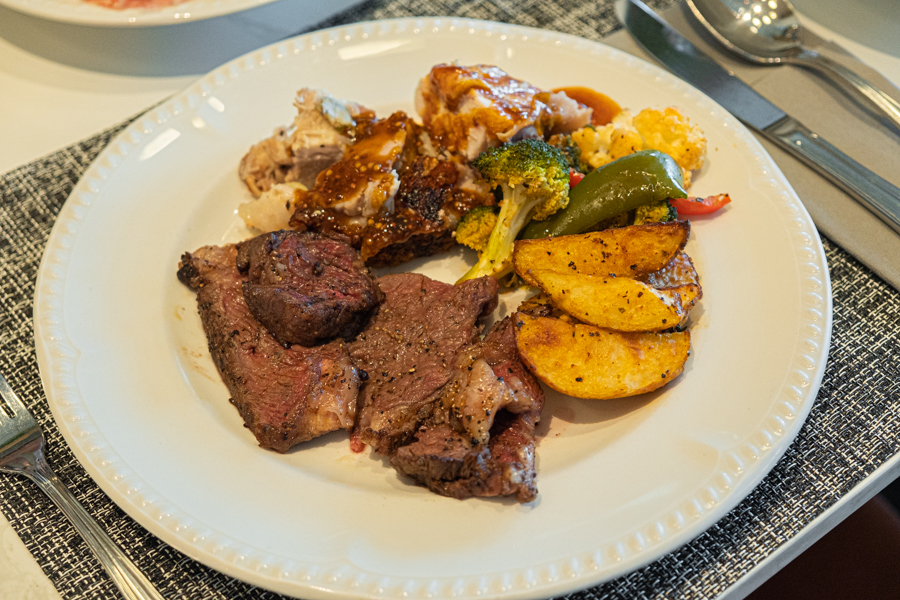 We tried a bit of all their meats including the two beef cuts, chicken and pork. The beef exceeded expectations, with a great meaty flavour and nice char from the grill. Our preference was the ribeye – it was tender and juicy with a perfect fat ratio! 
Their signature chicken was equally tender and you can taste the flavour of the brine. We recommend you try it with their homemade Whisky Mustard sauce – it added a pleasant umami!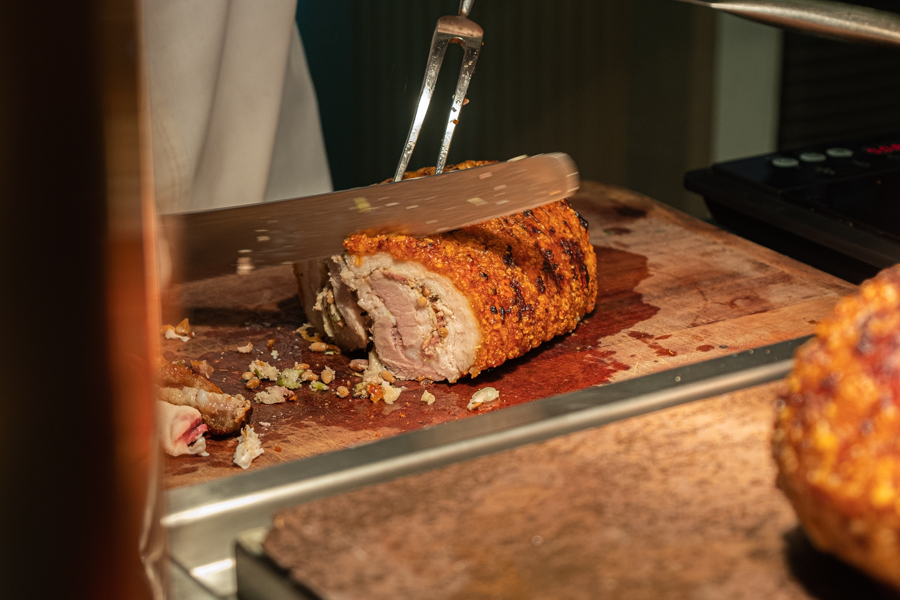 If you're a fan of crispy pork, you'll enjoy the Porchetta. The crackling was crunchy and satisfying without being overly oily!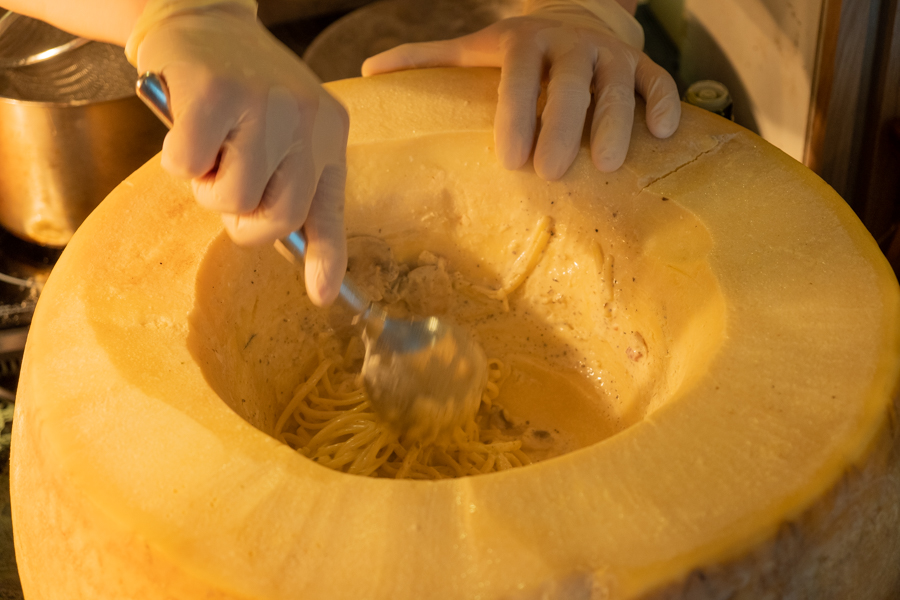 Another interesting offering is a parmesan cheese wheel, where you can get freshly cooked Truffle Cream Pasta. The entire process took less than 5 minutes and produced a creamy, rich dish. 
The freshly made pasta gave a nice chewy texture and the parmesan added a deep, salty flavour to the sauce. We think the truffle flavour could be stronger to balance out the flavours. 
Cold Items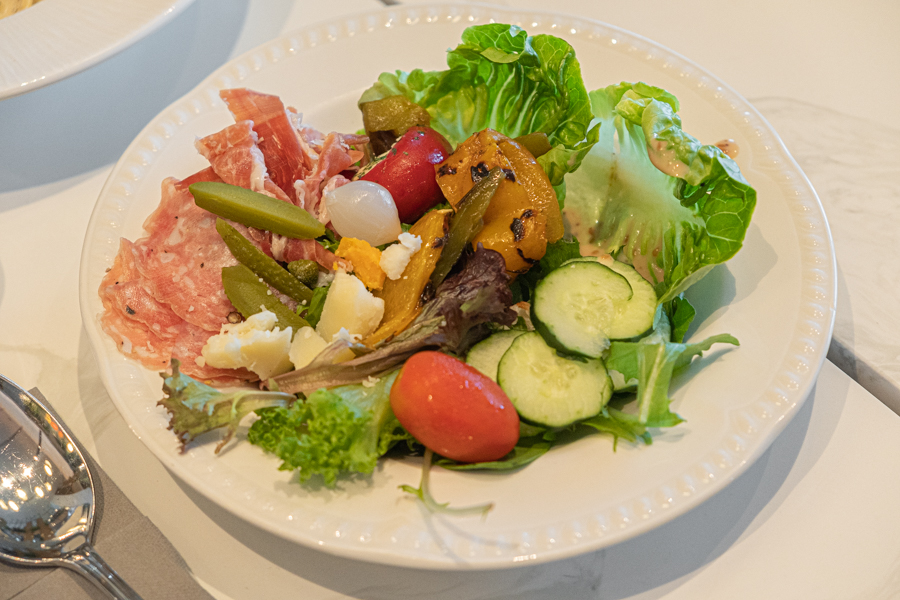 For balance, we got a plate from the salad and charcuterie bar. We liked the unique selection of salad toppings ranging from sardines in oil to Sichuan-pepper cured salmon carpaccio. Everything was fresh and well-seasoned, making for a balanced plate. 
The dressing options range from creamy sesame to simple oil vinaigrette. If you're a fan of cheese boards, their selection is quite noteworthy as well! 
Dessert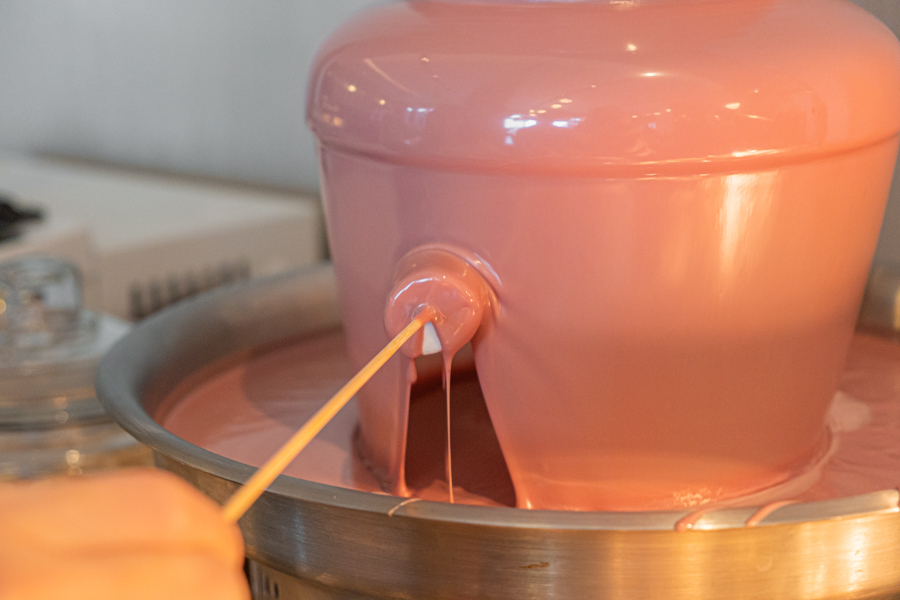 Arguably the best part of a buffet is a robust dessert selection, and here it was small but polished. It was fun to dip items into the pink chocolate fountain and the Sticky Date Pudding was a standout for us. 
There was an accompanying butterscotch sauce that added the perfect balance of sweetness. We also recommend the Jackfruit Creme Brulee for a sweet finish.
Buffet In Alexandra 
With a great poolside view and stylish interior, Verandah Rooftop Rotisserie offers a comfortable premium buffet experience. Despite the smaller menu, each item was of quality and freshly-prepared, especially the meats! It's worth a visit if you're looking for a meat-centric buffet. 
Verandah Rooftop Rotisserie
Level 7, Momentus Hotel Alexandra, 323 Alexandra Road, Singapore 159972
Breakfast Buffet (Daily): 6:30am–10:30am
Weekday Semi-buffet Lunch (Mon–Fri): 12.00pm–2:30pm
A La Carte Lunch & Dinner (Daily): 12 noon–10:00pm
Weekend Buffet Dinner (Fri & Sat): 6:00pm–10:00pm
*Follow MiddleClass.sg on Facebook, Instagram, and Telegram for more food, travel, and trending stories!