Located along a stretch of popular dining establishments in Telok Ayer lies Restaurant Nouri, a 1 Michelin Star restaurant serving up cuisine that can only be described as innovative. With the concept of "crossroads" cooking, you'll find interesting combinations of ingredients and cuisines that are bound to excite your tastebuds.
A Unique Telok Ayer Restaurant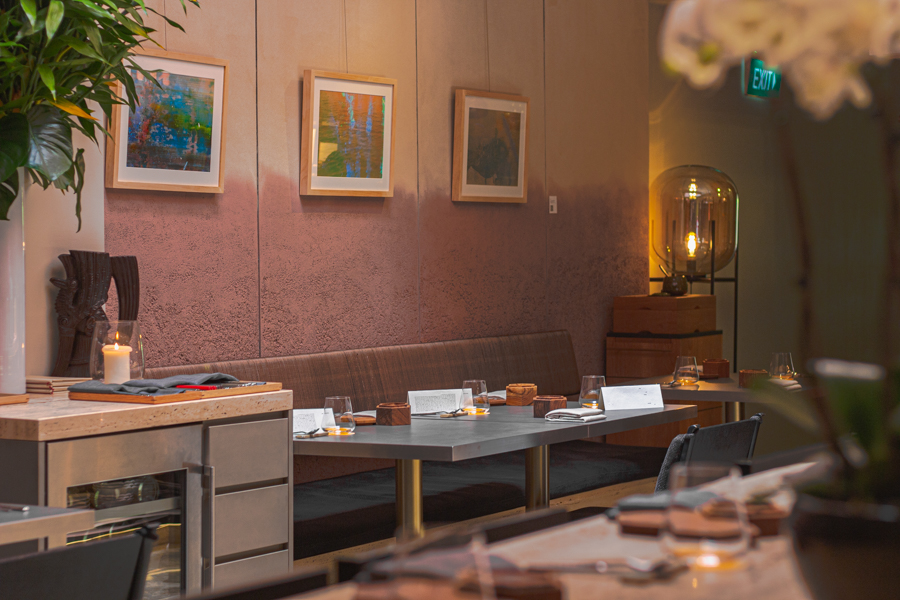 Nouri is open for both lunch and dinner, and as of this time writing the article, Nouri now offers a weekly lunch specials menu (Wed-Fri only) that's aimed towards time-pressed guests. They still have the usual 6-course lunch menu, which was what we went for.
Passing through Nouri's doors, we were first greeted by a reception area that was oozing massage/spa vibes. During the quick welcome, the staff immediately noticed that one of our lunch companions had a broken strap on her sandal and went out of his way to help fix it. Fair to say that Nouri nailed their first impression to a T.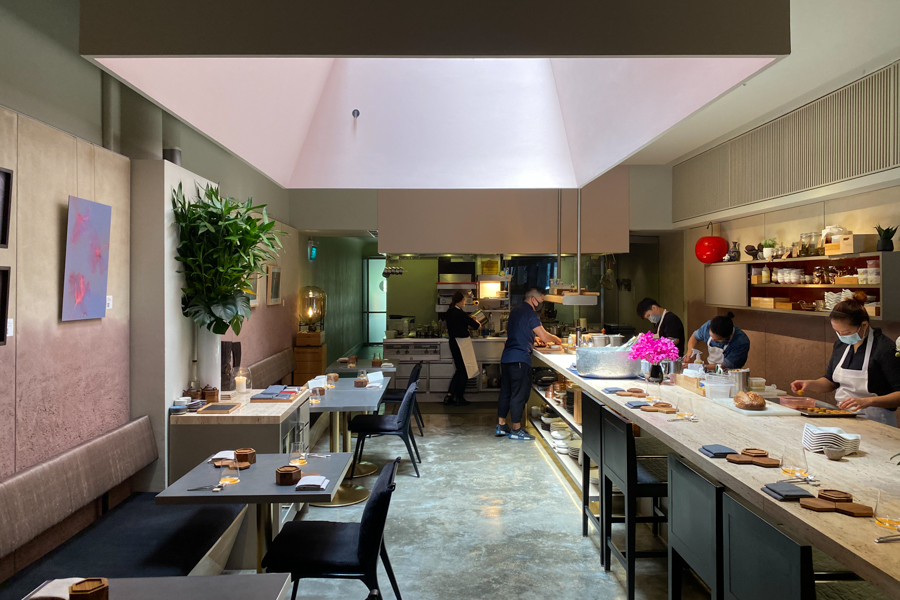 When we were brought to our seats, the first thing we noticed was the open ceiling right smack in the middle of the restaurant which flooded the space with natural light. There were also tables in the main dining area, but the counter seats are undoubtedly the best in the house as you get to see everything that happens in the kitchen.
Nouri Lunch Menu Review
Before our meal started, we were served a few snacks. This included items like the Rye Sourdough Bread, which we were encouraged to break among ourselves. Other snacks included Shanklish, a gorgeous Artichoke in Blossom, Silken Cheese and a Vegetable Soup shot.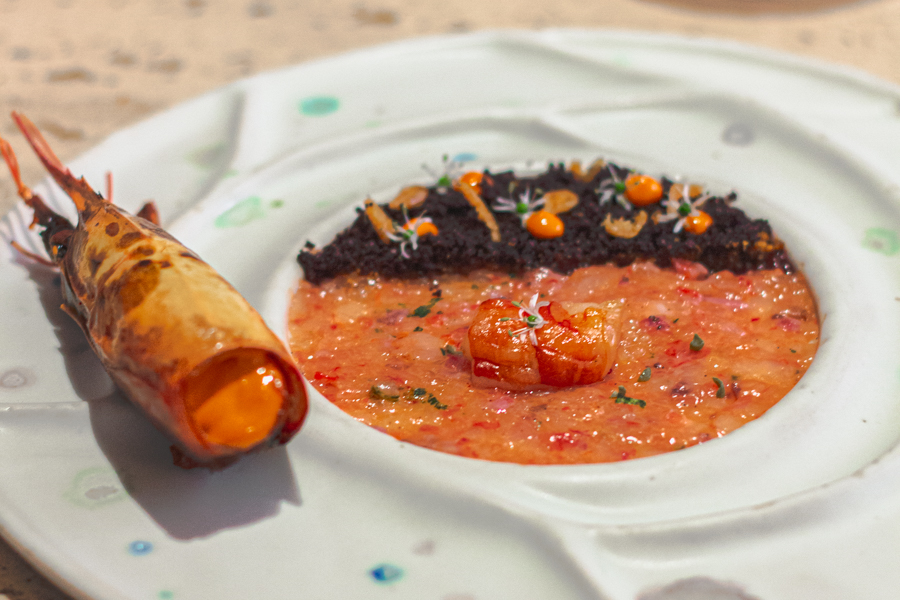 The first course of the day was something called 'The Raw and The Cooked', which featured Carabinero Crudo, Tamarillo, Spiced Prawn Floss and Finger Lime. The prawn head at the side of the plate was meant to be sucked, which resulted in an umami burst of flavours. As for the dish itself, we don't want to spoil much, but it had a dash of spiciness and berry notes.
Moving on to the next dish which featured a 5-day dry-aged stone bass with Tahitian vanilla and Kampot pepper sauce. While the fish was a stone bass, the texture was like cod. The sauce itself had hints of sweet vanilla which was a successful combination with the pepper.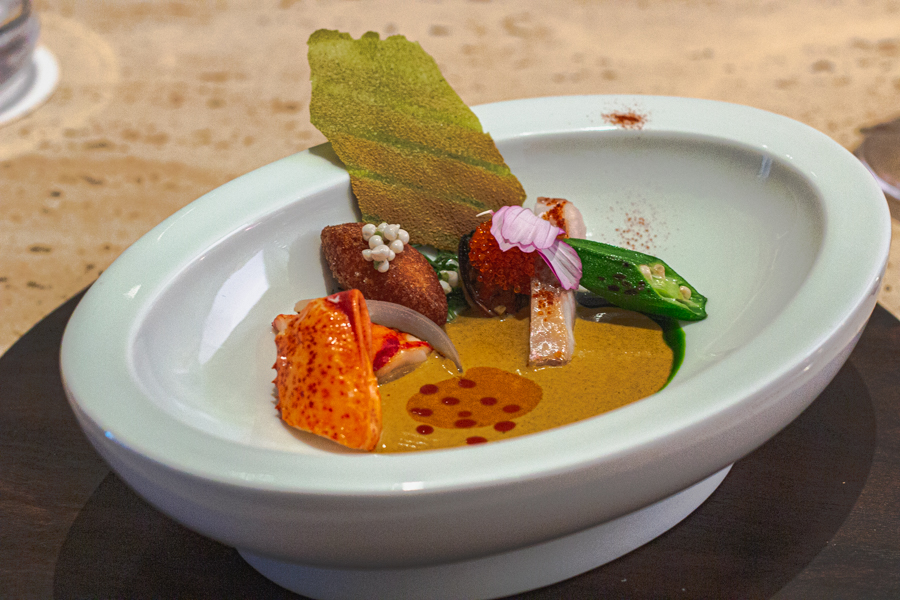 Next was an Afro-Brazilian style fritter served with turmeric and coconut curry and a salted prawn emulsion. Along with it was a nicely cooked Boston Lobster, stuffed mussel, mullet fish and okra chip.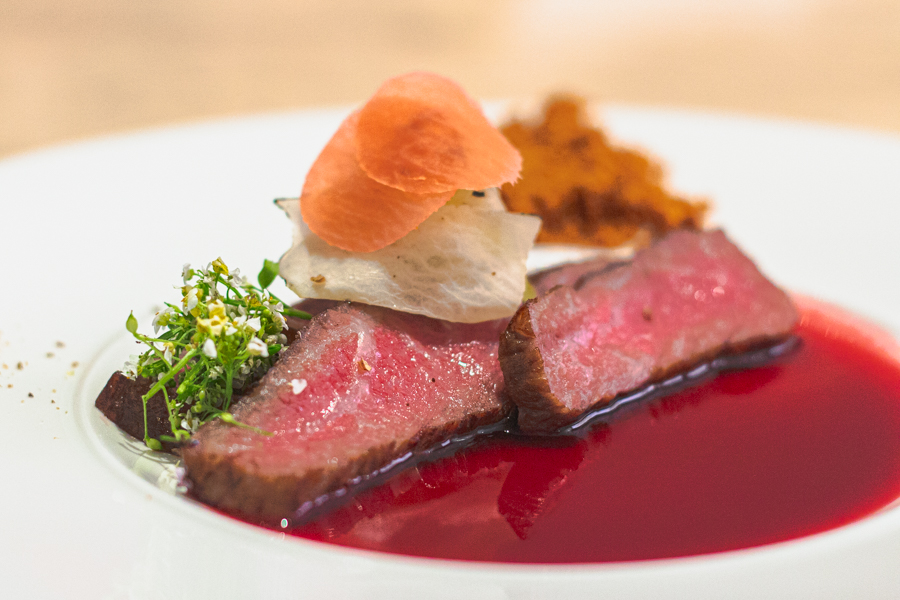 Ending the savoury portion of the meal was a meat dish, featuring slices of A5 Yamaguchi Wagyu ribeye with white kimchi and pressed beef jus. The meat itself tasted clean and tender, with the flowers adding a herbaceous note to it. The pairing of the meat with the brown butter crust on the side left quite an impression.
Acting as a palate cleanser before the dessert was a sorrel-based granita with longans and granny smith apples.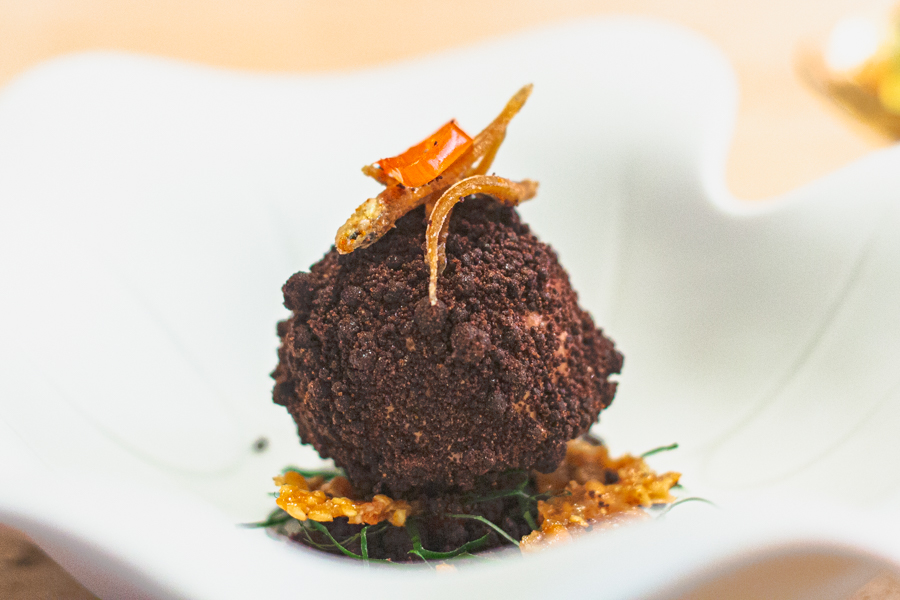 For dessert, we were served a dish known as 'Chocolate Fish Ball', which was a chocolate sorbet paired with candied ikan bilis, wild pepper leaf and colatura di alici, which is something similar to fish sauce. Shaped like a chocolate-covered "fish ball", the ikan bilis added a nice savoury flavour, balancing out the sweetness of the dessert.
We ended the meal with petit fours, impressed with what Nouri had offered through their lunch menu.
Crossroads Cuisine
No exact type of cuisine defines Nouri, and that itself is one of the reasons why a visit to Nouri is justified. Throughout the meal, we were impressed with the pairings of ingredients and how everything was presented immaculately. Next step? Trying their dinner course.
Restaurant Nouri
72 Amoy Street, Singapore 069891
Wed, Thurs, Fri & Sun, 12pm-2:30pm, Tues-Sun, 6pm-9pm. Closed on Mondays.
*Follow MiddleClass.sg on Facebook, Instagram, and Telegram for more food, travel, and trending stories