We're pretty sure everyone has had pizza before, but Korean pizza? That's a whole new level. With toppings like cream cheese, corn and even a sweet potato stuffed crust, pizza in Korea is a whole new experience. Hidden in an alley in Yeonnam-dong is PLOP, an aesthetic pizza restaurant serving multiple pizza flavour options.
Pizza Restaurant in Yeonnam-dong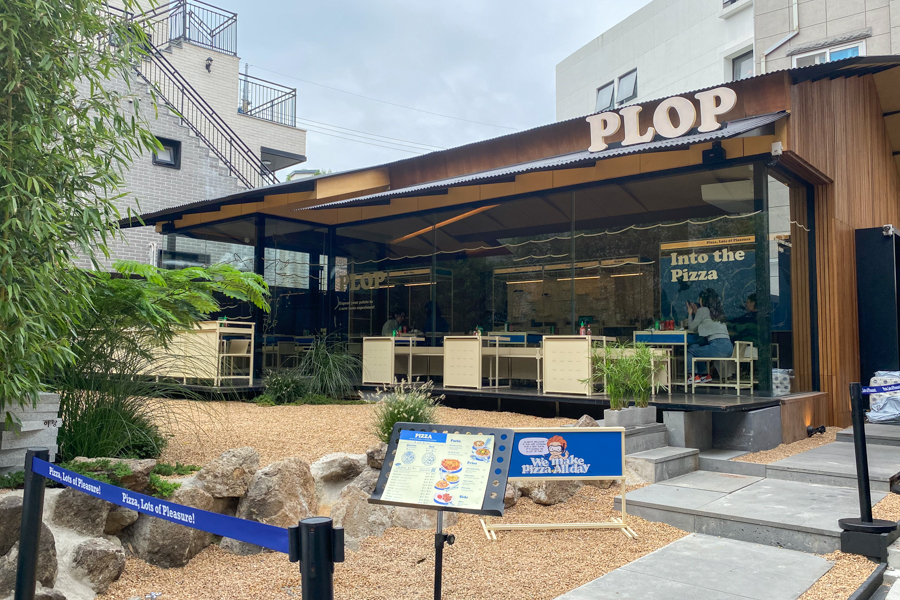 Located near an alley in the hip streets of Yeonnam, PLOP immediately took our attention when we got a small glance at the overall building. Inside the premises, it almost feels like a house standing on its own, with gravel and plants surrounding it.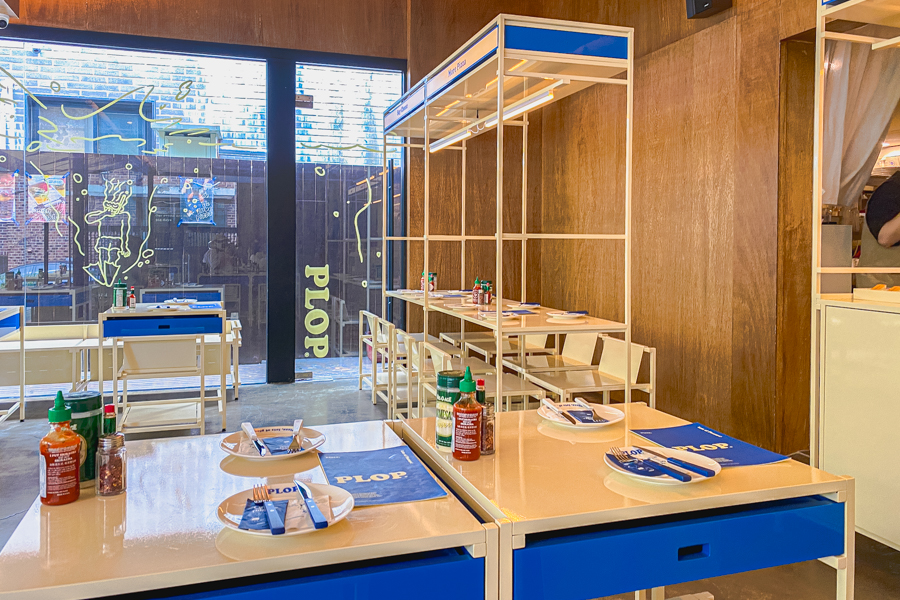 The restaurant is fitted with glass windows which probably means a space filled with gorgeous natural lighting on blue-sky days. Lots of wooden elements are present in the restaurant, coupled with splashes of bright blue branding all around.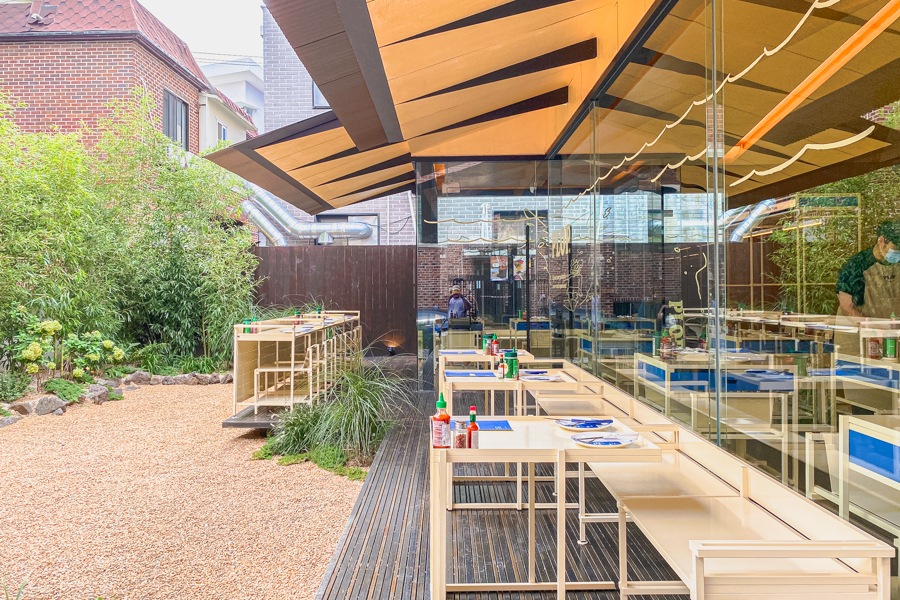 There's also an alfresco area which you can dine in.
On each table are various condiments like parmesan cheese, tobacco sauce, sriracha, mayo and chilli flakes that can go with your sides or pizzas.
PLOP Yeonnam Menu
For pizzas at PLOP, they come in Half (21,000won S, 24,000won L) or Quarter (25,000won one size L). What this means is you can either choose 2 flavours, or 4 different flavours for one pan of pizza. You can also opt for the usual 1 flavour for 1 pan of pizza.
The small size is good for 1 to 2 people, while the large size is good for 2 to 3 people according to their menu.
Some of flavours available at PLOP:
Bulgogi Taco
Sweet Corn
Double Bacon Cheddar
Corn Cheese Dakgalbi
Real Egg Mayo
There's also an option for you to upgrade your crust to a sweet edge, with sweet potato mousse stuffed in the crust.
Apart from pizzas, PLOP also sells ala carte items like the Tomato Penne Oven Pasta (11,500won), Green Onion Cream Oven Pasta (11,500won), Butter Garlic Fries (8,500won) and Buffalo Wings (7,300won).
We ordered the large pizza with 4 different flavours: Bacon Mashed Potato, Garlic Basil Cream Cheese, Corn Cheese Dakgalbi and Pepperoni.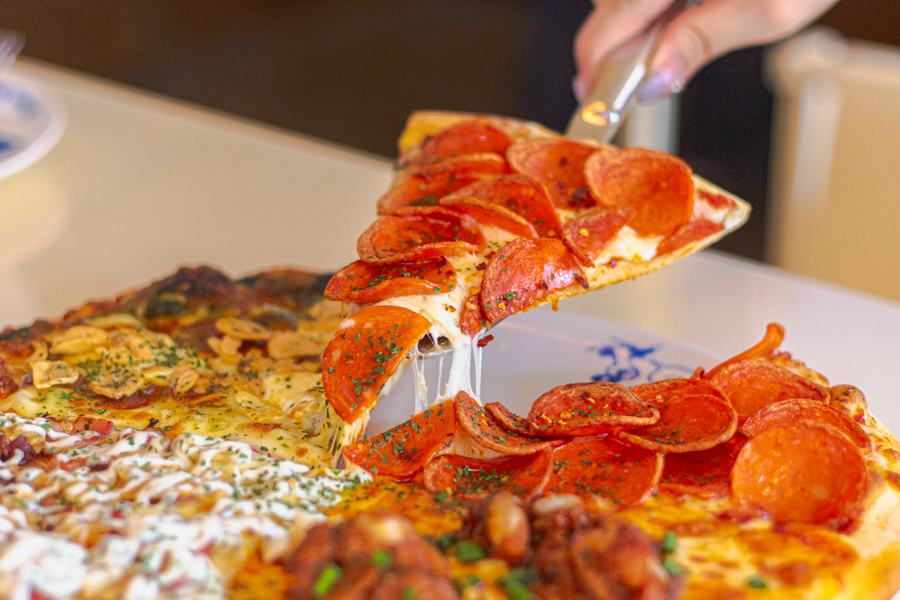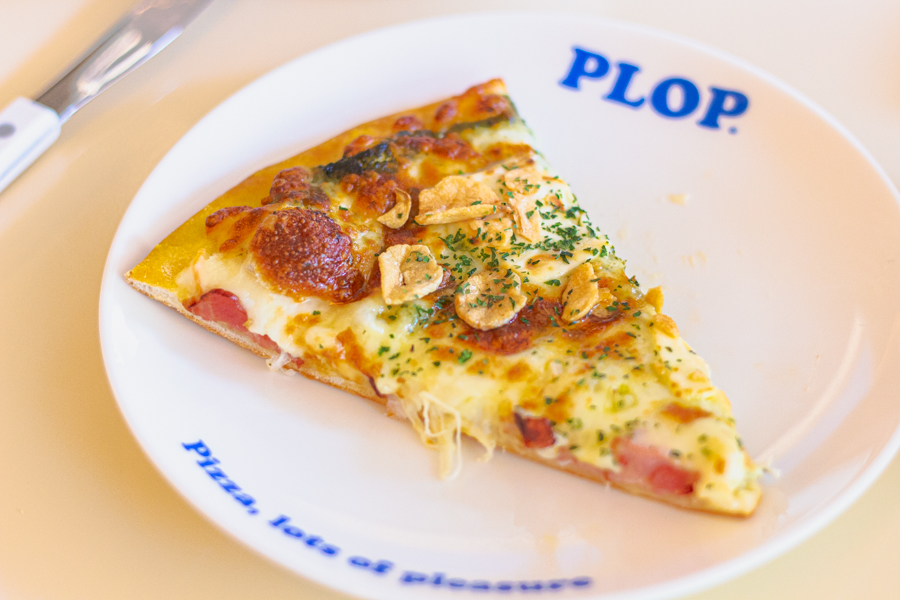 Among the 4 flavours we chose, we enjoyed the corn cheese dakgalbi, which had a spicy base paired with pieces of chicken thigh, corn and 2 types of cheese. The garlic basil cream cheese was interesting with the addition of garlic chips elevating the entire pizza's texture and flavour.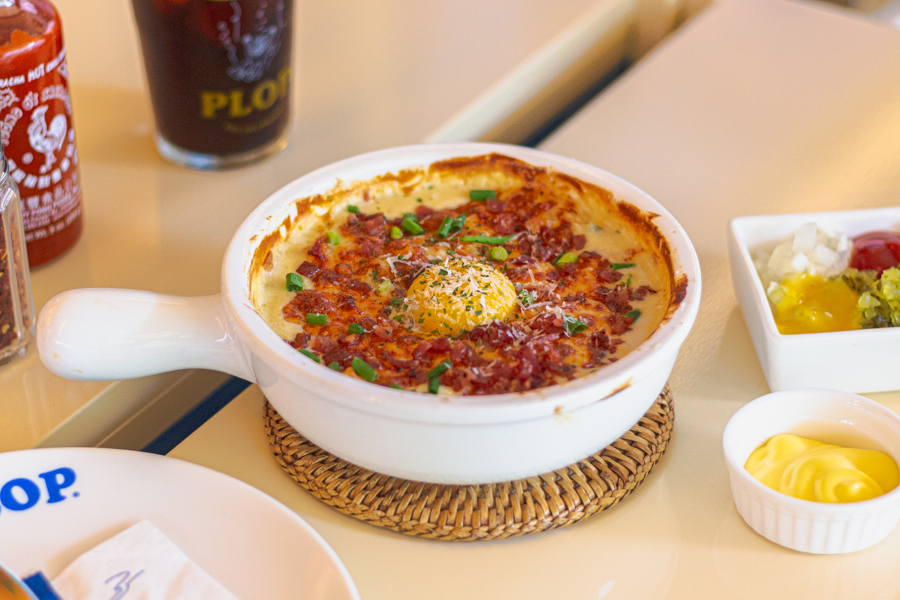 We also ordered the Green Onion Cream Pasta (11,500won) which was an explosion of creamy flavours which had slices of green onions and button mushrooms.
Where To Eat Near Hongdae
While Yeonnam-dong is filled with its own share of hip cafes and restaurants, PLOP offers a Korean pizza experience that's indulgent and unlike the usual ones you'll find in the West.
If the Yeonnam area is not convenient for you, good news! PLOP has multiple outlets in Seoul such as one near Anguk station, also hidden within an alley.
PLOP Yeonnam (플롭 연남)
27-9 Donggyo-ro 38-gil, Mapo-gu, Seoul
서울 마포구 동교로38길 27-9
Mon-Sun, 12pm-10pm, 9:30pm last order
Nearest subway: Hongik University Station (Line 2), Exit 3
*This is an independent review by MiddleClass.sg
*Follow MiddleClass.sg on Facebook, Instagram, and Telegram for more food, travel, and trending stories